Dopo la traduzione di The Sea, fumetto del 2011 giunto un paio di anni fa negli USA, Fantagraphics arricchisce il suo catalogo con la traduzione di Et knald till della danese Rikke Villadsen, uscito in Danimarca nel 2014. Già The Sea aveva stupito per forma, contenuti, temi. In quelle pagine un vecchio pescatore con velleità da marinaio trovava in mare un pesce parlante e un neonato. Nel frattempo, a riva, una giovane donna metteva in scena un rito di fertilità. C'era qualcosa di misteriosamente ancestrale in The Sea, come poche volte capita con efficacia nei fumetti contemporanei e com'era capitato, per esempio, in The Amateurs di Conor Stechschulte (in italiano I dilettanti, 001 Edizioni). La rappresentazione era totalmente teatrale. Cowboy conferma questa dimensione da palco dei fumetti della Villadsen, che potremmo definire teatro disegnato. Pochi personaggi, un set ben delimitato, abbondanza di monologhi. E poi metanarrazione, realismo magico, rilettura dei generi. Questa volta spetta al western, territorio tradizionalmente maschile: la Villadsen non si limita a ribaltarlo, mettendo in scena un personaggio femminile (come accadeva in Coyote Doggirl di Lisa Hanawalt), ma lo deforma, lo espone alle intemperie, lo modella a suo piacimento. Come aveva già fatto, da tutt'altra angolazione, Christophe Blain nel suo magnifico Gus.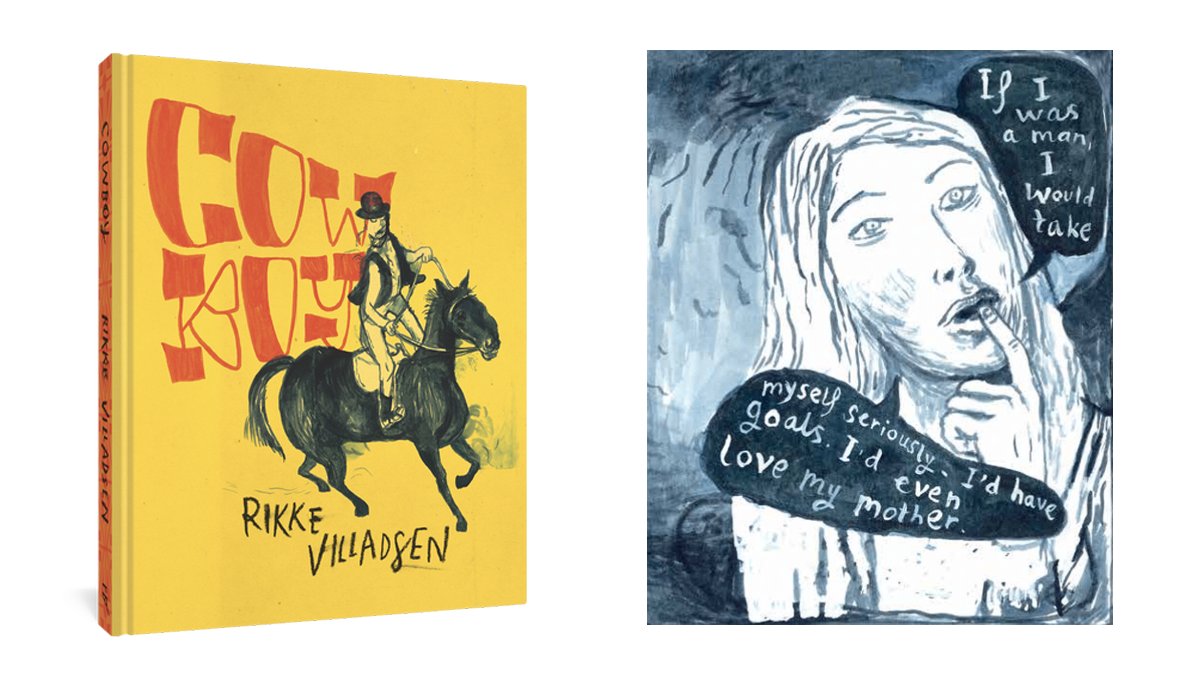 Da The Sea è passato qualche anno, e si vede. Se quel libro era potentissimo a livello narrativo e concettuale, meno lo era dal punto di vista estetico. Le matite della Villadsen mostravano qualche indecisione di troppo, con dei passaggi frettolosi rispetto ad altri più definiti e riusciti. Qui, invece, l'aspetto grafico è decisamente compiuto: le pennellate blu disegnano corpi carnosi, rugosi, voluttuosi. La scena di sesso tra The Smoker e The Whore è impressionante per ricchezza di dettagli. Come avrete intuito, i personaggi non hanno nome in Cowboy ma soltanto ruolo: oltre ai due già citati, ci sono The Wanted, The Sheriff, The Coward e soprattutto The Window. Sì, "la finestra", non "the widow" ossia la vedova. Le donne sono tutte "finestre" nei western, stanno lì a guardare. Ma lei no, vuole fare la rivoluzione, come Sissy in Even Cowgirls Get the Blues di Gus Van Sant. E poi avete pensato che i "buchi" aperti dalle pallottole sui cadaveri sono l'equivalente di una vagina e dunque una rappresentazione di potere? Il tema centrale del libro è proprio questo, tanto che i personaggi maschili si esprimono solo attraverso frasi tratte dai film di Sergio Leone e soci. Intanto la gente inizia inspiegabilmente a levitare, i manifesti parlano e i corpi cambiano sesso.
Della trama meglio non dire troppo, anche perché non è fondamentale. Cowboy non ha un inizio e una fine, è un fumetto senza capo né coda nel miglior senso possibile, tanto che quando lo finisci la prima volta te lo rigiri tra le mani per capire bene cosa hai letto: un libro queer potremmo dire, viste anche le tematiche trattate e le vicende che vi si svolgono. E' pieno di spunti, fa pensare, provoca, di tanto in tanto racconta, è concettuale ma non si prende sul serio, non è perfetto e non ha intenzione di esserlo. Cowboy non è un graphic novel. Evviva Cowboy.