Misunderstanding Comics #6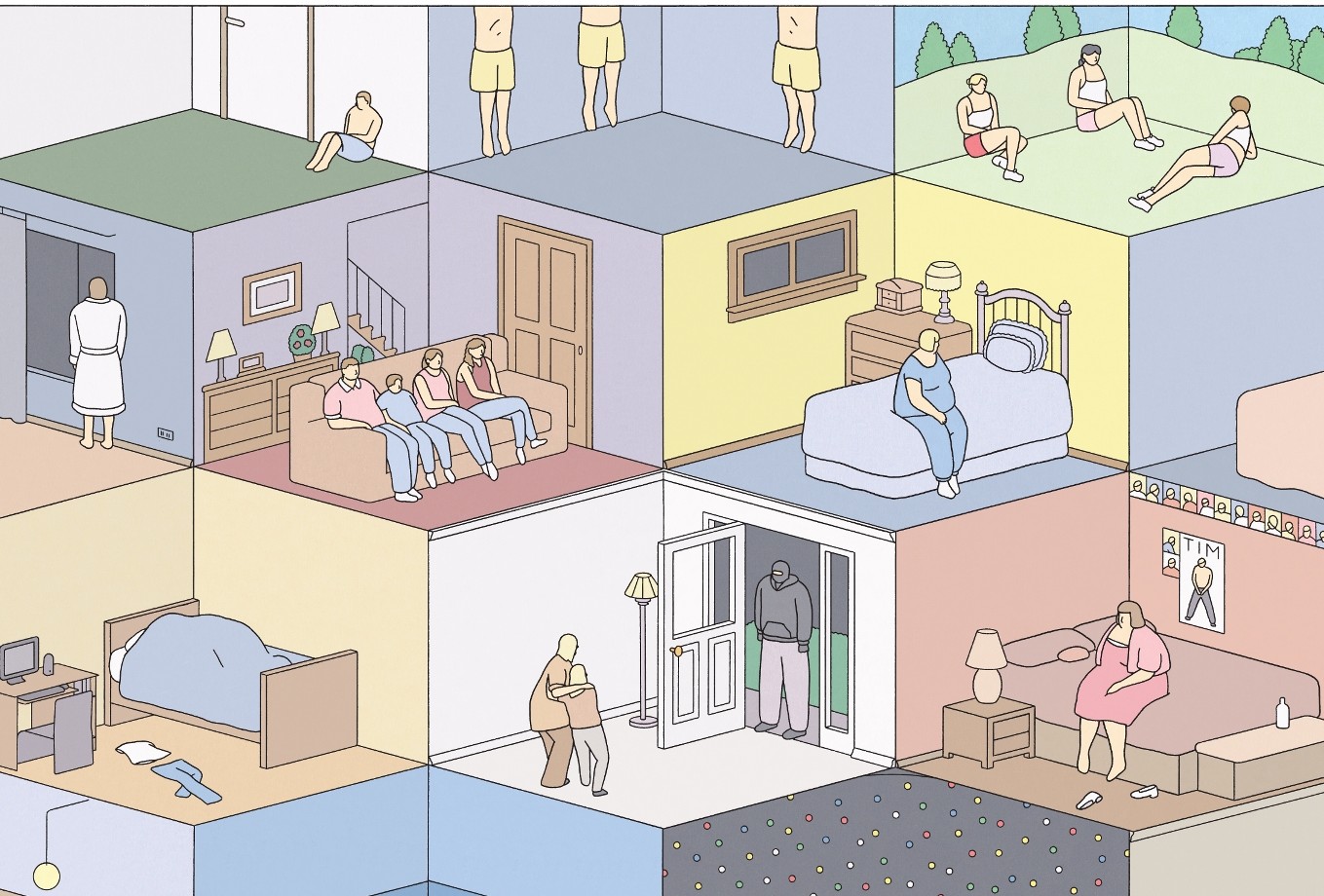 Di acqua ne è passata sotto i ponti dall'ultimo appuntamento con questa rubrica, anche perché ultimamente la costanza non è il mio forte. Ho purtroppo trascurato tanti fumetti di cui mi sarebbe piaciuto scrivere per bene, come Puke Force e Atrophy Life di Brian Chippendale, Dream Tube di Rebekka Dunlap, Kramers Ergot #9 e altri ancora: cercherò di recuperare i più meritevoli nel consueto Best Of di fine anno. Ora veniamo all'attualità, con tre uscite relativamente nuove e una che sta per arrivare in Italia. Il tutto, ovviamente, senza dovizia di particolari.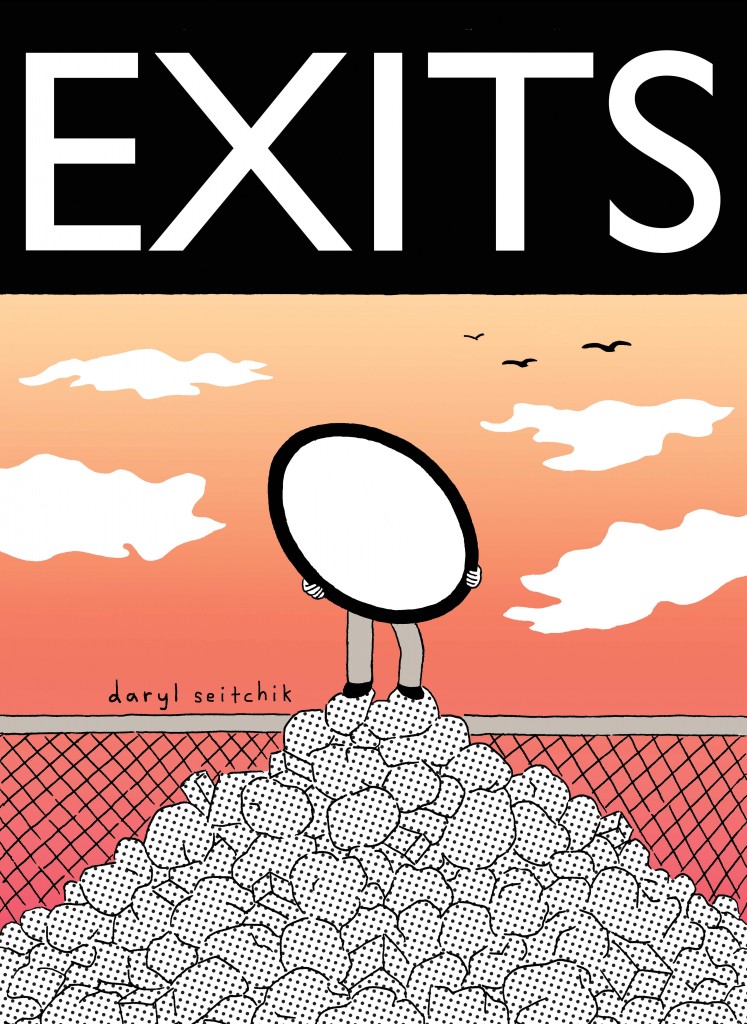 Iniziamo da Exits, prima opera sulla lunga distanza di Daryl Seitchik, per me uno dei libri più attesi di questo 2016 data la mia quasi ossessione per la serie Missy, vista on line e su alcuni albetti usciti per Oily Comics e autoprodotti: ne avevo parlato brevemente in questo reportage sui fumetti della Small Press Expo 2014, per poi inserire Middle School Missy e Missy #3 rispettivamente nei miei Best Of del 2014 e del 2015 (ok, è vero, ho la fissa delle liste e sono anche un fan di Alta fedeltà). Exits esce per Koyama Press ed è un volume di oltre 200 pagine, distanza inusuale per una cartoonist giovane e che aveva finora lavorato su fumetti brevi se non addirittura estemporanei. Eppure le attese non vengono assolutamente tradite, perché Exits, pur riproponendo le tematiche e le simbologie care all'autrice, ribalta quanto fatto finora a livello estetico. Se in Missy l'alter ego della Seitchik dominava totalmente la scena, qui il personaggio principale è sempre una ragazzina, che però diventa invisibile dopo poche pagine, dando vita a soluzioni grafiche del tutto diverse rispetto al passato.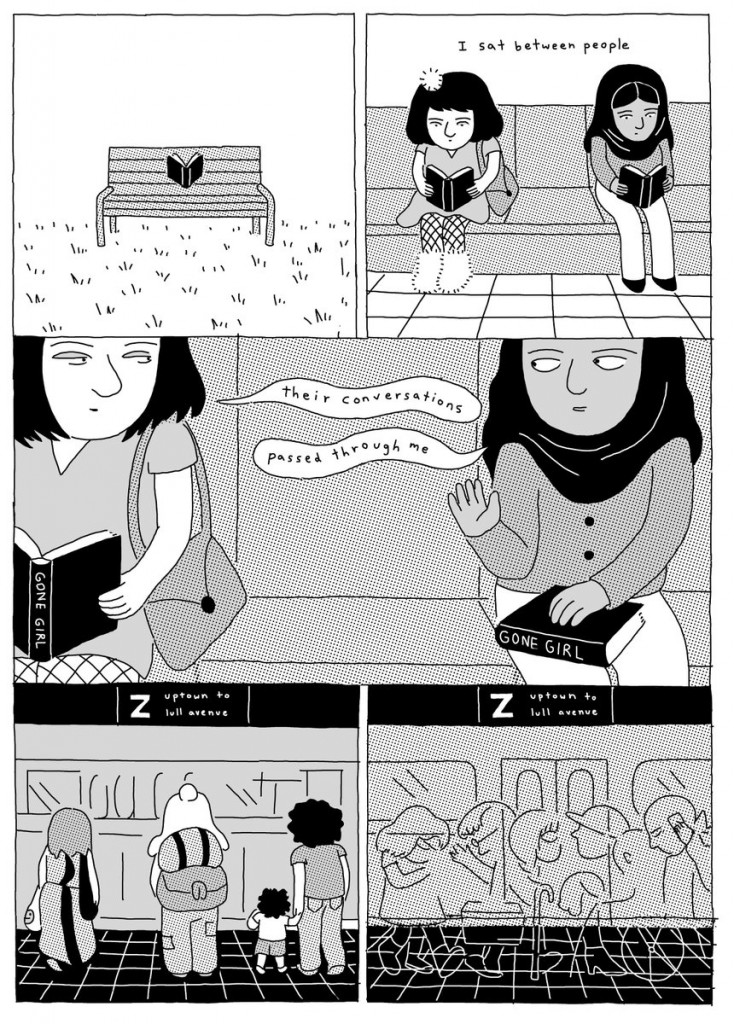 Alla base c'è sempre quel malessere esistenziale che stride con la rappresentazione dei personaggi, soluzione costante nei fumetti della Seitchik e capace di creare un indissolubile quanto irresistibile mix di inquietudine e ironia. E c'è anche una complessità che prima mancava, perché se Missy era un fumetto apparentemente semplice (cosa ribadita anche da Leslie Stein in quarta di copertina), qui l'essenzialità è lasciata da parte per dar vita a un lavoro maturo e ricco di sfaccettature. Poi è vero, non tutto funziona al 100% e qua e là c'è qualche momento un po' più debole degli altri, ma Exits rimane comunque un lavoro di ottima fattura.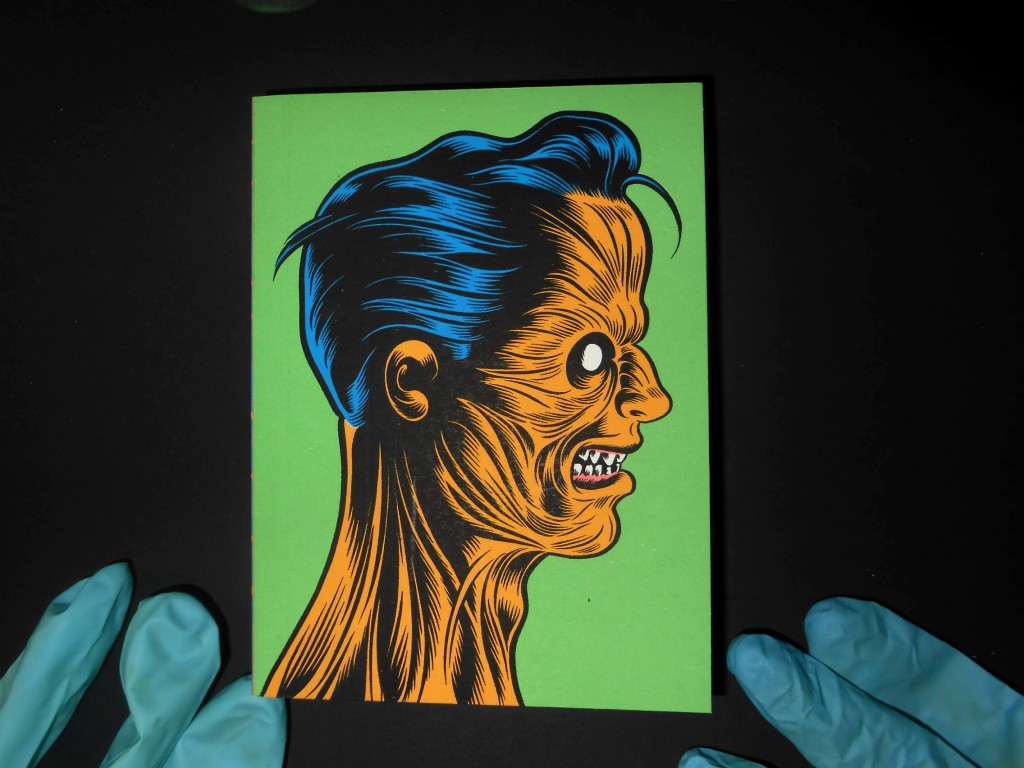 E' un bell'anno questo per chi ama Charles Burns, perché oltre ad aver visto in Italia la pubblicazione di Sugar Skull, contenente la straordinaria conclusione della trilogia ormai conosciuta come Last Look (dal titolo della raccolta pubblicata di recente negli Stati Uniti), è anche ricco di progetti collaterali. Dopo lo sketchbook Incubation edito dalla Pigeon Press del compianto Alvin Buenaventura (ne avevo parlato qui), sono infatti in arrivo Vortex e Love Nest, due nuovi artbook pubblicati in Francia da Cornelius e al centro di una mostra inaugurata da qualche giorno alla Galerie Martel di Parigi. Nel frattempo sempre oltralpe Le Dernier Cri dà alle stampe Free Shit, raccolta dei numeri dell'omonima fanzine che Burns si è autoprodotto nel corso degli anni per regalarla ai festival o in privato. Quando sono andato alla Small Press Expo nel 2014, Burns presentava Sugar Skull e volevo quasi chiedergli se avesse con sé delle copie di Free Shit, dato che avevo visto in rete i post di qualche fortunato che se l'era procurata in occasioni simili. Ma sia l'eccessiva fila necessaria per ottenere una dedica che la stranezza della domanda che mi accingevo a fare (Scusa Charles, hai un po' di merda gratis?) mi distolsero dal proposito. Comunque, facezie a parte, questo volumetto di piccolo formato rilegato con la solita cura mette insieme svariati schizzi, disegni e anche collage ispirati ai temi più disparati. Tra un profilo tipicamente burnsiano in prima di copertina e un'insolita composizione floreale in quarta, troviamo materiale che va dalla fine degli anni '90 a oggi.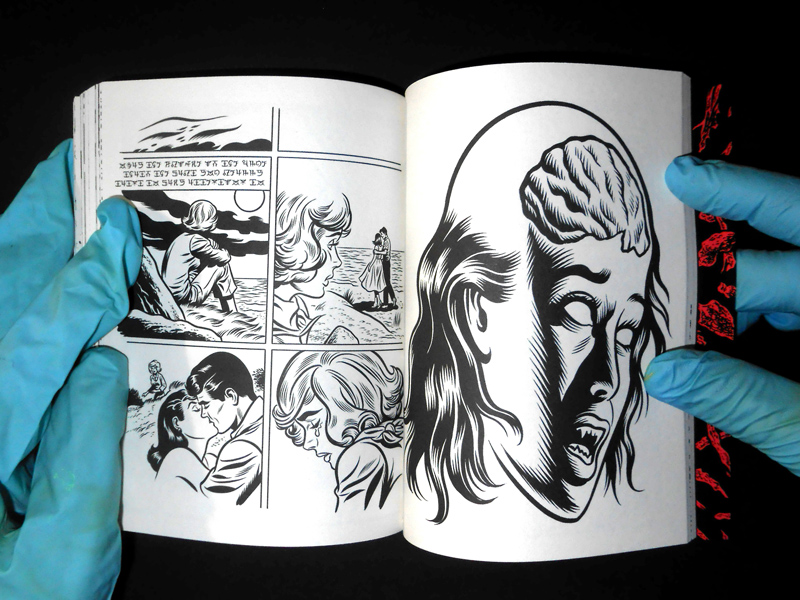 Ci si vedono tracce di Black Hole (una rana vivisezionata, una donna con la coda, ecc.), il solito repertorio da b-movie, inevitabili tracce di romance comics, uno "special literary issue" composto soltanto da testi scritti a mano, pin-up di personaggi secondari della Marvel, un ritratto di William Burroughs e tanto altro. Pian piano che si va avanti gli schizzi e i disegni di prova dell'ultima trilogia diventano sempre più preponderanti, anche se non mancano comunque altre perle che mostrano tutta l'estensione di un immaginario affascinante e coerente. Free Shit è ancora più interessante del solito perché raccogliendo materiale realizzato nel corso di oltre 15 anni offre anche una storia involontaria della creatività di uno dei maggiori autori contemporanei di comics.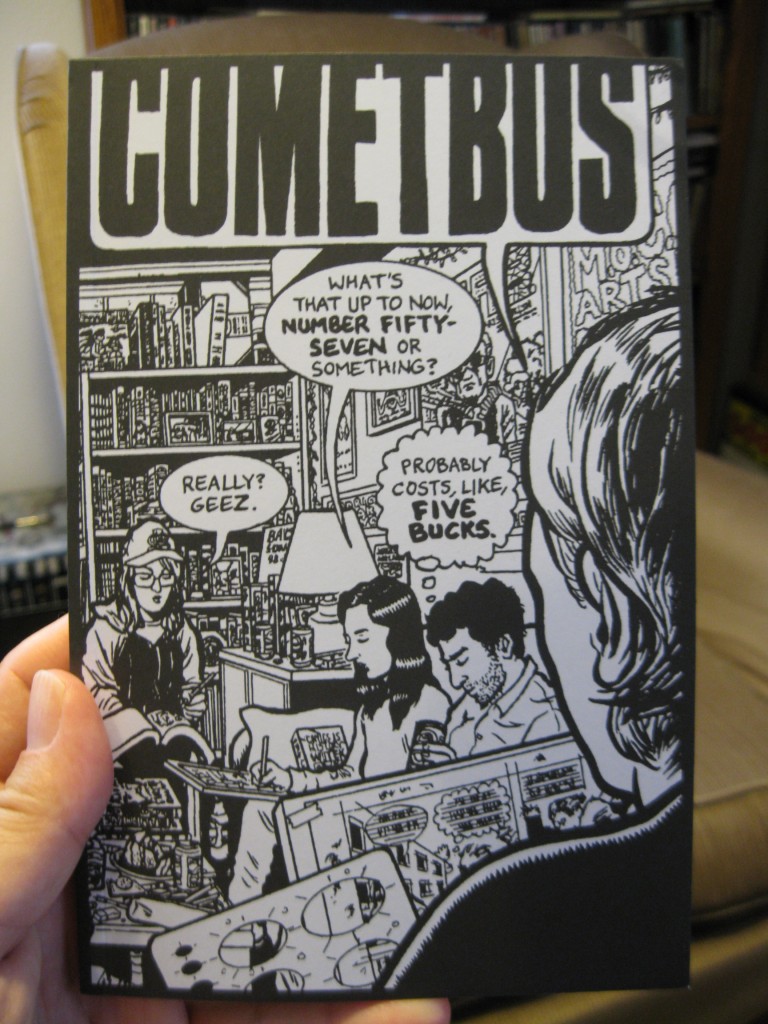 La celebre fanzine di Aaron Cometbus, in cui il musicista e scrittore di estrazione punk tratta da ben 35 anni dei più svariati argomenti, dedica il suo 57esimo numero alla scena fumettistica newyorkese, con una serie di interviste a cartoonist e altre figure che popolano quel mondo: si va da Adrian Tomine al curatore della serie The Best American Comics Bill Kartalopoulos, da Gary Panter al proprietario di Desert Island (e organizzatore del Comic Arts Brooklyn) Gabe Fowler. E poi ci sono Gabrielle Bell, Robin Enrico, Jeffrey Lewis (autore anche della copertina), Julia Wertz, Ben Katchor, Paul Levitz, Drew Friedman, Karen Green, Kim Deitch e Al Jaffee, mentre Nate Powell firma i ritratti di tutti gli intervistati. Ne viene fuori una lettura frizzante che offre un quadro non solo del fumetto ma anche della scena artistica di New York nei suoi risvolti più umani e pratici, come il costo degli affitti, i punti di ritrovo, i rituali di "accoppiamento" dei cartoonist, le gelosie tra artisti e via dicendo. Cometbus non ha peli sulla lingua e con il suo handwriting mette giù una serie di domande anche intime e a volte scomode, senz'altro divertenti per il lettore che si trova sotto gli occhi non la solita intervista in cui si parla soltanto della formazione, delle fonti di ispirazione, della tecnica utilizzata e via dicendo. Inoltre credo proprio che i continui riferimenti alla storia della città, alla scena musicale e al mondo letterario possano rendere questo Cometbus #57 una lettura interessante non solo per i fumettofili ma anche per gli appassionati di cultura americana. Se poi amate i comics, è una roba assolutamente da non perdere.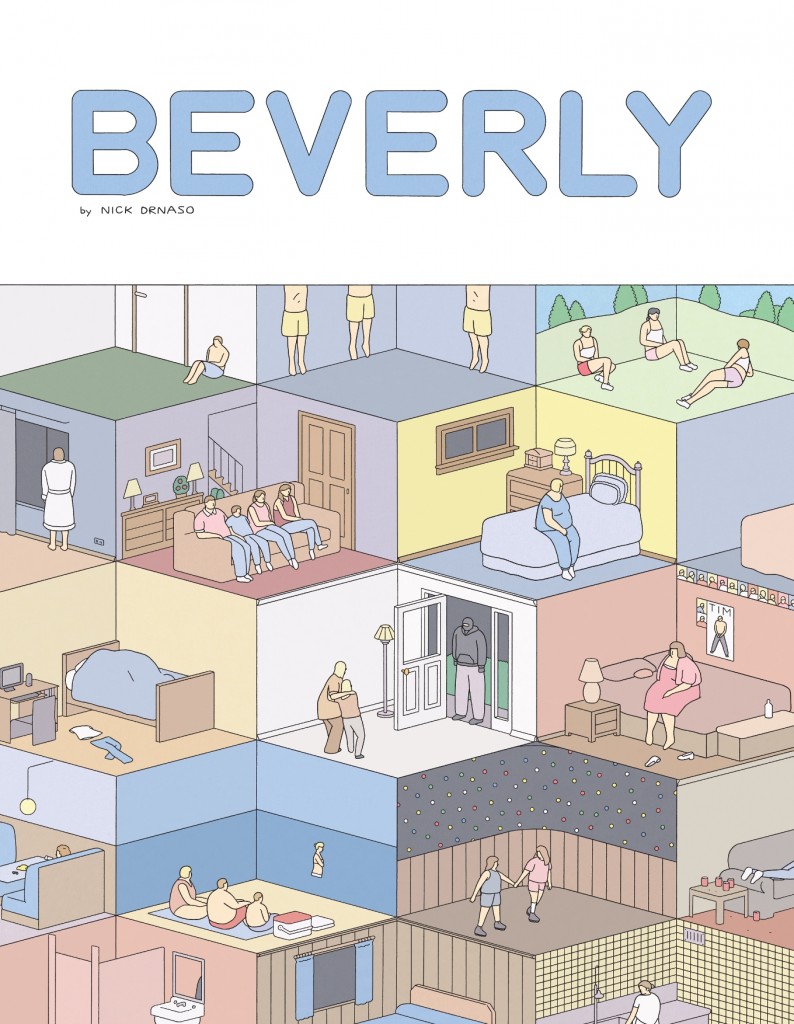 Infine faccio una concessione a un volume pubblicato già da qualche mese da Drawn and Quarterly ma che è una novità dell'ultim'ora qui in Italia, dato che sta arrivando in libreria per Coconino Press. Si tratta di Beverly, raccolta di sei storie brevi di Nick Drnaso vagamente collegate tra loro, che l'editore definisce "un affresco sommesso e disperato di vita nei sobborghi di una metropoli americana". Rob Clough, in questa approfondita recensione che vi consiglio di leggere, paragona invece questi fumetti al cinema di Todd Solondz, riferimento che rende l'idea anche se Drnaso è spesso più misurato del regista di Happiness nella messa in scena, caratterizzata da uno stile volutamente flat e monocorde in tutti i suoi aspetti, dalla linea alla rigida suddivisione in vignette fino ai colori. Certo, se le iniziali The Grassy Knoll (già uscita come mini per la Oily Comics) e The Saddest Story Ever Told lavorano di fino mostrando senza clamori meschinità nascoste, razzismo, ipocrisia e vuoto esistenziale, la successiva The Lil' King pigia sull'acceleratore raccontando dell'insana passione di un ragazzo per sua sorella e dei suoi sogni di sterminio quasi globale. Ma anche in questo caso il sensazionalismo è nascosto da un senso della misura così discreto da risultare disturbante, anche perché al centro di tutto c'è una tematica che solo così si può raccontare, ossia la difficoltà di avere relazioni sociali "normali". Il volume aumenta di livello pagina dopo pagina e le tre storie che ne compongono la seconda parte – Pudding, Virgin Mary, King Me – ci mostrano un autore pienamente consapevole dei suoi mezzi, in grado di confezionare un debutto appassionante e del tutto maturo a soli 27 anni. Non fatevelo scappare.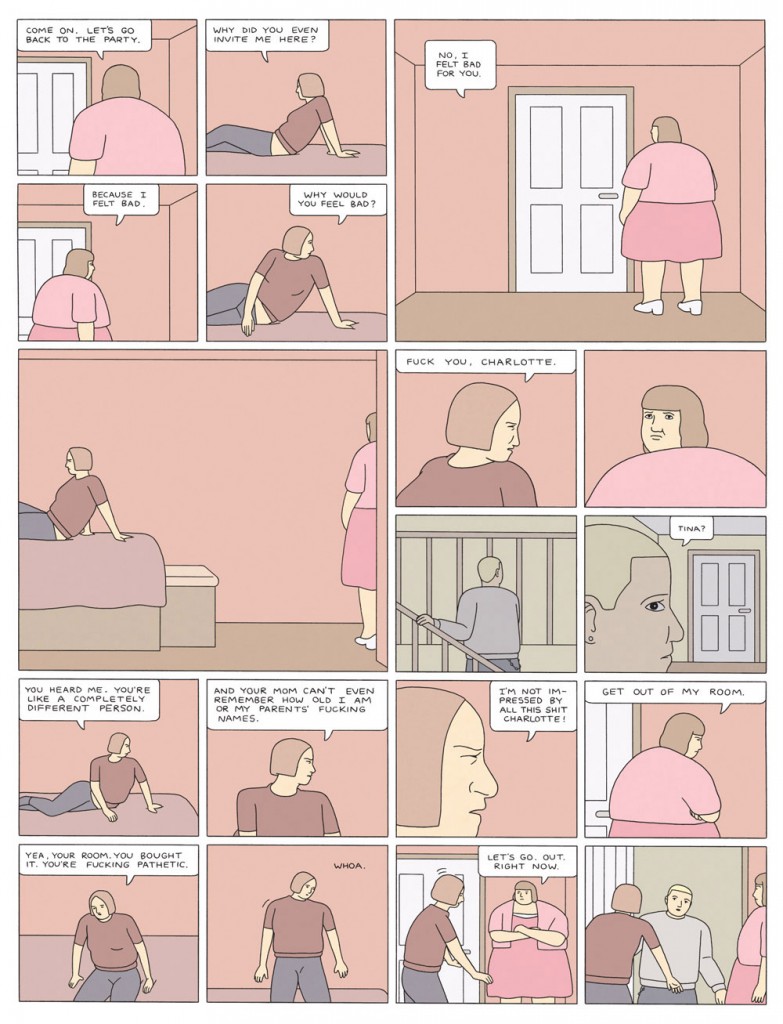 "Suicida" #1 by Abraham Diaz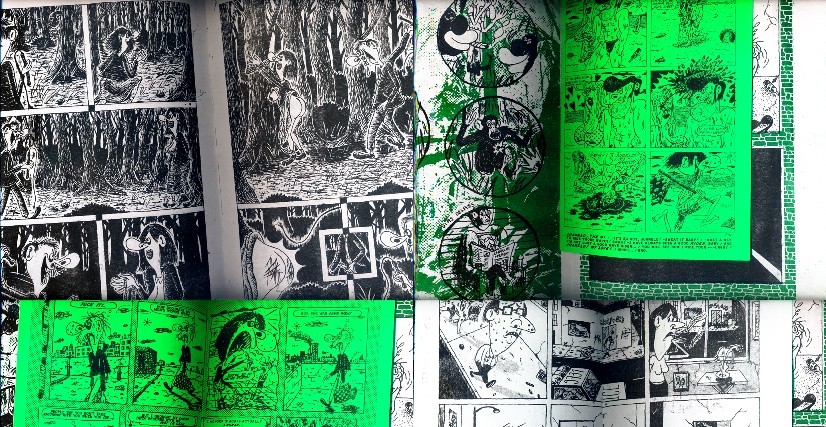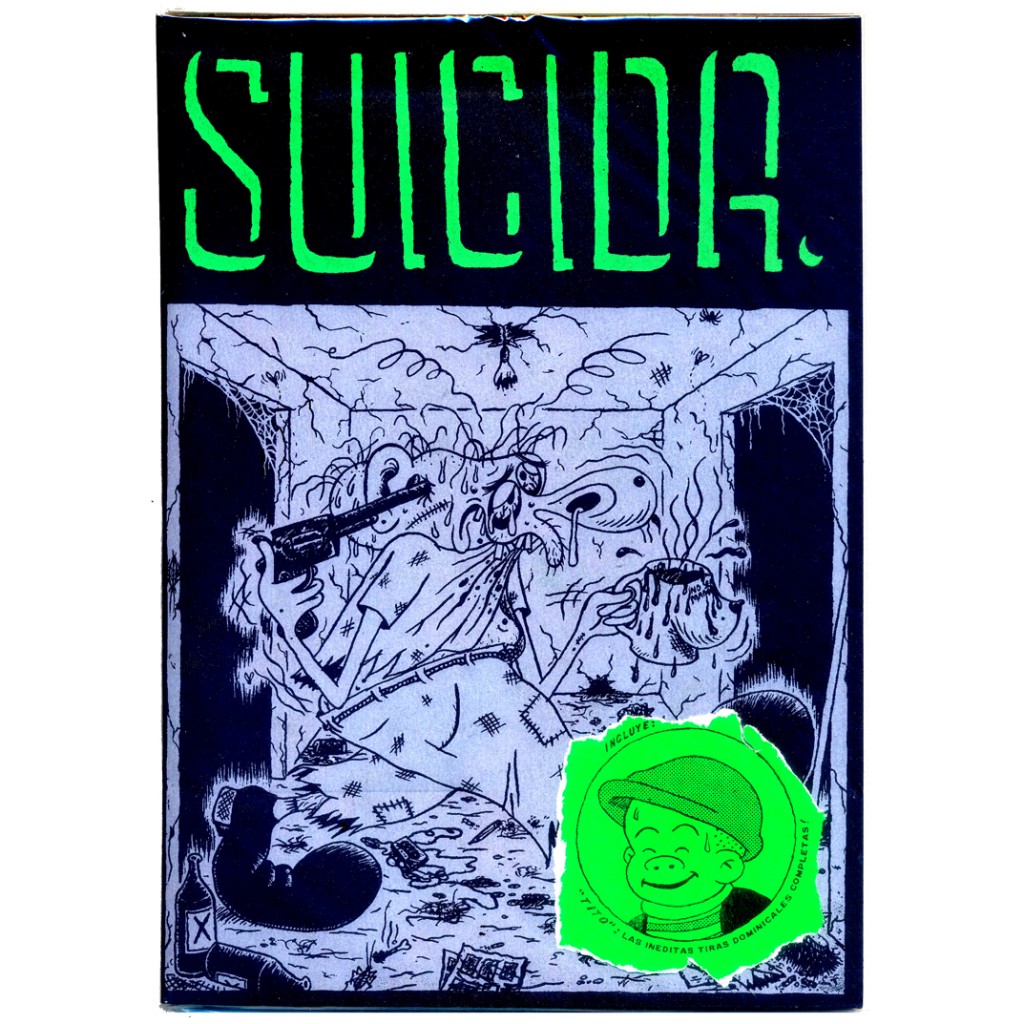 Voyeurism, sadism, masochism, self-mutilation, death, murder, suicide, gratuitous violence, sex, masturbation, TV addiction, urban decay. In his solo debut Suicida #1, Abraham Diaz works with these elements, mixes and molds them at will, creating a solid and always funny cartooning. In late 2015, the Mexican artist published with his imprint Ediciones Joc Doc 200 copies of this 28×20 cm comic book, texts in English and Spanish, a screen-printed cover, white and black paper with the addition of green, sometimes used as ink but also for the pages of the inserts. A good-looking but also dirty object, Suicida #1 digs up the underground punk aesthetics and the tradition of the single-artist floppy anthology in one shot. The opening story is The Witness, starring a lonely middle-aged man telling a policeman about a murder he watched spying in his neighbor's bathroom. Diaz's line is grotesque, cripples characters' bodies, stretches their noses, twists their teeth, in a style that looks at many artists we loved over the last twenty years (Kaz, Ivan Brunetti, Johnny Ryan) but also at Mad magazine, gag cartoons, newspaper strips. And it's not a case if inside the book we find two half sheets with four Misery Funnies, classic gags with text below the cartoons. One of this shows a man naked on the toilet, a steaming mug in one hand, the handset of the phone in the other and below "You don't seem to understand… I'm my mother's only child!". And the telephone handset is a substantial detail, because the whole book is stuck in the 80's or even before for aesthetics and settings and there is deliberately no trace of cell phones, computers and Internet.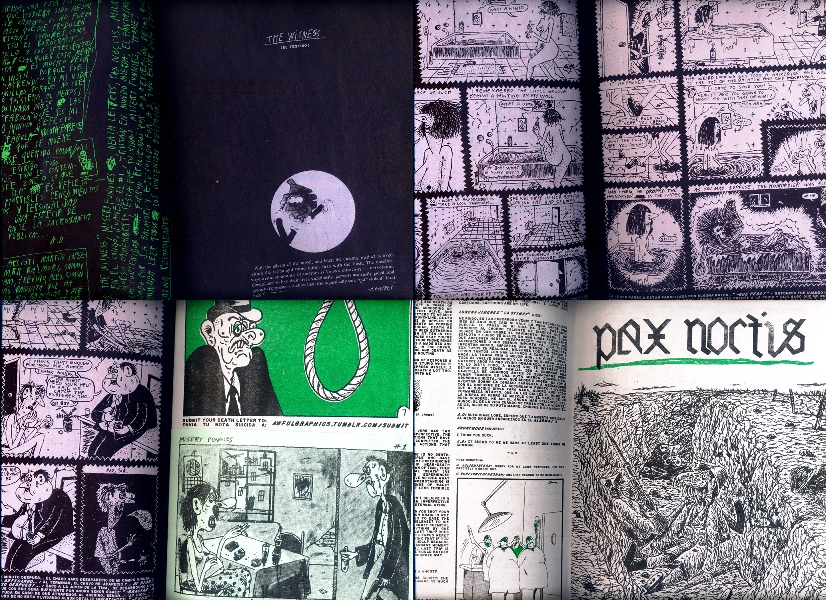 One of the inserts, Tito, moves on the same nostalgic and irreverent references of the Misery Funnies, showing the Diaz take on Sluggo, Nancy's friend in the Ernie Bushmiller strip (Tito is the name of the character in the Spanish-speaking countries). Pax Noctis, already seen in Kovra #6 published by Ediciones Valientes, is another highlight, a tale of war and desire about a soldier in the trenches recalling, or more probably imagining, a chase in the forest. The situation culminates with a woman tied to a tree and whipped, then Diaz shows again the man, this time masturbating, while the ending combines sex and death like in The Witness. Suicida #1 seems the consequence of a week spent at home in the dark zapping in front of the TV, nerves on edge, eyes pulsing, the body in the grip of a hysterical frenzy that unleashes the most vile urges. But the cartooning of Diaz is more than this, because often he shows and ridicule human foolishness: if Pax Noctis mocked war and sexism, Milagro En El Congo shows a poor chimpanzee suffering the colonial barbarity on a jungle-green background. In another insert we find three one-pagers about the usual topics, reiterated also in the following ¡Esta Fue Tu Vida!, which introduces the novelty of explicit sex without forgetting ruthless irony and storytelling. Home is the last comic of the book, an heap of crazy lines reproducing the urban chaos. A prisoner is released and has to suffer the arousals of the city, as exhibited nudity, women with tight leggings leading men like dogs on a leash, people copulating in every corner. The gory ending is inevitable as magnificent and you can discover it in the few remaining copies of Suicida #1, sold out at the publisher but still available at this moment on Fatbottom Books and Dripper World. Or you can read Kramers Ergot #9, where Pax Noctis, Home and two of the Misery Funnies have been reprinted. In the meantime, Diaz is working at the second issue and so we'll read soon a new chapter of his old school comics.