Già dopo un paio di anni dal debutto di Hate, Bagge aveva ricevuto segnali di interessamento da parte di alcuni produttori cinematografici, desiderosi di sfruttare il boom non tanto del fumetto quanto di Seattle e del grunge. In realtà Bagge non si immaginava la sua serie trasposta in un film alla Singles. Per il suo creatore Buddy e soci dovevano diventare i dissacranti personaggi di un cartone animato per adulti, come i Simpson o Beavis and Butt-Head. Ma quando qualche anno dopo il suo amico Aaron Lee, tra l'altro curatore della rubrica Kickin' Ass pubblicata negli ultimi numeri di Hate, gli propose un'idea per un trattamento cinematografico, Bagge la trovò azzeccata e si convinse finalmente a lavorarci sopra. Costituito un team composto anche dal regista Terry Zwigoff (quello di Crumb e di Ghost World) e da due suoi collaboratori, i cinque prepararono una sceneggiatura per un lungometraggio che – dopo diversi tentativi – arrivò sulle scrivanie di MTV. Peccato che i creativi di MTV videro subito Hate come… una serie animata! Aveva dunque ragione Bagge, che d'altronde conosceva meglio di tutti la sua creatura. O forse no, visto che il progetto si inabissò dopo sei mesi di intenso lavoro che videro l'autore fare la spola tra Seattle e New York, tra lussuose camere d'albergo e interminabili riunioni.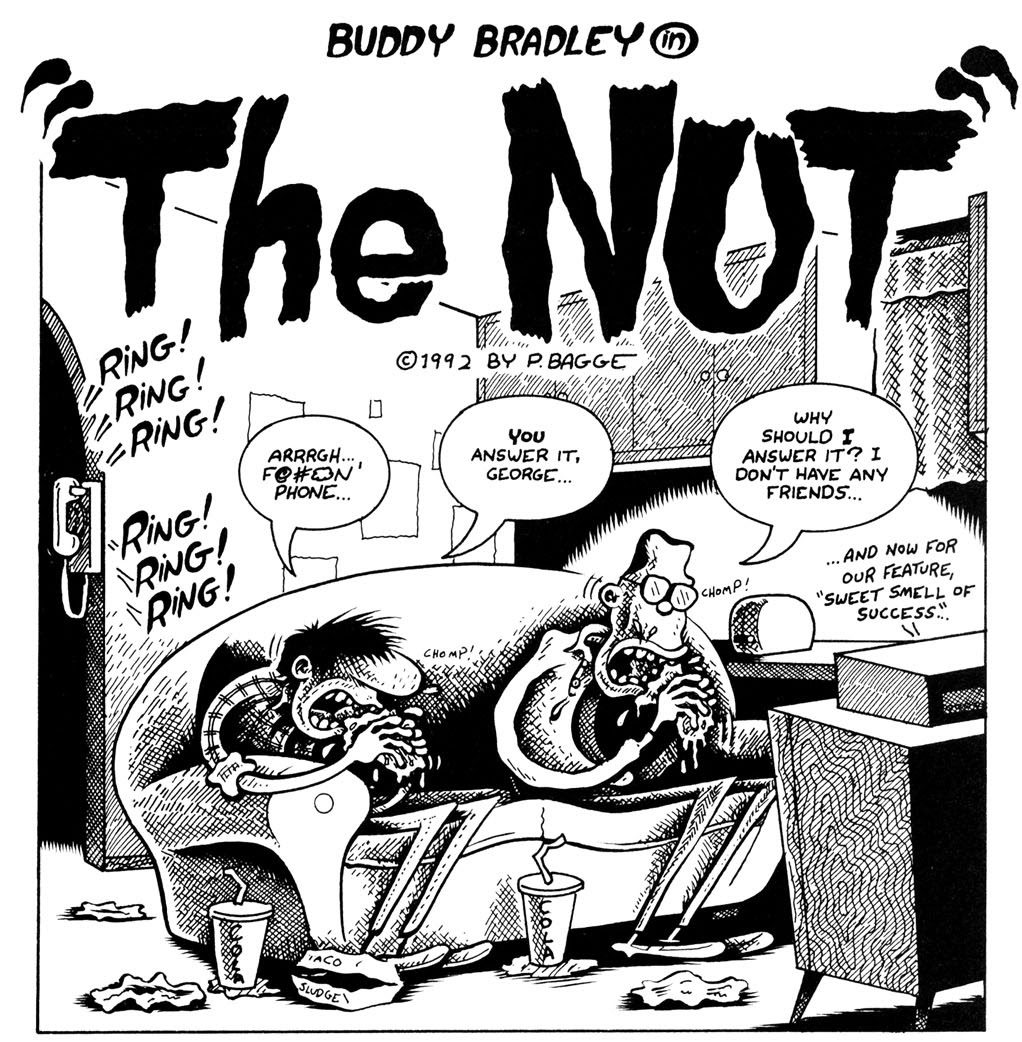 Erano i tempi degli ultimi numeri di Hate, che Bagge disegnava alacremente mentre era a casa preparandosi all'ennesimo viaggio con destinazione MTV. Che alla fine, appunto, si tirò indietro. Decisivo fu il giudizio del focus group a cui venne fatto vedere uno storyboard animato di otto minuti (il cosiddetto animatic) che riproduceva grosso modo la storia del primo numero del comic book. Molti partecipanti al gruppo trovarono il personaggio di Buddy Bradley noioso o addirittura antipatico, tanto da rendere inevitabili alcune modifiche. Tutta invidia, forse, come suggerì Bagge in "Focus" This!, una vendicativa strip a tema uscita poco dopo su Entertainment Weekly? Chi lo sa, fatto sta che il nostro preparò una nuova sceneggiatura che non venne prese neanche in considerazione, perché nel frattempo a MTV erano cambiate alcune figure dirigenziali e l'attenzione si era ormai spostata su nuovi progetti. Come per esempio Daria, che fu sviluppata proprio nello stesso periodo. Ma se la nerd snob e occhialuta riuscì a ritagliarsi il suo spazio trovando la via del debutto nel 1997, Buddy Bradley non ebbe la stessa fortuna. Bagge fu rispedito definitivamente a Seattle e addio cartone animato di Hate. 
Un nuovo tentativo fu fatto con HBO qualche anno dopo, ma anche in quel caso il cartone rimase solo un progetto. Nel 2007 MTV tornò alla carica per realizzare The Bradleys, una serie animata incentrata su tutta la famiglia di Buddy, riprendendo alcune situazioni di Neat Stuff. Il progetto non ebbe un seguito e passò poco dopo in casa Fox, come riportarono alcuni siti internet nel 2009. Ma anche in quel caso l'idea non sfociò in niente di concreto, con buona pace di Bagge, che comunque nel corso degli anni ha potuto almeno beneficiare delle opzioni sulle sue creature, pagate a caro prezzo dagli studios.