L'immaginario di Charles Forsman ha già da tempo travalicato i confini del fumetto alternativo grazie alle due stagioni di The End of the Fucking World, serie tv realizzata per la britannica Channel 4 e poi trasmessa da Netflix. Dal successo di quell'adattamento ne è scaturito un altro, I Am Not Okay With This, direttamente per Netflix e di cui era prevista anche una seconda stagione, poi cancellata dopo l'esplosione della pandemia. I libri di Forsman sono stati pubblicati in Italia da 001 Edizioni, mentre negli USA le sue cose si sono viste per Fantagraphics e Floating World. Nonostante ciò Forsman continua di tanto in tanto a stampare i suoi albetti in totale autonomia, da fiero sostenitore dell'autoproduzione qual è; ha infatti iniziato a farsi conoscere come factotum della Oily Comics, l'etichetta per cui è stato serializzato in origine The End of the Fucking World.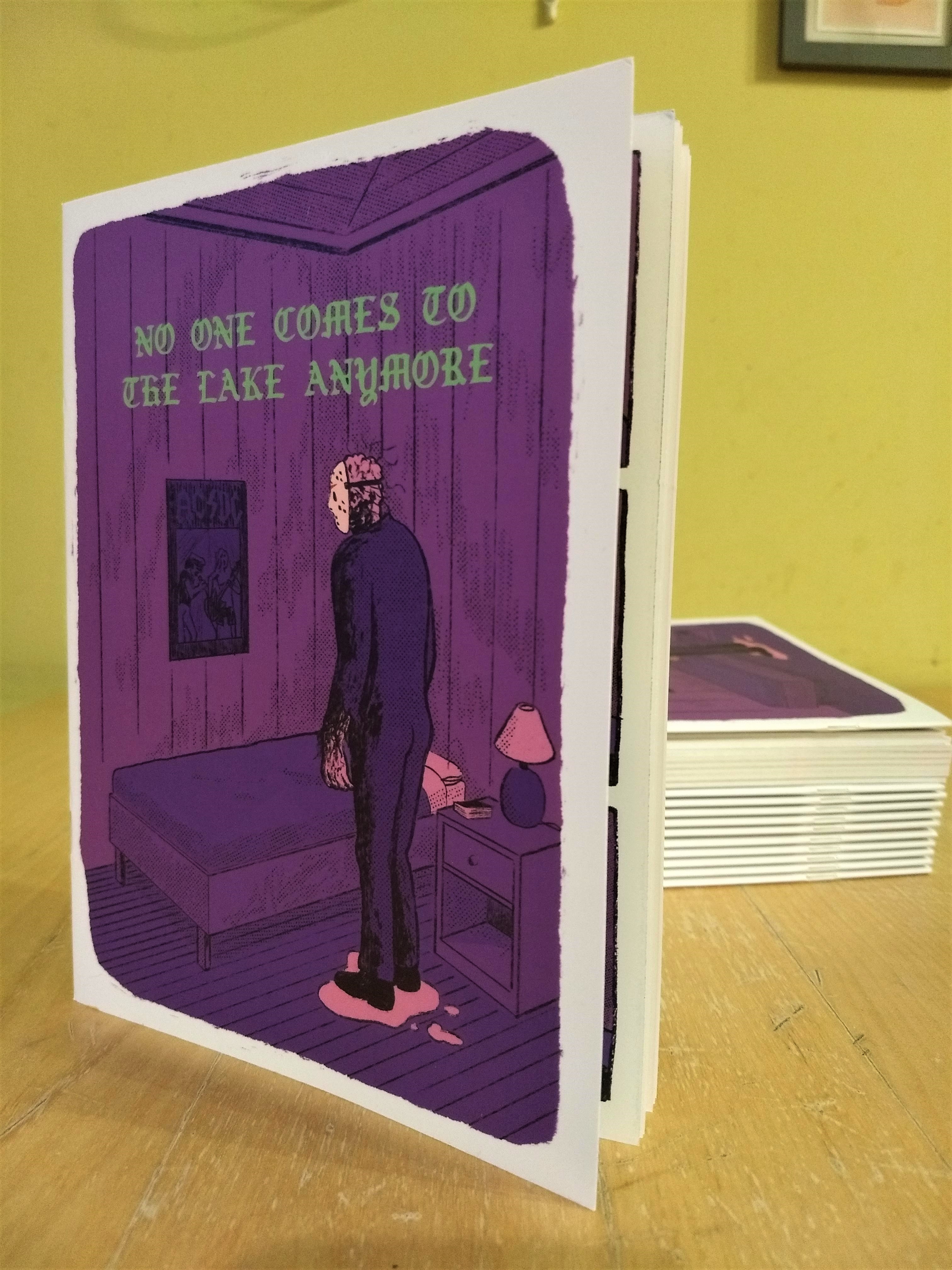 Se gli sforzi editoriali di Forsman sono ormai riservati per lo più ai suoi adepti su Patreon, ogni tanto il nostro se ne esce con qualche produzione off come il recente No One Comes to the Lake Anymore, che ho deciso di scegliere come primo fumetto del Just Indie Comics Buyers Club 2022. L'albo si presenta come uno spillato di 24 pagine a colori su carta bella spessa e patinata. E già dalla copertina mette in chiaro di quale lago stiamo parlando. Dopo aver infatti fornito con le sue storie materiale per produzioni televisive, Forsman inverte il processo e si fa ispirare dalla nota saga cinematografica di Venerdì 13, ambientando la sua storia a Crystal Lake e scegliendo come protagonista il killer con la maschera da hockey Jason Voorhees.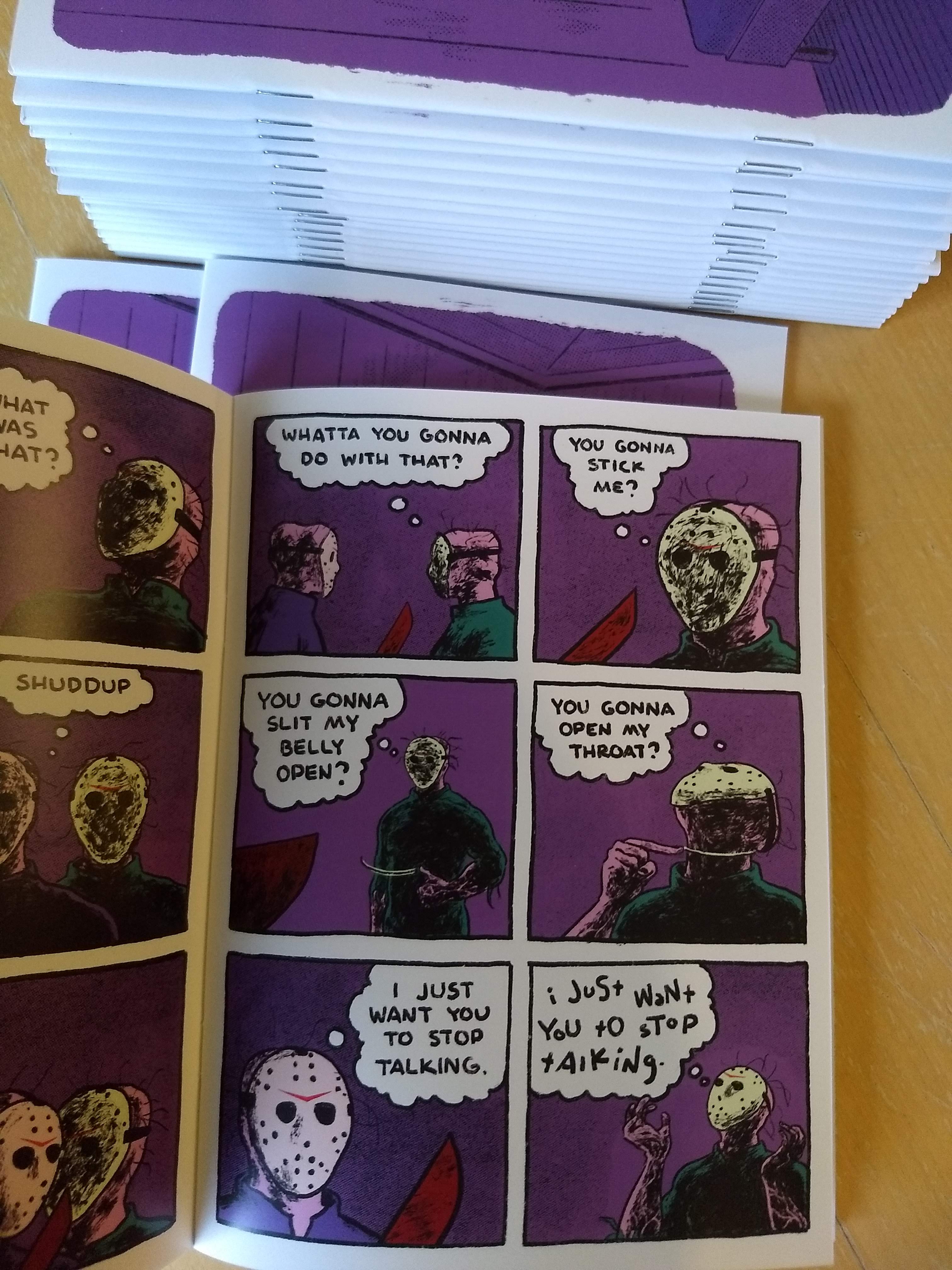 Non aspettatevi però facili trovate horror o efferatezze varie: il modello cinematografico diventa piuttosto una scusa per indagare le turbe di una psiche schizofrenica, tanto che l'immagine più violenta dell'albetto è una lama che si conficca in una mano sanguinante. Per il resto Jason dialoga con se stesso e "incontra" di nuovo la madre, che svolgeva un importantissimo ruolo nel primo Friday the 13th. Non vi anticipo il finale a sorpresa, ovviamente: per scoprirlo vi consiglio di abbonarvi al Buyers Club di Just Indie Comics, che quest'anno comprende anche un'esclusiva newsletter cartacea. Ma inutile che mi ripeto, anzi, la chiudo qui mettendovi di seguito i link per ulteriori informazioni e soprattutto per abbonarvi entro il prossimo 31 dicembre.
ANTEPRIMA JUST INDIE COMICS BUYERS CLUB 2022
ABBONAMENTO JUST INDIE COMICS BUYERS CLUB 2022 + NEWSLETTER