E' aperta fino al 22 ottobre alla galleria Sterput di Bruxelles una bella mostra dedicata al canadese Marc Bell e alla belga Nina Van Denbempt. L'accoppiata è del tutto inedita e anche insolita, trattandosi di due artisti distanti sia dal punto di vista geografico che anagrafico. Il primo è un affermato fumettista classe 1971, ben noto nel circuito alternativo grazie ai volumi usciti per Drawn & Quarterly in Canada e Cornelius in Francia. Il suo stile giocoso e frammentario procede per associazioni d'idee e giochi di parole ed è caratterizzato da cut-up verbali e grafici che sembrano generati da uno Jacovitti che ha appena letto William Burroughs. La seconda è un'autrice classe 1989 di cui parlavo in questo post. Dopo l'esperienza fumettistica del collettivo Tieten Met Haar, ha esplorato l'arte, la performance e la scultura. Pur non dimenticando a sua volta la dimensione dell'ironia e del paradosso, Van Denbempt utilizza il linguaggio dell'espressionismo per esprimere insicurezza e autocommiserazione, come in un improbabile incrocio tra Peter Saul e Tara Booth.
La mostra mette insieme originali preesistenti e qualche opera realizzata per l'occasione, in alcuni casi nei giorni immediatamente antecedenti l'inaugurazione di giovedì 7 settembre. Oltre alle tavole e ai dipinti, spiccano due sculture di Van Denbempt, raffiguranti un'imponente figura femminile e un capo di vestiario. Personalmente ho avuto la fortuna di visitare la mostra sabato 9, quando ho potuto assistere a una chiacchierata tra Bell e Van Denbempt, moderati dal critico Benoit Crucifix. I due artisti hanno candidamente ammesso di non conoscere l'opera dell'altro fino al momento di essere invitati a esporre insieme. Inoltre, si sono soffermati sulle fasi e le dinamiche del loro processo creativo, con Bell che ha spiegato ai purtroppo pochi presenti il metodo da lui definito "Swedish Death Cleaning", ossia una tecnica che si propone di dare un senso a tutti i lavori incompiuti che tende ad accumulare. Particolarmente interessante la parte in cui i due hanno parlato del loro rapporto con il mondo delle gallerie d'arte, una dimensione che per Bell rappresenta il passato (ora ha ripreso a dedicarsi soprattutto a fumetto e illustrazione), mentre per Van Denbempt è al momento la via principale per la sua affermazione di artista.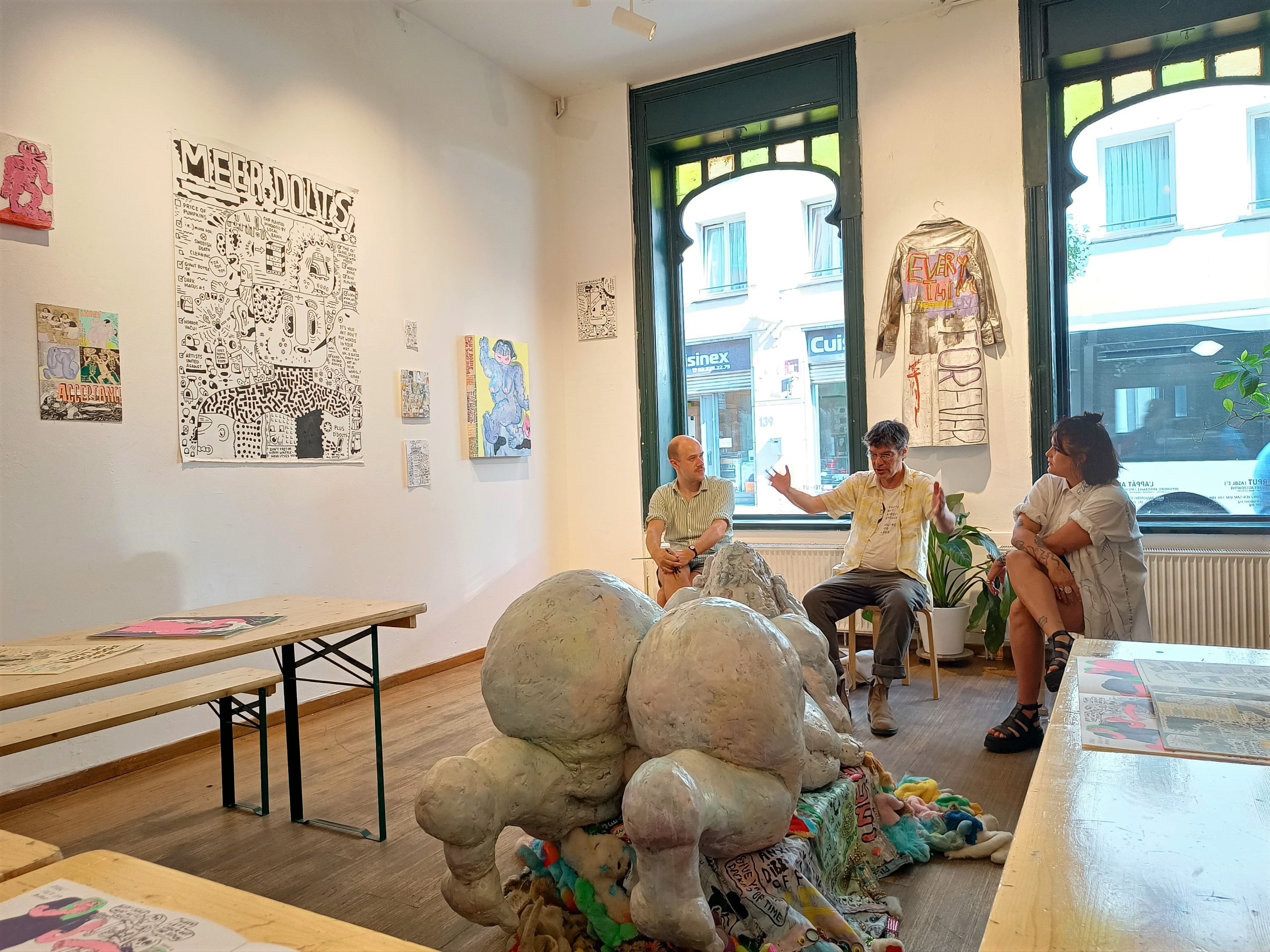 In occasione dell'evento Sterput ha prodotto due albi serigrafati di grandi dimensioni. Cruel Company di Nina Van Denbempt, che per l'occasione si firma Nina Ferrari, è un breve fumetto autobiografico in cui l'autrice si raffigura grossa e decadente mentre aspetta insieme alla figlia neonata la visita del compagno. Indecisa se considerare l'incontro un vero appuntamento, la protagonista/autrice ci racconta con paradossale umorismo la sua discesa nella più totale paranoia. Narrazione autoconclusiva, Cruel Company riflette le tematiche e lo stile dell'autrice ma senza collegarsi direttamente alle opere in mostra. Discorso diverso va fatto per Dear Foghorn of Legs di Marc Bell, albo identico nel formato ma più simile a un catalogo nei contenuti. L'artista canadese racconta per immagini la sua "ongoing war with paper", in quello che è a tutti gli effetti un nuovo numero di Boutique Mag, l'antologia in cui raccoglie i suoi più recenti lavori.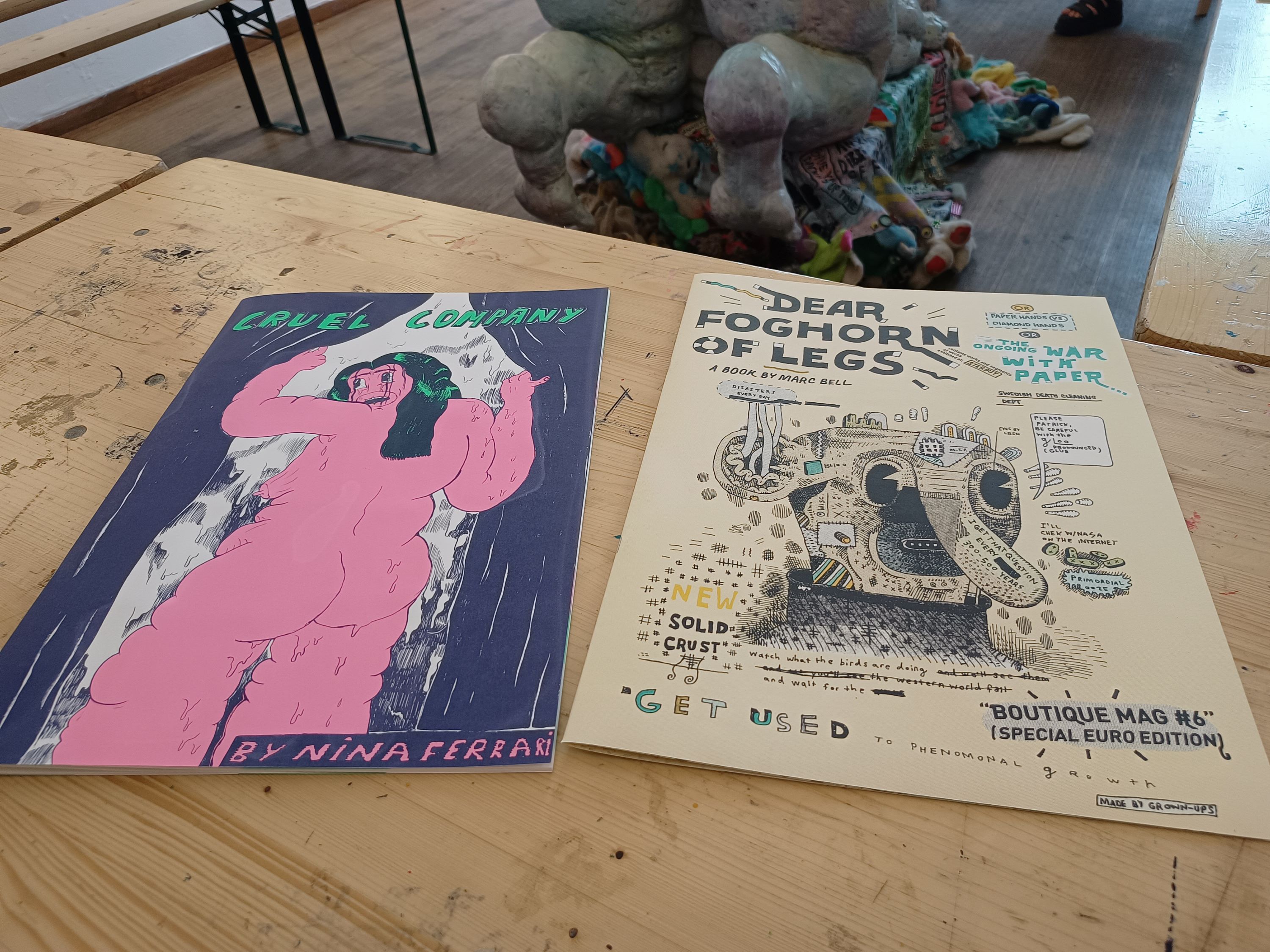 Vi segnalo infine che, se vi trovaste a passare per Bruxelles, Sterput è un luogo da visitare al di là della mostra attualmente in corso. Si tratta infatti di un'elegante e spaziosa galleria con un programma sempre ricco, oltreché di un negozio tutto dedicato alla piccola editoria, ricco di fumetti, fanzine e albi illustrati per lo più europei, ovviamente con un occhio di riguardo all'area franco-belga.