"Suicida" #1 di Abraham Diaz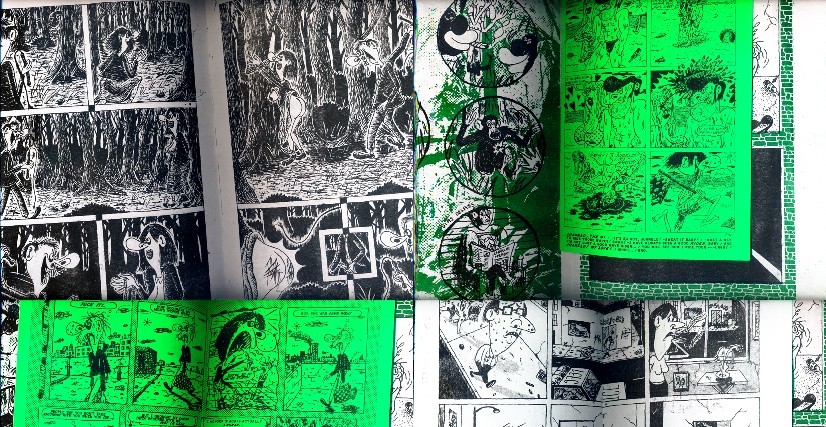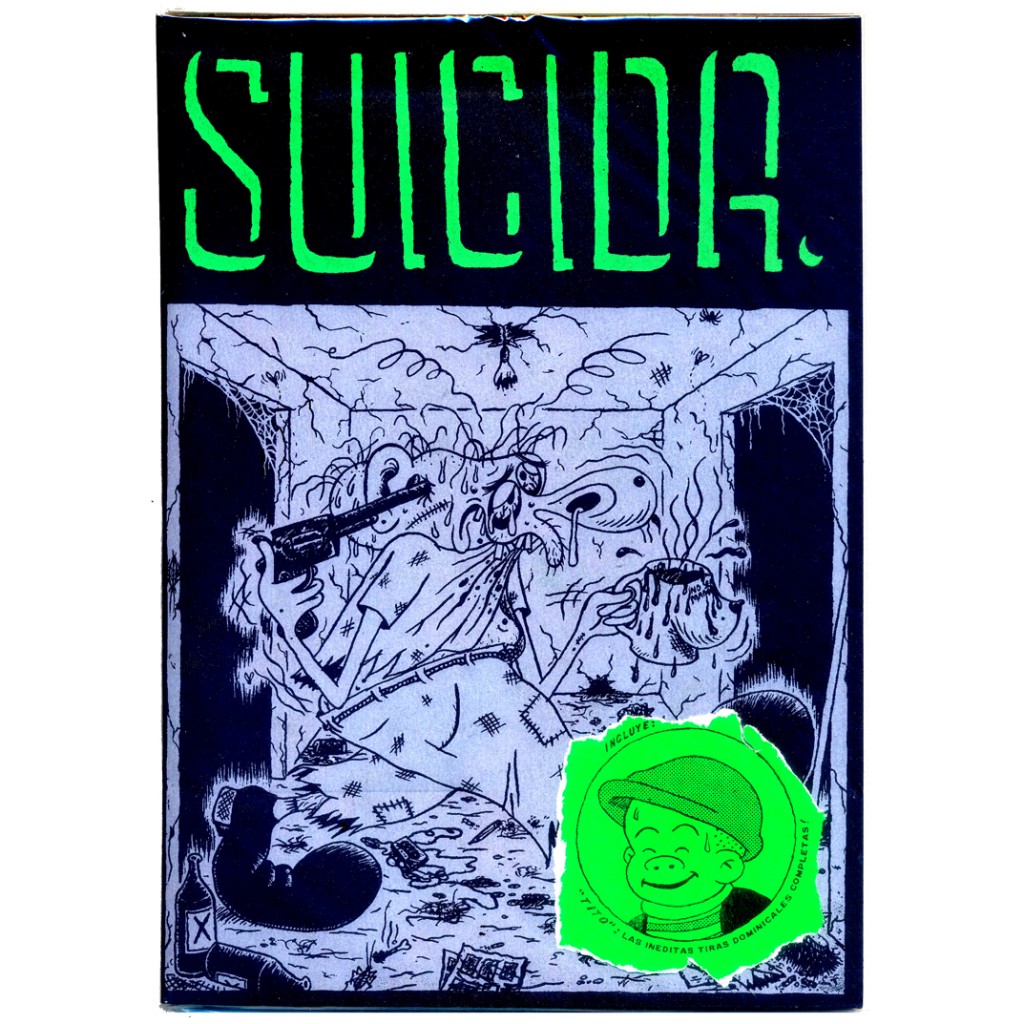 Voyeurismo, sadismo, masochismo, autolesionismo, morte, omicidio, suicidio, violenza gratuita, sesso, masturbazione, teledipendenza, degrado metropolitano. Nel suo debutto solista Suicida #1 Abraham Diaz lavora con questi ingredienti, li mescola, li forgia a suo piacimento creando un cartooning compatto e sempre ironico, salace, acido quanto basta. A fine 2015 l'artista messicano ha stampato insieme ai suoi compari dell'etichetta Ediciones Joc Doc 200 copie di questo albo 28×20 cm con testi in inglese e spagnolo, copertina serigrafata, carta bianca e nera con l'aggiunta del verde, utilizzato a volte come inchiostro ma anche per le pagine degli inserti. Un oggetto bello a vedersi e al tempo stesso sporco, che ricerca nell'estetica punk il feeling underground dei comic book monografici di una volta, con tanto di pagina delle lettere (unica differenza, i messaggi dei lettori non arrivano più per posta ma su Tumblr). Si inizia con The Witness, protagonista un solitario uomo di mezza età con tanto di baffetto intento a raccontare un omicidio a cui ha assistito spiando nel bagno della vicina di casa. Il tratto di Diaz è caricaturale, storpia i corpi dei personaggi, allunga i nasi, storce i denti, in uno stile che guarda a tanti artisti che abbiamo amato negli ultimi trent'anni (Ivan Brunetti, Kaz, Johnny Ryan) ma anche a Mad, ai gag cartoon, alle newspaper strip. Non a caso all'interno dell'albo troviamo due mezzi fogli con quattro Misery Funnies, classiche gag con testo sotto la vignetta, del tipo uomo tutto nudo sul water, una tazza fumante in una mano, la cornetta del telefono nell'altra e sotto "You don't seem to understand… I'm my mother's only child!". E la cornetta del telefono è un dettaglio da non trascurare, perché tutto l'albo è fermo per estetica e scenari agli anni '80 o prima ancora, non c'è volutamente traccia di cellulari, computer e tanto meno internet.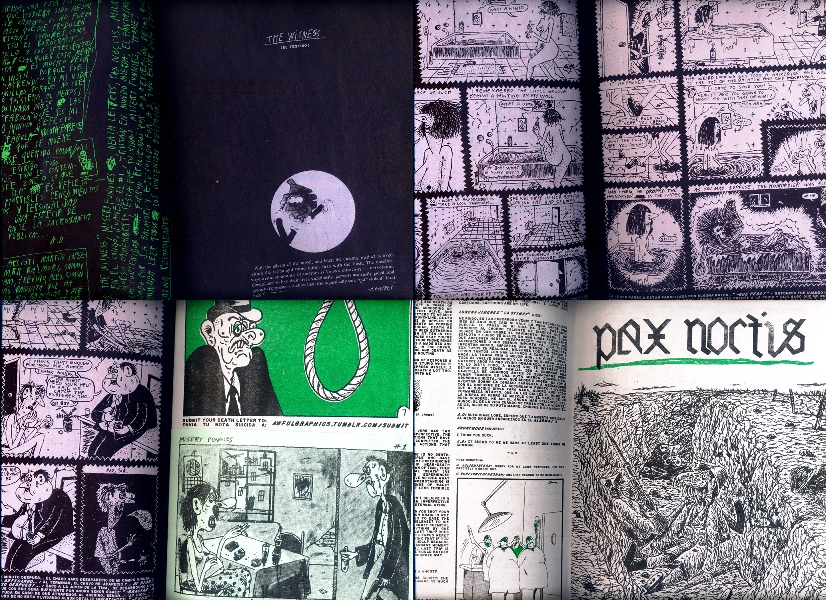 Sulle stesse coordinate nostalgiche e irriverenti delle Misery Funnies è l'inserto in formato orizzontale Tito, che mostra la versione Diaz di Sluggo, l'amico di Nancy nella strip di Ernie Bushmiller (Tito è il nome con cui il personaggio è noto nei paesi di lingua spagnola). Pax Noctis, già vista su Kovra #6 delle Ediciones Valientes, è un altro pezzo forte, una storia di guerra e desiderio, un uomo costretto in trincea che ricorda o più probabilmente immagina un inseguimento in un bosco. La situazione culmina con una donna legata a un albero e frustata, poi si torna al soldato nella trincea che si masturba, fino al finale che unisce di nuovo sesso e morte come nel pezzo d'apertura. Suicida #1 sembra la conseguenza di una settimana passata chiusi in casa a fare zapping al buio davanti alla tv, con i nervi a fior di pelle, gli occhi che pulsano, il corpo in preda a una frenesia isterica che scatena le pulsioni più becere. Ma il cartooning di Diaz non è tutto qui, perché spesso denuncia e mette alla berlina senza mezzi termini l'idiozia umana: se Pax Noctis si prendeva gioco della guerra e dei deliri di onnipotenza sessisti, Milagro En El Congo è invece la storia animalista di un povero scimpanzé stampata su sfondo in risograph verde giungla. Arriviamo dunque a un altro inserto, questa volta apribile formato poster, dove troviamo tre fumetti di una pagina sui temi abituali, ribaditi anche nel successivo ¡Esta Fue Tu Vida!, che introduce la novità del sesso esplicito ma senza dimenticare l'ironia spietata e il gusto per lo storytelling, presenti ovunque nella produzione del messicano. Home è il fumetto conclusivo, un trionfo di linee impazzite che riproducono il caos metropolitano (stessa soluzione adottata in Home Is Where the Hatred Is, storia breve di Diaz per š! #24): un carcerato esce di prigione ma deve subire gli stimoli continui della città, rappresentati in modo parossistico con nudità esibite senza remore, uomini al guinzaglio di donne dai leggings attillati, gente che copula in ogni angolo. Il cruento finale ve lo potete immaginare oppure potete leggerlo sulle poche copie rimaste di Suicida #1, esaurito presso l'editore ma ancora disponibile, almeno al momento in cui scrivo queste righe, su Fatbottom Books, Dripper World e Feel It Records. Oppure potete procurarvi Kramers Ergot #9, dove sono state ristampate di recente Pax Noctis, Home e due delle Misery Funnies. Intanto Diaz è al lavoro sul secondo capitolo e noi restiamo così in trepidante attesa di leggere altri dei suoi fumetti old school.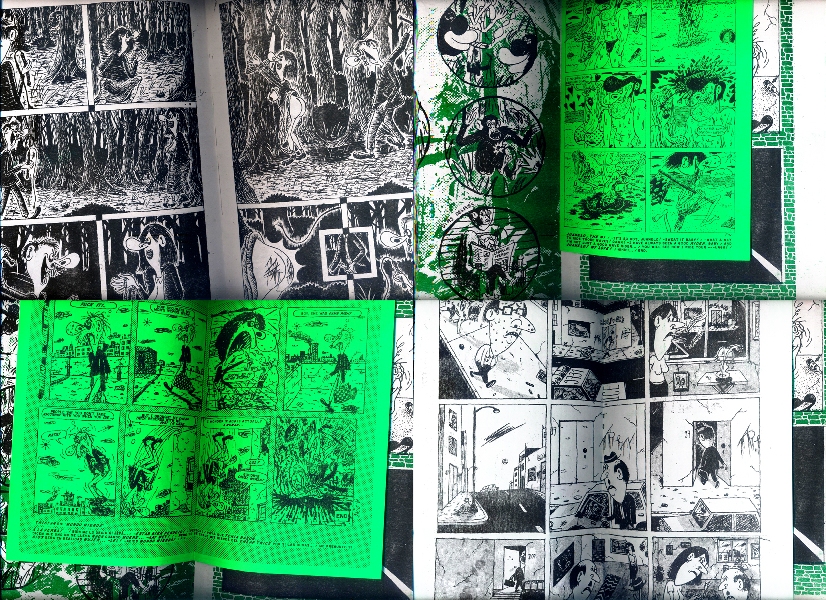 Misunderstanding Comics #5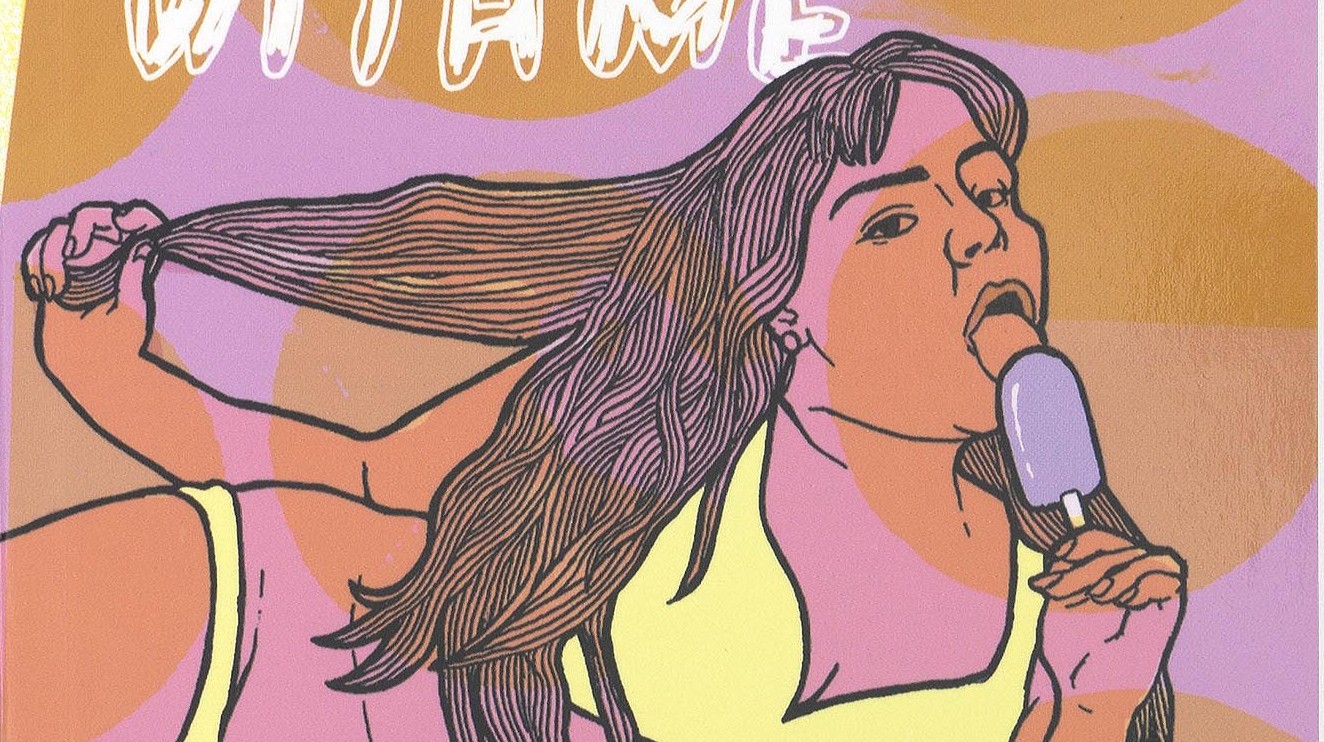 Dopo una lunga pausa riprendo a segnalare un po' di fumetti, che di recente si sono davvero accumulati sulla mia libreria (e scrivania, e comodino, e divano, e lavatrice, ecc. ecc.). Impossibile stare dietro a tutto quello che esce e difficile anche scrivere di tutto quello che leggo. Ci provo cercando di essere sintetico e sapendo benissimo che questi fumetti meriterebbero una trattazione ben più approfondita della mia. Ma, come al solito, faccio ciò che posso.
Negli ultimi mesi si è parlato parecchie volte di Martin López Lam su Just Indie Comics ma io devo ammettere di aver letto soltanto di recente il suo Sirio, uscito a inizio anno per l'eccellente casa editrice spagnola Fulgencio Pimentel. Strana coincidenza, ho sottratto il volume all'infinita pila di libri da leggere proprio quest'estate, in un paio di settimane tra fine luglio e inizio agosto che ho passato in ferie ma, per una serie di circostanze, senza andare in vacanza. Non sono stato recluso come i personaggi della storia di López Lam né è stato trovato un cadavere nella piscina vicino casa mia, ma l'atmosfera di costante attesa, la canicola estiva che aumenta giorno dopo giorno, i paesaggi brulli e i personaggi che girano e rigirano intorno a se stessi mi hanno fatto entrare ancor di più nella storia.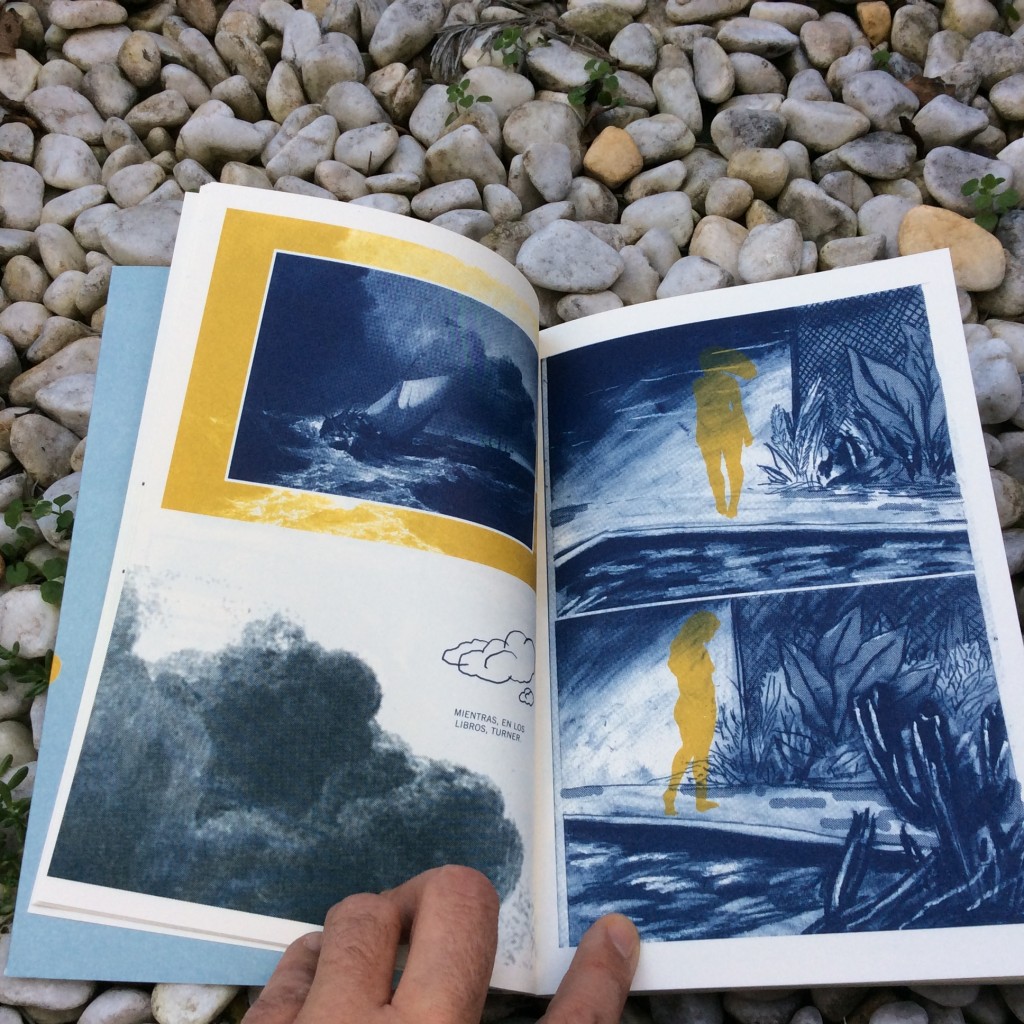 Più che un giallo, Sirio è il racconto di una separazione che vede protagonisti personaggi che sembrano per la maggior parte del tempo fantasmi, con i loro stati d'animo resi splendidamente attraverso un'infinita serie di soluzioni grafiche diverse e i due colori utilizzati, blu e ocra, che sono parte integrante della narrazione. C'è un gran senso di libertà, di sperimentazione in queste pagine, ma al tempo stesso nessuna linea, nessuna sovrapposizione di colori, nessun cambiamento di registro è sprecato. Il volume è in spagnolo ma a richiesta è disponibile un libretto con traduzione inglese allegata. Cercate di recuperarlo perché ne vale la pena.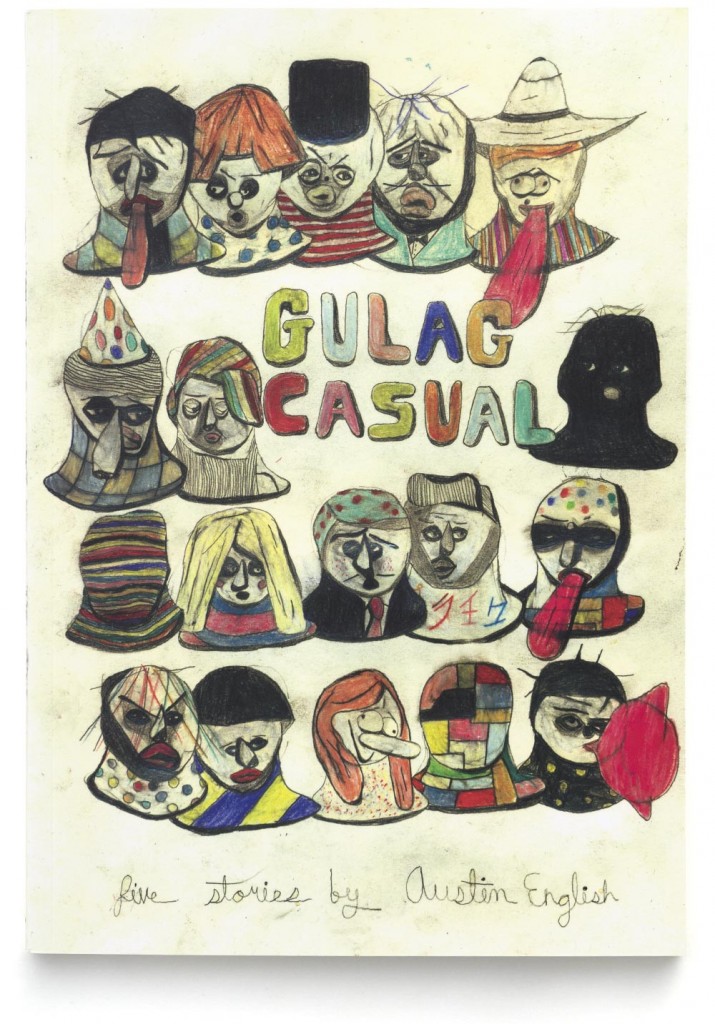 Un altro autore che propone una ricerca stilistica autonoma, lontana da ogni moda, è senz'altro Austin English, di cui ho avuto l'opportunità di parlare in precedenza come patron dell'eccellente etichetta Domino Books di Brooklyn. Come López Lam, English non cerca assolutamente un disegno facile e attraente. La sua è un'estetica volutamente sgraziata e imperfetta, che mescolando energicamente tecniche, materiali e colori sfocia nell'arte delle avanguardie storiche e dell'espressionismo astratto. Tuttavia la voglia di dipingere, disegnare e sperimentare non porta mai l'autore a trascurare l'impianto fortemente narrativo dei suoi fumetti. Le storie hanno sempre una trama definita, anche se sembrano più sceneggiature di opere teatrali che fumetti tradizionalmente intesi per il modo in cui trattano i personaggi, non soggetti con una personalità e un background alle spalle ma figure che compiono azioni in uno scenario delimitato.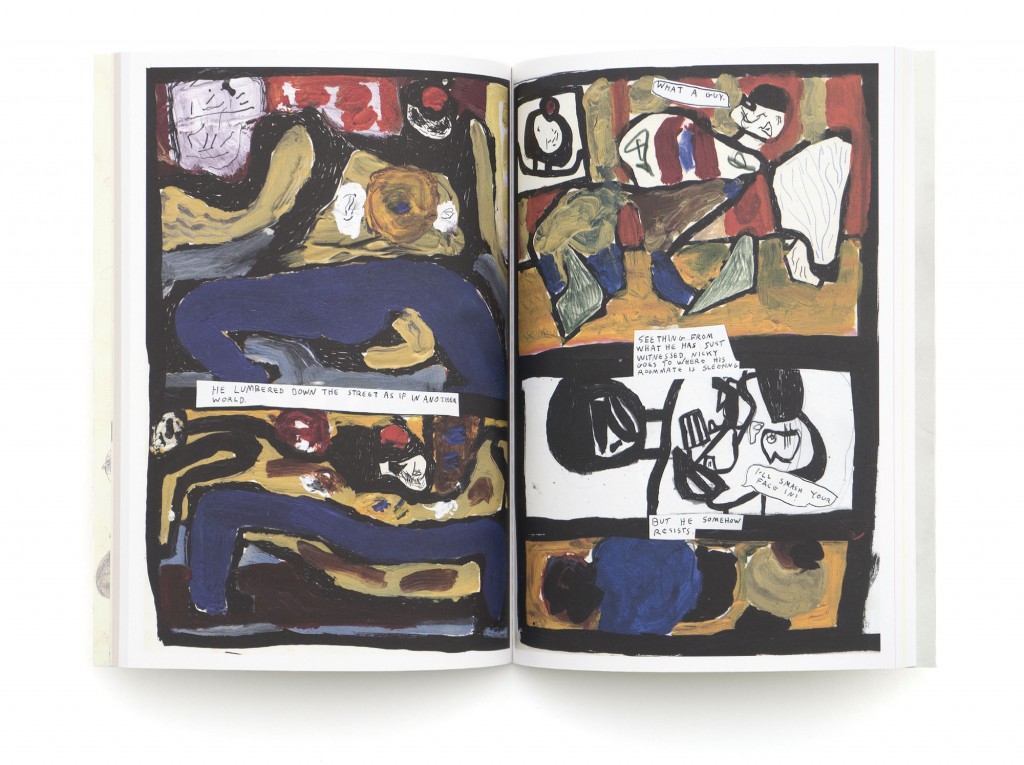 Proprio lo spazio è il protagonista delle cinque storie raccolte di recente da 2dcloud nel volume Gulag Casual. Si tratta di The Disgusting Room (2010), My Friend Perry (2011), Here I Am! (2011), Freddy's Dead (2012) e A New York Story (2015): tutte hanno in comune la tematica della casa vista come luogo familiare e rassicurante che viene invaso dalla violenza e dall'aggressività del mondo esterno.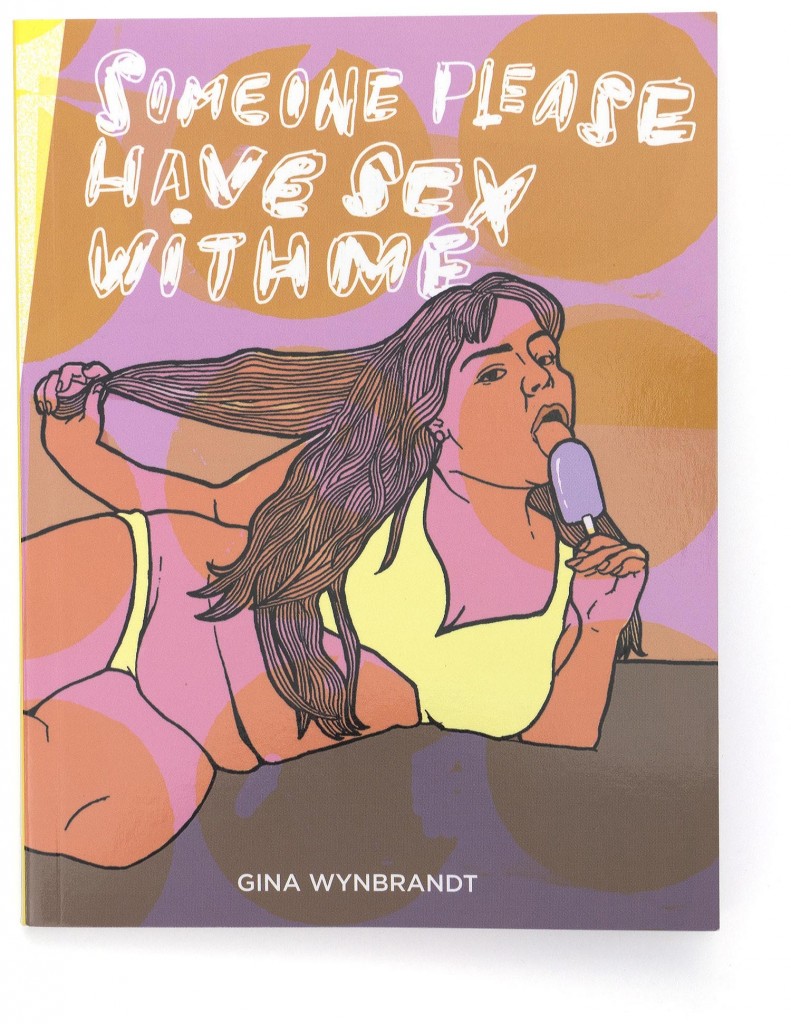 Ancora per 2dcloud è uscito Someone Please Have Sex with Me di Gina Wynbrandt, anche in questo caso un'antologia di fumetti in gran parte già visti in albi autonomi. Le storie raccontano la fissazione per Justin Bieber (One Less Lonely Girl, 2012), una puntata ai Teen Choice Awards sotto la guida di Kim Kardashian (Tiger Beat Exclusive, 2013), la ricerca disperata di un partner sessuale che arriva fino a un lontano futuro (il racconto che dà il titolo alla raccolta, 2014), gatti parlanti che mettono incinta la protagonista (Big Pussy, 2015) e videogiochi che la trasformano in una spietata cacciatrice di uomini (Manhunt, 2016).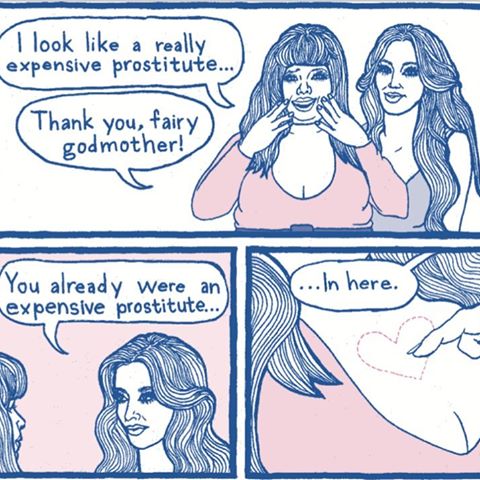 La cosa che più colpisce della Wynbrandt è la capacità di focalizzarsi su pochi elementi per poi portarli all'estremo: il plot parte sempre da particolari realistici e autobiografici, apparentemente insignificanti, che vengono sviluppati in situazioni ai limiti, paradossali, divertenti, a volte surreali. Si tratta di un modus operandi che l'autrice dimostra di saper gestire sin dalle prime prove, segno di una cartoonist giovane ma dalle idee chiare. Anche dal punto di vista grafico la Wynbrandt è bravissima a rappresentare il suo alter-ego nei minimi dettagli, concentrandosi soprattutto sulle espressioni facciali, con una serie veramente infinita di smorfie, e sui suoi capelli, disegnati con una cura certosina. Ma d'altronde sarebbe un crimine trattare con superficialità dei capelli così lunghi.
Visto che ci siamo, rimaniamo in tema di autrici femminili con due albi pubblicati da Retrofit Comics: Hellbound Lifestyle della coppia Alabaster Pizzo-Kaeleigh Forsyth e Late Bloomer di Maré Odomo. Il primo è un diario della Forsyth, al suo debutto nel mondo del fumetto, illustrato dall'autrice di Mimi and the Wolves: una collaborazione nata, come svela la bio pubblicata alla fine dell'albo, da circostanze particolari, dato che le due si sono conosciute dopo aver scoperto che stavano uscendo con la stessa persona da un anno. Diventate ottime amiche, hanno realizzato un fumetto divertentissimo scandito da note e conversazioni tratte da uno smartphone, pieno di situazioni assurde, di buoni propositi finiti male, di ragionamenti contorti e soprattutto di idee, idee, idee una dietro l'altra che ci si potrebbero riempire tanti altri fumetti o intere stagioni di serie tv. Belli anche i colori sparati che donano un'estetica pop a un'opera che potrebbe piacere anche a chi non legge abitualmente i fumetti.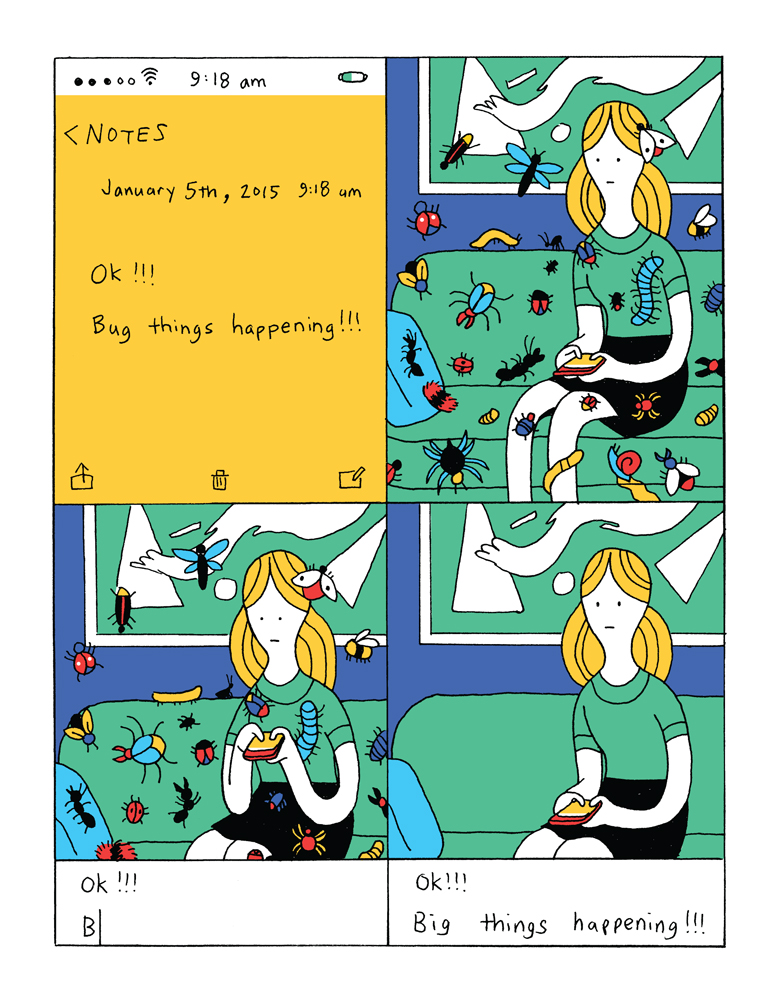 Late Bloomer è invece un volumetto in bianco e nero di piccolo formato (14 x 11 cm) in cui Maré Odomo raccoglie con il modus operandi già mostrato nei due mini Internet Comics usciti per Sacred Prism (ne avevo parlato brevemente qui) riflessioni, disegni, schizzi, scarabocchi, cancellature, frasi. Le prove precedenti affascinavano per l'uso del colore e per la stampa in risograph, risultando esteticamente molto attraenti, mentre questa versione in bassa fedeltà ha l'aspetto di uno sketchbook. Ma in qualsiasi modo vengano pubblicati vale sempre la pena di sfogliare, leggere, guardare gli haiku visivi della Odomo: c'è un sentimento qui dentro che più di ogni narrazione restituisce le emozioni provate dall'autrice, lasciando al lettore un'impressione, un qualcosa difficile da verbalizzare o razionalizzare. Pagina dopo pagina si va avanti tra momenti di realismo (I will forget this), domande che ci si potrebbe fare per una vita intera (Where'd you go?), storie che finiscono (If i see you, I will walk away), vuoto esistenziale (Nothing to cry about), chiusura in se stessi (Don't wanna talk about it). Quando si arriva all'ultima pagina non si ha un'idea precisa di ciò che abbiamo appena letto ma soltanto la sensazione che qualcosa dentro di noi è successo.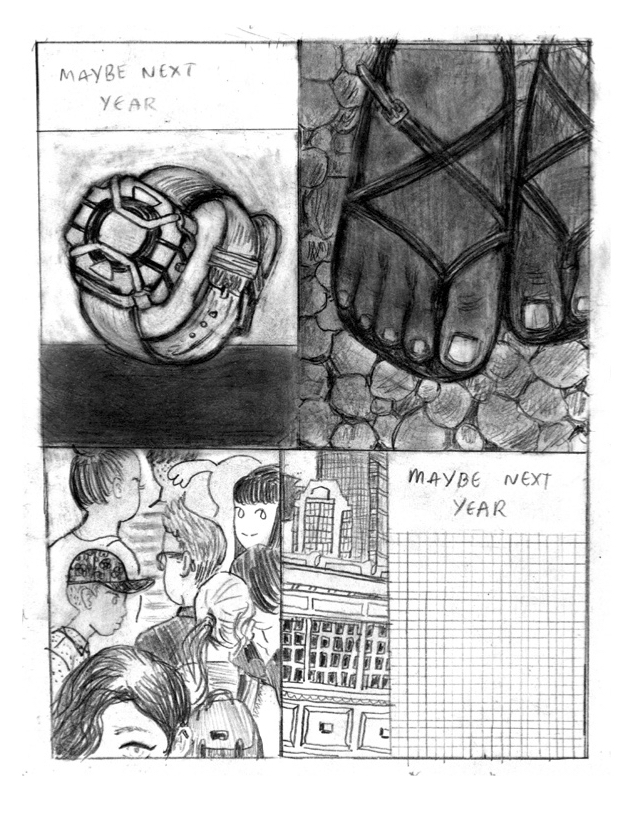 "š!" #24 + "mini kuš!" #38-42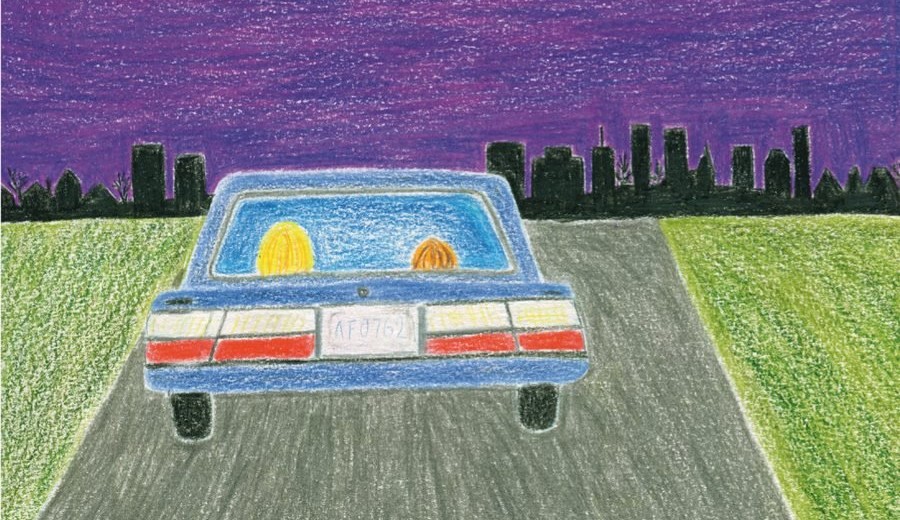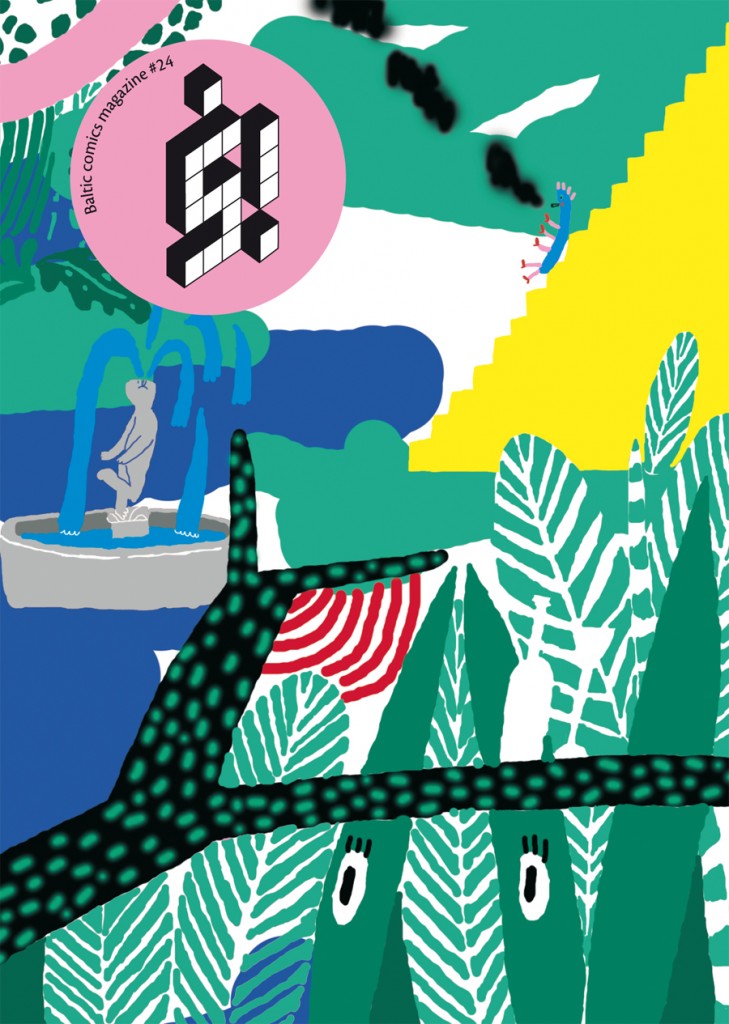 While the new issue of š! is hot off the press featuring Western artists inspired by Japanese manga, I'm taking some time to translate this review I published in Italian a few months ago about the previous release of the Latvian anthology and the latest mini-kuš!, now including the most recent one by Laura Ķeniņš. š! #24 is introduced by a beautiful cover by Līva Kandevica and showcases over twenty short comics by international artists, this time around the theme Urban Jungle. If the mood of these A6 booklets is mostly playful and ironic, in every issue there are some different voices, which can be rough, meditative or abstract. For example, in the fashion-themed anthology (š! # 22), Hetamoé's and Léo Quievreux's contributions reinterpreted the main theme as something deeply and disturbingly connected to body and flesh. And the same Marie Jacotey, who created the cover and the opening story, is a pleasantly atypical cartoonist, who hides under her colored pencils a crudeness in both line and content.
And so, which are the "lone voices" of this release? My preference is definitely for Abraham Diaz, a Mexican cartoonist born in 1988 recently seen in Kramers Ergot #9 and of whom I'll talk again very soon on Just Indie Comics. Diaz has a messed-up cartoon style and draws characters with huge heads and expressions between the stupid and the pissed off. His art is full of lines going on their own, of colors that don't ever fill the whole space of the figures, of a crooked lettering reporting humorous and absurd dialogues. G.W. Duncanson is another artist aesthetically alien from the rest. His beautiful urban art contribution displays a pictorial black and white made up of graffitis, subways, skyscrapers. This is one of these š! comics I would like to see published in a larger size one day.
Both Diaz and Duncanson are debuting artists in the magazine and this means the editors David Schilter and Sanita Muižniece are successful in finding new names to add to the usual ones. This is confirmed by two other newcomers, more in line with the general tone of the anthology. The first is Sami Aho of the Finnish collective Kutikuti: Fooled Again is at first sight similar to Anya Davidson's work and is an entertaining and accomplished short story with a great underground feeling of yesteryear and bright colors. Mathilde Van Gheluwe of Tieten met Haar is another new name in š! and her debut conquers immediately with warm watercolors, a charming style reminiscent of the other Flemish Brecht Evens and a precise and effective storytelling. But there are also interesting contributions by some regulars in this issue. Dace Sietina's style is constantly growing and now is closer to the aesthetics of Russian art from '50s and' 60s, Amanda Baeza leaves aside geometry for once and creates a nice figurative work in black and white, while Jean de Wet confirms the good things he already showed in the mini-kuš! #20 (I talked about it here).
And speaking of mini-kuš!, let's have a quick look at the latest fives, all by female cartoonists. The mini-kuš! #38-41 were published last March, while the #42 was out in May. Three Sisters is the title of the first one by Latvian artist Ingrīda Pičukāne, about three girls who find a drunk and naked man in the middle of the forest. The women speak in French, the man in Russian, and there aren't subtitles, a choice that gives authenticity to the story. The booklet is a twisted fairy tale developing horizontally, with a white frame at the edges of the pages that encloses the colorful forest, rendered with an appealing mosaic effect, while the women are typified from big, exploding eyes, symbols of an intense sensuality. The charm of Pičukāne's work is even more powerful in the original art, that was part of a  kuš! exhibition at the latest Ratatà festival in Macerata (you can see some pictures here).

Colorful but with a more contemporary style is the mini-kuš! #39 by American cartoonist Tara Booth, who has also a funny three-page comic in Urban Jungle. Unwell is the story of an out-of-ordinary day in the life. The protagonist wakes up alongside an unlikely hipster, sneaks away after puking in his toilet, gets on a bike, thinks back to when she put her panties on the lover's head, creates a painting with the ass (literally), goes out with her dog, meets a pervert in the park, gets drunk again… I won't tell the ending but everything works perfectly in this wordless comic that might seem a silent film, drawn in a patchwork style reminiscent of South Park and with a great use of color. The page is completely at the service of the girl, so that the panels sequence is often broken by her vertical movements on the page. Unwell is definitely an excellent example of a successful mini-comic.
If these two booklets have a dionisiac and lively mood, the mini-kuš! #40 by Hanneriina Moisseinen looks algid and rigorous. 1944 tells, as the title suggests, a war episode, namely the evacuation of Carelia, drawn by the Finnish cartoonist in parallel with the birth of an animal, representing the cruelty of nature and war together. The linear plot would need a decisive surge and Moisseinen's pencils and panel grids are a little too straightforward on this occasion, even if the story is brutally poetic in its very own way.
The mini-kuš! #41 is a great opportunity to admire a technicolor comic by Aisha Franz, committed to depict a not-so-far future made of apartment complexes, drones, changing sexual identities, pleasure machines. EYEZ isn't a strong narrative work but relies mostly on the visual approach and on a simplified line compared to previous Franz's work as the Alien graphic novel. But this hyper-pop version of her fascinates and conquers, so that we want more and more. And soon, if it's possible.
The 42nd mini-kuš! was released in May and features Alien Beings by Latvian-Canadian cartoonist Laura Ķeniņš, whose work was published before in š! #19 Mathematics and in š! #21 Business Time. This is a story about aliens and divorce, with the title indicating both the extraterrestials the family supposedly met in the first pages of the mini-comic and the two parents becoming "aliens" the one with the other (and also with their children). The colored pencils used by Ķeniņš are perfect to illustrate a story saw in first person from the daughter of the couple, a coming-of-age tale about growing up in a divided family. In the end the close encounter seems a too-simplistic justification for the break-up and the human relationships are the real unidentified object. Ķeniņš focuses on the girl's feelings and on the dynamics of the divorce, building a strong, intense and cohesive story.