"Christmas in Prison" di Conor Stechschulte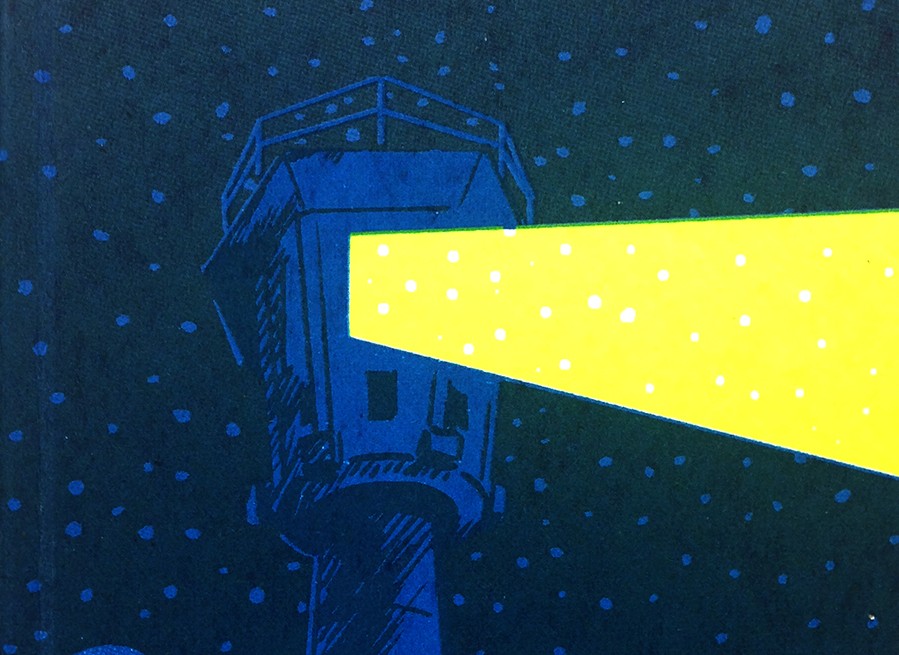 Se non avete niente di meglio da fare e siete fedeli lettori di Just Indie Comics, sapete già che Conor Stechschulte è uno dei miei cartoonist preferiti di oggi. Il suo The Amateurs è una pietra miliare del fumetto contemporaneo (l'ho inserito nel mio Best of 2014) e la serializzazione di Generous Bosom per Breakdown Press ha già fornito motivi di meraviglia e interesse (per sapere quali potete leggere la mia recensione).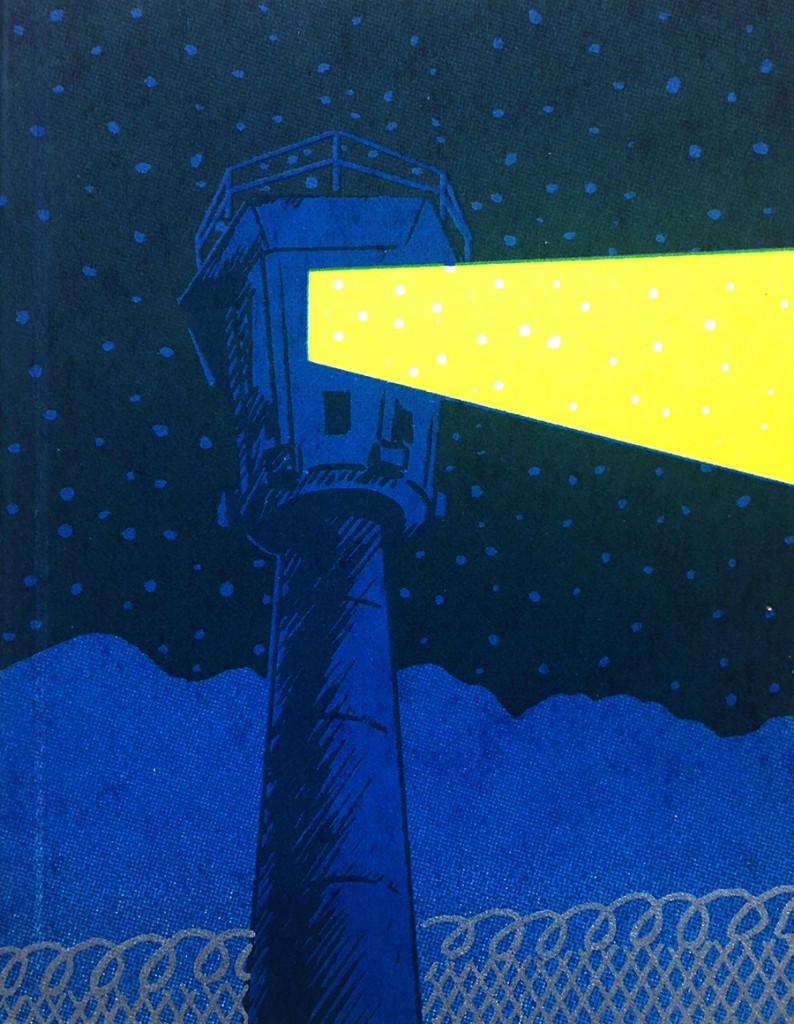 Nonostante la pubblicazione per case editrici affermate nel panorama del fumetto alternativo, Stechschulte continua a essere un sostenitore dell'autoproduzione, in quanto concepisce il fumetto come un medium fortemente legato ai processi di stampa. Christmas in Prison è finora la sua fatica più impegnativa in questo campo, un volumetto 18×14 cm di 96 pagine realizzato in una molteplicità di tecniche diverse (risograph, serigrafia, offset) e rilegato a mano. L'oggetto già di per sé varrebbe la spesa ma il contenuto è ancora più interessante per molteplici motivi, a partire dal fatto che conferma Stechschulte come un autore con una propria poetica, capace di creare un universo di temi e contenuti.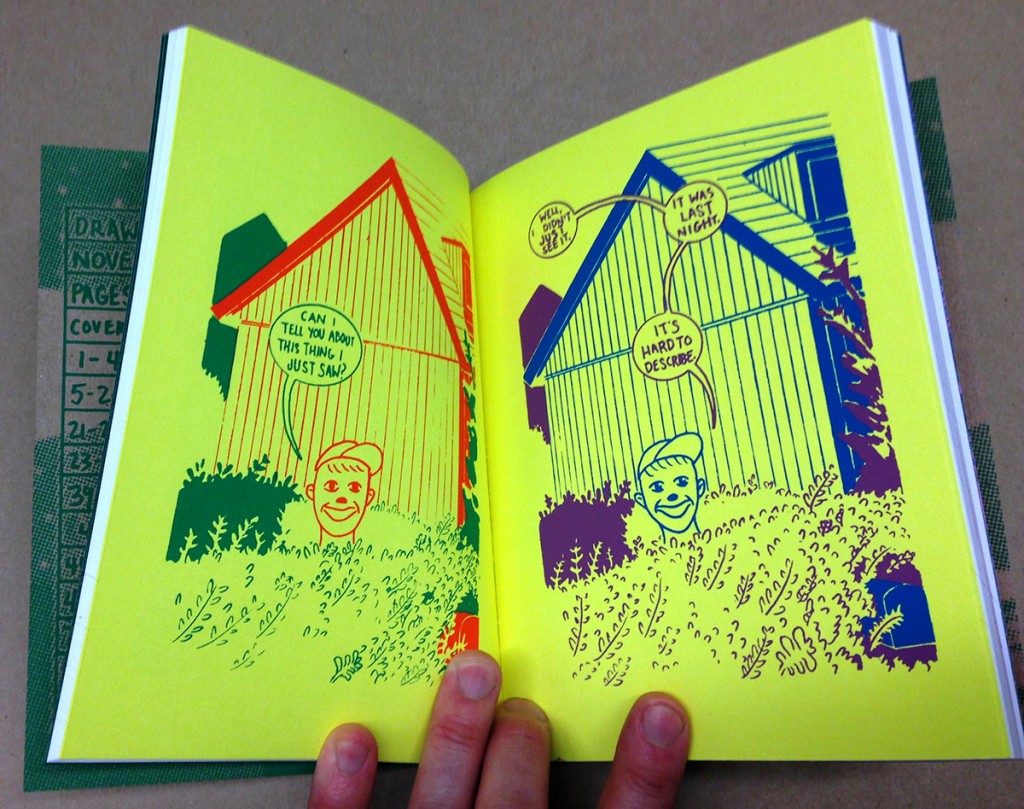 All'interno troviamo "pezzi" più che "storie", dato che a volte il messaggio non è propriamente narrativo e l'interconnessione tra ciascuno di essi, basata sul meccanismo della ripetizione, fa pensare a un LP più che a un'antologia di fumetti o racconti. Prendiamo come esempio le pagine iniziali. Una mano sfoglia un libro, che mostra due volti umani che nella vignetta successiva si fondono tra loro. Ecco dunque una casa con una finestra illuminata, la stessa casa in mezzo al mare con una sagoma all'interno (solo una delle tante silhouette in questo libro), il mare alla luce della luna, nuvole, la figura di un uomo sovrapposta ai rami di un albero, ancora alberi, corpi, uomini, case, una lampada da scrivania, di nuovo il libro, le mani, una figura che barcolla in mezzo al verde, le mani che da eteree e indefinite arrivano a mostrare linee e pieghe. Sarebbe sbagliato ridurre tutto ciò a libere associazioni di idee, sotto c'è un contenuto che va al di là della logica, che parla al nostro emisfero destro, che è sogno, poesia, musica, improvvisazione ma anche rappresentazione di un processo, performance più che fumetto.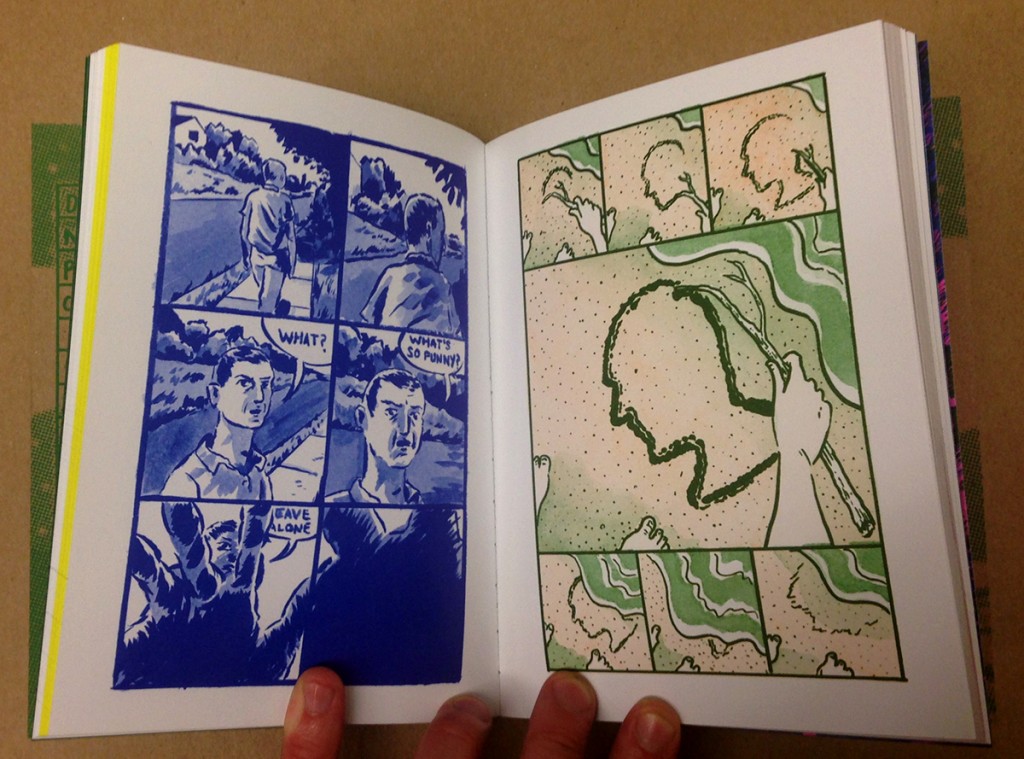 Il tema del libro e della metanarrazione torna più volte, come tornano il voyeurismo, il controllo, il continuo senso di inquietudine, la solitudine, il dualismo uomo/natura, l'acqua come luogo di mistero, novità, rinascita. Christmas in Prison (o The Many Ways of Doing and the Wrong Way That It's Done, come viene ribattezzato sul dorso) è così un'opera autonoma, con una fortissima coerenza interna, ma anche una sorta di campionario di sperimentazioni con cui Stechschulte ha arricchito o arricchirà le opere propriamente narrative. E la stessa dinamica era già presente in autoproduzioni come Wather Phase, Lurking/Nocturners, Mountain Comic. Certo, mai il cartoonist statunitense aveva mostrato in passato una tale forza nello sperimentare e nel proporre qualcosa di così organicamente rivoluzionario. E a confermarlo ecco la parte finale del volume, una lunga storia su voyeurismo, percezione e consapevolezza raccontata da una donna immersa nell'acqua e che affonda le radici sin nella letteratura ottocentesca. E' questo l'episodio più tradizionalmente narrativo del lotto, ma la linearità apparente nasconde mille interrogativi, espressi prontamente nelle pagine conclusive, in cui i balloon rubano la scena al figurativismo con domande esistenziali di un'intensità sempre crescente.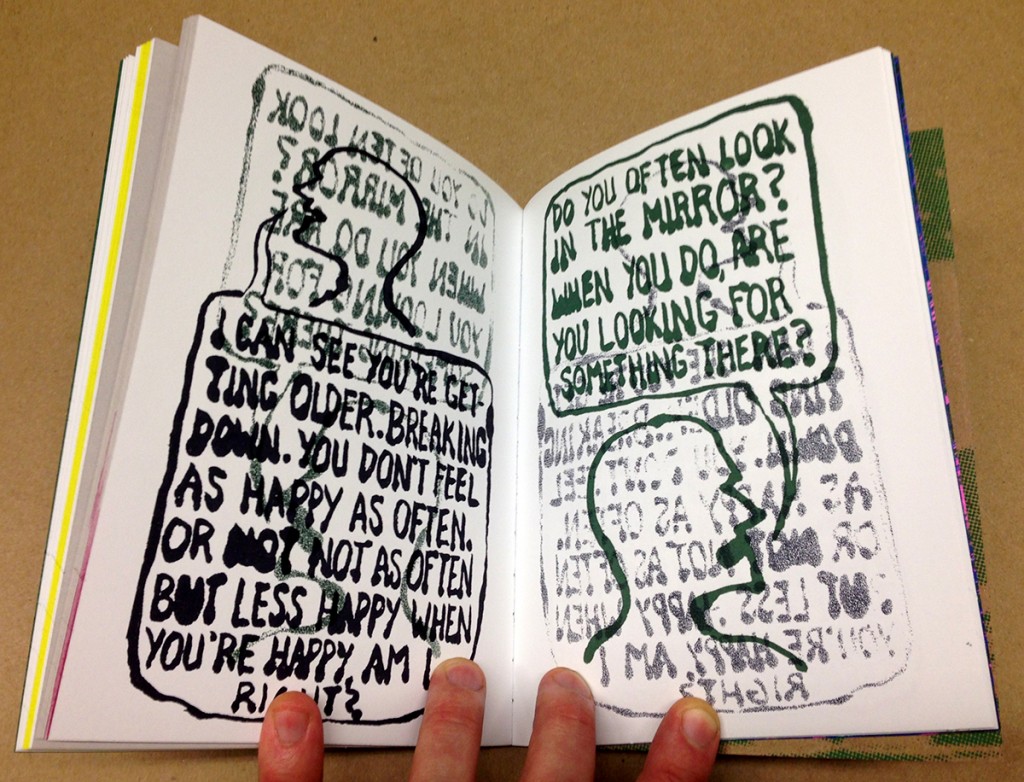 Se siete interessati a Christmas in Prison, ne trovate ancora qualche copia nel negozio di Just Indie Comics. Oppure potete ordinarlo direttamente dal sito dell'autore.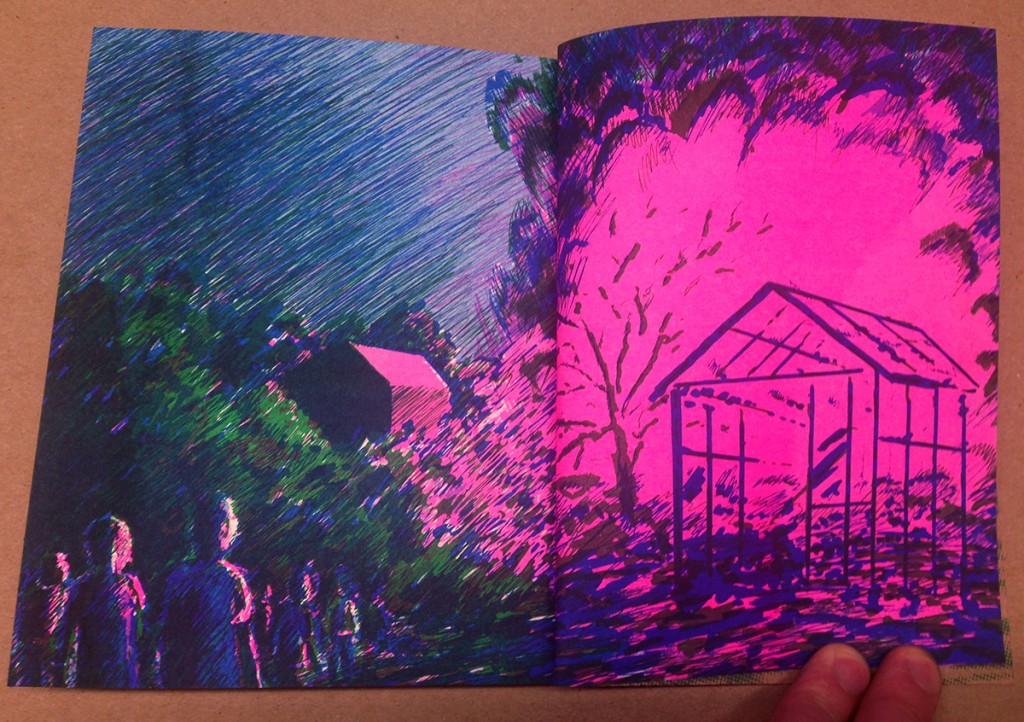 Comic shops of the world: The Beguiling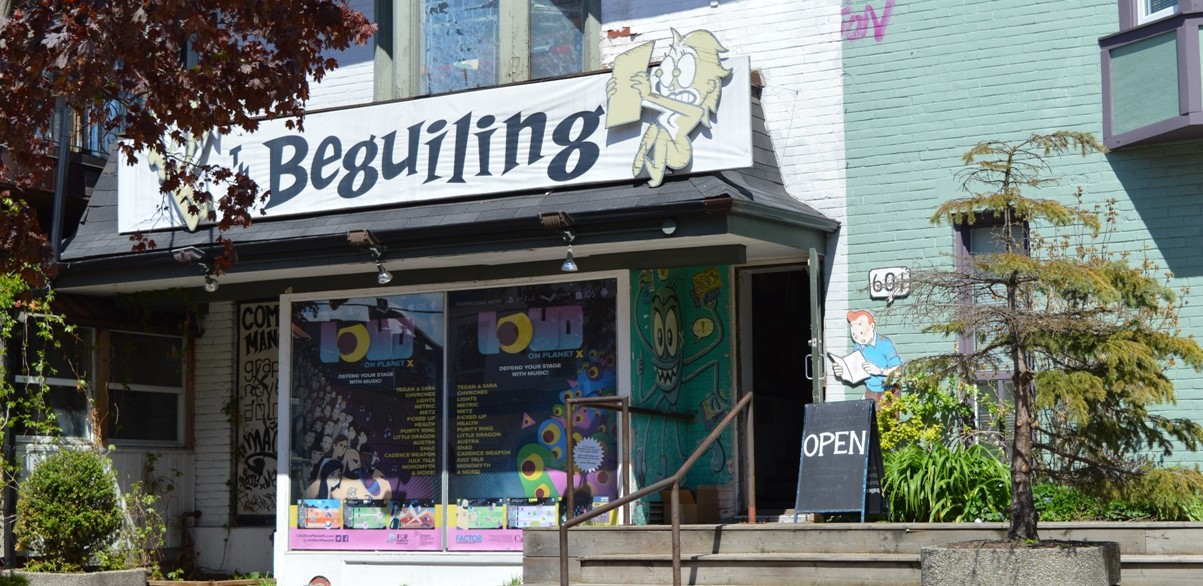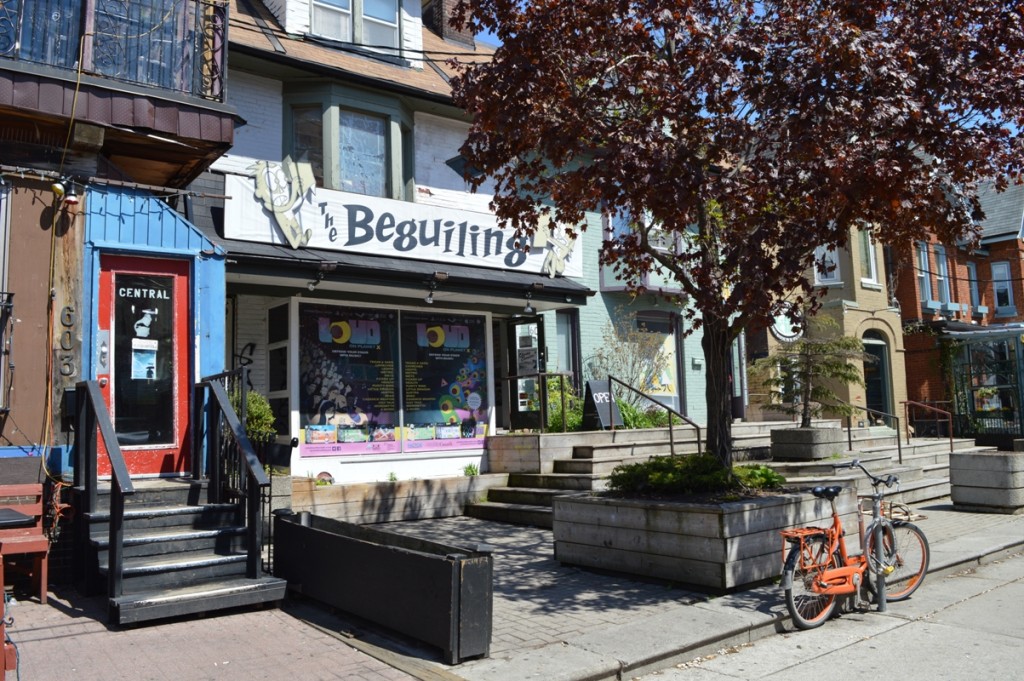 Avete presente il faro di Hicksville, dove è custodita una collezione di fumetti così imponente da comprendere opere mai pubblicate di autori come Jack Kirby, Harvey Kurtzman e Wally Wood? Beh, The Beguiling è il posto più simile a quell'immensa biblioteca che mi sia capitato di vedere finora. Non che io vi abbia trovato, come succedeva al protagonista della storia di Dylan Horrocks, un fumetto di Federico García Lorca e Pablo Picasso, però di materiale oscuro e di difficile reperibilità il negozio di Toronto è pieno. L'ho visitato ormai qualche mese fa in occasione del Toronto Comic Arts Festival, un evento che il proprietario Peter Birkemoe, insieme al manager di The Beguiling Christopher Butcher, ha contribuito a organizzare sin dalla fondazione nel 2003. E ho avuto l'occasione di passarci diverse ore, anzi, la prima volta quasi l'intero orario di apertura tante erano le cose da cercare, guardare, sfogliare.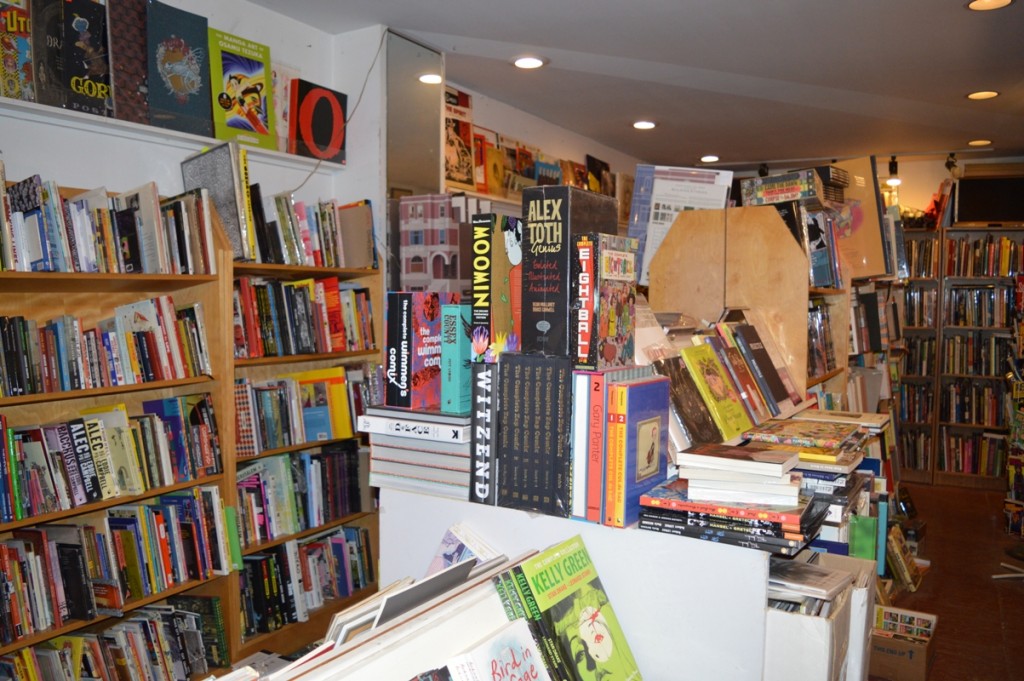 Ma andiamo con ordine. L'interno è sviluppato su due piani. Nel primo ci sono in evidenza tutte le novità nell'ambito del fumetto indie, alternativo e d'autore: appoggiati sui banconi centrali si trovano dunque le ultime uscite di case editrici come Fantagraphics, Drawn & Quarterly, Koyama Press, Conundrum Press, Retrofit Comics, Alternative Comics, Space Face Books, Landfill Editons, Breakdown Press e via dicendo.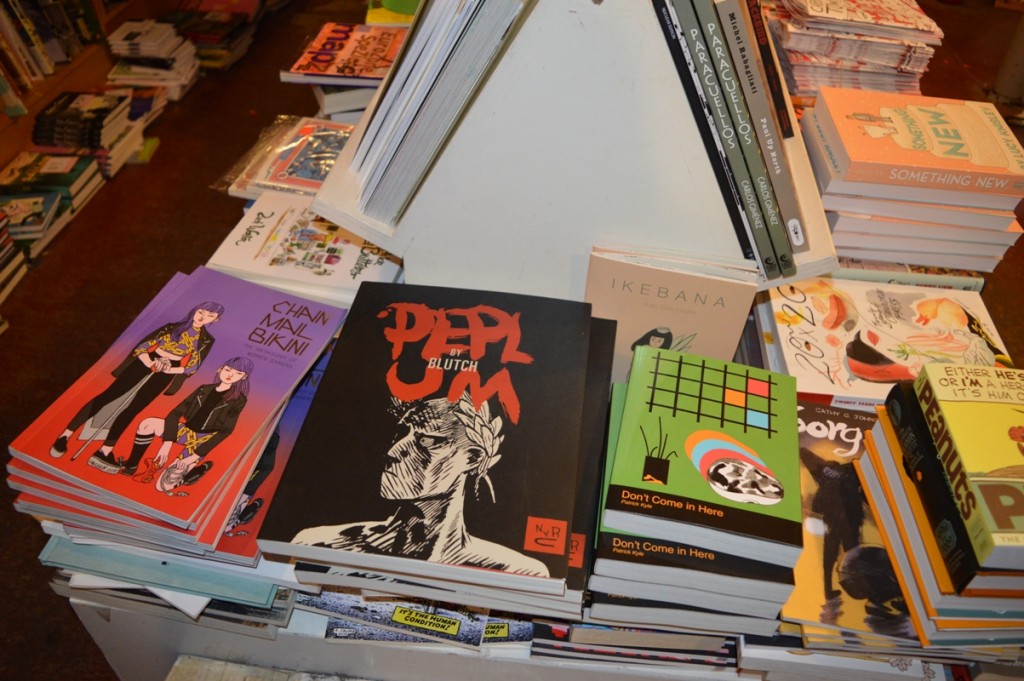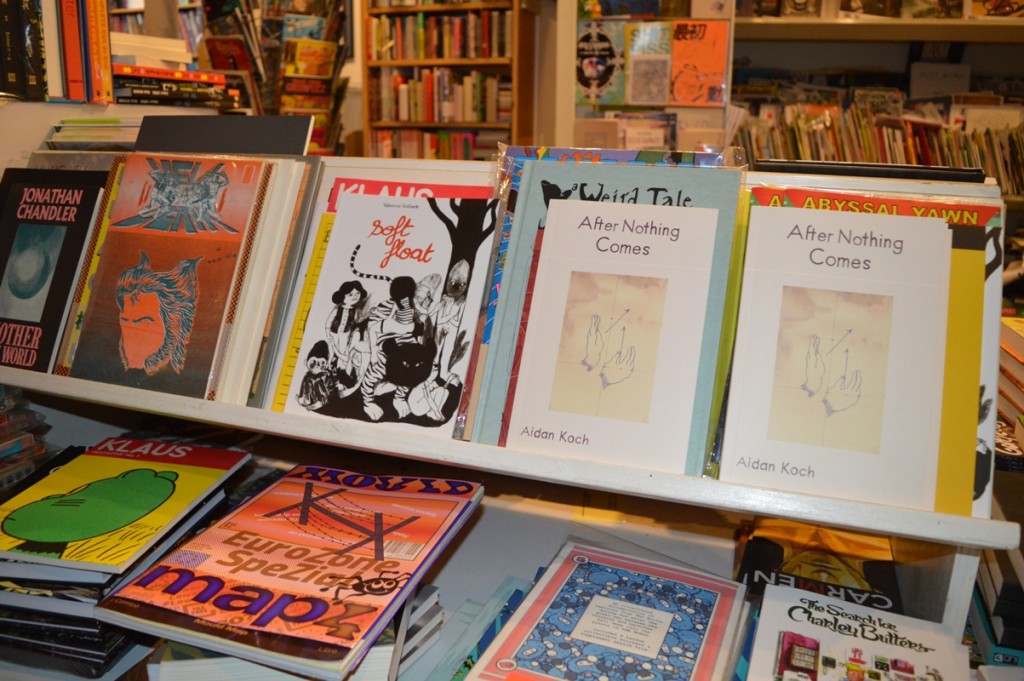 Su una lunga serie di librerie sono invece appoggiati i libri e gli albi del catalogo, divisi in ordine alfabetico per autore: è questa la parte più interessante, con tante rarità che fanno parte da tempo della collezione del negozio o che vengono acquisite da appassionati e collezionisti privati. Eccovi un po' di foto, con qualche scaffale e alcuni pezzi pregiati, scelti un po' per passione personale, in parte su consiglio di Birkemoe e anche un po' a caso.
Oltre a questi titoli potrei citarne a memoria tanti altri, come diversi numeri di Raw, qualche Gary Panter d'annata, Multiforce di Mat Brinkman, varie pubblicazioni dell'era d'oro dell'underground, vecchie raccolte di newspaper strip e via dicendo. Una serie di espositori sono invece dedicati a mini-comics, comic book e riviste, con una selezione che ben rappresenta la "scena" del momento. E non tutto riesce a trovare spazio in negozio. Quando infatti mi è capitato sott'occhio un numero di Internet Comics di Maré Odomo pubblicato qualche anno fa dalla Sacred Prism, mi è venuto in mente che tra quegli albetti mi mancava l'ultima uscita, cioè Kickfoot, uno spillato di 16 pagine del collettivo norvegese Dongery uscito nel 2014. Quando ne ho chiesto notizie a Geneve, una delle ragazze che lavorano a The Beguiling, è andata in magazzino e nel giro di due-tre minuti è tornata con l'albo in mano….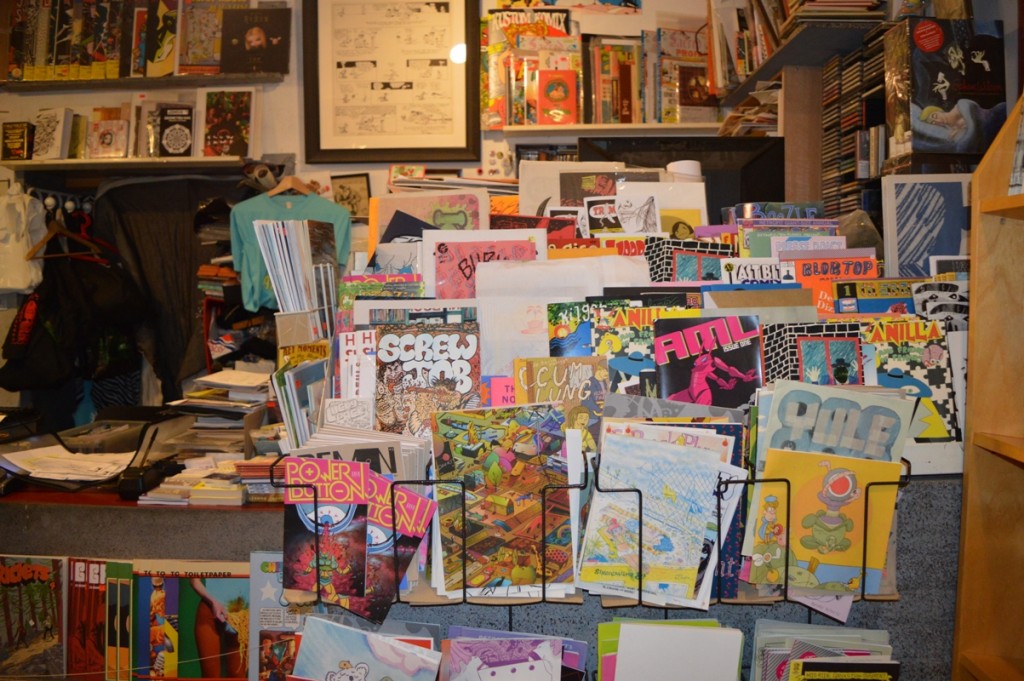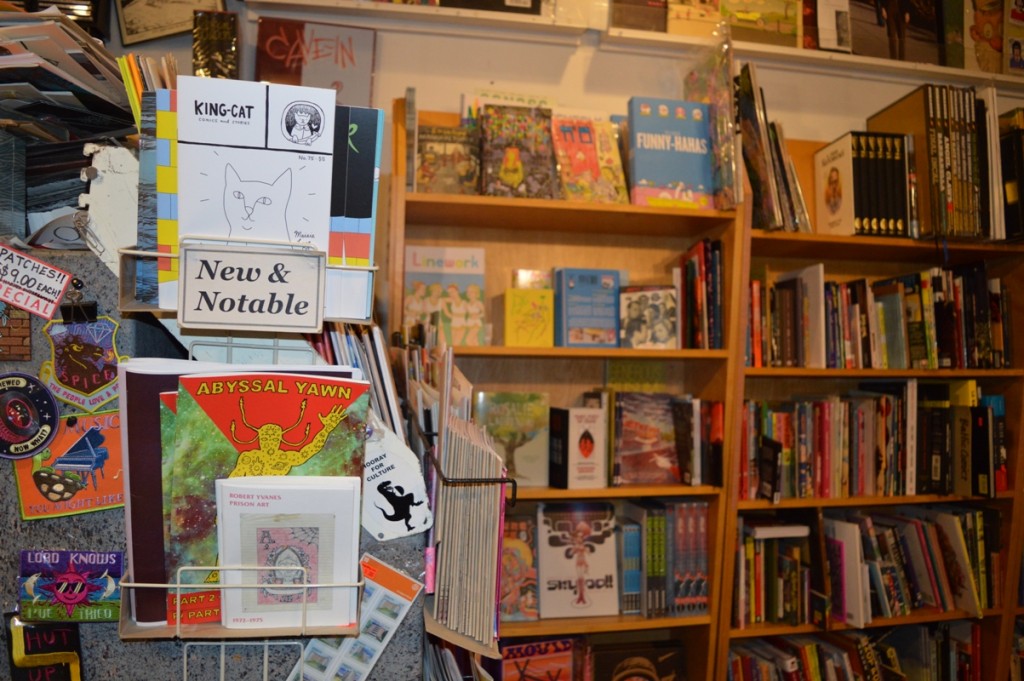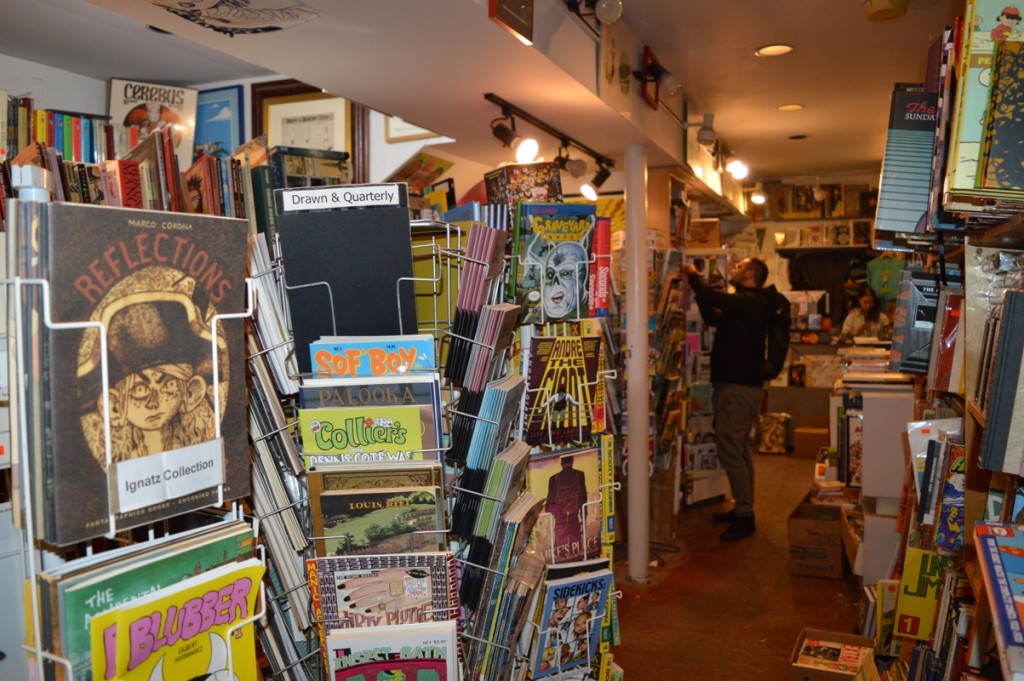 Inoltre è doveroso citare la sezione dei libri di illustrazione, quella delle antologie e la ricca selezione di titoli francofoni e giapponesi, con diverse rarità in lingua e di importazione.
Se il piano terra è una vera manna per gli appassionati di fumetto d'autore e underground, il piano superiore è invece riservato al mainstream e assomiglia di più al tradizionale negozio di fumetti americano. Vi trovano spazio i supereroi Marvel e Dc, con tanti titoli d'annata per collezionisti, e le produzioni di case editrici come Image, Dark Horse, Avatar e via dicendo. Anche qui, tuttavia, la selezione è molto accurata e dà particolare attenzione al panorama indie. Inoltre ci sono delle sezioni suddivise per autori, segno che anche qui ci si rivolge a un'audience matura e consapevole.
The Beguiling è anche ben noto per l'attività di vendita di tavole originali, che viene svolta soprattutto on line in uno store dedicato dove è possibile trovare lavori di cartoonist come Sammy Harkham, Kevin Huizenga, Seth, Michel Rabagliati, Shintaro Kago, Brandon Graham, Farel Dalrymple, Jason Lutes, Jeff Lemire, Paul Pope, Eddie Campbell e tanti altri. Sulle pareti del locale si possono ammirare alcuni pezzi della collezione privata: eccovi dunque la prima tavola di Cerebus #23 dell'aprile 1978, che non poteva certo mancare visto il titolo dell'episodio, e una pagina di Joe Matt che vede l'autore, noto collezionista di fumetti d'epoca, dirigersi verso il negozio per vendere delle raccolte di Carl Barks.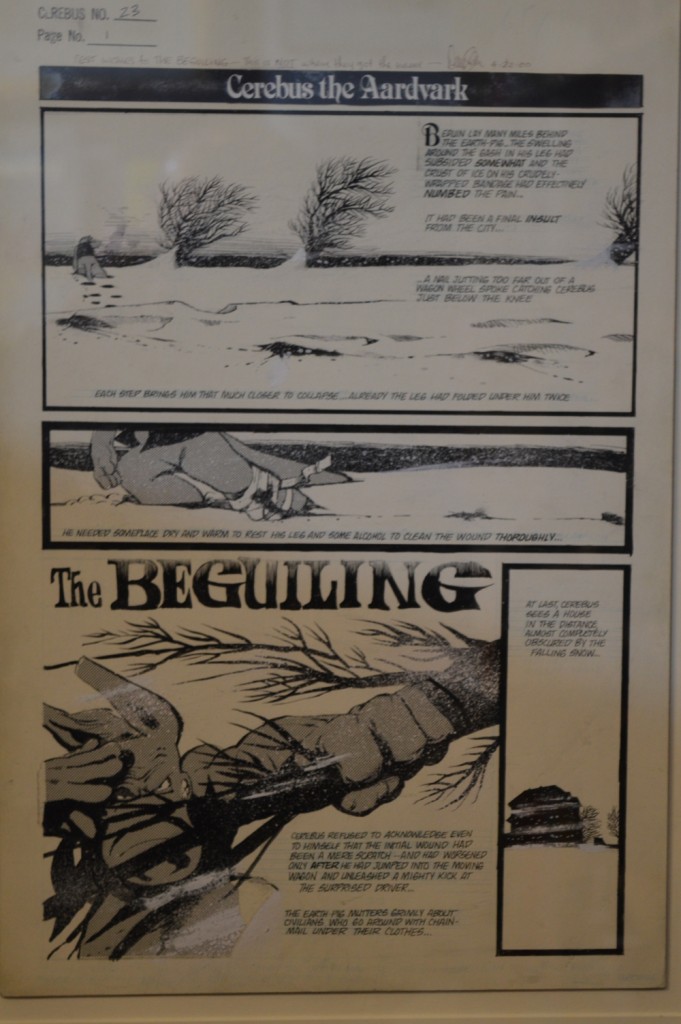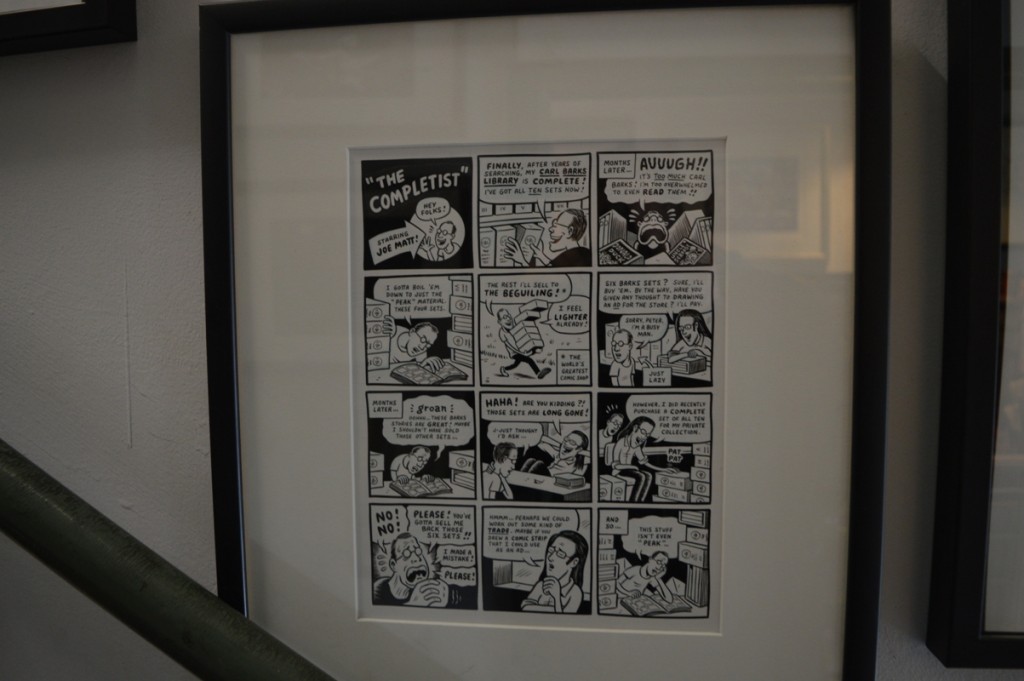 E a proposito di Joe Matt, c'è un'altra tavola da Peepshow #3 che raffigura prima lo stesso autore e i suoi due colleghi Seth e Chester Brown fuori dal negozio e poi Matt all'interno che dialoga con uno dei primi proprietari, Steve Solomos. The Beguiling è stato infatti fondato nel 1987, mentre Birkemoe è subentrato nel 1998.
Nel corso della mia visita, Birkemoe mi ha raccontato di essere in cerca di locali nuovi e più spaziosi, necessari per esporre un catalogo che in buona parte è relegato in magazzino. Se andate a Toronto, dunque, non mancate una visita a The Beguiling perché potrebbe essere una delle ultime occasioni per esplorare la storica sede al 601 di Markham Street.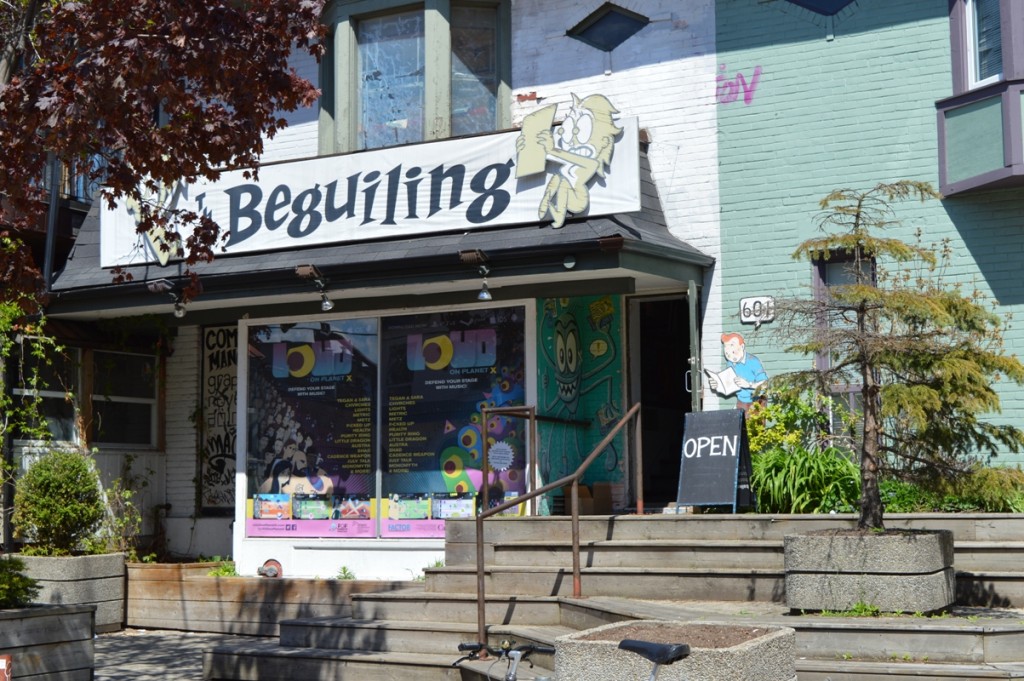 Concludo confermando ciò che scriveva qualche anno fa Jeet Heer su Comics Comics: se non è il miglior negozio di fumetti del mondo, The Beguiling è il miglior negozio di fumetti che io abbia mai visitato. E per questo meritava senz'altro la mia umile attenzione.
Comic shops of the world: The Beguiling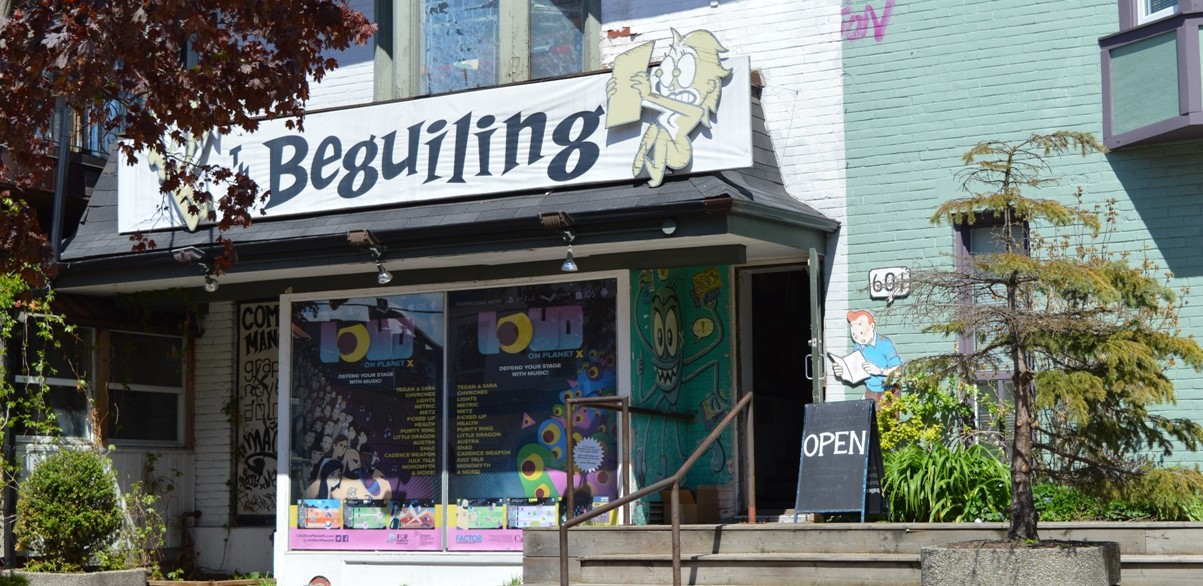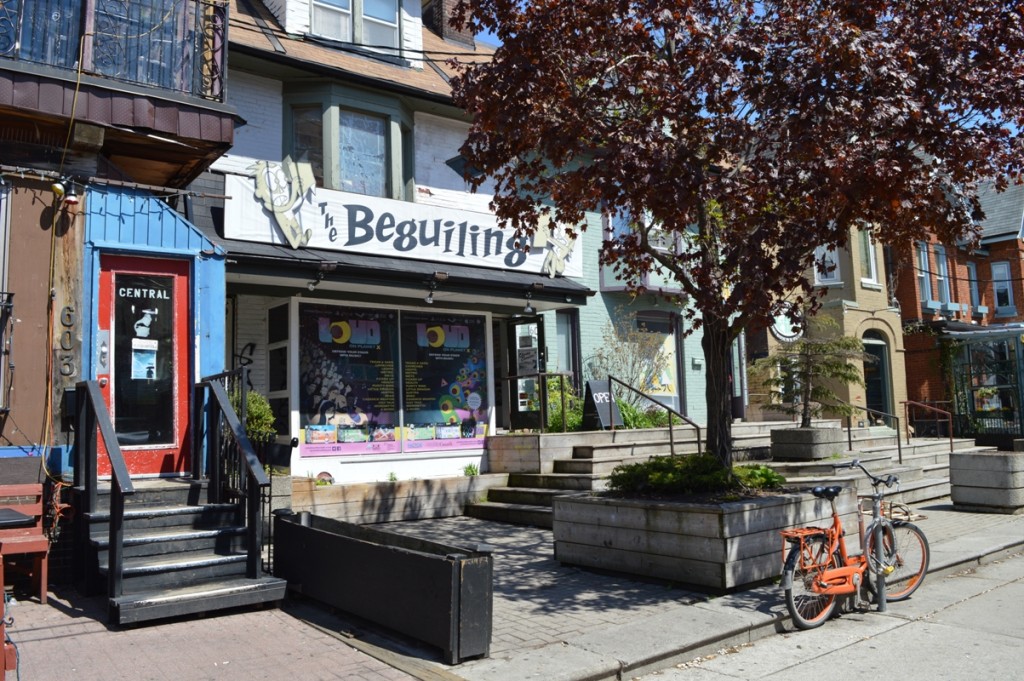 Do you remember the Hicksville's lighthouse, where there is a collection of comics so impressive to include unpublished works of cartoonists as Jack Kirby, Harvey Kurtzman and Wally Wood? The Beguiling is the place more similar to that gigantic library I have seen so far. Well, I haven't found a comic by Federico García Lorca and Pablo Picasso, as the character of the Dylan Horrocks' book did, but the Toronto store is really packed with obscure and hard-to-find material. I have visited it last May in the days of the Toronto Comic Arts Festival, an event that the owner Peter Birkemoe, along with the manager of The Beguiling Christopher Butcher, helps organize since the foundation in 2003. And I had the opportunity to spend several hours in the store, looking carefully through its huge catalog.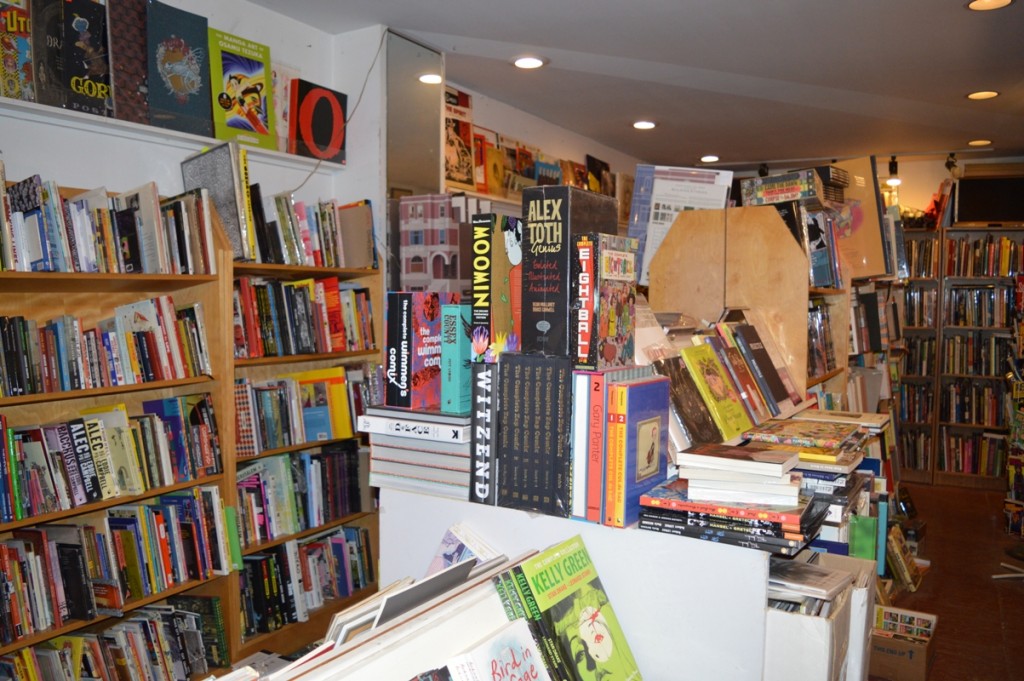 The store is developed on two floors. The first showcases on the central counters the new arrivals in the world of indie, arty and underground comics, with the latest graphic novels from publishers like Fantagraphics, Drawn & Quarterly, Koyama Press, Conundrum Press, Retrofit Comics, Alternative Comics, New York Review of Books, Space Face Books, Landfill Editons, Breakdown Press and so on.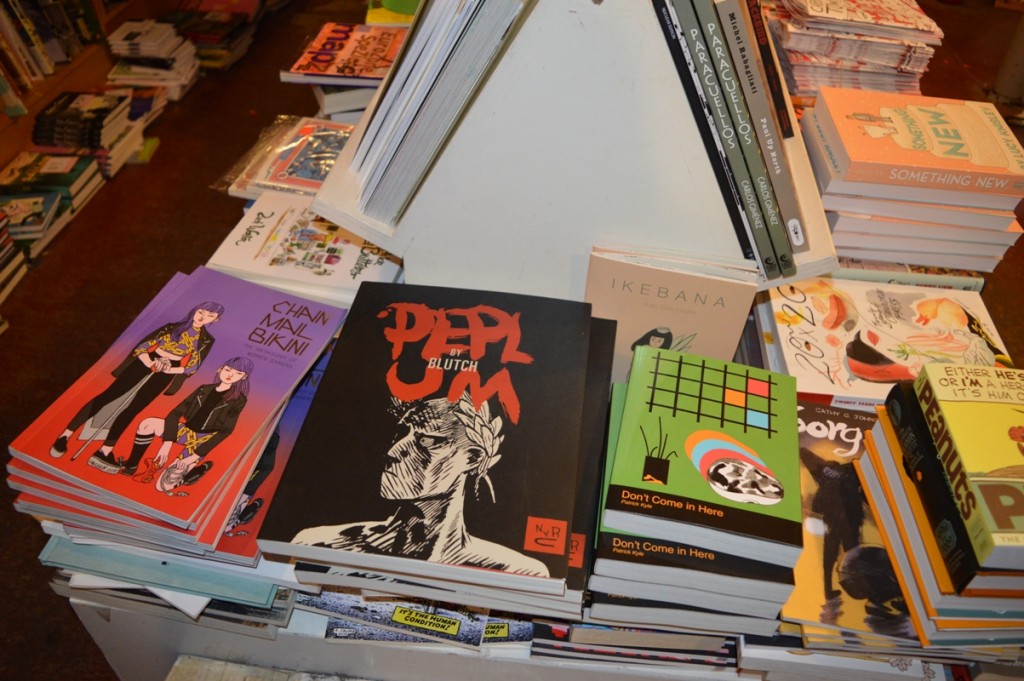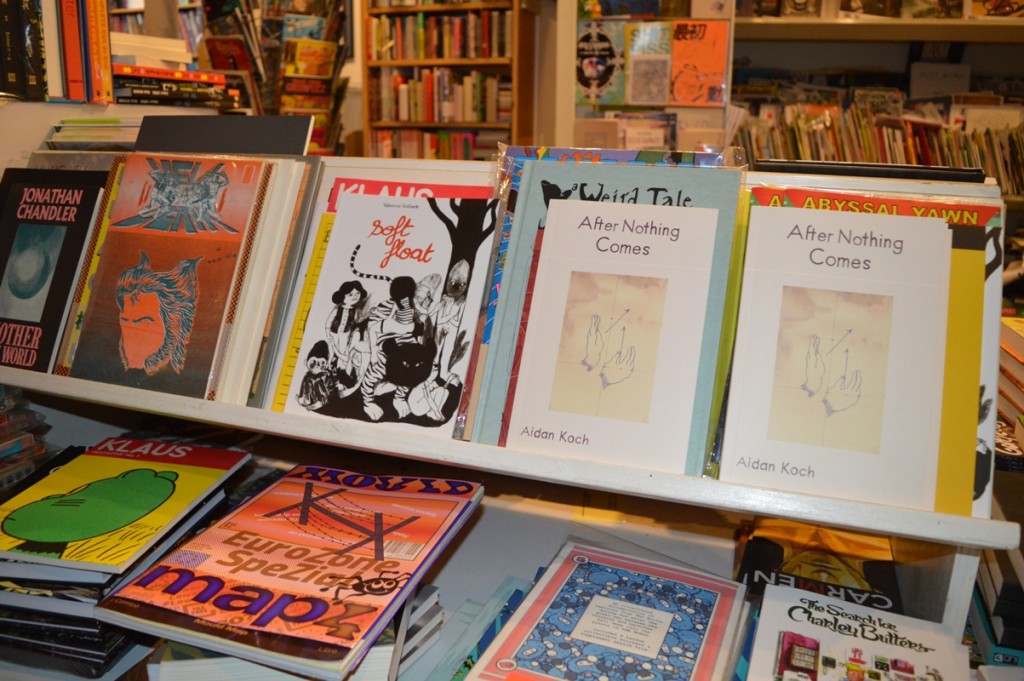 The books of the catalog are on the shelves, organized alphabetically by author. This is the most interesting part, with many rarities coming from the store's backlist or purchased from fans and private collectors, like several issues of Raw, rare Gary Panter's comics, Multiforce by Mat Brinkman, publications from the underground era, old collections of newspaper strips. Here are some pictures with a few valuable pieces, chosen according to my personal inclination, partly on the advice of Birkemoe and a bit randomly.
The selection of contemporary comics, minis and magazines is a good representation of the "scene" of recent years, with a lot of books that can't be displayed in the store. When I found an issue of Maré Odomo's Internet Comics published by Sacred Prism, it came to me I missed from the same series Kickfoot, a 16-page mini-comic by the Norwegian collective Dongery, released in 2014. When I asked Geneve, one of the employees of The Beguiling, she went in the archive and she came back within two or three minutes with the book in hand.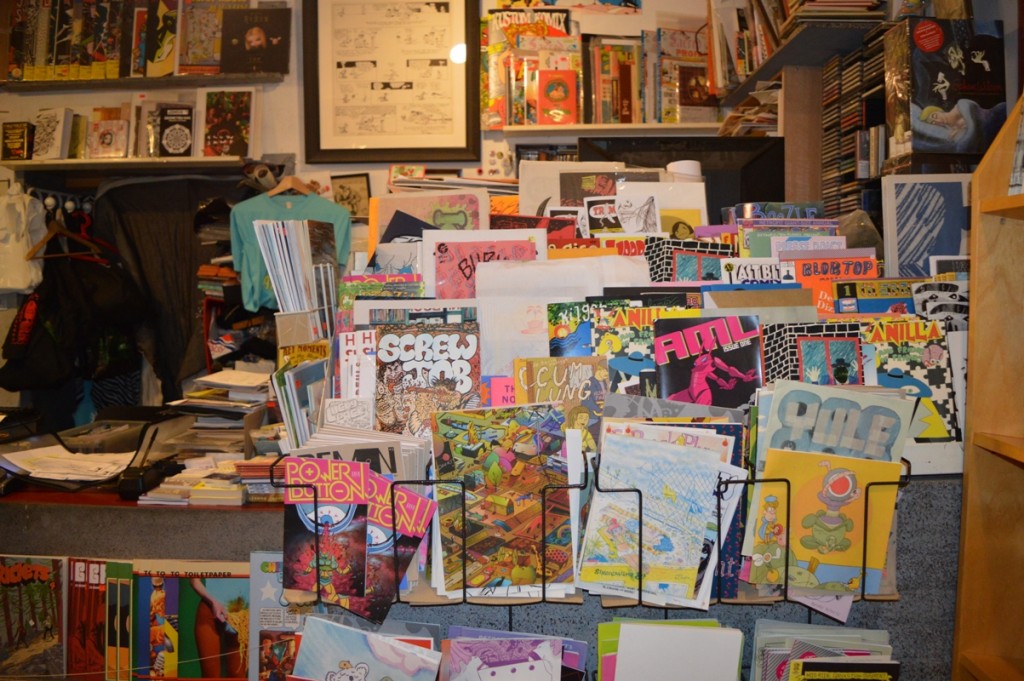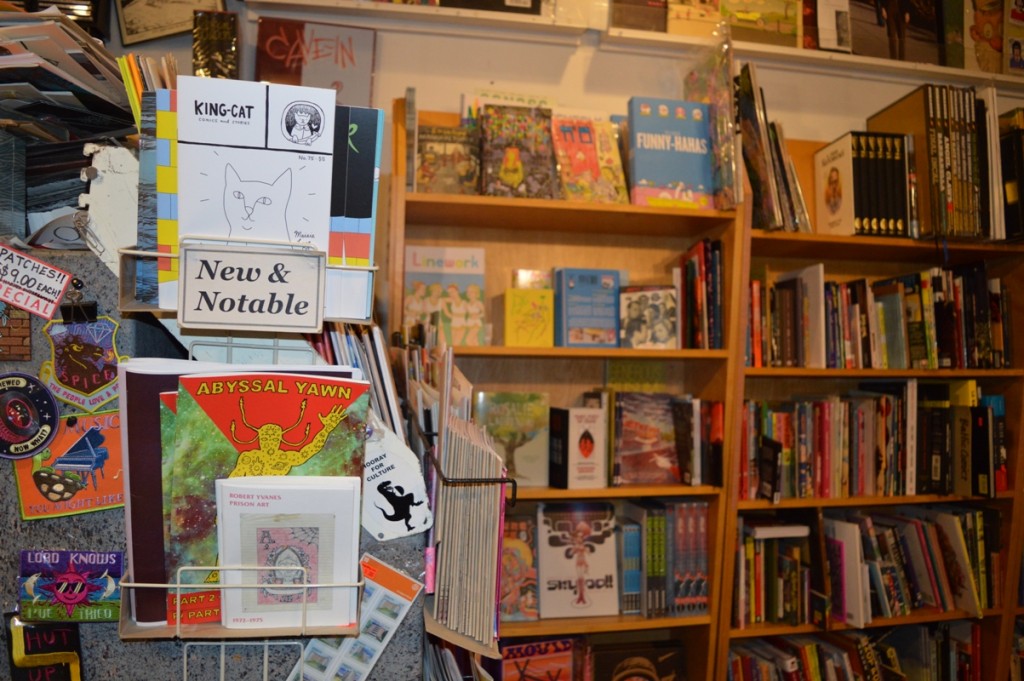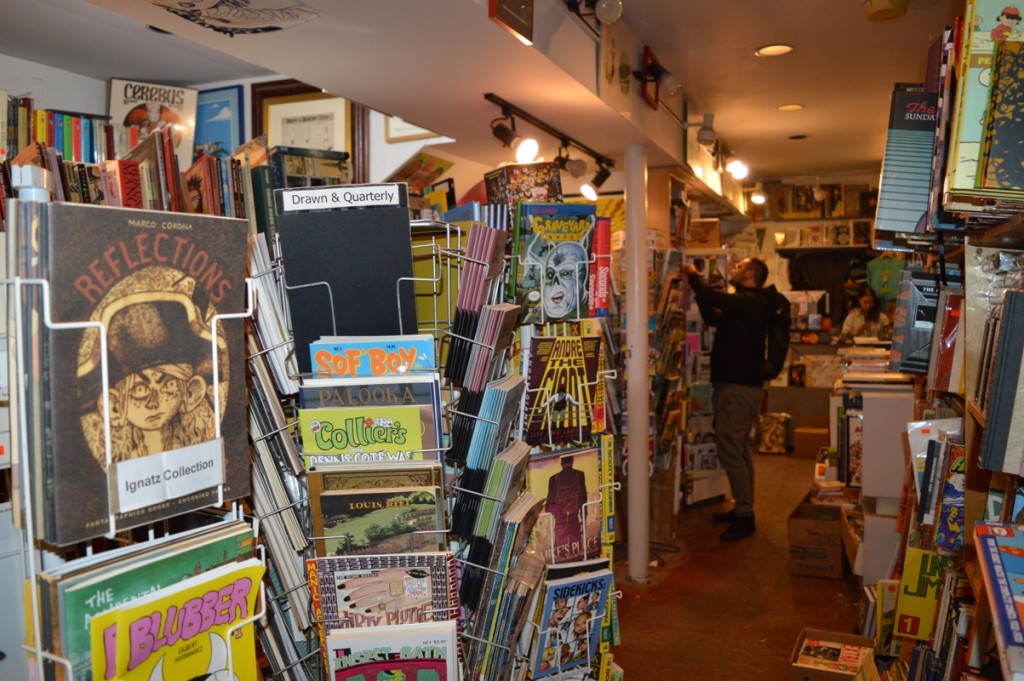 I must also mention the section of illustration books, the well-stocked anthologies bookcase and the rich selection of French and Japanese titles, with several original editions.
If the ground floor is a real treat for arty and undeground comics fans, the upper floor is devoted to the mainstream and looks more like the traditional American comic book store. We find there Marvel and DC superheroes, with many vintage titles for collectors, and the publications of indie imprints like Image, Dark Horse, Avatar and so on. Even this selection is very accurate and gives particular attention to the indie scene. There are also author sections for creators like Alan Moore or Neil Gaiman, confirming that the shop is completely aimed at a mature and knowledgeable audience.
The Beguiling is also well known for its original artwork store, that sells pages and drawings by artists such as Sammy Harkham, Kevin Huizenga, Seth, Michel Rabagliati, Shintaro Kago, Brandon Graham, Farel Dalrymple, Jason Lutes, Jeff Lemire, Paul Pope, Eddie Campbell and many others. A few pieces from the private collection are exhibited on the walls. I've taken pictures of the first page of Cerebus #23 from April 1978, with a familiar title, and of a Joe Matt's page that depicts the cartoonist, a well-known fan of old comics, heading to The Beguiling to sell some Carl Barks' complete sets.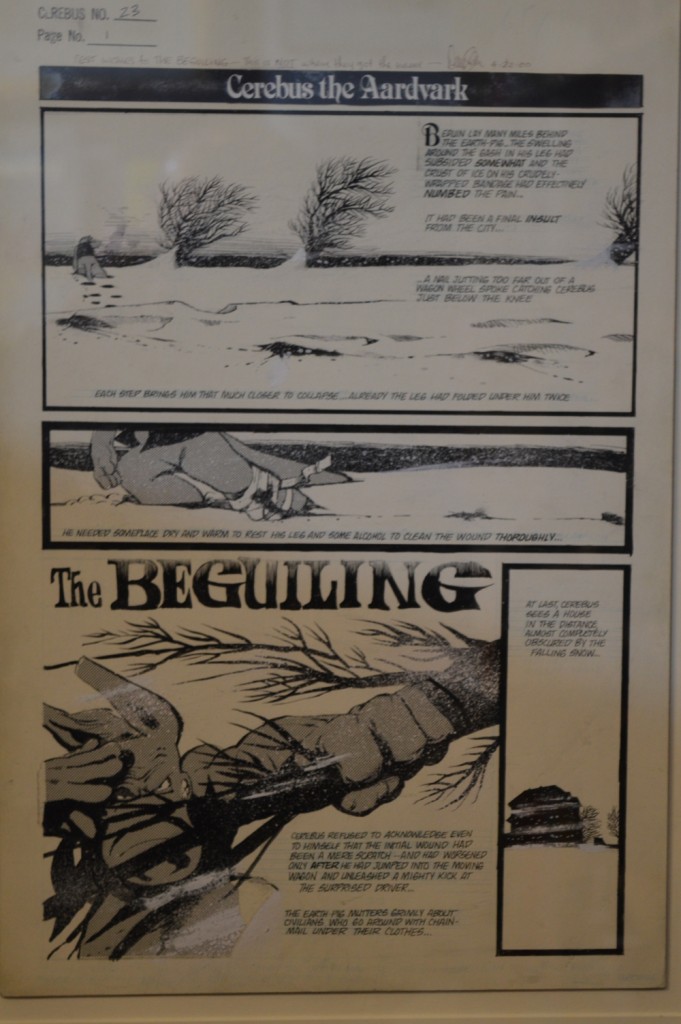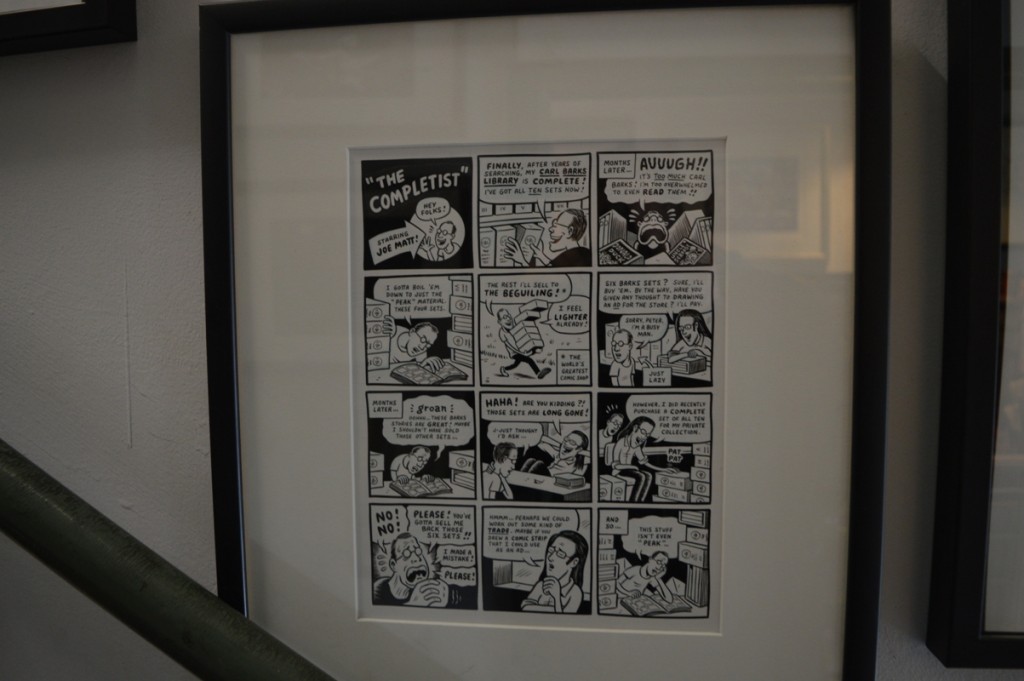 And speaking of Joe Matt, there is another page from Peepshow #3 depicting first him and his colleagues Seth and Chester Brown out of the store and then Matt inside talking with one of the first owners, Steve Solomos. The Beguiling was in fact founded in 1987, while Birkemoe took over in 1998.
During my visit, Birkemoe told me he is looking for a new and more spacious location, in order to display the whole catalog and to acquire more comics. If you are in Toronto, then, you have to visit the shop at 601 Markham Street, because it could be one of your last opportunities.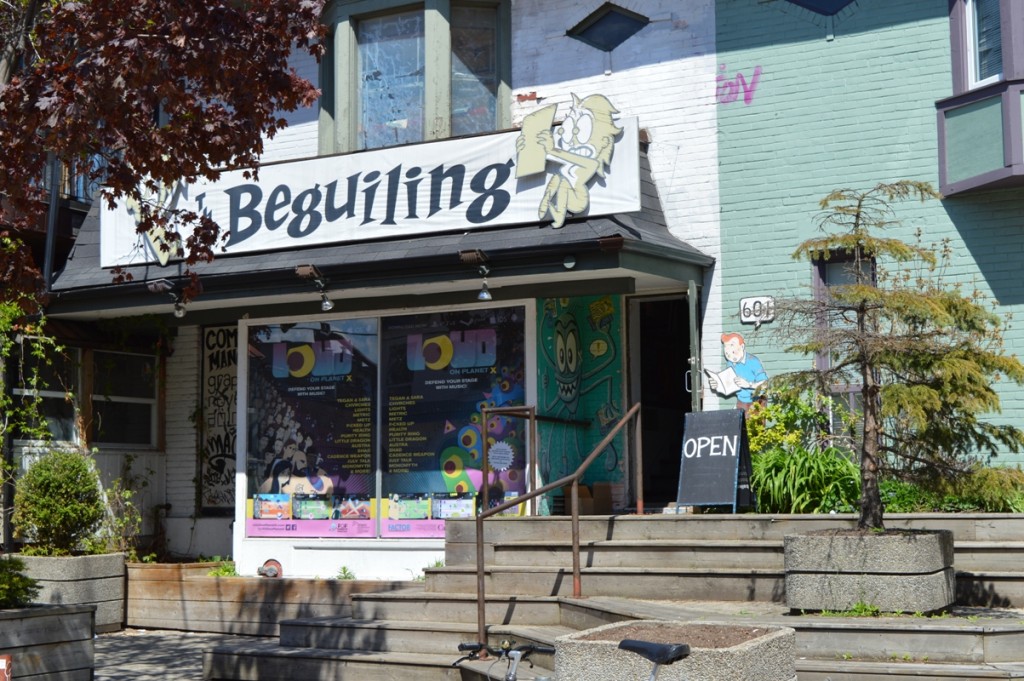 As Jeet Heer wrote a few years ago on Comics Comics, I don't know if The Beguiling is the best comic shop in the world, but for sure it is the best one I have visited until now. And it definitely deserved my humble attention.