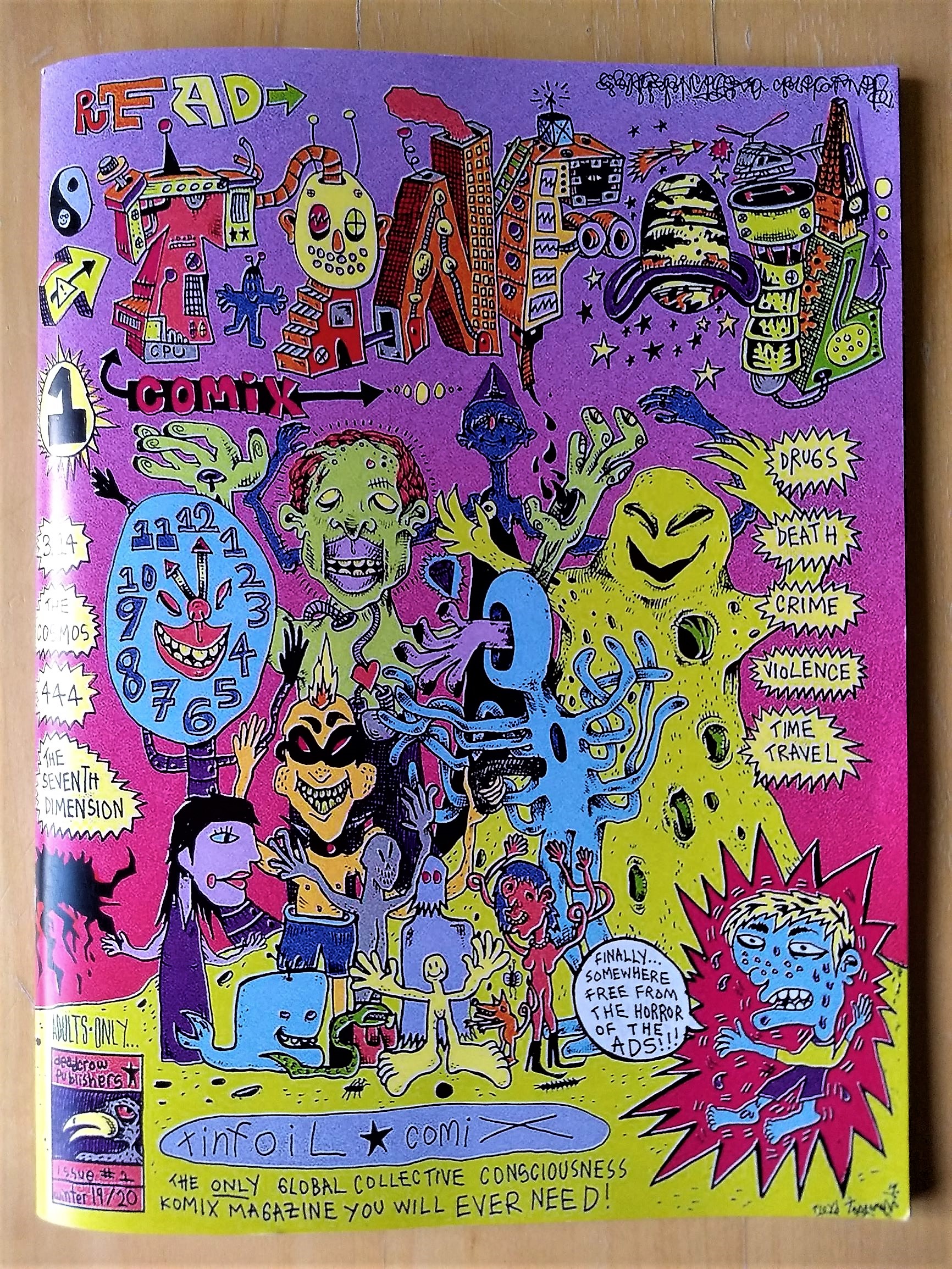 Arriva da San Francisco una nuova antologia piena di autori sconosciuti ai più e che vince senza troppi problemi il confronto con simili iniziative ben più blasonate. Da un bel po' non mi capitava di vedere una tale combinazione di talento, stranezza, urgenza e lucidità al tempo stesso: quasi tutti gli autori di Tinfoil Comix sanno cosa fare e come farlo, hanno qualcosa da dire e non hanno il tappo sulla penna. I fumetti mostrano temi e stili disparati ma hanno significativi punti in comune. Il primo che viene in mente è soprattutto uno sguardo altro al mondo, esemplificato in modo più diretto da una tavola di Jade Mar, in cui si legge: "Everything was one/We ate things/We farm things/We wait in lines/We advance/Were all these screens always here?/I've moved into this cave. The rent is incredibly affordable and/I feel at home". I disegni sono semplici, indie ma quasi infantili. Lo stesso autore rincara la dose qualche pagina più tardi: "I can only tell a story from my perspective/I could try to tell one from yours but/I don't think it would feel right".
Tinfoil fa questo, racconta storie dal punto di vista degli autori, e se questo è ovviamente vero per tutto è particolarmente vero qui, perché sono prospettive definite, forti, crude, decise. Prospettive diverse dal comune, spesso influenzate dall'uso di droghe o farmaci come nel contributo un po' retrò di Fried Feet messo in apertura, oppure che descrivono stati alterati raggiunti attraverso la sofferenza, come nel caso delle potentissime cinque pagine a firma Virgil Warren dedicate al Subcomandante Marcos. L'arte di Warren è fatta di spesse linee nere che scalfiscono i colori creando un effetto anni '70 che ben figurerebbe in un fumetto della linea All Time Comics.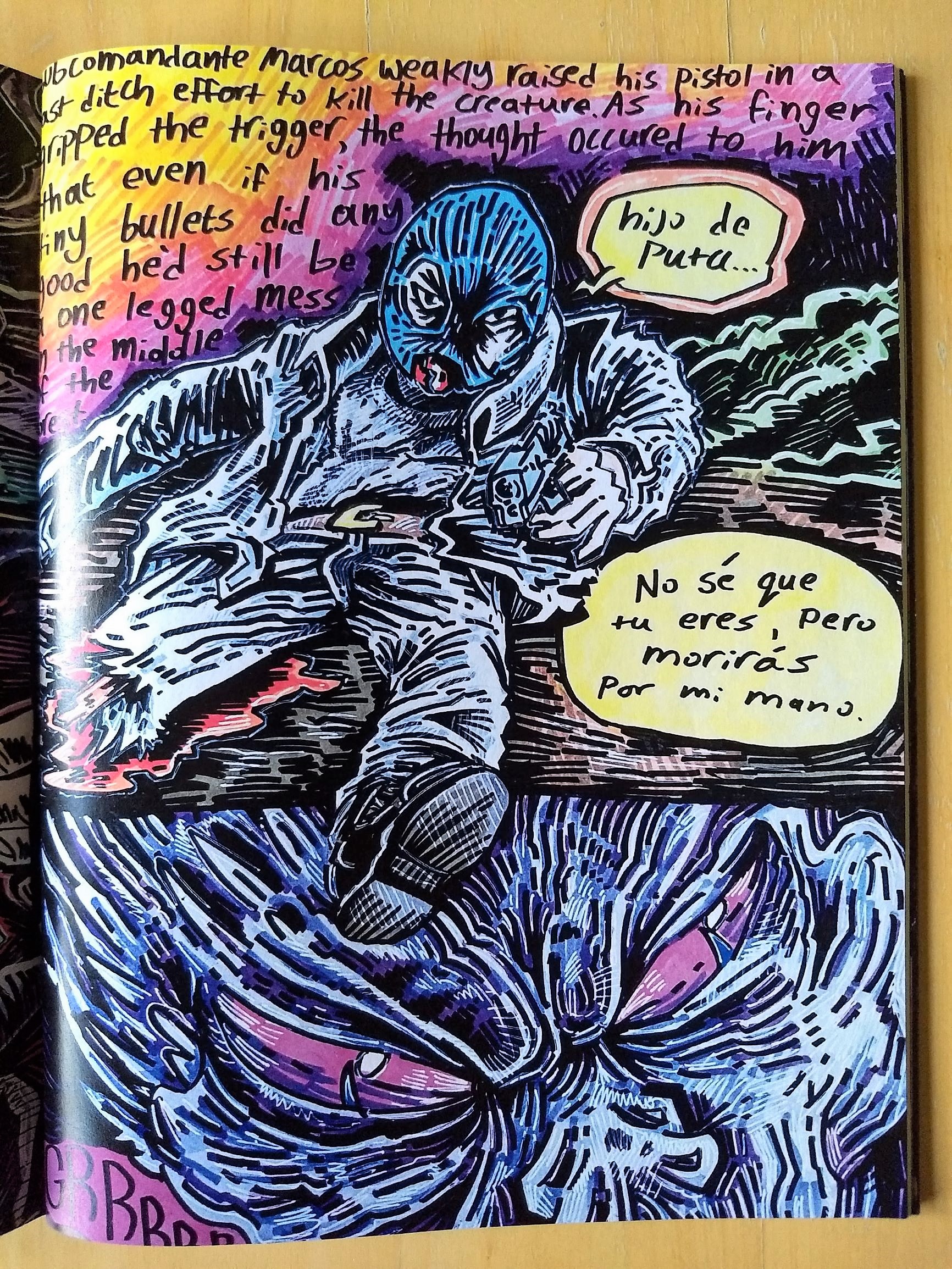 L'impaginazione a volte non è perfetta e si mangia i bordi della storia di Hope Kogod (e anche di qualcun'altra) ma poco importa. Le due pagine si aprono in verticale e sembrano quasi un poster, e alla fine Hope ricorda: "It's 2020, I deleted Instagram, email me". In effetti quelli di Tinfoil fanno le cose vecchia maniera, tanto che on line si fa fatica a trovare le loro tracce. Più che di virtuale qui si parla di reale, e infatti sono tante le storie a tema urbano, come le quattro pagine di Nick Fowler con soluzioni alla Bill Sienkiewicz o il coloratissimo fumetto di Jeremy McBrian che guarda ai graffiti e ai videogiochi. E colorate sono anche le pagine di Floyd Tangeman, che per non dare niente per scontato ricorda: "This comic reads from left to right".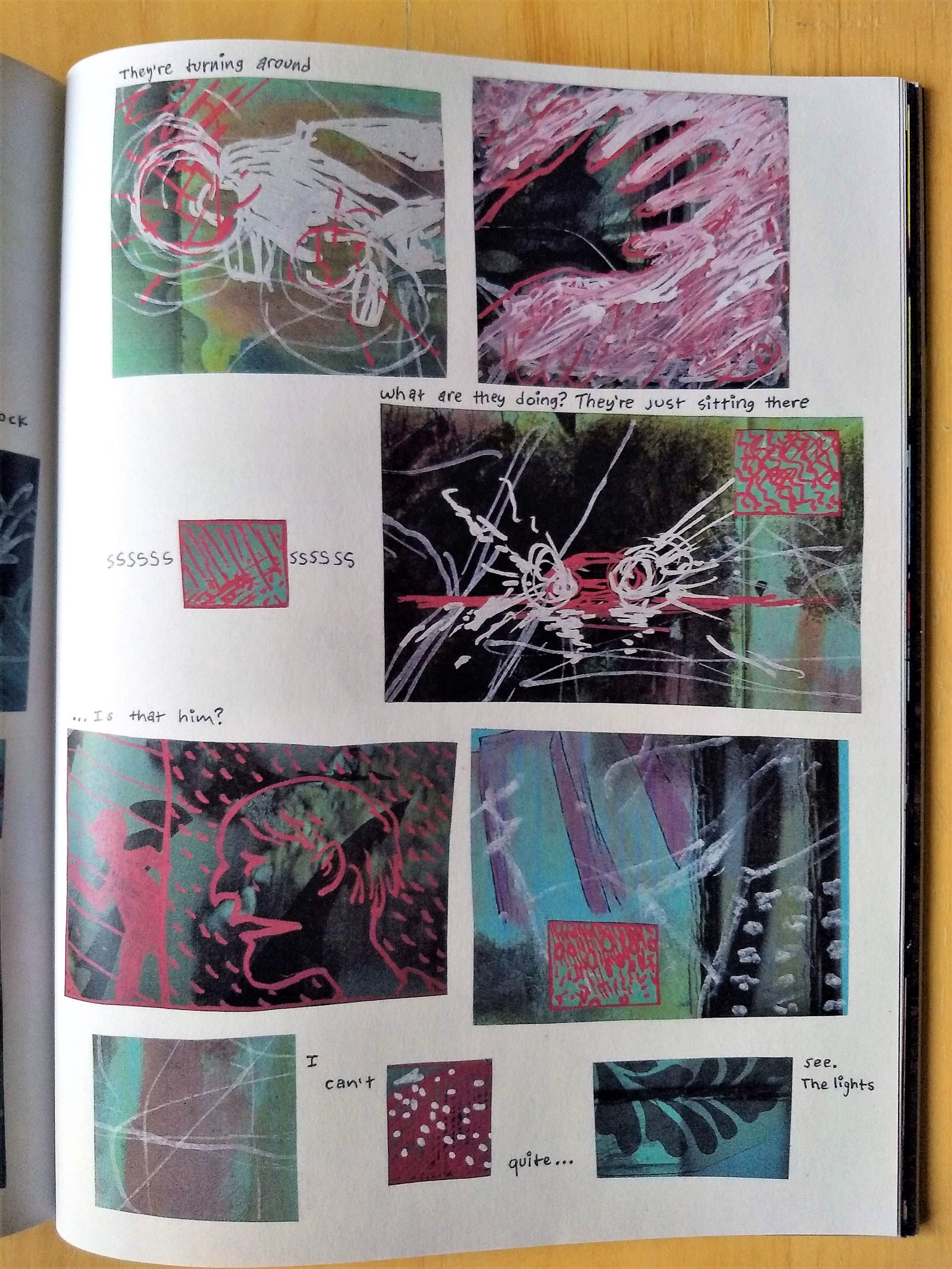 E' evidente che questi autori non guardano soltanto al fumetto contemporaneo come punto di riferimento, anzi, l'approccio è spesso naif, quasi da outsider art. Le conseguenze sono rigeneranti, perché finalmente non ci ritroviamo di fronte alla copia della copia di turno, che sia di Olivier Schrauwen, di Jesse Jacobs o di Tara Booth. L'impressione è che i signori Tinfoil abbiano altro da fare, piuttosto che starsene a casa a leggere l'ultima uscita di Fantagraphics. E da queste pagine scaturisce proprio questo, un'incredibile inarrestabile irresistibile voglia di FARE. In tal senso Olga Corcilius scrive il manifesto perfetto utilizzando dei semplici pennarelli colorati: "Instead of drawing just write a novel/Instead of writing a novel just piss in the snow". E il disegno appare sul bianco, una faccina bianca fatta di pipì. Siamo di fronte a una nuova rivoluzionaria generazione di autori? L'impressione è questa, e speriamo che i numeri successivi (il secondo è già alle stampe) ci diano qualche conferma.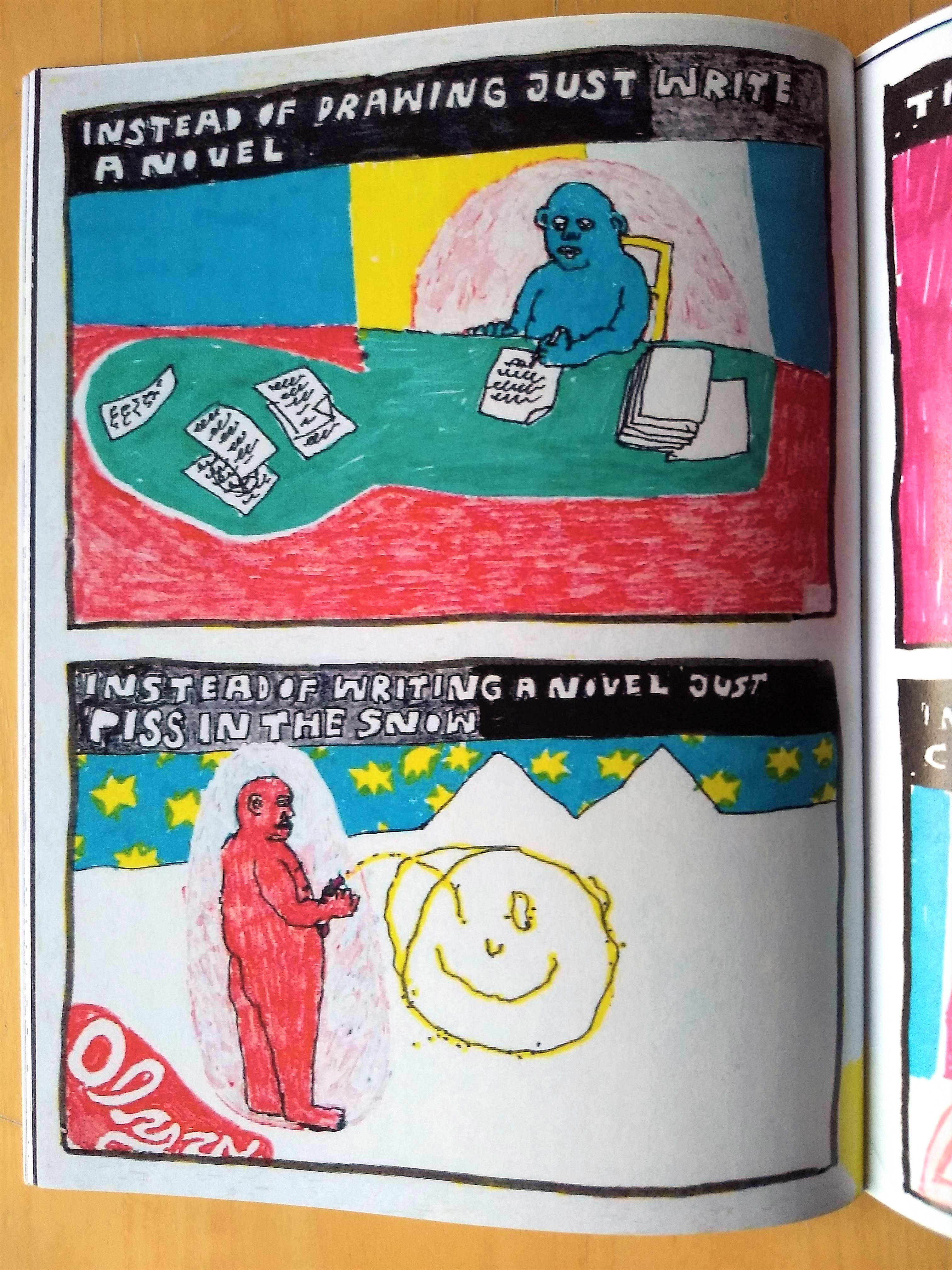 I fumetti si succedono uno dopo l'altro, c'è solo una lista di cartoonist in ordine di apparizione all'inizio ed è compito nostro capire dove finisce uno e inizia l'altro, un po' come usava fare Sammy Harkham nei vecchi Kramers Ergot. Sul finire arriva un certo Lemonhed, che esteticamente fa una roba alla E.A. Bethea, che chi segue questo sito avrà presente: vignette piccole, quadrate, che alternano immagini e solo testo, con un disegno in bianco e nero tendente allo scarabocchio.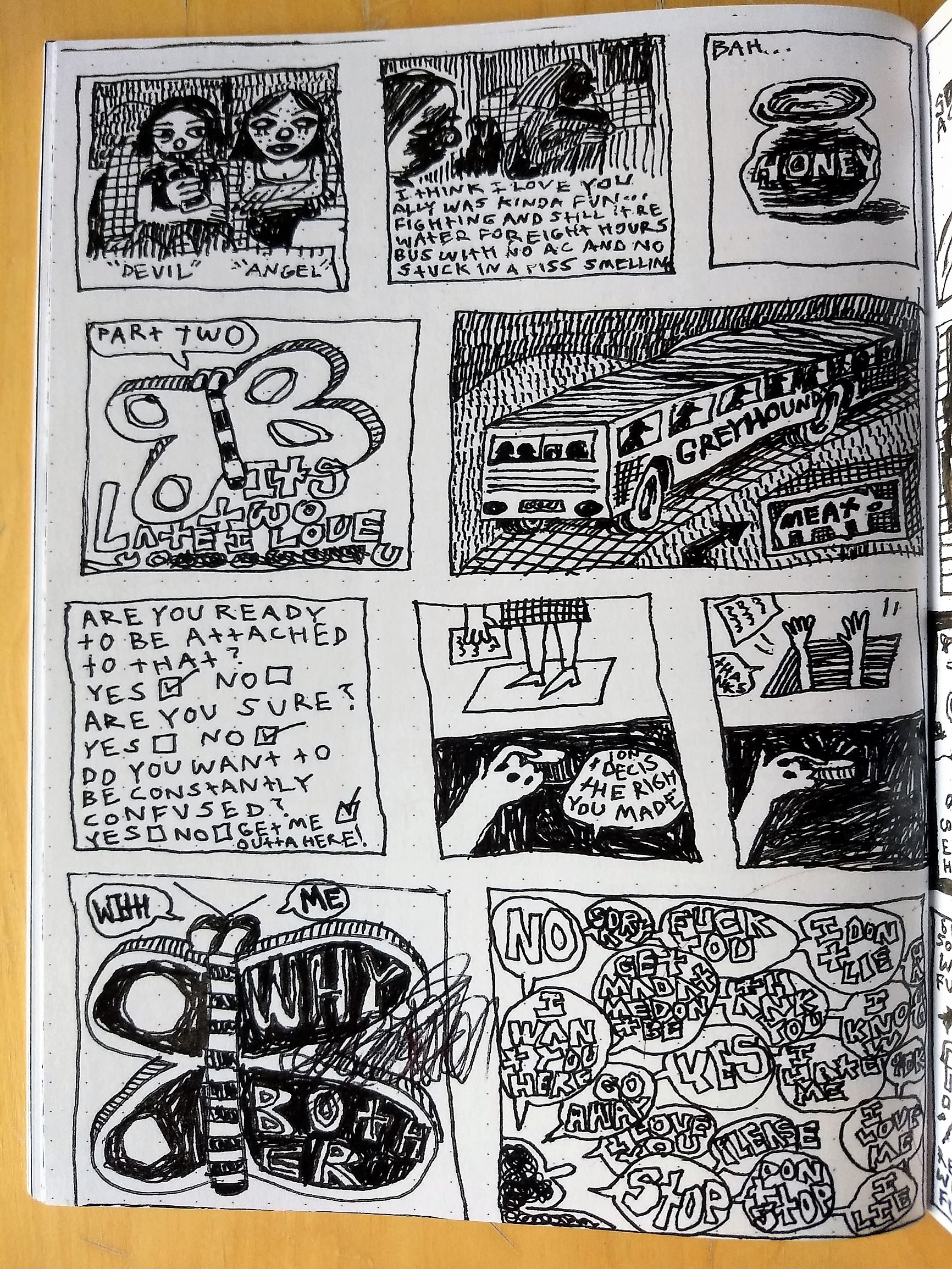 Se il paragone con la Bethea funziona a livello di modus operandi, ci sta meno per quanto riguarda i testi, che non sono a modo loro poetici come quelli dell'altra ma piuttosto nervosamente autobiografici, pur non riuscendo a mantenere un punto in particolare. La scrittura divaga, si scompone in semplici lettere o in serie numeriche, fino a quando l'autore confessa: "So heres the thing the year is two thousand and nineteen I was gonna do my laundry but instead I/ took some Adderal and decided to make this comic so that maybe I can figure some things out". Il fumetto diventa una terapia, e forse Tinfoil Comix è una terapia per tutti noi, abituati a contenuti che non ci fanno più sgranare gli occhi. Qui, invece, si sta con gli occhi spalancati dall'inizio alla fine.
Tinfoil Comix è creato e curato da Floyd Tangeman, che è anche l'editor della rivista insieme a Virgil Warren. Qualche copia del #1 è disponibile nel webshop di Just Indie Comics. Buone visioni.