Giusto qualche riga per segnalarvi un nuovo fumetto di Julie Doucet: si chiama Time Zone J ed è uscito da qualche settimana per Drawn & Quarterly. Presentato come il "ritorno al fumetto" dell'autrice di Dirty Plotte, questo bel paperback di 144 pagine è in realtà un'opera sperimentale e unica nel suo genere come lo erano già stati 365 Days (2008) e Carpet Sweeper Tales (2016). Ma si sa, il marketing oggi è tutto e così via, diciamo pure che "Time Zone J is Julie Doucet's first inked comic since she famously quit in the nineties after an exhausting career in an industry that, at the time, made little room for women". Così ci mettiamo dentro pure un po' di tematica di genere che di questi tempi non guasta mai, anche se in realtà c'entra poco e niente sia con la decisione della Doucet di lasciare i fumetti sia con questo libro qui.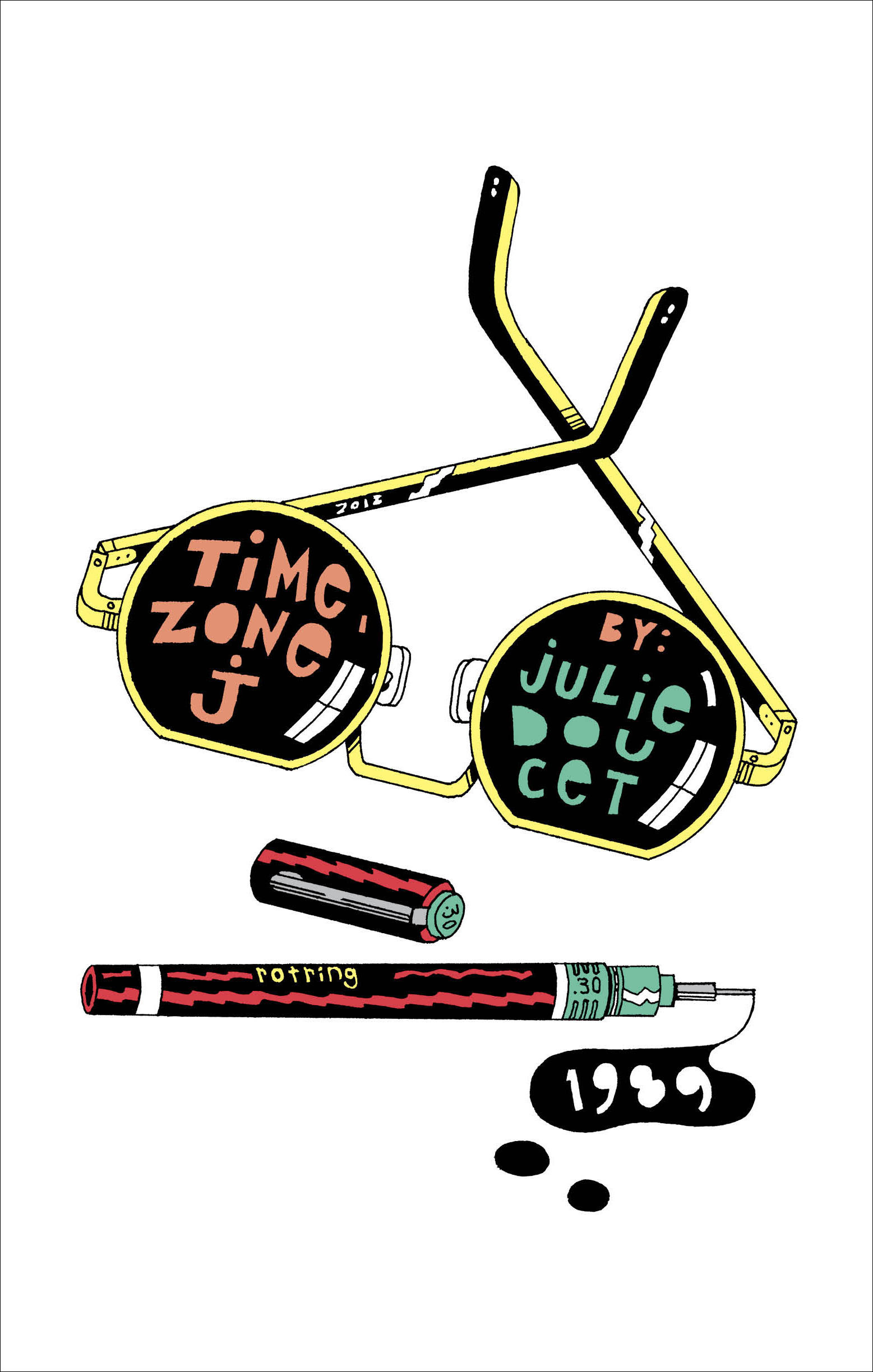 Ma vabbè, lasciamo stare queste inutili beghe. E diciamo piuttosto che Time Zone J è un'altra geniale opera di un'artista a tutto tondo a cui il titolo di fumettista sta sin troppo stretto. Si tratta di un autentico flusso di coscienza disegnato, un memoir raccontato con una sola lunghissima tavola, con le pagine che vanno a confluire l'una nell'altra senza soluzione di continuità. Per rafforzare questa idea il volume è rilegato con le pagine doppie, in modo da lasciare bianco il retro di ognuna, tanto che verrebbe quasi voglia di distruggere la rilegatura e aprire il tutto a mo' di leporello. Non ci sono vignette ma solo una splash page dopo l'altra, alimentate nella loro densità da quell'horror vacui a cui la Doucet già ci aveva abituati da un certo punto in poi su Dirty Plotte.
La trama attinge dai diari della fumettista da giovane, raccontando la storia a distanza con un soldato francese sul finire degli anni '80. A interfacciarsi con il lettore è la Doucet di oggi, disegnata in primo piano o di profilo, ossessivamente onnipresente sulla pagina in molteplici e ripetute incarnazioni, perché a contare è più l'atto del ricordo e della creazione artistica nel presente che le vicende ormai appartenenti a un lontano passato. Intorno all'autrice/protagonista si concentrano personaggi famosi, animali, testi di canzoni, gli immancabili resoconti dei sogni, come se stessimo sbirciando in un diario o in uno sketchbook. Nelle prime pagine appare anche un primo piano delle parti basse della Doucet, con tanto di flusso mestruale che innaffia la pagina di inchiostro, a ricordare uno dei suoi primi fumetti, la celebre Heavy Flow.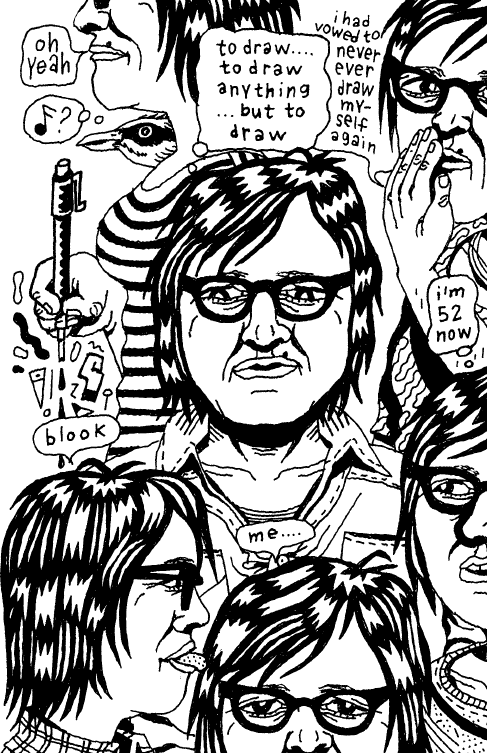 La trama è solo un pretesto e poco importa rispetto all'oggetto inclassificabile che la Doucet riesce mettere nelle mani del lettore. Il suo percorso mi ricorda quello di un altro grandissimo, Gary Panter, perché come lui la Doucet è un'autrice che di fumetti ne ha fatti (e di bellissimi) ma che non è più riuscita a stare ferma, a rispettare le regole e i ritmi di un'arte e di un'industria spesso troppo autoreferenziali e fossilizzate su se stesse. Ed è proprio il fatto di essere ai margini di quest'industria, o addirittura totalmente fuori, da permettere a questi artisti di creare opere uniche e memorabili. Come Time Zone J, appunto.