"Pietra abbandonata" di Tagliamani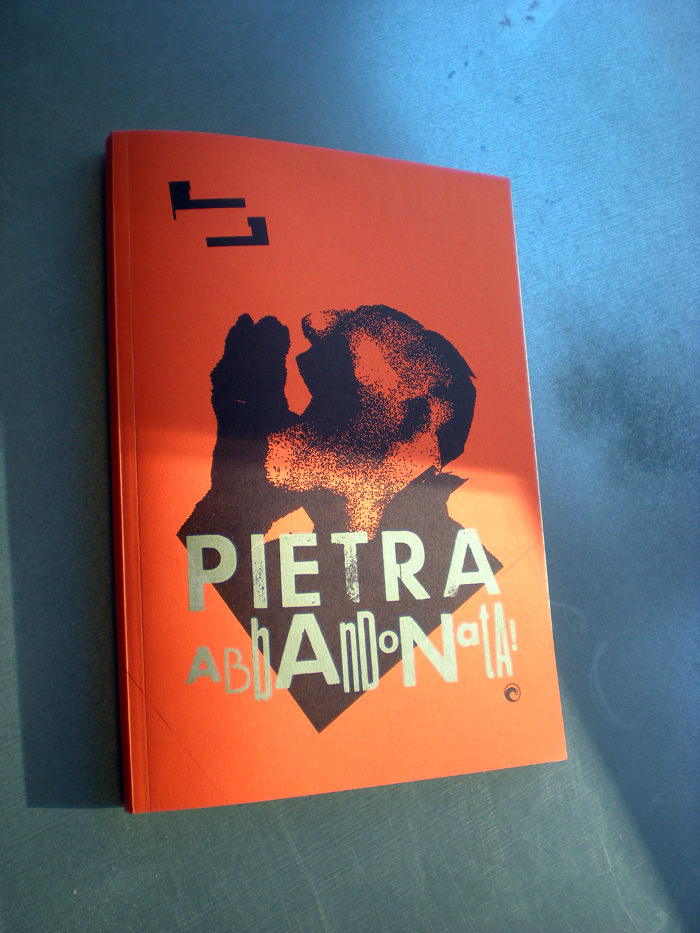 "Un signore interpreta il cattivo nella recita. Io interpreto una giovane ragazza. Il cattivo mi deve ammazzare. Mentre il cattivo mi spara io mi trovo dietro la scenografia. Dal pubblico nessuno vede nulla tranne il cattivo che stende il braccio e preme il grilletto. La folla sibila di paura e indignazione. Acchiappano il cattivo e lo portano a fare un giro dei bar. Già alle prime sorsate il vino dà alla testa". Basta l'incipit per avere un'idea della prosa scarna e affilata con cui Marco Saccaperni in arte Tagliamani detta i tempi del suo Pietra abbandonata. Una prosa più che mai al presente, incalzante, che ti trasporta nell'azione e ti fa entrare senza troppe mediazioni nella testa della protagonista. I testi, a volte in corsivo e altre in stampatello, si accompagnano a disegni, scansioni di fotografie, fotocopie, collage vari. Ne viene fuori un libro unico nel suo genere, un brossurato formato A4 chiuso in una copertina arancione che a sfogliarlo rimanda contemporaneamente al futurismo e alle pitture rupestri, per quanto sia possibile un tale accostamento.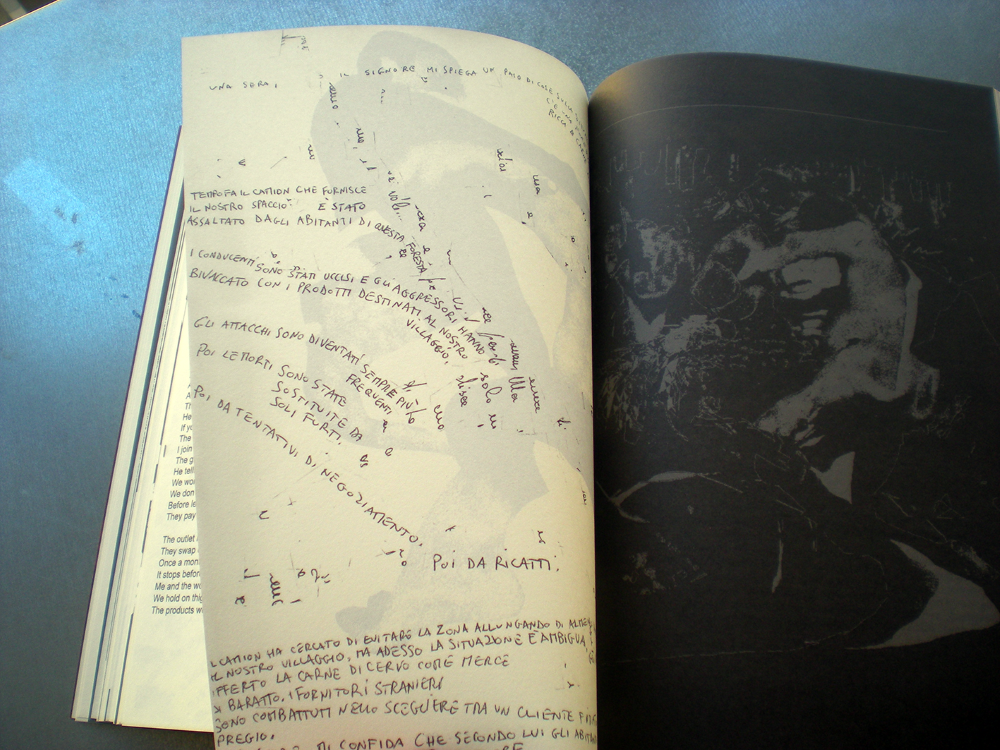 Per risparmiare tempo faccio raccontare la trama allo stesso autore: "Uno spettacolo teatrale finisce in linciaggio pubblico. Uno degli attori – una ragazza – lascia la città e raggiunge un paese di campagna dove è ospitata da un uomo. Il villaggio baratta merci con comunità straniere. Una banda di mercanti di carne di cervo minaccia l'equilibrio economico della comunità e assedia il villaggio. L'assedio consiste in cori da stadio. La ragazza si rifugia insieme ad altri abitanti nella casa dell'uomo che la ospita…". Vi evito gli ulteriori sviluppi, che potrete scoprire da soli dato che il volume è disponibile nel webshop di Just Indie Comics. Vale invece la pena approfondire il come e il perché di questo libro.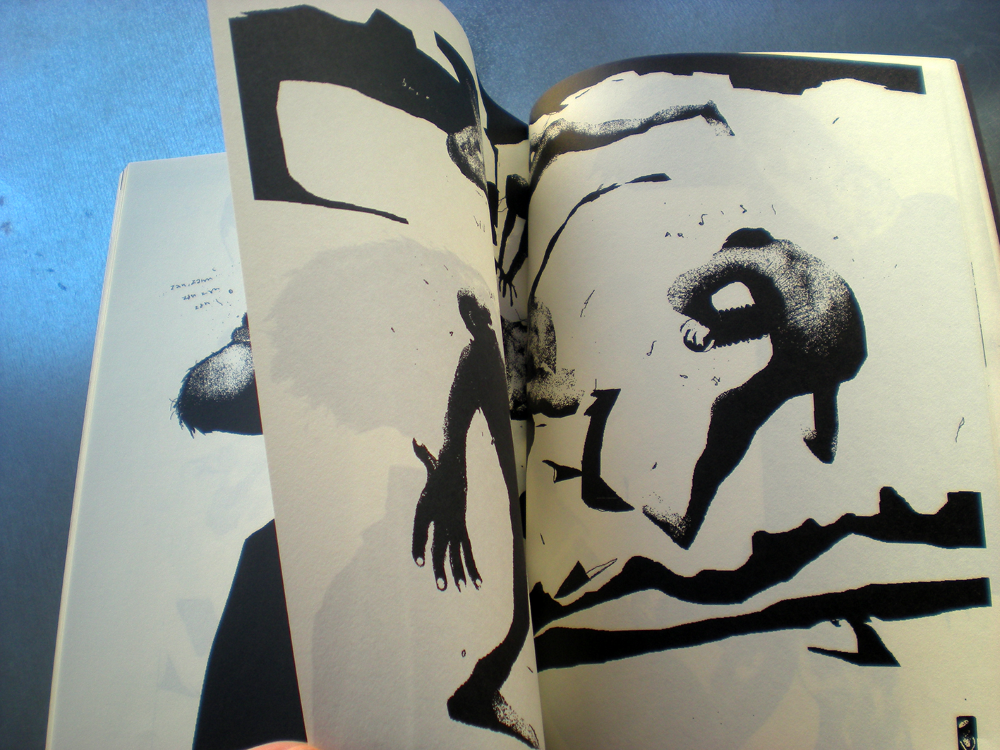 Marco Saccaperni è un italiano classe 1980, nato in Umbria ma che al momento vive in Svizzera. Prima di Pietra abbandonata ha realizzato una versione illustrata dei Canti di Maldoror di Lautréamont. La storia nasce di pari passo con gli esperimenti grafici fatti dall'autore nel corso degli anni. Il testo è stato riprodotto su fogli A4 utilizzando in parte fotocopie di lettere di famiglia e in parte semplice scrittura. La parte in italiano è dunque tutta scritta a mano, mentre la traduzione in inglese è realizzata al computer. Quest'ultima è integrata nel libro in modo esemplare: non viene infatti riportata accanto all'originale, ma spesso trova spazio nelle pagine successive o precedenti, dando una sensazione di notevole organicità, come se il testo in inglese fosse un'altra delle componenti grafiche del volume. I disegni sono realizzati per lo più con Microsoft Paint. Il libro è stato stampato nel novembre del 2019 in una prima edizione limitata a 200 copie.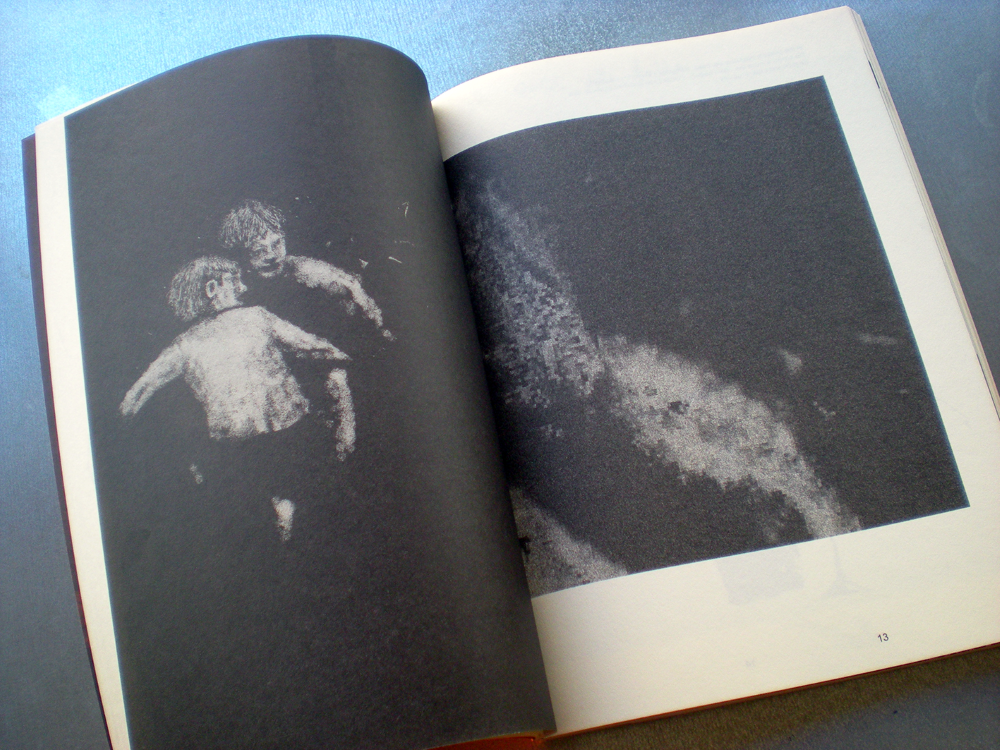 Avrete capito a questo punto che Pietra abbandonata è il tipico oggetto sui generis. Non un fumetto, più un libro illustrato che però travalica i confini dell'illustrazione stessa, perché il disegno non è sempre descrittivo, anzi è spesso quasi astratto, difficile da interpretare, slegato da ciò che leggiamo, come se le emozioni della storia sfociassero in un grafismo violento e primitivo. A volte il legame tra testo e disegno è sin troppo labile, e i testi – nella parte in cui i "cori da stadio" prendono il sopravvento – diventano più disegnati che scritti, e quindi di difficile interpretazione. Ma sono pecche secondarie, ciò che rimane alla fine della lettura è soprattutto la potenza della storia, che si dispiega secondo una logica tutta sua, e che arriva a dire qualcosa di importante su relazioni umane, conformismo e tradimento. E ci regala anche perle di saggezza come "Mostro amore e interesse puro / di questo, amico, puoi star sicuro / ma se all'empatia tu opponi un muro / io te lo ficco su per il culo". Amen.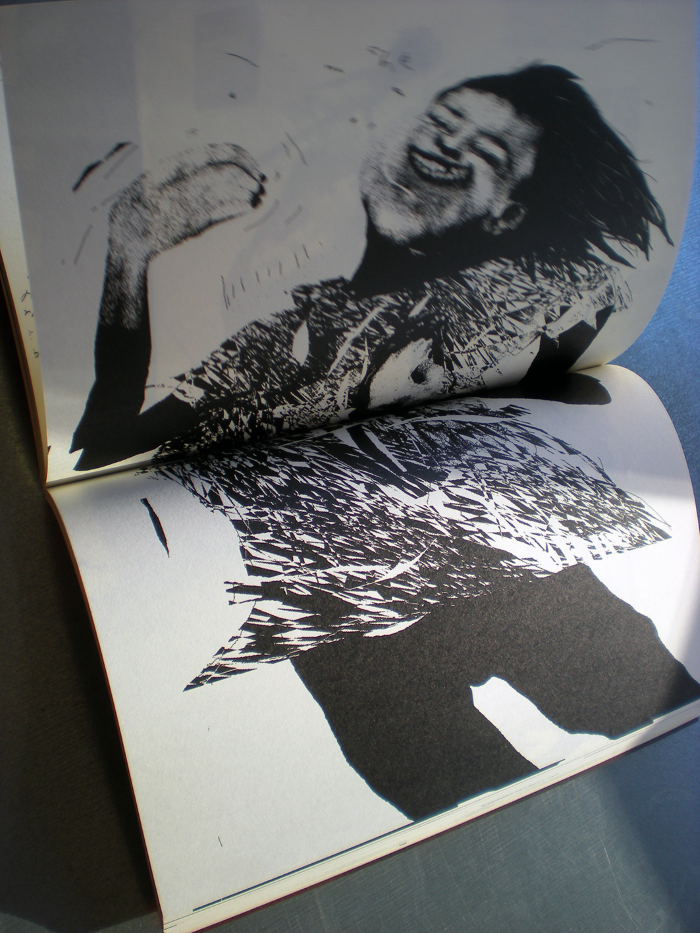 "Vision" di Julia Gfrörer
Non vi illudete, in questo libro non c'è né la Visione né Scarlet e forse si poteva già capire dal fatto che a pubblicarlo è Fantagraphics e non la Marvel. Non ci sono colori dunque, e nemmeno vendicatori, mutanti, Ultron, Tony Stark, Calabrone, Wonder Man, Tigra, Kang il Conquistatore, Korvac, Wasp, Costa Est e Costa Ovest. L'unica concessione al fantastico e al soprannaturale è uno specchio che parla, per il resto l'ambientazione è ottocentesca e realistica.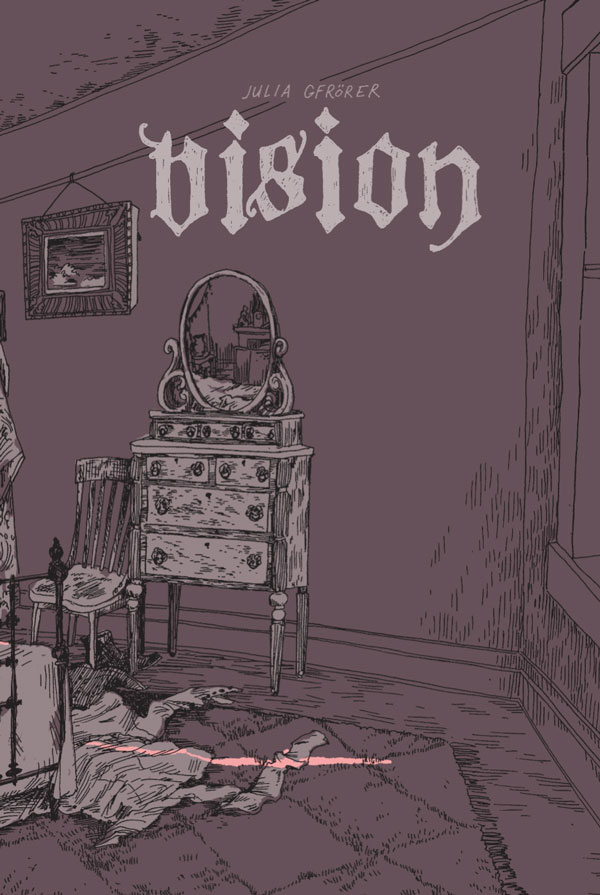 Già uscito a puntate in albetti autoprodotti, Vision è il terzo libro di Julia Gfrörer per la Fantagraphics, dopo Black is The Color del 2013 e Laid Waste del 2016. Confesso di non essere un grande fan di quei due libri lì. Per quanto la Gfrörer, cartoonist del New Hampshire classe 1982, abbia mostrato sin dall'inizio uno stile e una poetica originali, lontani dalle tendenze del fumetto alternativo contemporaneo, ho sempre considerato i suoi fumetti in qualche modo incompiuti. Con Vision la musica cambia, ovviamente in meglio. Innanzitutto il disegno, che come i precedenti lavori usa una griglia fissa di vignette: in Black is the Color erano 6, in Laid Waste 4, qui sono 9 e la scelta porta i suoi benefici, perché l'autrice rende meglio con le vignette piccole, che risultano più dettagliate e lavorate rispetto al passato. Il suo è un segno scarno, che sicuramente non fa gridare al miracolo, ma se nei lavori precedenti risultava a volte sin troppo sciatto qui è assai suggestivo nonché efficace, soprattutto nel rappresentare le diverse espressioni dei personaggi, quasi sempre ripresi in primo piano o comunque con inquadrature ravvicinate. E poi c'è la storia. Intensa, metaforica, pregna di contenuti, evita il facile escamotage del finale aperto e si compie nella sua interezza lasciando al tempo stesso tante domande sulle motivazioni dei personaggi che la animano.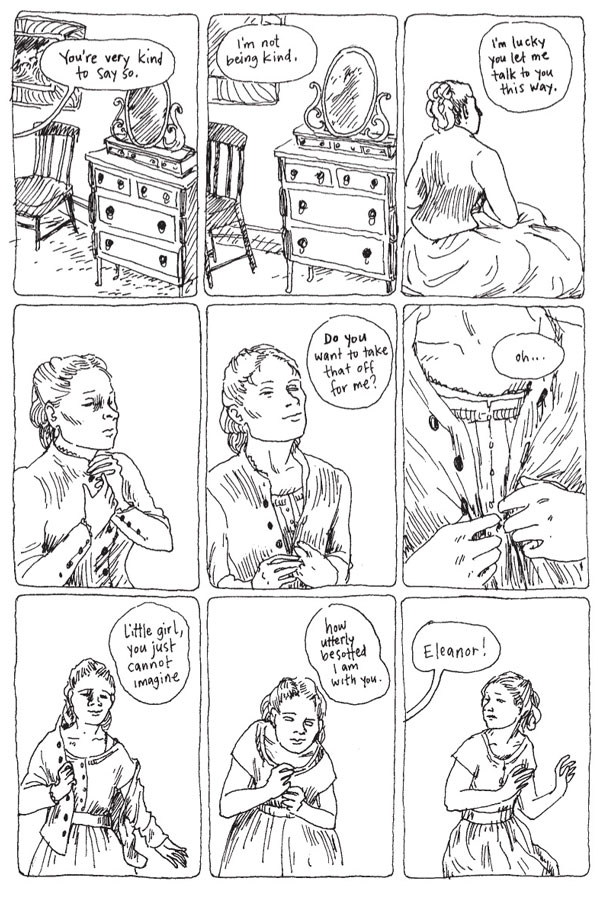 La protagonista è Eleanor, che ha perso il fidanzato in guerra e ora è rimasta sola, tanto da dover dividere la pur grande casa con il fratello Robert e sua moglie Cora, gravemente malata. Le dinamiche tra i tre sono il fulcro della vicenda. Ma oltre a ciò che accade nella realtà, c'è una dimensione ulteriore e fondamentale nel libro, ossia quella della "visione" appunto. Già in apertura vediamo uno specchio parlare alla protagonista, lusingarla, sedurla, e poi pian piano convincerla a spogliarsi e a masturbarsi. Se è illusione o realtà non è dato saperlo e non è questo il punto, ciò che è certo è che lo specchio spinge Eleanor a considerare la propria sessualità, ad affermare se stessa, a mettere in discussione la realtà familiare a cui le circostanze (e il fratello) l'hanno costretta. A guardarsi, insomma. Un'ulteriore svolta avviene dopo un intervento alla cataratta, che cambierà ulteriormente la sua "visione" delle cose, portandola ad attraversare lo specchio, a uscire dalla sua cameretta e dal suo solipsismo fino a farsi regalare un orgasmo in carrozza dal suo medico, il dottor Bishop. Ma il mondo della Gfrörer è nero e spietato, e non facilmente consolatorio. La ribellione della donna – particolarmente significativa vista la realtà ottocentesca in cui vive – per quanto potente e simbolica non è una facile marcia verso il riscatto e la felicità. L'abisso è sempre dietro l'angolo nei fumetti della cartoonist statunitense, ed è un buco nero popolato di demoni interiori.
Ricco di spunti quanto affilato nello storytelling, Vision è un fumetto di 89 pagine che nella sua relativa brevità riesce a dire anche troppo: senz'altro una delle cose migliori – se non proprio la migliore – lette finora in questo strano 2020.
"Tinfoil Comix" #1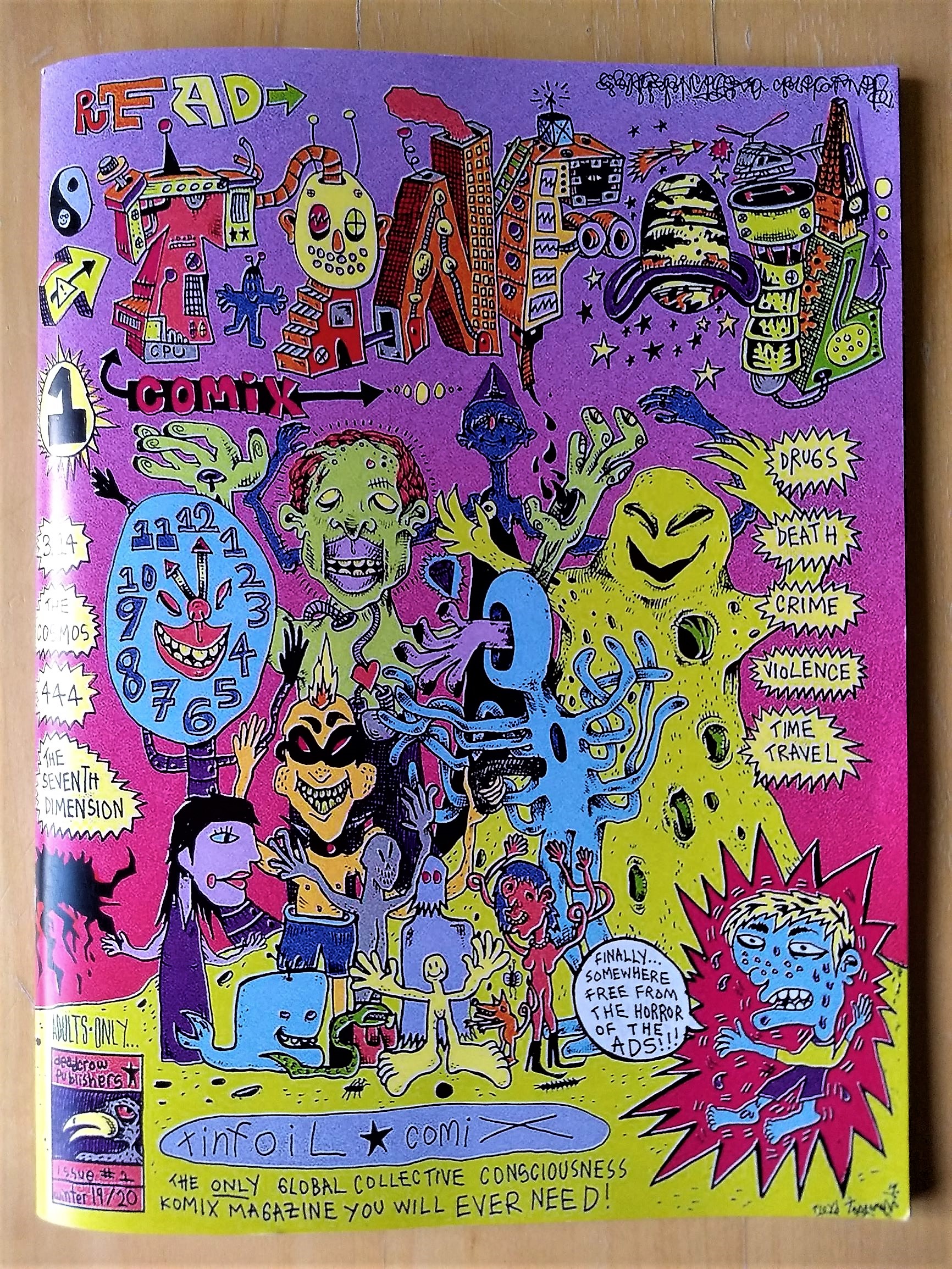 A new anthology coming from San Francisco, Tinfoil Comix showcases mostly unknown cartoonists but beats a lot of similar and much more renowned efforts. I haven't seen for a long time such a combination of talent, strangeness, urgency and lucidity in one shot: almost all the artists in Tinfoil know what to do and how to do it, they have something to say and they aren't smooth talkers. The comics show varied themes and styles but have substantial points in common. The first that comes to mind is an unusual attitude towards everyday life, exemplified in a sequence by Jade Mar: "Everything was one/We ate things/We farm things/We wait in lines/We advance/Were all these screens always here?/I've moved into this cave. The rent is incredibly affordable and/I feel at home". The drawings are simple, indie and childish at the same time. And Mar insists a few pages later: "I can only tell a story from my perspective/I could try to tell one from yours but/I don't think it would feel right".
Tinfoil tells stories from the author's point of view, and if this is obviously true of everything, it is particularly true here, because they are defined, strong, raw perspectives. Perspectives different from any others, often influenced by drugs or pills, as in the slightly retro contribution by Fried Feet that opens the book, or which portray altered states achieved through suffering, as in the case of a powerful five-pager dedicated by Virgil Warren to Subcomandante Marcos. Warren's art is made of thick black lines that scratch the colors to create a '70s look that would easily fit in an All Time Comics floppy.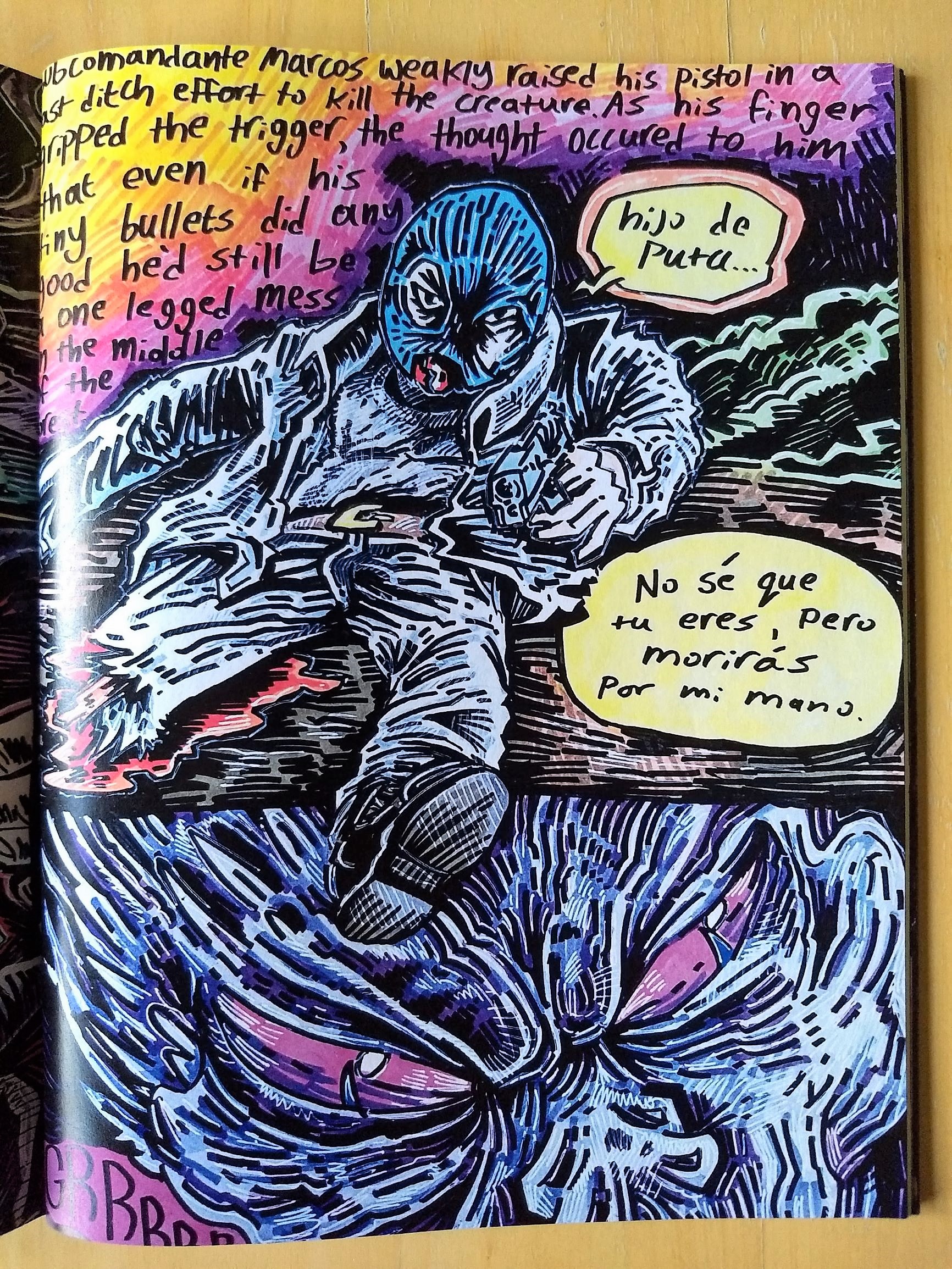 Sometimes the pagination isn't perfect and so we miss the edges of Hope Kogod's comic (and someone else's too). Kogod's two-pager opens vertically and look likes a poster. At the end the author states: "It's 2020, I deleted Instagram, email me". Tinfoil's artists are old school, so that it's difficult to track them on the internet. These stories don't talk about the "virtual" but are mostly about the "real" world, and in fact there are many urban-themed comics, such as the four-pager by Nick Fowler, influenced by Bill Sienkiewicz, and the colorful Jeremy McBrian's contribution, inspired by graffiti and video games. Editor Floyd Tangeman uses a lot of colors too, and, in order to take nothing for granted, reminds: "This comic reads from left to right".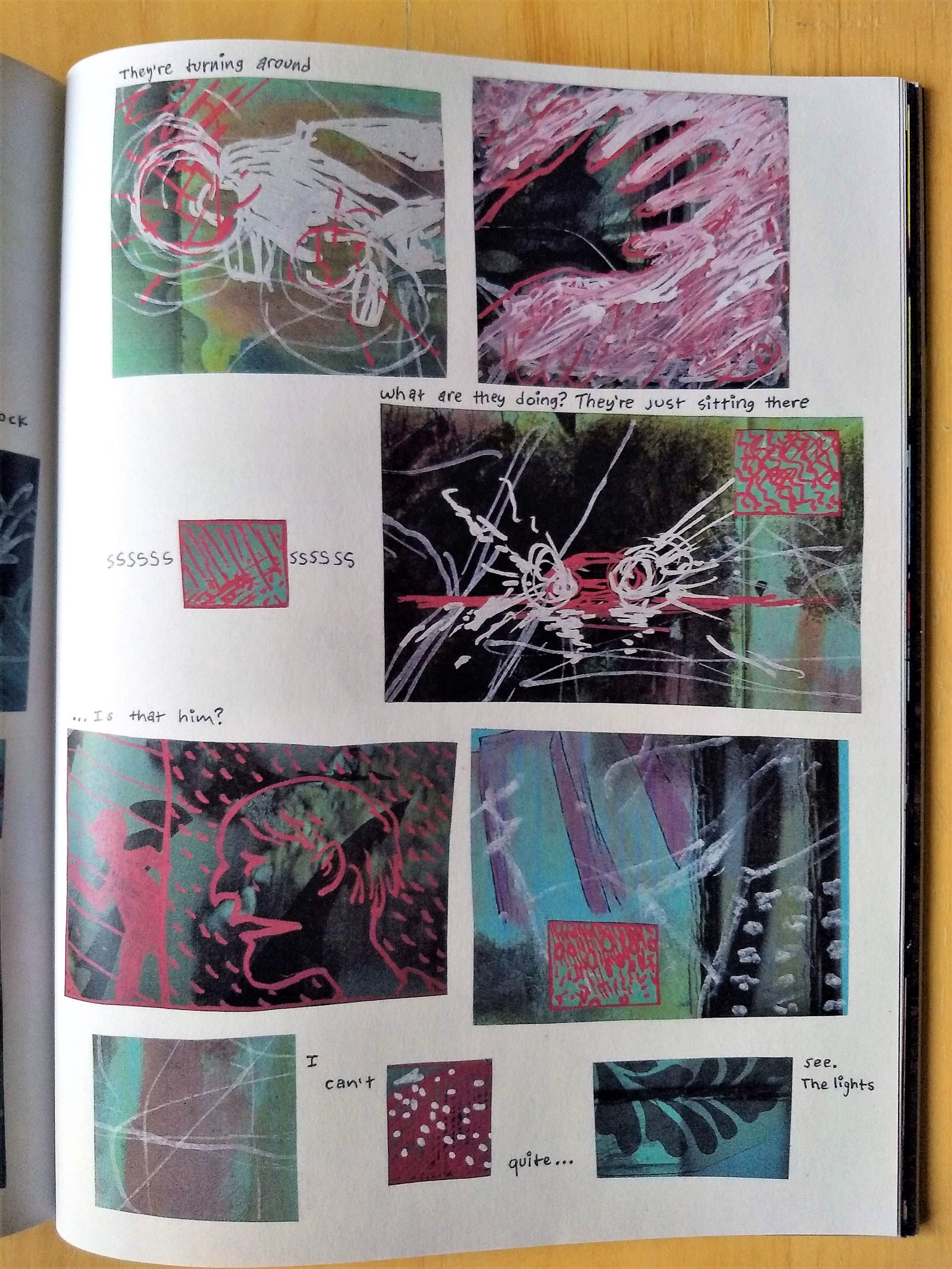 These cartoonists don't look at contemporary comics as a reference point but mostly use a naive attitude, as that of outsider artists. The effect is refreshing, because for once we are not dealing with the copy of a copy, whether it's of Olivier Schrauwen, Jesse Jacobs or Tara Booth. The feeling is they have more to do than stay home reading the latest comic from Fantagraphics. And from these pages it comes exactly this, an incredible and unstoppable and irresistible urge to DO. In this sense Olga Corcilius creates the perfect manifesto using simple colored markers: "Instead of drawing just write a novel/Instead of writing a novel just piss in the snow". And the drawing appears on a white background, a few yellow lines shaping a smiling face. Are we witnessing the rise of a new revolutionary generation of artists? This is the first impression, and I hope that next issues (the second is already printed) will provide some confirmation.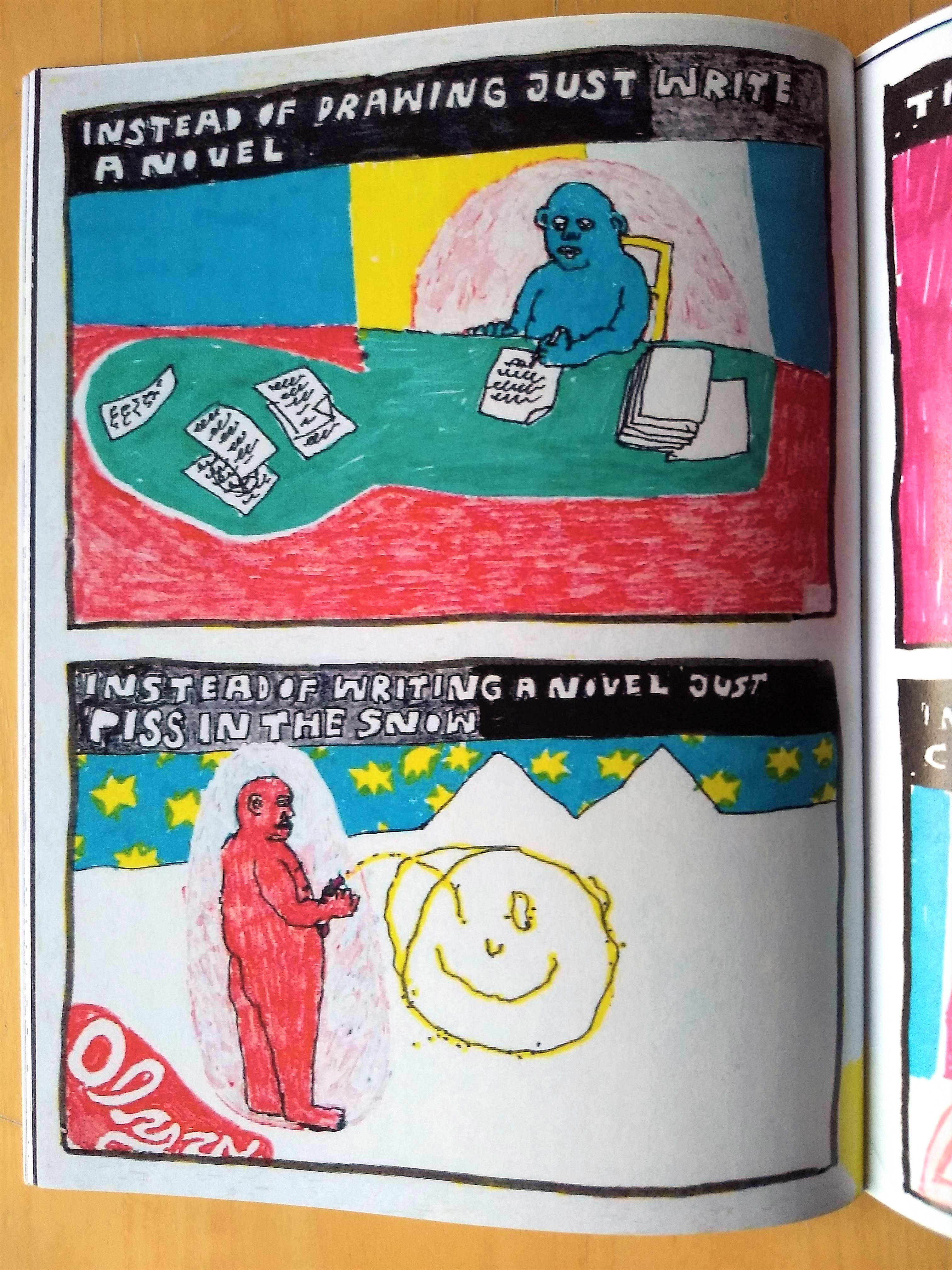 The comics follow one another seamlessly, there is only a list of cartoonists in order of appearance in the inner sleeve, like Sammy Harkham used to do in some issues of Kramers Ergot: it's our job to understand where one ends and the other begins. Around the end here comes Lemonhed, whose work can recall in some way that of E.A. Bethea, an artist well known to the readers of this website: small, square panels that alternate drawings and text only.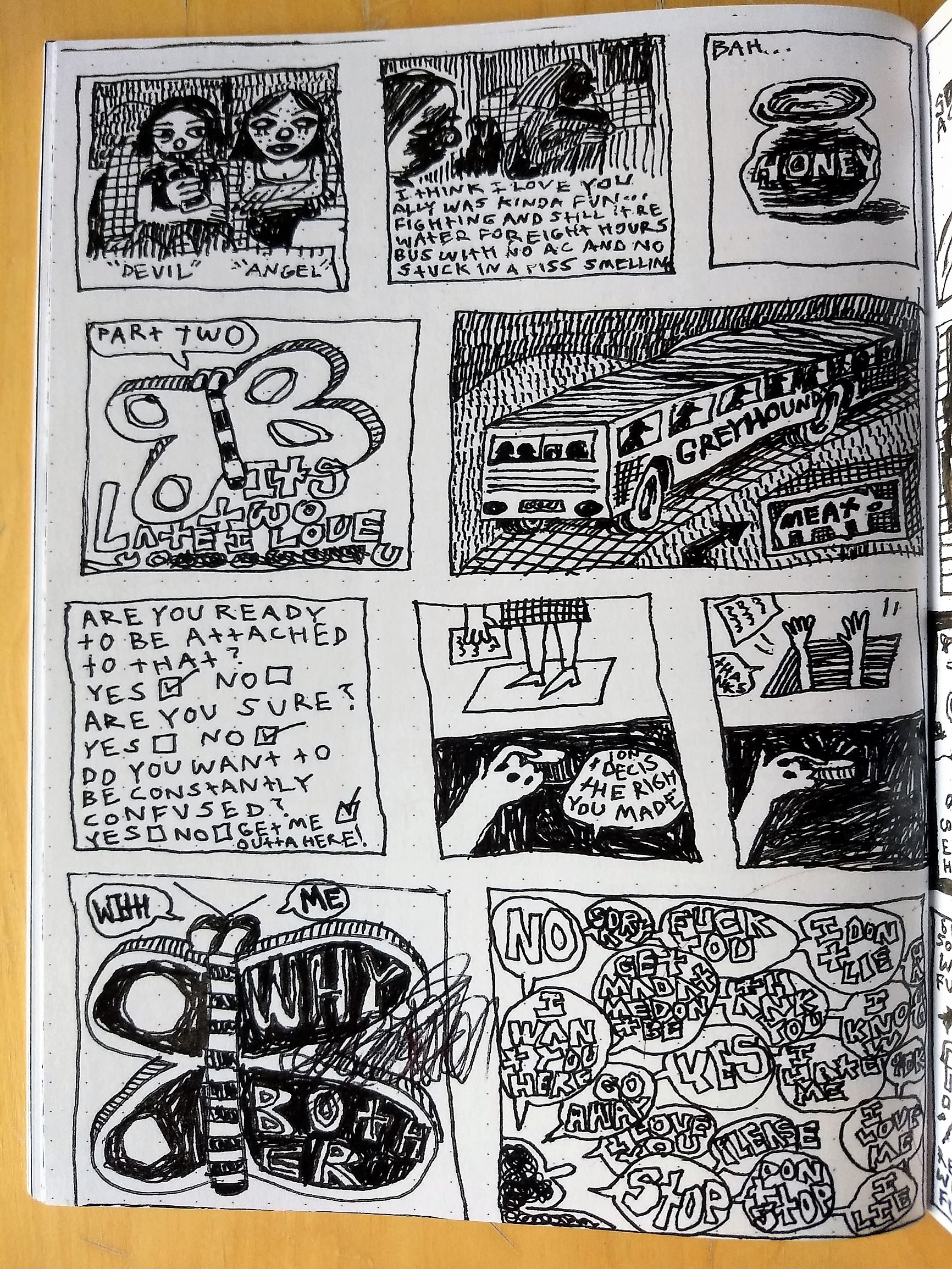 If the comparison works for the layouts, it doesn't fit for the language, which is not poetic in its very own way like in Bethea's art but it's rather autobiographical, although it sounds always nervous, like it can't focus on a particular topic. The writing digresses, breaks down into simple letters or numerical series, and the drawings are like doodles, until the author confesses: "So heres the thing the year is two thousand and nineteen I was gonna do my laundry but instead I/took some Adderal and decided to make this comic so that maybe I can figure some things out". Comics become a therapy, and perhaps Tinfoil Comix is a therapy for all its readers.
Tinfoil Comix is created by Floyd Tangeman, who is also the editor of the magazine with Virgil Warren. Some copies of this first issue are available in the Just Indie Comics webshop.