Non vi illudete, in questo libro non c'è né la Visione né Scarlet e forse si poteva già capire dal fatto che a pubblicarlo è Fantagraphics e non la Marvel. Non ci sono colori dunque, e nemmeno vendicatori, mutanti, Ultron, Tony Stark, Calabrone, Wonder Man, Tigra, Kang il Conquistatore, Korvac, Wasp, Costa Est e Costa Ovest. L'unica concessione al fantastico e al soprannaturale è uno specchio che parla, per il resto l'ambientazione è ottocentesca e realistica.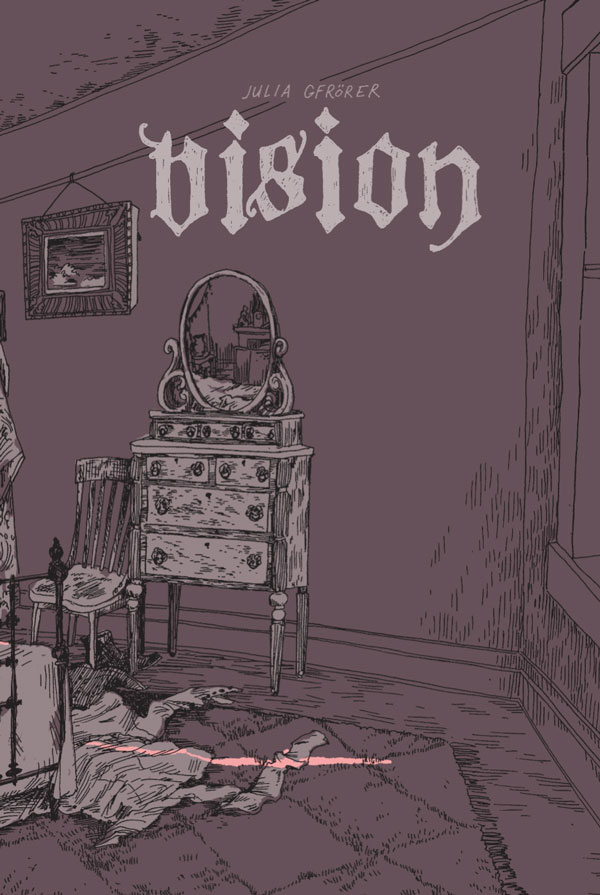 Già uscito a puntate in albetti autoprodotti, Vision è il terzo libro di Julia Gfrörer per la Fantagraphics, dopo Black is The Color del 2013 e Laid Waste del 2016. Confesso di non essere un grande fan di quei due libri lì. Per quanto la Gfrörer, cartoonist del New Hampshire classe 1982, abbia mostrato sin dall'inizio uno stile e una poetica originali, lontani dalle tendenze del fumetto alternativo contemporaneo, ho sempre considerato i suoi fumetti in qualche modo incompiuti. Con Vision la musica cambia, ovviamente in meglio. Innanzitutto il disegno, che come i precedenti lavori usa una griglia fissa di vignette: in Black is the Color erano 6, in Laid Waste 4, qui sono 9 e la scelta porta i suoi benefici, perché l'autrice rende meglio con le vignette piccole, che risultano più dettagliate e lavorate rispetto al passato. Il suo è un segno scarno, che sicuramente non fa gridare al miracolo, ma se nei lavori precedenti risultava a volte sin troppo sciatto qui è assai suggestivo nonché efficace, soprattutto nel rappresentare le diverse espressioni dei personaggi, quasi sempre ripresi in primo piano o comunque con inquadrature ravvicinate. E poi c'è la storia. Intensa, metaforica, pregna di contenuti, evita il facile escamotage del finale aperto e si compie nella sua interezza lasciando al tempo stesso tante domande sulle motivazioni dei personaggi che la animano.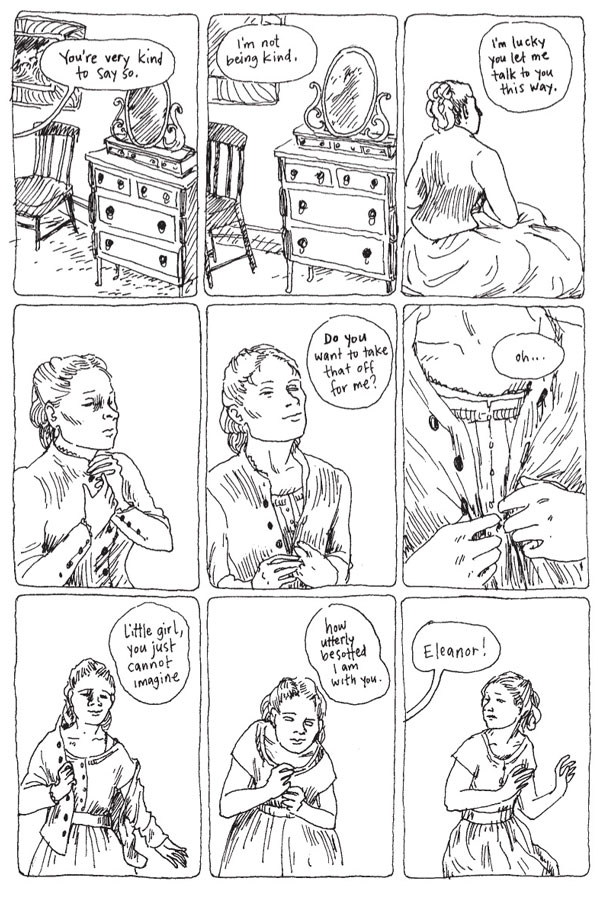 La protagonista è Eleanor, che ha perso il fidanzato in guerra e ora è rimasta sola, tanto da dover dividere la pur grande casa con il fratello Robert e sua moglie Cora, gravemente malata. Le dinamiche tra i tre sono il fulcro della vicenda. Ma oltre a ciò che accade nella realtà, c'è una dimensione ulteriore e fondamentale nel libro, ossia quella della "visione" appunto. Già in apertura vediamo uno specchio parlare alla protagonista, lusingarla, sedurla, e poi pian piano convincerla a spogliarsi e a masturbarsi. Se è illusione o realtà non è dato saperlo e non è questo il punto, ciò che è certo è che lo specchio spinge Eleanor a considerare la propria sessualità, ad affermare se stessa, a mettere in discussione la realtà familiare a cui le circostanze (e il fratello) l'hanno costretta. A guardarsi, insomma. Un'ulteriore svolta avviene dopo un intervento alla cataratta, che cambierà ulteriormente la sua "visione" delle cose, portandola ad attraversare lo specchio, a uscire dalla sua cameretta e dal suo solipsismo fino a farsi regalare un orgasmo in carrozza dal suo medico, il dottor Bishop. Ma il mondo della Gfrörer è nero e spietato, e non facilmente consolatorio. La ribellione della donna – particolarmente significativa vista la realtà ottocentesca in cui vive – per quanto potente e simbolica non è una facile marcia verso il riscatto e la felicità. L'abisso è sempre dietro l'angolo nei fumetti della cartoonist statunitense, ed è un buco nero popolato di demoni interiori.
Ricco di spunti quanto affilato nello storytelling, Vision è un fumetto di 89 pagine che nella sua relativa brevità riesce a dire anche troppo: senz'altro una delle cose migliori – se non proprio la migliore – lette finora in questo strano 2020.