Stavo appena guardando il mio stesso sito, non per compiacermi ma per controllare una cosa, e scorrendo ho notato che il primo articolo sull'homepage era su Mike Diana e il secondo su Joe Matt, così mi sono detto: ma che anno è? O meglio, sto diventando uno di quelli che si stava meglio quando si stava peggio e i bei vecchi tempi andati ecc. ecc.? Cerchiamo di recuperare e di svecchiare un attimo la faccenda, magari senza ricorrere a un video in cui ballo su Tik Tok ma parlando semplicemente di qualcosa di contemporaneo. E così torno su Cameron Arthur. Sì, lo so che già vi ho parlato più volte dell'autore di Swag, e ancor meglio lo sa chi mi ha visto a qualche festival l'anno scorso. Salvo che in realtà pochi mi hanno dato retta e hanno comprato Swag #4, uno dei fumetti del Buyers Club 2022 e anche uno dei miei 10 fumetti preferiti tra quelli usciti nel 2022. Non sapete nemmeno cos'è? Leggete qui se volete capire perché mi è piaciuto tanto, sempre che sia riuscito a spiegarmi. Nel frattempo è uscito anche Swag #5, sempre autoprodotto e ora disponibile nel Big Cartel di Just Indie Comics.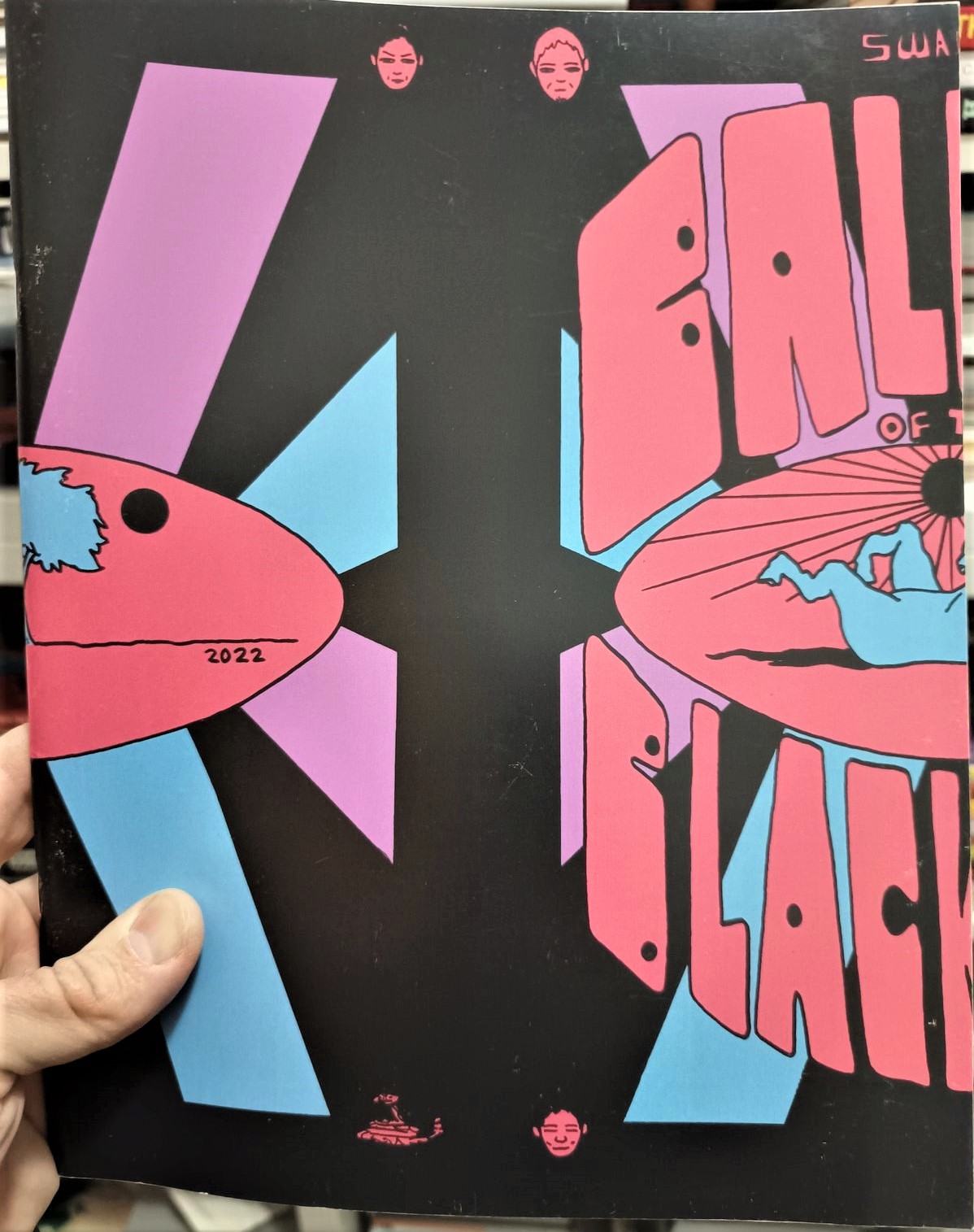 Swag #5 contiene una storia unica divisa in più capitoli e intitolata Ballad of the Black Sun, doveva uscire nel 2022 e infatti riporta la data dell'anno scorso ma poi le cose sono andate un po' storte, nel senso che ci si è messa di mezzo la tipografia sbagliando la stampa della copertina. Cameron si è ritrovato con un pacco di copie in cui metà della copertina e metà della quarta si univano sulla facciata dell'albo, lasciando il retro completamente bianco. Quando gli ho scritto per ordinargli un po' di copie mi ha così offerto due alternative: aspettare che gli arrivasse la versione corretta oppure fare un disegno diverso su ogni copia di Swag #5 che mi stava mandando. Ovviamente non ho resistito e ho optato per la seconda opzione, ribattezzando questa particolare versione la Weird Edition di Swag #5. Avrete così una copertina sicuramente cacofonica ma anche un disegno originale dell'autore su ogni copia.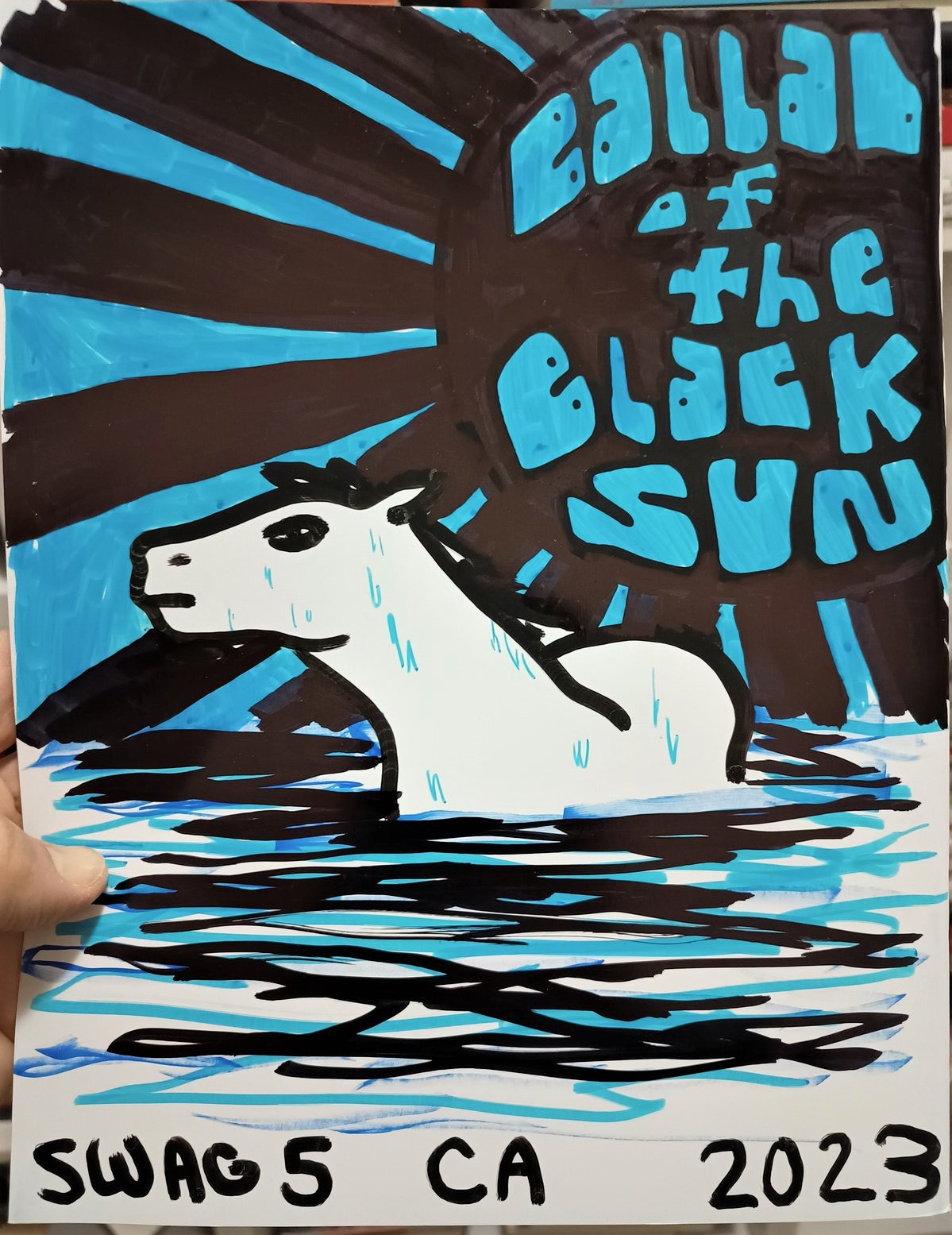 Per quanto riguarda il contenuto dell'albo, Cameron Arthur si conferma un autore che ha ormai trovato la sua cifra stilistica, allontanandosi dai riferimenti degli esordi e dalla narrativa di genere per raggiungere una dimensione propria, in cui al centro c'è l'individuo e la sua difficoltà di interagire con gli altri e di integrarsi nella società. Se Swag #4 raccontava così le ambiguità e le tensioni di una famiglia texana contemporanea, il nuovo numero si concentra su un solo personaggio, un cavaliere solitario che nel periodo immediatamente successivo alla guerra di secessione si mette in viaggio per l'Ovest in cerca di fortuna ma anche di se stesso. Le cose non andranno proprio per il verso giusto ma al di là dell'avventura pura e semplice ciò che rende questo fumetto unico e ancora una volta potente sono i lunghi flashback che raccontano il passato del protagonista, abilmente collocati da Arthur in un momento topico della vicenda. La suddivisione in capitoli arricchisce il quadro complessivo, rendendo Ballad of the Black Sun una storia articolata e dalle molteplici sfaccettature. Il disegno mostra ancora linee spesse e grezze, che però cominciano ad allontanarsi dall'ovvio riferimento di Paper Rad per utilizzare campi più lunghi e inquadrature originali. Swag #5 è assolutamente consigliato e già uno dei miei fumetti preferiti di questo 2023: fossi in voi non me lo perderei.