E' già pronta a partire la terza spedizione del Buyers Club, addirittura in leggero anticipo rispetto al previsto. L'albo comune a tutti gli abbonati, sia Large che Small, è questa volta Boring di Noah Van Sciver. Spillato autoprodotto dell'autore di Fante Bukowski, Boring è già esaurito negli USA ed è dunque ancor di più una chicca per gli abbonati. All'interno vi troviamo due storie. Quella del titolo racconta una giornata tipo di Van Sciver, dalla sveglia fino al ritorno a letto. Il protagonista appare dimesso e scompigliato, mentre indossa una maglietta con la semplice scritta in stampatello BASIL WOLVERTON. Non succede ovviamente nulla di rilevante, come già anticipato dalla descrizione fornita dallo stesso Van Sciver sul suo sito: "Tormentato dagli incubi e dall'Ansia, un fumettista senza amici cerca di lavorare, raccoglie immondizia e vaga per le strade senza meta. Una storia davvero noiosa". Che, come immaginerete, risulta invece profonda e anche divertente, seppur con quel tono un po' malinconico tipico dell'autore. My Own Jurassic Park ci riporta invece alle atmosfere di My Hot Date, con un ritratto del cartoonist da giovane intento a costruire dinosauri di cartone e a sopravvivere ai bulli della scuola. L'albo nel suo complesso diventa un'ennesima prova del talento di Van Sciver, del suo cartooning diretto, spontaneo, senza fronzoli. Nonostante lo stesso autore racconti quanto sia faticoso mettersi al tavolo da disegno, trovare il modo giusto per raccontare una storia, studiare le migliori soluzioni grafiche possibili, il lettore quando si trova davanti agli occhi un fumetto di Van Sciver ha sempre la sensazione che sia stato scritto e disegnato in un batter d'occhio, per come scorre e fluisce con naturalezza.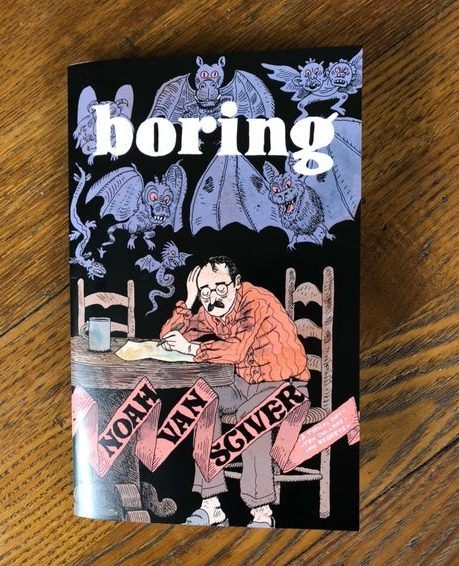 Gli abbonati Large riceveranno oltre a Boring un fumetto di Andrew White, Bloom #4. Si tratta di un curioso esperimento, ossia di una "cover" integrale di un albo di un altro autore, trovato da White tra i mucchi di arretrati che riempiono le fumetterie americane. Rintracciato l'autore originale (nel senso letterale del termine, non stiamo parlando di Alan Moore), White ha avuto il via libera e ha così deciso di ridisegnare da capo tutto il numero 4 di Bloom riscrivendo a mano persino la pagina delle lettere. Non ho ovviamente a disposizione il prototipo ma posso comunque dirvi che l'esperimento è senz'altro riuscito. L'albo di White vive di vita propria e persino la storia iniziale, terza puntata di una storia più lunga, letta per conto proprio ha una sua dimensione e anche un qualcosa di misterioso che la rende forse ancor più potente. L'altra metà dell'albo è invece occupata dalle autoconclusive Sounds e Air Bubbles: bellissima la prima, poetica come nello stile dello stesso White, ottima la seconda per come viene sviluppata graficamente in una griglia di 12 vignette.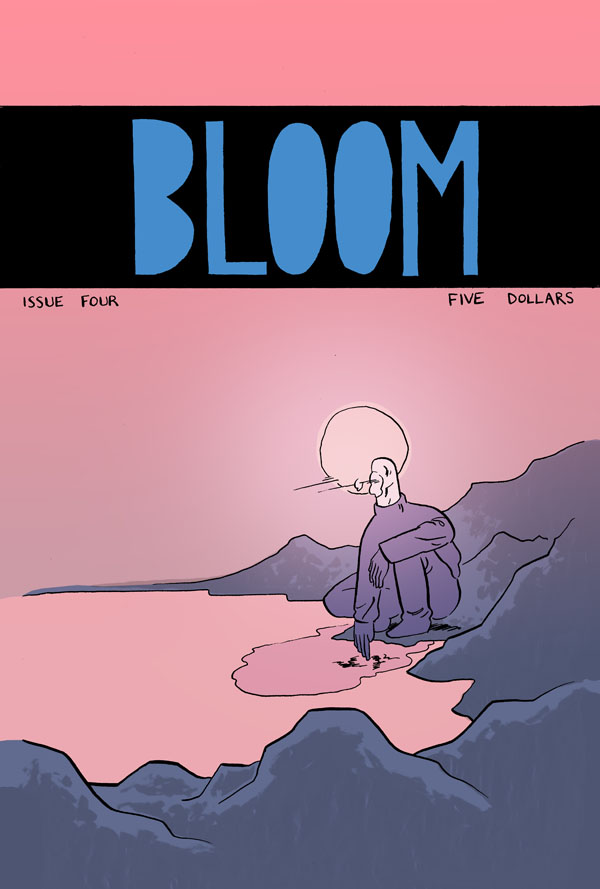 Colgo l'occasione per segnalarvi che di Andrew White è disponibile anche il pack Yearly 2020, una raccolta di tre fumetti prodotti l'anno scorso dall'autore. Vi troviamo il fumetto/poesia Everything is Always, 94 pagine in brossura, disegnato sul cartone con tavole tendenti all'astrazione: "Do you get cold at night/Because I do/I get cold and I get scared/So come closer and tell me your secrets/(I'll tell you mine)/Tell me what scares you most/Don't look away/Nothing is beautiful and everything is always". Su corde simili si muove lo spillato di 16 pagine This is an Empty Room sul rapporto tra spazio interno ed esterno, tra uomo e natura, disegnato su foto di foglie, alberi, foreste (People will tell you that important things are happening outside the room/But important things are happening inside the room too). Più narrativo invece Drowned River, brossurato di 80 pagine in bianco e nero che racconta la vita di una coppia dopo un'alluvione, tra l'adattamento a una nuova quotidianità e problemi di salute.
Tutti questi titoli sono disponibili anche per i non abbonati al Buyers Club e possono essere ordinati ai seguenti link: