Just Indie Comics a Lucca (ancora)
Anche quest'anno Just Indie Comics sarà a Lucca Comics & Games. Come lo scorso anno saremo ospiti allo stand di Rulez, al Padiglione Napoleone, dall'1 al 5 novembre con i fumetti dalla distribuzione e tanti nuovi arrivi, selezionati in collaborazione con Risma Bookshop. Al momento in cui scrivo queste righe ho appena finito di impacchettare tutto, quindi invece di fare una foto agli scatoloni utilizzo un'immagine della passata edizione.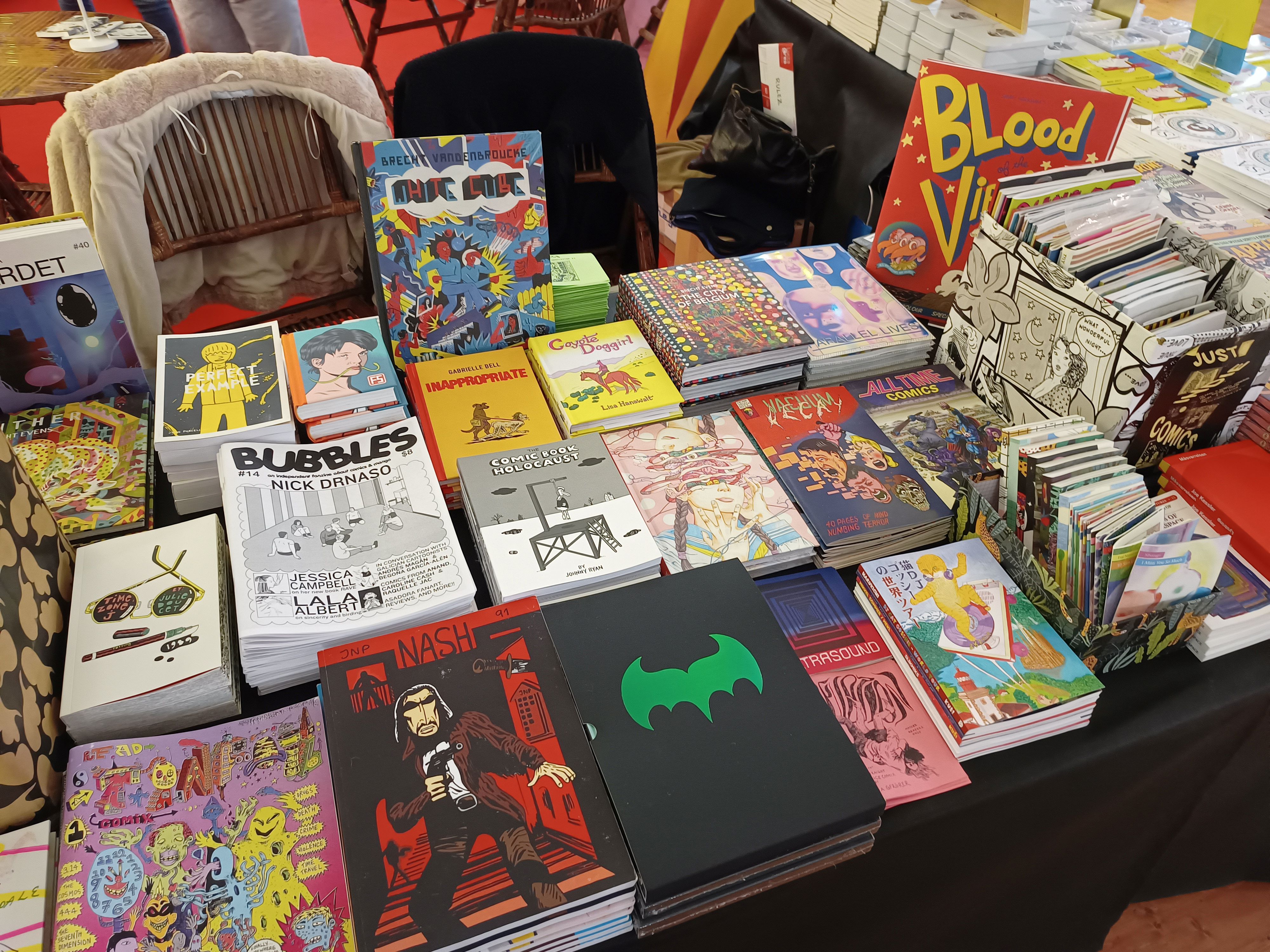 Ma vediamo invece un po' di titoli che troverete quest'anno allo stand, in ordine totalmente casuale:
• Caprice di Charles Burns (Cornélius)
• Plaza di Yuichi Yokoyama (Living The Line) 
• Blammo #10 + As s Cartoonist + Please Don't Step on My Jnco Jeans + My Hot Date di Noah Van Sciver
• King Cat #82 + The Collected Prairie Pothole + South Beloit Journal + altro di John Porcellino
• Pretending is Lying di Dominique Goblet + The Gull Yettin di Joe Kessler (NYRC)
• Clubhouse #20 (Colorama)
• Stripburger Dirty Thirty + Stripburger #80 e #81 
• Hypnotic Midday Movie di Simon Hanselmann + Maniac Army di Johnny Ryan + Hospital Drama Show di Scott Travis + STUM di Yann Taillefer + altro da The Mansion Press
• Pee Pee Poo Poo #69 e #420 di Caroline Cash (Silver Sprocket)
• Wild! or So I Was Born to Be vol. 1 di Cristian Castelo (Oni)
• Tantissimi š!, kuš! e kus! mono
• Alcuni titoli dal catalogo di Ion Editions
• Failure Biographies di Johnny Damm (The Operating System)
• Scoop Scuttle and His Pals: The Crackpot Comics of Basil Wolverton (Fantagraphics)
• Pittsburgh 2: Running Numbers #1-4 pack di Frank Santoro
• Ink Zeitgeist di Ken Landgraf e Kirk Oldford
• Only di Diane Zhou + Cry di Yan Cong (Paradise Systems)
• Heelage #4 + Ode to Godzilla #9 di Ian Sundahl 
• Salome's Last Dance di Daria Tessler (Fantagraphics)
• Tidens Anleten di Sammy Stein (Lystring Forlag)
Cercateci dunque da Rulez e se vi interessa qualcosa sbrigatevi, che le quantità sono come al solito limitatissime.