E' tutto made in O Panda Gordo il nuovo capitolo del Just Indie Comics Buyers Club, il terzo della serie. Le spedizioni partiranno a fine mese ma vi rivelo già adesso i fumetti che gli abbonati si ritroveranno tra le mani nel giro di qualche settimana. Innanzitutto O Panda Gordo: i più affezionati seguaci del sito conoscono già bene questa realtà di base a Glasgow e gestita dal portoghese João Sobral. L'ho presentata dettagliatamente un paio di anni fa in questo post e da allora la seguo sempre con molta attenzione. Alla fine dell'anno scorso sono arrivate un bel po' di nuove uscite e tra queste mi ha colpito in modo particolare The Driver di Isobel Neviazsky, autrice che si era già fatta notare per il bizzarro e al tempo stesso profondo Employee of the Month: The Life of a Pizza Chef.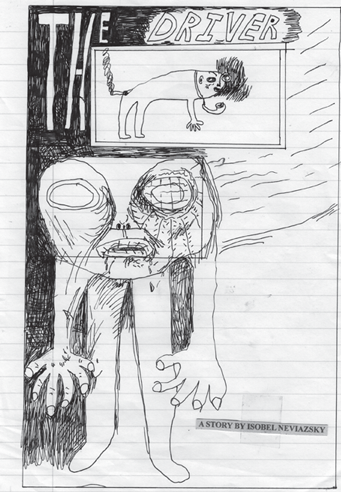 The Driver è quanto di più attuale ci possa essere, la storia di "a man who works as a car", portando a spasso un "clerk" che è di fatto il suo aguzzino. Per fare ciò, l'autista arriva letteralmente a deformarsi, piegando il suo corpo a 90 gradi e spostando gli occhi sulla fronte con la sola forza di volontà. E per trovare la spinta propulsiva si ficca – scusate il francese – una sigaretta nel culo, come se fosse una marmitta. Altro non vi dico, perché spero che leggerete da soli questo fumetto, dato che anche se non siete tra gli abbonati al Buyers Club ne trovate qualche copia in più nel webshop. Lo stile della Neviazsky è pura art brut, tende allo scarabocchio, con le linee che diventano spesso espressione di violenza e dolore, e i testi questa volta non più in uno sgraziato lettering ma appiccicati come ritagli di giornale sulla pagina. Potente e urgente come pochi fumetti che si vedono oggi, The Driver è un incubo allucinato che non offre facili vie di uscita ma solo spunti di riflessione.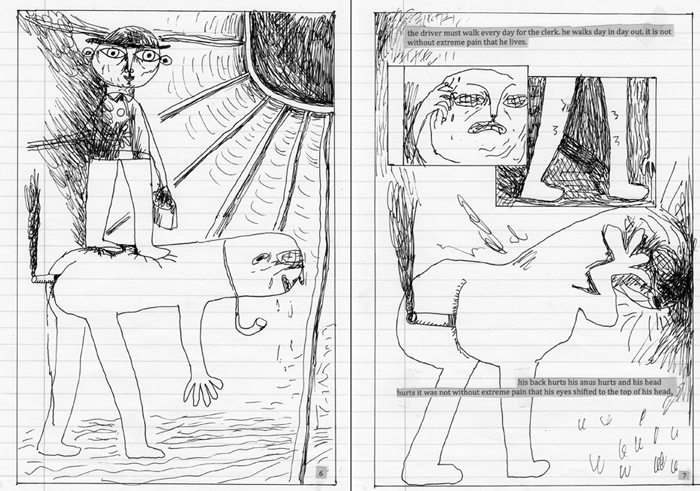 Gli abbonati Large riceveranno oltre a The Driver anche Amateur Hour #1, debutto dell'antologia personale di Chris Kohler, autore di quel piccolo fumetto perfetto che è Living Room, sempre pubblicato da O Panda Gordo. Frammentario quanto ricco di trovate, Amateur Hour stupisce per come richiama atmosfere di altri tempi, sospeso tra ambientazioni a volte indefinibili e una costanze sensazione di caducità. Tra un episodio e l'altro, spesso anche di una sola pagina, appaiono in ordine sparso gli elementi stessi della narrazione, le lettere che dovrebbero raccontarci una storia, i corpi ormai ridotti a scheletri, gli oggetti appartenuti a un musicista, episodi di una vita inquadrata in pochi essenziali attimi.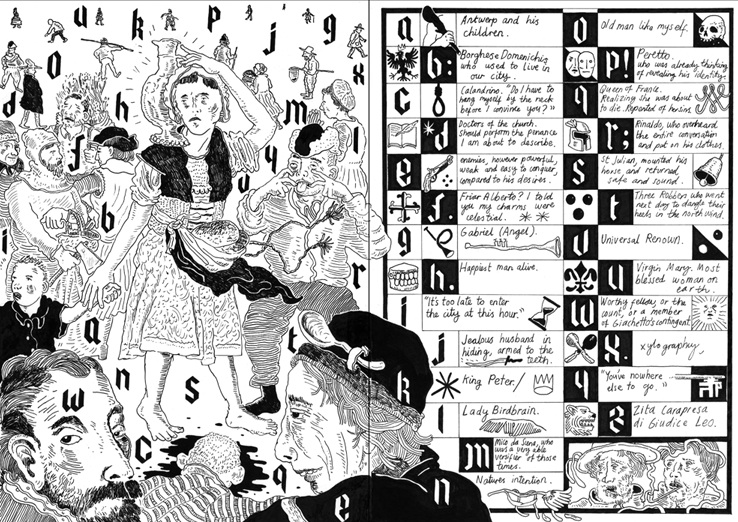 Kohler distrugge la narrazione stessa, fa scomparire i suoi veri protagonisti ma non per un vezzo nichilista, quanto piuttosto per parlare dei massimi sistemi, dalla forza della natura – con racconti su vermi, corvi, gatti e topi – alla morte stessa. E mentre sperimenta ci regala con Leavetaking un altro esempio di narrazione cristallina, sei pagine perfette che lo confermano autore da seguire con la massima attenzione.