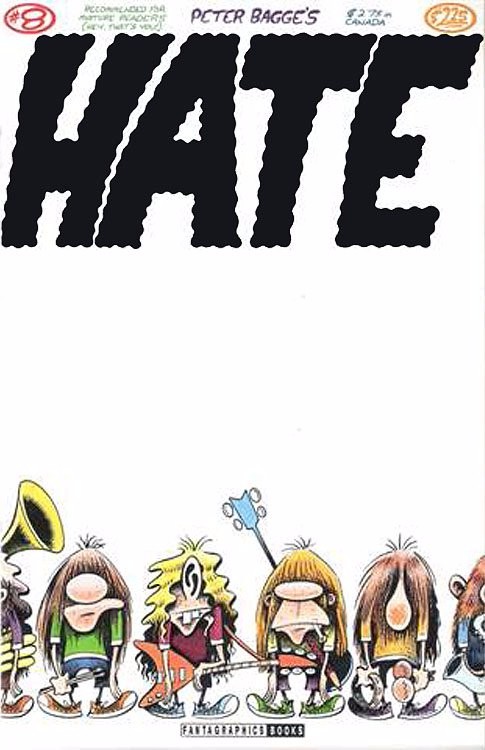 Hate è stato spesso associato a Seattle e alla sua musica, tanto che Bagge era considerato all'epoca il cantore a fumetti della grunge generation. Niente di più sbagliato, perché del grunge a Bagge non gliene poteva fregare di meno, e se si era trasferito a Seattle in tempi non sospetti era soltanto per seguire la moglie Joanne, che aveva avuto l'opportunità di aprire un ristorante insieme alla sorella sulla costa Ovest. Fino al 1991, dopo 7 anni circa tra i sobborghi di Seattle e la città, Bagge non era mai andato a vedere un concerto, semplicemente perché – come ammette candidamente in Hate Jamboree – "I don't care for rock clubs or live music". A dire il vero un po' di concerti a New York li aveva visti, più che altro di gruppi new wave, che preferiva di gran lunga alle band punk. E a quelle esperienze si ispirò in parte per le vicende raccontate nel suo comic book. Dopo di allora la sua attività "live" fu praticamente inesistente, almeno fino a quando fu costretto a tornare in un club alla ricerca dell'ispirazione per Follow That Dream!, la storyline pubblicata in Hate #8 e #9 in cui Buddy e Stinky diventavano rispettivamente manager e cantante di una band. Bagge si fece così invitare dal boss della Sub Pop Bruce Pavitt a un live di The Dwarves e Supersuckers, in una serata che gli fu molto utile per l'ambientazione e i particolari della sua storia. E' dunque totalmente infondato il legame tra Bagge e il grunge? In realtà non del tutto, perché il nostro era buon amico di Pavitt e conobbe anche Tad Doyle dei TAD, tanto da fargli fare una comparsata in Hate #17.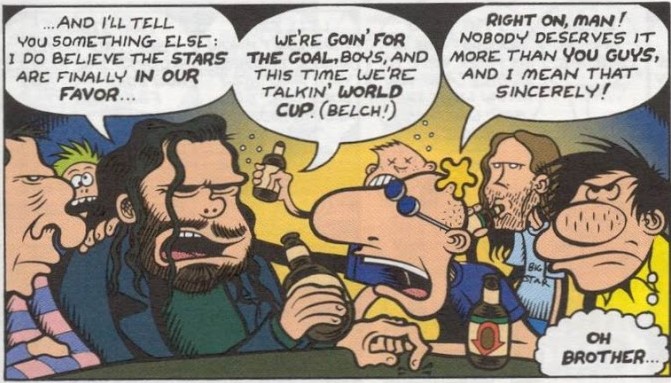 Bagge si trovò in quegli anni a disegnare anche numerose copertine e manifesti per dischi, radio, locali e riviste come The Rocket, definendo in qualche modo l'estetica cittadina. Ma certo, se pensiamo all'autore di Hate come uno della "scena" siamo proprio sulla strada sbagliata, perché in quegli anni Bagge era diventato un genitore che se ne stava tranquillamente a casa a disegnare e a cui poco interessavano il grunge, il rock e la vita mondana. E Buddy stesso, che del suo demiurgo è il più delle volte l'alter ego, in Follow That Dream! decide di diventare il manager dei Leonard and the Love Gods solamente quando percepisce le potenzialità economiche della vicenda, e non certo per amore del rock'n'roll. Mi immagino dunque Bagge che si guarda attorno con aria perplessa al concerto dei Supersuckers, quasi tappandosi le orecchie e sperando di poter tornare presto a casa per ascoltare la musica che ama, ossia i Beatles, i Beach Boys, The Hollies e persino le girl e boy band trash alla Spice Girls, di cui è un convinto sostenitore. O anche Perry Como, Frank Sinatra e le McGuire Sisters, che erano la sua playlist quotidiana alla fine degli anni '80, come ammise in un'intervista del 1988 pubblicata sul #8 della fanzine Chemical Imbalance.
La preferenza di Bagge per il pop si sente chiaramente – in versione bubblegum e un po' sgangherata – nella musica degli Action Suits, la band in cui sostituì Al Columbia diventandone il batterista e disegnando le copertine dei quattro 7'' usciti tutti nel 1996. Con lui c'era anche Eric Reynolds, di tanto in tanto suo inchiostratore nonché colonna portante di Fantagraphics (oggi è uno degli editori nonché curatore dell'antologia Now). Gli Action Suits si sono sciolti e riuniti più volte nel corso degli anni e nel 2008 Bagge ha formato anche un'altra band, i Can You Imagine?, per cui suona la chitarra e occasionalmente canta motivetti di pop cristallino. Su YouTube si trova un video in cui il nostro ammicca in modo piuttosto imbarazzante. Insomma, Bagge si è sempre dato da fare con la musica, ma il grunge non è mai stato la sua cup of tea.