Uscito agli inizi del 2020, vi segnalo Cryptoid di Eric Haven, cartoonist classe 1967 che è senz'altro – come dicono gli americani – "one of a kind". Ve lo segnalo soprattutto perché non ho trovato grosse occasioni per parlare di Haven da queste parti, se non con un rapido accenno nella mia classifica dei migliori fumetti del 2015 al suo eccezionale, geniale e selvaggio Ur, pubblicato da Adhouse Books. E pur avendo avuto in catalogo la raccolta di storie varie ed eventuali Compulsive Comics (Fantagraphics 2018), non mi sono sprecato a scrivere due righe né su quella notevole antologia né sul precedente Vague Tales del 2017, opera originale concepita sempre per la casa editrice di Seattle. Il nuovo Cryptoid, a quasi tre anni appunto da Vague Tales, ne riprende formato e struttura ribadendo il rapporto di Haven con Fantagraphics, dopo una carriera raminga che lo aveva visto passare da Buenaventura Press con The Aviatrix per proseguire come detto con Adhouse Books, senza dimenticare le svariate collaborazioni (The Believer, LA Weekly, San Francisco Bay Guardian, Mad Magazine). Nel frattempo da non trascurare, in parallelo al fumetto, la più remunerativa avventura televisiva di Haven come collaboratore del programma MythBusters di Discovery Channel.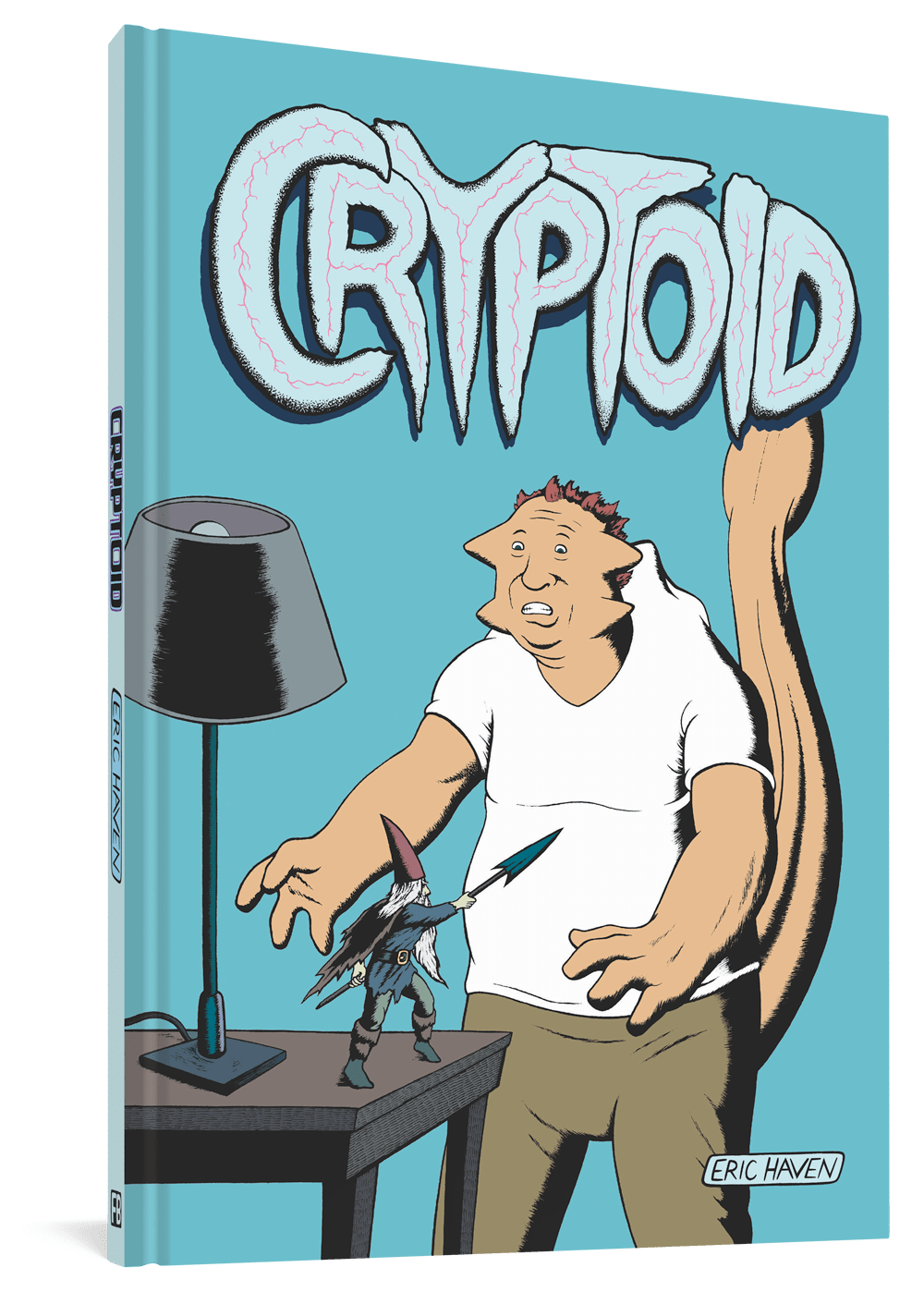 Ma veniamo appunto a Cryptoid, sottile hardcover di 72 pagine sul formato 23 x 16 cm in cui i mostri di Haven guadagnano per la prima volta una dimensione – scusate la parola – politica. Il cartoonist californiano (di adozione, visto che è nato nello stato di New York) da sempre porta nel nostro presente le invenzioni dei fumetti di una volta, partendo da Fletcher Hanks per passare in zona EC Comics (il titolo rimanda persino nel font a Tales from the Crypt) e quindi attraversare i più strambi fumetti della Silver Age e le visioni kyrbiane da Quarto Mondo, Eterni e dintorni. Questa volta però vediamo The Resister, una supereroina con la testa d'aquila e scudo a stelle e strisce sul petto, spuntare dall'obelisco del Washington Monument per arrivare alla Casa Bianca, far fuori un lovecraftiano Steve Bannon e poi affrontare Donald Trump in persona.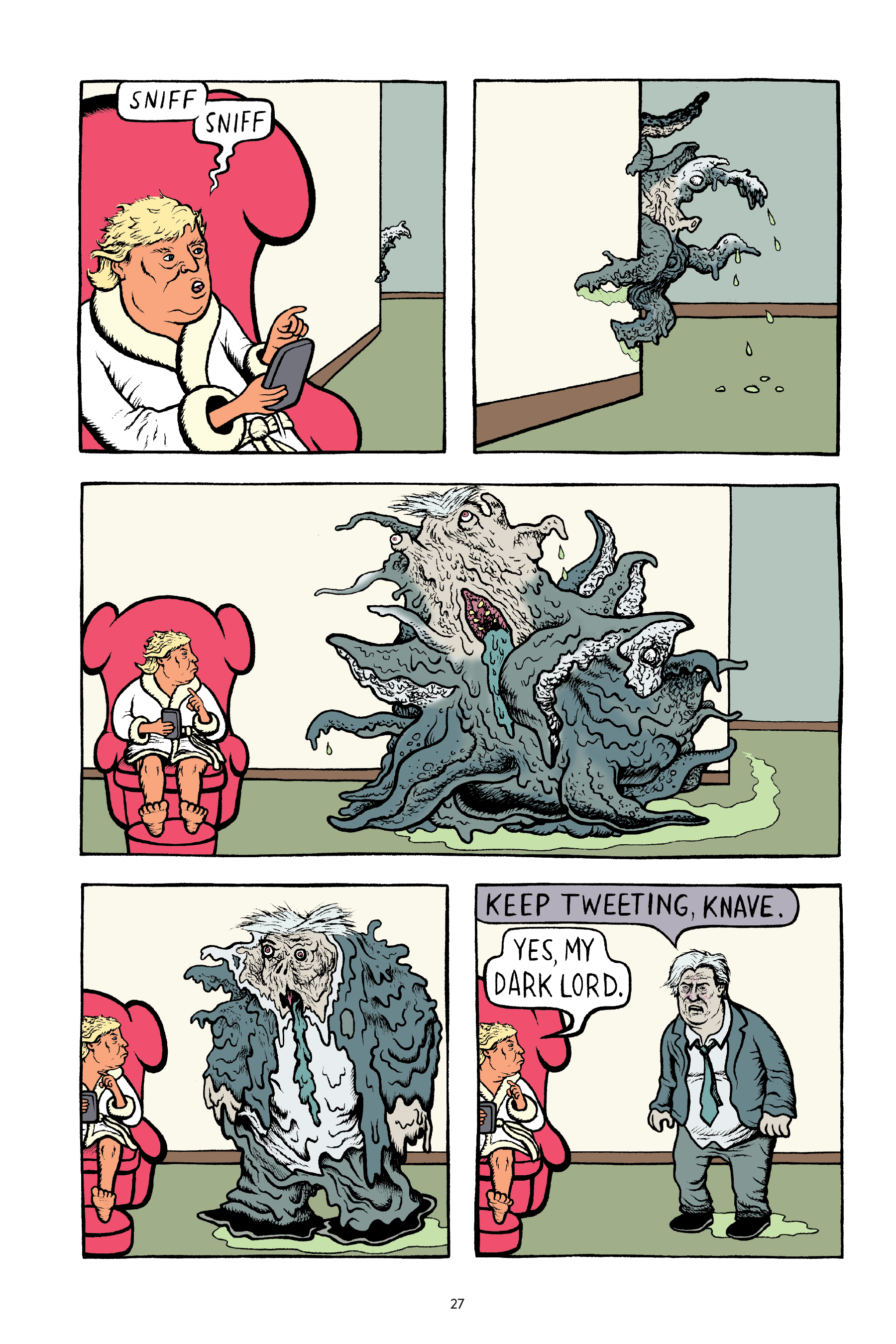 Ma non è questo l'unico eccitante sviluppo di Cryptoid, anzi, quello che vede protagonista The Resister è soltanto uno dei tanti episodi che compongono una serie di racconti interconnessi tra loro, ricchi di personaggi fantasiosi, spesso ibridi uomo-animale, e di vicende che oscillano tra il comico e il cosmico, con notevoli punte di black humor, nonsense e autentico nichilismo. Ci sono per esempio il Mankylosaurus, cioè un essere metà uomo e metà anchilosauro, l'Ant-Bat (uno degli sconosciuti pipistrelli che vivono tra noi, come l'Hand-Bat, il Penguin-Faced Bat o meglio ancora il Flightless Running Shreiking Bat), Roger "the human gnome", il Box di Logan's Run che va a fare la spesa al grido di "Fish! Plankton! Sea Greens! Protein from the Sea!" e una misteriosa entità che veglia sul mondo ma che forse non può salvarci dall'energia negativa messa in moto dal minaccioso Nightsword. Nel mondo di Haven queste entità sono realmente tra noi e giocano con i nostri destini condannandoci a un inspiegabile quanto inevitabile distruzione. Ma prima di essere avvolti tra le spire di una trascendentale antimateria, potremo giocare con l'immaginazione e farci quattro risate. Insomma, poteva anche andare peggio.