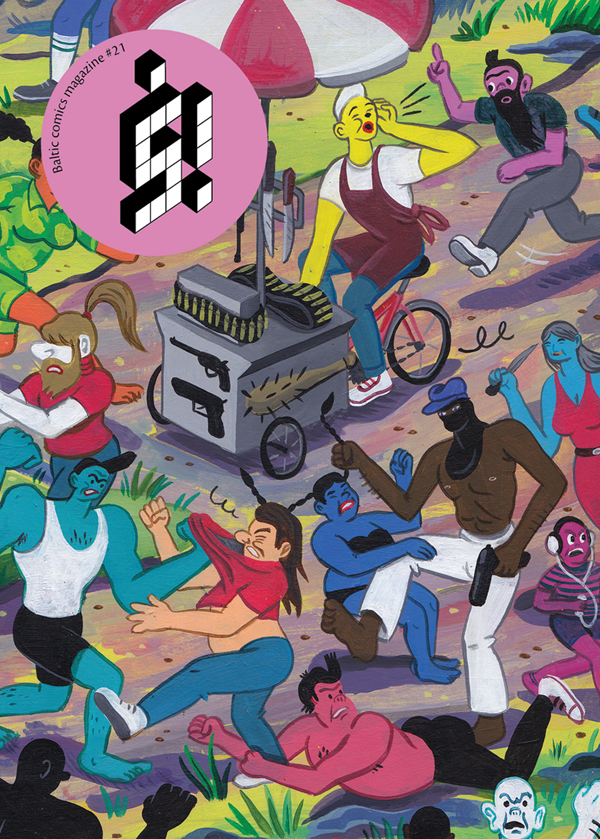 A nice cover by Belgian artist Brecht Vandenbroucke – well known for his White Cube, published by Drawn and Quarterly – depicts business from one of its cruelest sides. And it's Business Time the title of the 21st issue of š!, available for International Workers Day (1st of May), with the usual mix of upcoming Latvian artists and cartoonists from all over the world. Among this issue's contributors, I would recommend the work of Argentinian Berliac (already seen in other š! and in the beautiful mini kuš! #19, Inverso), Polish author of Adventures on a Desert Island Maciej Sieńczyk, Chris Kuzma (Canada), Roope Eronen (Finland), Sergi Puyol (Spain).
Inside you'll also find comics by Ann Pajuväli (Estonia), Anna Haifisch (Germany), Anna Vaivare (Latvia), Disa Wallander (Sweden), Harukichi (Japan), Jeroen Funke (The Netherlands), König Lü.Q. (Swiss), Lai Tat Tat Wing (Hong Kong), Laura Ķeniņš (Canada/Latvia), Līva Kandevica (Latvia), Lote Vilma Vītiņa (Latvia), Olive Booger (France), Rūta Briede (Latvia) and Zane Zlemeša (Latvia).
Perfect bound, 164 color pages, š! #21 is shipped worldwide for $14. You can order it here. Here are some images from the book.