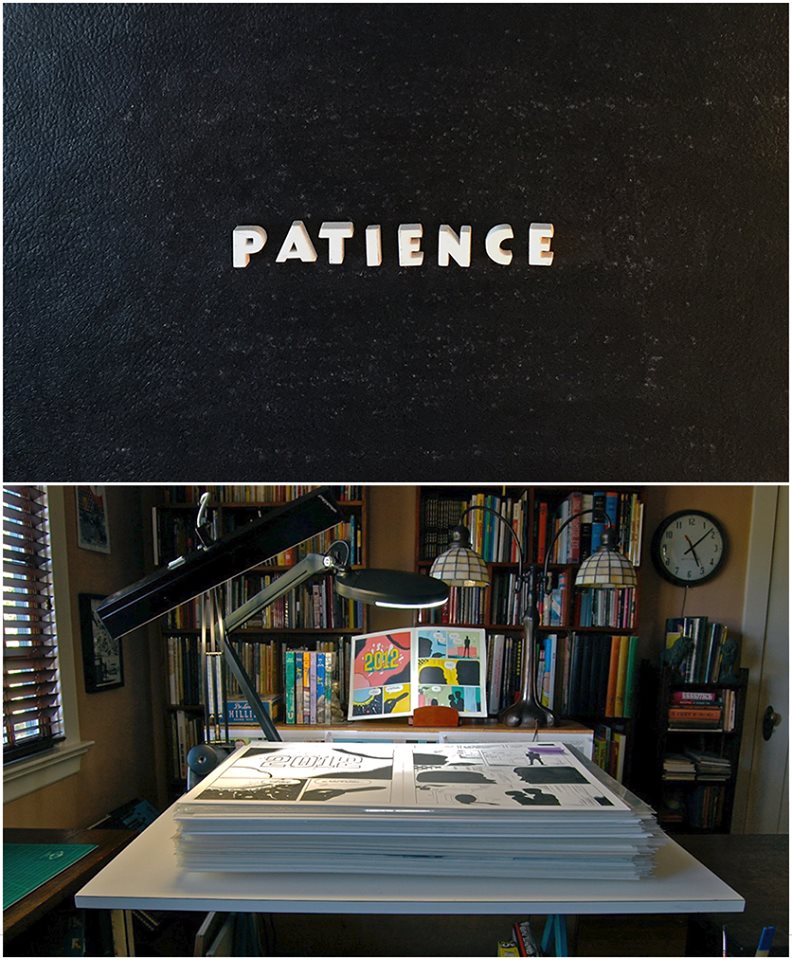 All'inizio di aprile la Fantagraphics ha annunciato la pubblicazione, prevista per marzo 2016, del nuovo fumetto di Daniel Clowes. Senza dare alcun dettaglio riguardo ai contenuti o al numero di pagine (sembrano numerose, a vedere la pila di originali sul tavolo…), la casa editrice di Seattle ha postato sul suo sito internet e sui vari social network l'immagine qui sopra, accompagnata dalla didascalia "Coming in March 2016. Five years in the making". Unico altro messaggio, quel "Patience" lì in alto, probabilmente più un invito ai lettori che il titolo del nuovo volume. Da allora è stato possibile vedere in giro sul web una nuova immagine, quella in basso, che aumenta l'attesa per la nuova opera del cartoonist statunitense, autore di Like a Velvet Glove Cast in Iron, Ghost World, David Boring, Ice Haven e tanti altri fumetti che hanno fatto la storia recente di questo medium. Le forme visibili nella prima tavola, i colori psichedelici della seconda e le reminiscenze di Steve Ditko, da sempre un punto di riferimento per Clowes, potrebbero lasciarci pensare a una storia metanarrativa che parla di un artista outsider apparentemente visionario ma che si rivela un profeta quando la terra si trova a fronteggiare un'invasione aliena? Mah, forse no…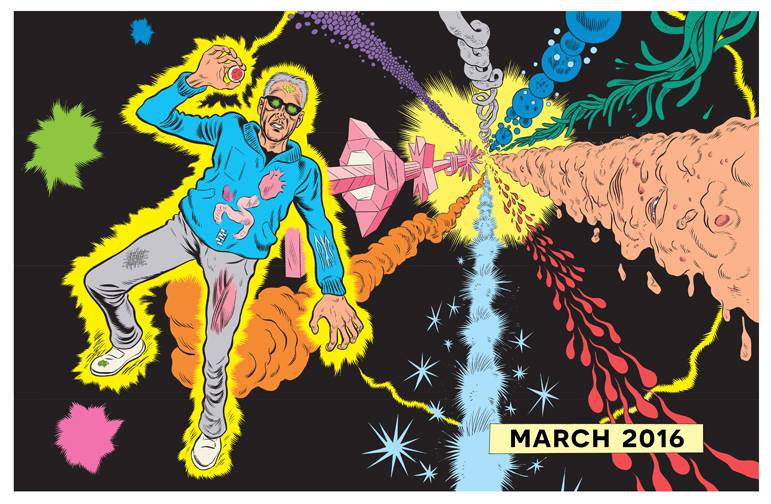 Intanto Clowes continua a girare gli Stati Uniti per presentare il suo The Complete Eightball. La foto in basso è tratta dalla session di autografi presso il Fantagraphics Bookstore and Gallery di Seattle. A seguire una delle immagini di presentazione del cofanetto e una copia autografata.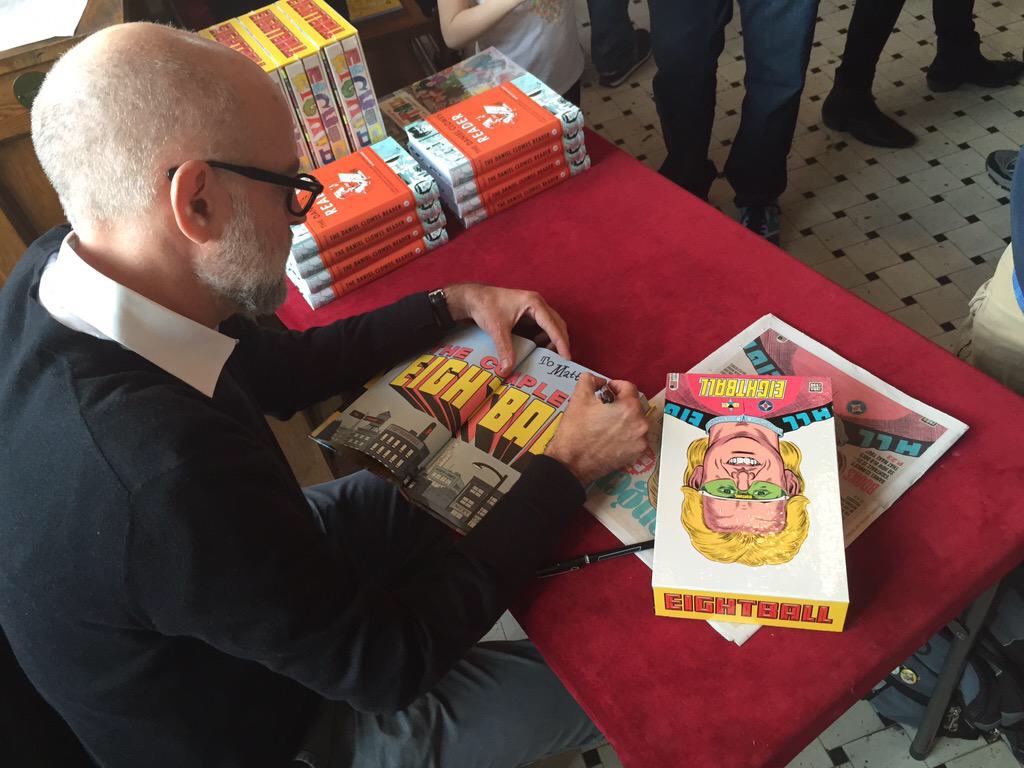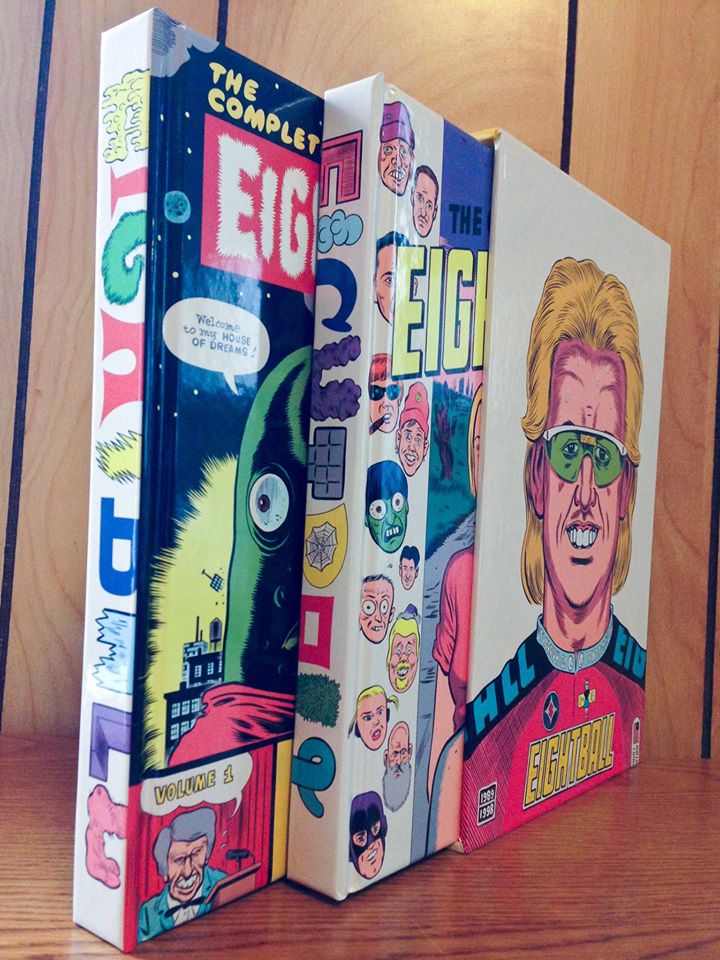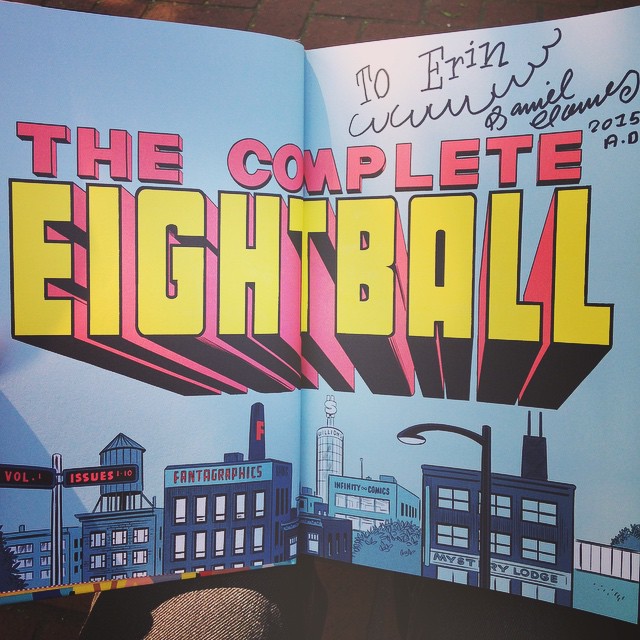 Mentre la raccolta dei primi 18 numeri di Eightball sta per essere distribuita nelle librerie, fioccano le interviste all'autore, come quelle già segnalate nel mio Il meglio del Web del 23/4, rilasciate a The New Yorker e The Stranger. Quest'ultimo è un settimanale gratuito di Seattle che ha anche dedicato la copertina a Clowes, adattando un suo vecchio disegno.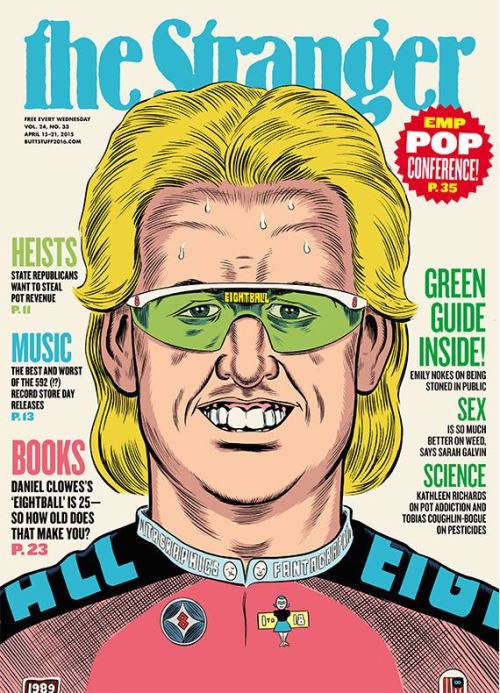 E per concludere vi segnalo la riproposta di questa intervista realizzata da Gary Groth e pubblicata nel novembre del 1992 sul Comics Journal dietro a un'ormai storica copertina gialla.