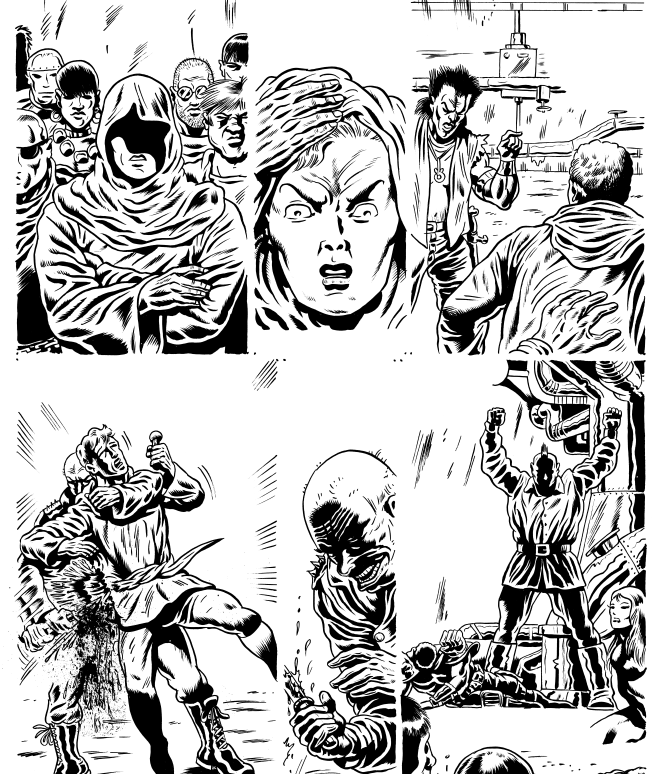 Herb Trimpe è stato uno dei disegnatori più importanti della Marvel degli anni '70, famoso soprattutto per la sua lunga run su The Incredible Hulk. Trimpe ci ha lasciato lo scorso 13 aprile, mentre stava ultimando le matite di una storia per una nuova linea di fumetti chiamata All Time Comics, ideata dal newyorkese Josh Bayer, editor dell'antologia autoprodotta Suspect Device e autore di fumetti underground come Raw Power e Theth. Bayer è un grande fan dei fumetti Marvel di trenta o quaranta anni fa e ha ideato tra le altre cose numerosi bootleg di Rom, personaggio che in Italia ben conosciamo per la sua pubblicazione sulla storica antologia All American Comics edita dalla Comic Art. Le sue storie con protagonisti i cartoonist del Marvel Bullpen sono state spesso un'occasione per farci vedere l'uomo dietro l'artista, oltreché per denunciare il modus operandi della Marvel nei confronti di autori come Jack Kirby, Steve Ditko e Steve Gerber. Alcune scene dei suoi fumetti vedono Steve Ditko urlare "La Marvel e la Disney… sono il governo!" e una ragazza circondata da Deathlok, U.S. Agent, Howard The Duck e altri personaggi Marvel minori che dice "Facciamocene una ragione, qui siamo superflue come i disegnatori, gli inchiostratori e gli scrittori che hanno dato vita all'industria della Marvel Comics".
Bayer di recente ha ricordato così Herb Trimpe sulla sua pagina Tumblr:
"L'anno scorso ho contattato Herb Trimpe e gli ho chiesto di disegnare una storia per una linea di fumetti che sto scrivendo ed editando. Eravamo in grado di offrirgli una tariffa decente e incredibilmente ha detto di sì, così che tra qualche mese pubblicherò quello che, a quanto ne so, è il suo ultimo fumetto. Il lavoro di Trimpe era dappertutto quando ero ragazzo, nei comic-book che uscivano e nelle ristampe, e i suoi personaggi fumettosi, spavaldi, monolitici, fluidi ma anche un po' traballanti rappresentavano in pieno quella che era la mia idea di fumetto. […] Mentre mi arrivavano le mail con i suoi disegni l'anno scorso, ero rincuorato che a settant'anni stesse facendo uno dei suoi migliori lavori di sempre, pieno dei passaggi, delle luci e dello storytelling per cui era conosciuto. "Te lo devo dire, me la sto spassando… Era da parecchio tempo a questa parte che non facevo qualcosa di così divertente", mi ha scritto, e io ne ero felicissimo. Ero contento per giorni ogni volta che lo sentivo. Continuavo a guardare il suo lavoro. Le linee erano sicure e potenti, il suo storytelling era ricco di quel tipo di inventiva che è il risultato delle migliaia e migliaia di pagine che aveva disegnato prima che entrassimo in contatto. Per me, avere l'approvazione sua o di altri professionisti come Rick Parker e Al Milgrom, ha significato avere tutto ciò che volevo dai fumetti, un cerchio senza fine tra passato e futuro. Soltanto in un'industria strana come questa qualcuno nella mia posizione, al livello più basso della piramide, può coinvolgere in un suo progetto artisti con anni e anni di esperienza e riconoscimenti alle spalle".
Per il testo completo vi rimando alla versione inglese di questo post. Tutte le immagini sono tratte da Crime Destroyer Giant Size di Josh Bayer, Herb Trimpe e Benjamin Marra, in uscita a ottobre 2015.