This is my English translation of an article by Matteo Stefanelli already published on the Italian website Fumettologica. Thanks to the author for his kind permission.

After a couple of years in the business, the indie label Hollow Press is emerging as one of the few – but certainly one of the most interesting – small presses strongly dedicated to alternative comics. And yes, "alternative" is the right word, and not a vague and blurry category used in opposition to popular or serial. Or at any rate not entirely.
The whole peculiar world of the small publisher is in the name (let's face it, rather unpronounceable) of its biannual magazine: U.D.W.F.G. is for underdarkweirdfantasygrounds, in other words a very radical vision of a darker and alienating fantasy. In a world where underground comics and – in general – underground cultural production seem almost dead, absorbed in large part by a publishing industry more open but also more opportunistically addressed to niches of "long tail", it's a rare and paradoxically refreshing experience to delve into disturbing territories. And so we can remember that, on the marginal edge of the "independent graphic novel" now led by a predictable marketing-oriented logic, creative forces continue to boil.
The first artists published by Hollow Press were Ratigher, Paolo Massagli, Miguel Angel Martin, Tetsunori Tawaraya and Mat Brinkman, cartoonists who know the score about dark fantasy and underground comics. But the true surprise has been Industrial Revolution and World War by Japanese artist Shintaro Kago, one of the most creative mangaka in recent years. Among the new projects, there is also a big news for Italian readers: Paolo Bacilieri, the eclectic author of Sweet Salgari, Fun and of several inventive single-run episodes for Bonelli Editore series, will publish a never-before-seen work with Hollow Press in 2016.
The brand founded by the young Michele Nitri, born in Foggia 26 years ago, is one of the publishing houses to watch. And now it's reasonable to expect some surprises, because the identity he is building for Hollow Press is interesting not only in terms of content, but also for the model of (micro) business. In addition to printing books and a magazine, Nitri produces bizarre artoys (or action figures) designed by the same comic artists, as Ratigher or Mat Brinkman, and sculpted by one of the biggest European talents in the field, Marco Navas. Furthermore, he is selling directly the original drawings of many of the comics he publishes. In his own small way, Nitri seems to embody the perfect example of those small publishers who perform their mission with a free and modern approach, focusing on the books but not forgetting other areas of the culture industry, showing the versatility of the artistic personalities – and of their audience.
We've asked Michele Nitri some questions about Hollow Press' new projects and future goals.
How was this first and a half year of activity?
I don't have a word to recap the whole story. We started badly, went on well and "finished" very well. As usual, when I decide to do something, I put myself to the test, like in a videogame: there are people who insert the disc and select the easy mode, others who want to enjoy a normal experience and then there is someone – like me – who is out of his mind and always chooses the HARDCORE mode. To put it simply, when I decided to start Hollow Press, I made a lot of questionable decisions: 1) I created a crazy email address, while usually the simpler is the better; 2) I invested 8000 euros without any editorial experience; 3) I focused mainly on a magazine – a format essentially dead – with an unpronounceable name, in English, underground, and expensive (18 euros).
With the first two issues of U.D.W.F.G. I always managed to break even within 6 months to invest in the next issue (paying everything in advance). In late February of this year I decided to register for VAT and to become a real publisher, printing a book entirely dedicated to Shintaro Kago and a  400-page "best of" Tetsunori Tawaraya, catching up with the only pre-orders (two weeks) the money to pay IN ADVANCE the typography, the graphic, the authors and so on. So, after so much effort and self-taught "study", I can say: very well!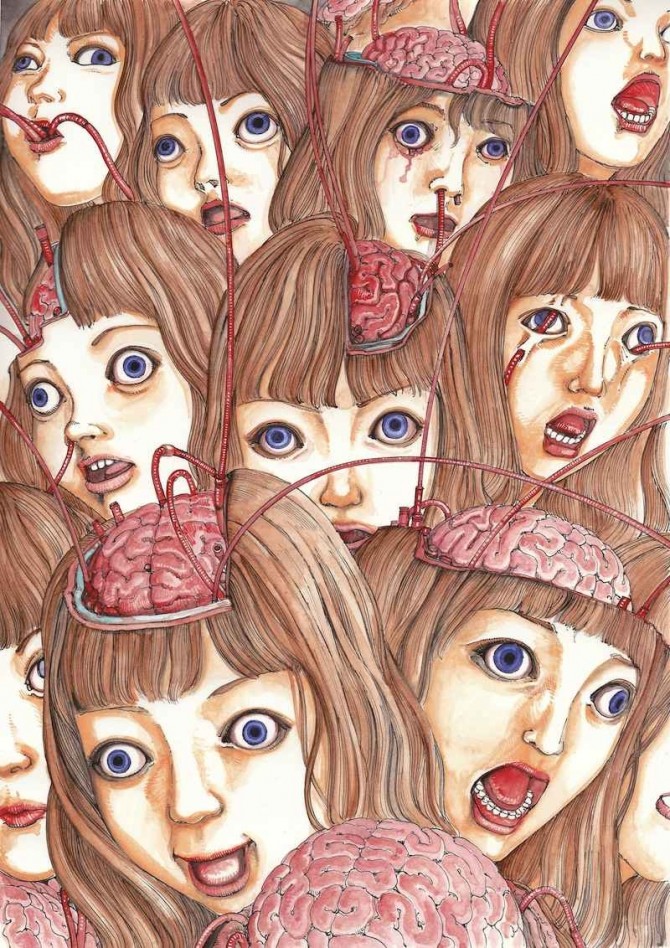 Did you find your market, then?
You are right to say "your" market, because I'm not seeing something similar around. My market is and will definitely remain smaller than many others. But in its own small way it works, and it's always satisfying when you create something that works. The core idea of my market is about signing an alliance between "undergrounders" from all around the world. And since it's a fringe genre, most of the fans speak a bit of English … so why don't make books in English for everyone? If the underground in Italy is doomed to die, it means that it doesn't have enough readers to survive with dignity. It makes no sense to print only 500 copies of a book to sell 50 or 100; instead it makes sense to print a book of 500 copies and sell 150 copies in Italy, 150 in the US, 150 in Europe and 50 in other countries in maximum one year, all direct sales!
Do you think to carry on with direct sales, through the website and the festivals, or you're planning to use the channels of traditional distribution? Did you have an agreement with the authors about direct sales?
Only direct and, when it happens, we're taking part in the most important festivals. I say this because last year I experienced smaller festival and they aren't worth the hassle. If in Lucca's Self Area, in a marginal zone of the show, with books in English and difficult to sell, I managed to sell more than three times than in other well-known festivals that should be more appropriate to my publications, we can take stock of the situation and move on…
As for the distribution, I think it would be very difficult to survive through it: considering the promotion, I would have a 30% of the cover price, and with that money you can't pay anyone. The distribution is for the strong ones, is for the big publishers who have the strength to make it work, but it wouldn't be good for me. The small publishers trying to sell through distribution often delude themselves and then die.
At the bottom of the Hollow Press there is a fan who has always been interested in alternative stuff, and who was always looking for cool and hidden products… And now I want customers like me. I don't want to attract occasional buyers: my clientele has to be loyal, so that they can trust me, but above all I can trust THEM. And I'll do everything possible to don't ever disappoint their expectations.
How important is the foreign audience for your books, original drawings and artoys?
Italian buyers are about 30%, the remaining 70% is foreign people and the most of them are from the United States or Canada. Then there is the fact that working with all the countries is anti-crisis, or almost.
Selling original artworks is for Hollow Press a way to support the printed production, or a goal in itself?
Both things. With the advance purchase of the original artworks I can pay the artists fairly: I can assure you, with a story of 10-20 pages for me, they earn the same money they would earn with a small/medium publisher with a book of 100-120 pages (a year of work), with the only clause of losing all or most of the originals. After all we've to think up something to make things work…
Then there is another reason. I "am born'" as a reader and a collector of original pages. The market is fertile and ever-expanding, so why don't take advantage of this? Obviously it isn't easy. I'm collecting comic arts since I was 18 years old, I'm "studying" this field by many years, and I can say that maybe I still don't know all the tricks to get it going at the most. It is a complex thing, and you'll never stop learning. I have to offer fair prices, without looking for the big deal, but searching for honest transactions, so that the purchasers will come back to me time after time.
What projects are you working on at the moment?
I'll only tell the ones I'm sure of: the upcoming third issue of U.D.W.F.G. – it has been slightly delayed due to overwhelming commitments of a couple of artists. The next special book dedicated to young British talent James Harvey… and another special book due out by next year, this time from the great Paolo Bacilieri. And then a lot of other projects I prefer not to disclose at the moment. Despite I have big names in store, the space is little, many people are contacting me, and I'm doing my best to take the right choices … Ok, I'm telling you this other: I'm trying to publish Mat Brinkman's masterpieces. It isn't easy but if I'll manage to do this, you'll never thank me enough (laughs). Seriously, any connoisseur of underground comics knows that Brinkman is the most influential artist of the last two decades.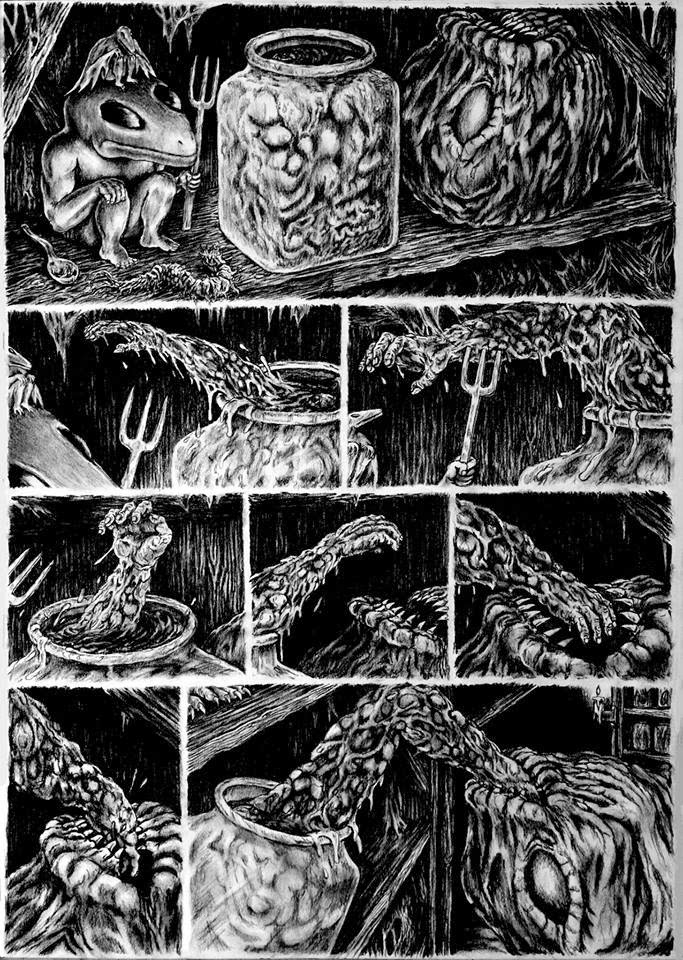 Do you think we are in a good moment or in a difficult time for the small press scene?
Bah! Everyone is complaining but no one is doing anything to change the situation. Many blame the publishers (I don't mean everyone but a lot of people) and this is fair, but the real question is: are you playing at the cartoonist? Or are you a real cartoonist?
However, I'm enjoying so much watching new projects as Ratigher's "Prima o Mai". Apart from the numbers, it's the message that perhaps unknowingly he launched that matters: the publisher shouldn't be always seen as an arrival point, but we have to launch collaborations between artists and publishers. We have to grow together and – even if it could seem utopian – share the profits.
What does publishing underground comics means to you? Do you think there is still something we can call "underground" out there?
That's a frightful question for everyone… But from my point of view I don't care. The underground is "what CONTEXTUALIZED by CONTENTS goes against the mainstream". Now it's a worn-out word, someone uses it because he's from the squats, someone for promotion. But it's all about the contents…
Crumb is underground because it WAS underground for his time. Objectively, now it's like an excellent satire. Kriminal and Satanik were underground because they couldn't be exposed in the newsstands. Miguel Angel Martin and Mike Diana are underground because they were on trial for obscene contents. The comics I'm publishing are underground because they tell fantasy stories, but a reader of "normal" fantasy tales can describe them as a macabre or weird horror, because it's a new kind of fantasy, without elves, dwarves, gnomes and so on.
One day, "underground" will be so much a cliché that "artistic" and "alternative" comics will become "commercial", while Italian comics as Tex or Dylan Dog will be "underground"! The comics will be taken too seriously, and a lot of people will miss the lightness of comics of the past and they will search for them to live again those good old times.
An interesting thing is that authors like Ratigher or Bacilieri, to make two Italian examples, work also with publishers that have nothing to do with the underground in the matter of distribution as for imagination. Why are you still using this label, then?
In fact I think these authors aren't underground. In my opinion Ratigher made always art comics, very weird, beautiful, but – although multi-level – accessible to all. The same is for Paolo Bacilieri. Maybe I would call underground only his Zeno Porno. Now, inhumanly, he still manages to find time to develop his authorial vein publishing nearly a book a year, but he can be roughly defined more "commercial" because he works for Bonelli.
This doesn't absolutely preclude any collaboration with Hollow Press: I don't use the word "underground" as a rigid category because I would be arrogant, communicating a kind of stupid and exclusive feeling of superiority.
I still use this word because I feel I can do it with the kind of products I'm publishing. For example, I'm always seeing new comics or magazines about extreme sex: well, unlike the appearances, that isn't underground, it has already been done or said twenty years ago, now it doesn't tell anything. After Miguel Angel Martin, Mike Diana, Trevor Brown and others, there's nothing to tell about it. While I would like to point out that the same Martin, with his The Emanation Machine in U.D.W.F.G., has included his extreme sexual themes of alien characters in a fantasy context… And yes, this is original!
I'm telling it again, anyone can potentially collaborate with Hollow Press, because we have our roots in the "dark weird fantasy" – of which Mat Brinkman is definitely the pioneer – and this is a genre where there is still so much to say. No matter whether you're mainstream, good for a graphic novel or for an extreme magazine, because it's important what you can produce: underground is in the contents, not in the curriculum.
If I can, I'd like to conclude this interview with a true anecdote.
(my mother's friend): "I heard your son is now a publisher besides a detergent seller…"
(my mother): "Yes, he's a fan of underground comics since forever…"
(my mother's friend): "Ah… And what are they? Like Dylan Dog?"
(my mother): "Don't ask me, he showed me the first book he published for a whole day, he helped me to read it, but I still don't understand what it is."
(my mother's friend): "Ah… Ok".