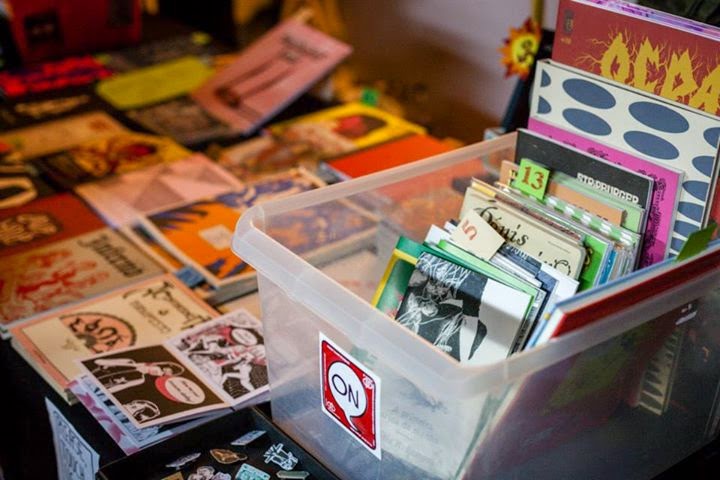 Marcos Farrajota is the editor of š! #20, the special issue of the Latvian anthology dedicated to Portuguese comics (you can read my review here), but he's also the guy behind a lot of cool projects in Portugal, a librarian in Bedeteca de Lisboa – one of the best comics place in Europe – and a cartoonist, as you can see in his collection Talento Local. I've interviewed him to talk about comics in Portugal and some other stuff.
I'd like to start this interview sorting out all your various projects, from the fanzine Mesinha de Cabeceira, born in 1992, to Mmmnnnrrrg collective, which is celebrating 15 years right now, up to Chili Com Carne, perhaps the label best known outside Portugal and with a frequently updated blog. Can you tell me how you've evolved from project to project and how you're giving your attention at the different labels/publications at the moment?
Well, everything is very organic, I mean, there isn't an obligation to release every year one Mesinha de Cabeceira – like between 1997 and 2000 it took three years to release a new issue… Also, Mesinha is sometimes published by CCC, others by MNRG… A mess to librarians and collectors, I guess.
CCC has also more people involved so we can split work… And MNRG is me and Joana Pires – we are a couple, you see? So we manage at home our ideas.
All projects are "hobbies", not professional works that put bread on the table… We relax when we have to relax and we act when we need to act!
Looking at your books and at the events you organize, the Portuguese scene seems quite lively. Yet the introduction to š! #20 emphasizes that making comics is a solitary process and describes the medium as "a form of torture, a useless effort devoid of causes or consequences that offers us neither glory nor any sort of personal reward". It's a similar concept to Pessoa's "Everything we do, whether in art or in life, is a defective version of what were our initial ambitions", as if you came at this idea of the futility of making comics during these years as an artist and as a publisher…
There's been a darker time in the Portuguese scene but now there's a new breed full of energy and ideas… It's been exciting these last five years I guess, after a period of "nothing seems to be happen" from 2005 to 2010. So there are the "pros" working for USA, small publishers growing and keeping the light alive, medium publishers coming back and a growing attention on the graphic novel market. Let's hope this helps to more experimental and cutting edge comics to develop even more… Because if not, it's just a big black hole, creators feel hopeless since nobody will understand or care – even the people who state they like comics – those are actually the worst because they are conservative assholes that collect juvenile crap. I guess that's why I always looked for people outside Portugal so that you may have more perspective and feedback. New generation like Amanda Baeza by instinct already knew that and her first book was published in Latvia, which is an awesome and interesting situation.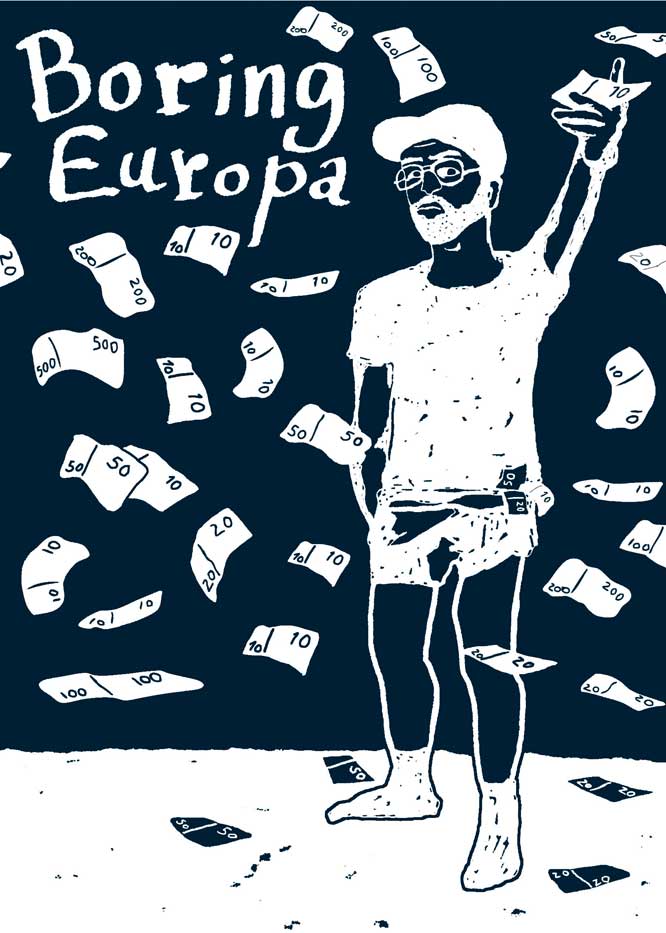 Anthologies as Mutate & Survive and Boring Europa, which connected Portuguese cartoonists with artists from all over Europe, date back to several years ago, and the last experience in this field, Futuro Primitivo, is from 2011. Recently Chili Com Carne is focusing more on books made by a single author. Is this a precise choice or only a coincidence? Do you think this is a current trend in the market, that now is harder to sell an anthology or a magazine than a so-called "graphic novel"?
Pure coincidence. It was by cosmic forces that graphic novels of David Campos, Francisco Sousa Lobo, André Coelho and Nunsky appeared… And it's also true that to make anthologies in an interesting way (by the theme, for example) is some hard work for the editor! We still do anthologies like the QCDA series or the next volume of Zona de Desconforto (about foreign comics authors experiencing live in Portugal). New solo books will happen this year which is good just because in this way there are more different books to read and experience.
As for market, it's obvious that solo graphic novels are THE market format to sell in the last 10 years but you can imagine that in literature world there are also anthologies and they sell less because they're for a more restricted public like the people of the "scene", not for a big audience. For our very small market (in Portugal) and printrun (of CCC or MNRG) actually there's no big difference, most of our anthologies are sold out and solo books are still available – but then again, solo graphic novels are like only three years old…
Some of your latest books are different from your past publications, since they don't have the typical underground contents or aesthetics of the past, in the sense that they aren't provocative or "dirty". For example Francisco Sousa Lobo's The Dying Draughtsman is an intimate and deep story, while Askar, O General by Colombian artist Dileydi Florez is a very well-finished graphic work looking at the representation of the great historical battles of the past that we find in painting more than in comics.
We are getting old!!!
No way man… Come on, Papá em África by Anton Kannemeyer is full of black dicks, Erzsébet is full of virgin blood, Rudolfo is puking a lot in Malmö Kebab Party and if I'll publish a new book this year there will be loads of my bad drawings (and dicks!)… You've just got to see some of "clean" phase of ours, or some "clean" books. Wait and see! Hahahahaha!!!
Man, authors do what they like, we don't impose any aesthetics… Otherwise it won't make sense unless we were some kind of commercial publishers of sex& violence or artsy-fartsy-two-colours books, whatever…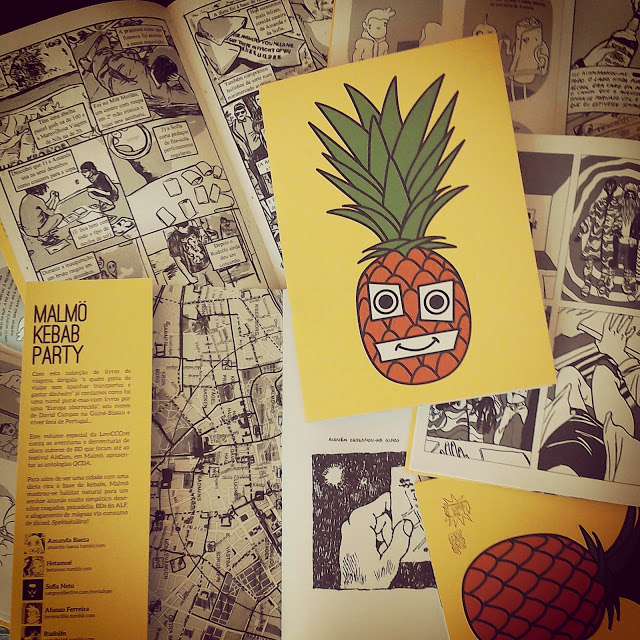 Well, it seems dicks are everywhere in your comics! However, let's talk about your activity at the Bedeteca de Lisboa (this is an unoffical website, the old address is now closed). I know you've a big collection of comics and that you organize events, classes and so on…
Used to… Since 2005 it's just going down the drain as for others activities. Now, I'm just a good librarian dude in Bedeteca. If you go to Lisbon, please come by! It has a nice garden, good sofas and chairs, 9000 volumes of zines, mags, books, albums, CDs, DVDs and related items to comics and illustration. Why waste your time visiting tourist's traps when you can come and relax reading books in Bedeteca? Actually we have books in Portuguese, English, French, Italian, Suomi, Swedish, Polish, etc…
The golden days of publishing, making big festivals, exhibitions and all that it's gone (I did an interview in Stripburger about that) but the library is good and interesting, come on!
Since we're talking about Portuguese comics, I'd like to know what is popular or mainstream in Portugal today. In Italy we've comics as Tex or Dylan Dog, published by Sergio Bonelli Editore, that represent perfectly the concept of "popular", I don't know if you've ever seen them… Then there is a large diffusion of manga, we've a lot of superheroes and a lot of satirical, ironic and in general funny (or supposed to be funny…) comics. What is "popular" in Portugal?
I guess humour strips are the most popular (Calvin & Hobbes, Dilbert, Adam, Cathy…). And then this pedophilic french-belgian stuff for the 40 uppers, fascist super-heroes for the 30's up, manga for kids… Disney returned after some years, but maybe they're selling to nostalgic grown-ups, kids aren't that stupid to read that crap anymore. Many Portugueses read English, French and Spanish so they buy foreigner editions since the market doesn't supply enough good books. We've also Brazilian editions of Bonelli trash, don't know who consumes that and I really don't want to know. I wonder if we can talk about a "mainstream" (excepts humour strips, I guess) because I know that Batman trade paperbacks sold as much as Baudoin's A Viagem. I guess moronic Saga will sell better than these examples because it's funny and, you know, comics are supposed to be… comical! Oh, the irony…
Can we say that 3000 copies sold of a book is popular or mainstream? I don't know…
Moving from the popular to the personal, I'd like to hear from you some names of Portuguese cartoonists you admire and you can recommend to the readers.
Old and new all mixed up, active and inactive, dead and alive, with solo books or not: André Lemos, Janus, Ana Cortesão, João Fazenda, Nunsky, Filipe Abranches, Bruno Borges, Carlos Botelho, Pedro Brito, Pedro Nora, Amanda Baeza, José Smith Vargas, Jucifer, Pedro Burgos, Tiago Manuel, Rafael Bordalo Pinheiro, Francisco Sousa Lobo…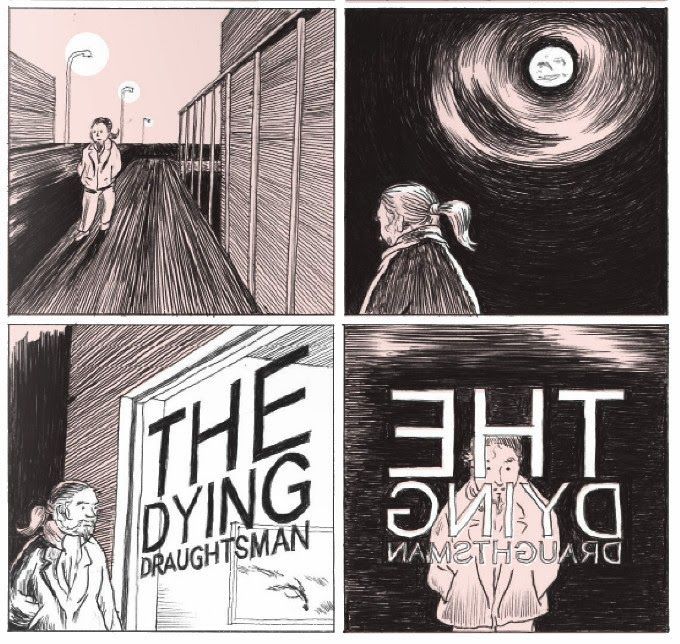 So there's a lot to discover for foreigners like me… And on the other hand, what do you think of the European scene at the moment? I believe there is a greater and sometimes exaggerated attention to the aesthetic and formal aspects of the comics, probably thanks to the decrease of printing costs and the consequent diffusion of the color… I think this has influenced also the self-published comics, where now we're finding a lot of conformist products, which are everything but alternative…
Yup, graphic novels made the comics looks like literature world: full of light literature, best-sellers and all that… You have to dig depper to find good stuff but that was always like that, no? People get nostalgic when they think they found Daniel Clowes or Joe Sacco in the 90's and now there are all this Clowes and Sacco clones or subproducts but man, look at Canicola crew, or Glomp anthologies or some Serbian and Croatian guys and there's still energy and originality to be as exciting as the 90's. Or look to Olivier Schrauwen that actually can combine the "graphic novel loads of narrative pages to be respectable" with aesthetic and formal aspects at the same time. Or Ruppert & Mulot or Tommi Musturi… Or Jarno Latva-Nikkola who can be pigeonholed as "caricature" but has a full graphic novel depth…
It's true that graphic novels are growing in the book market with "my mom was a crackwhore" or Pinochet biography, juts like best-sellers are now cook books or cats that saves the day… If all graphic novels were good (a thing that Fantagraphics or L'Association wanted back in the days) the world would be perfect, but as you know there's still McDonald's, war, hunger, latest Batman film, racism, Berlusconi out there…
As usual, we need critics – good ones – that can filter all this "new graphic books industry", where are they?
If you want, I would close this interview speaking of your future projects. I read you're setting up a lot of initiatives for the 15th anniversary of Mmmnnngggr, can you tell me something more? And what can we expect from Chili Com Carne?
15th MNRG celebrations are almost gone… We made a punk tour with two bands, released a split-tape and my new zine, Anton was in Lisbon in a conference with some public polemics and I'm DJing next week at Beja festival. After that it's hard work making new books of Aleksandar Zograf, André Ruivo and Tiago Manuel… And something else that comes on the way!
As for Chili Com Carne we still don't know… But we're hoping to have new graphic novels of Francisco Sousa Lobo and José Smith Vargas, loads of other zines and books and some exhibition in Amadora Fest and University of Salamanca (Spain). But only after June we'll have clear ideas…