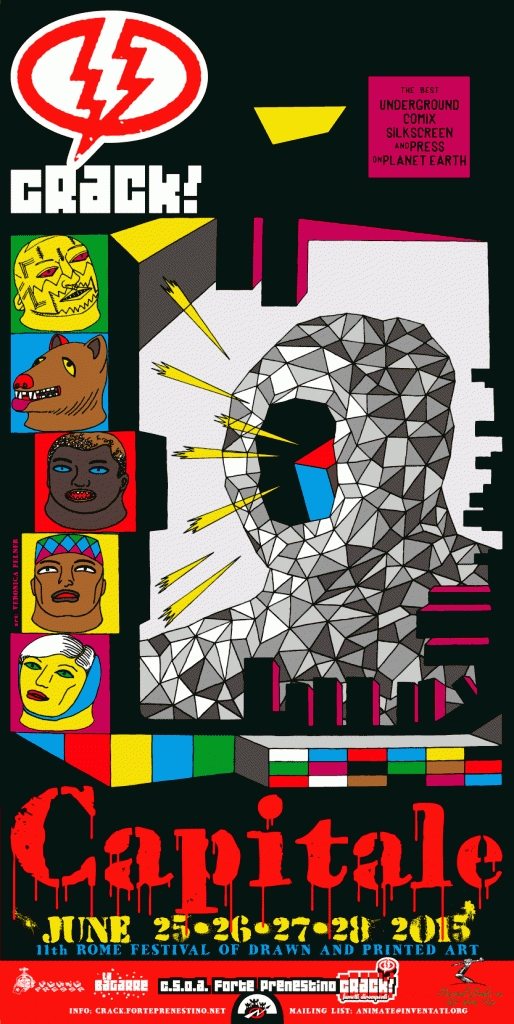 Inizio questa rassegna ricordando a tutti che dal 25 al 28 giugno a Roma, come sempre al Forte Prenestino, c'è il Crack!, il festival dei "fumetti dirompenti" che raduna ogni anno tantissime autoproduzioni da tutta Europa e a volte anche da tutto il mondo. Il tema di quest'anno è il Capitale e non a caso collegato all'evento c'è un invito a tutti gli autori partecipanti a disegnare false banconote. Valerio Bindi racconta la storia del festival, il tema e le novità di quest'anno in un'intervista a Zero, che potete leggere qui. Mi raccomando se potete andateci, perché con la sua struttura libera e a volte caotica il Crack! è un festival unico nel suo genere e dà l'opportunità di conoscere dal vivo realtà minori che non trovano spazio veramente da nessun'altra parte.
E a proposito di festival, questo weekend a Londra arriva l'Elcaf. Tra i vari ospiti, che potete leggere nel poster a firma Jillian Tamaki, c'è anche il nostro Manuele Fior. Su Comics & Cola Zainab Akhtar propone la sua buy guide.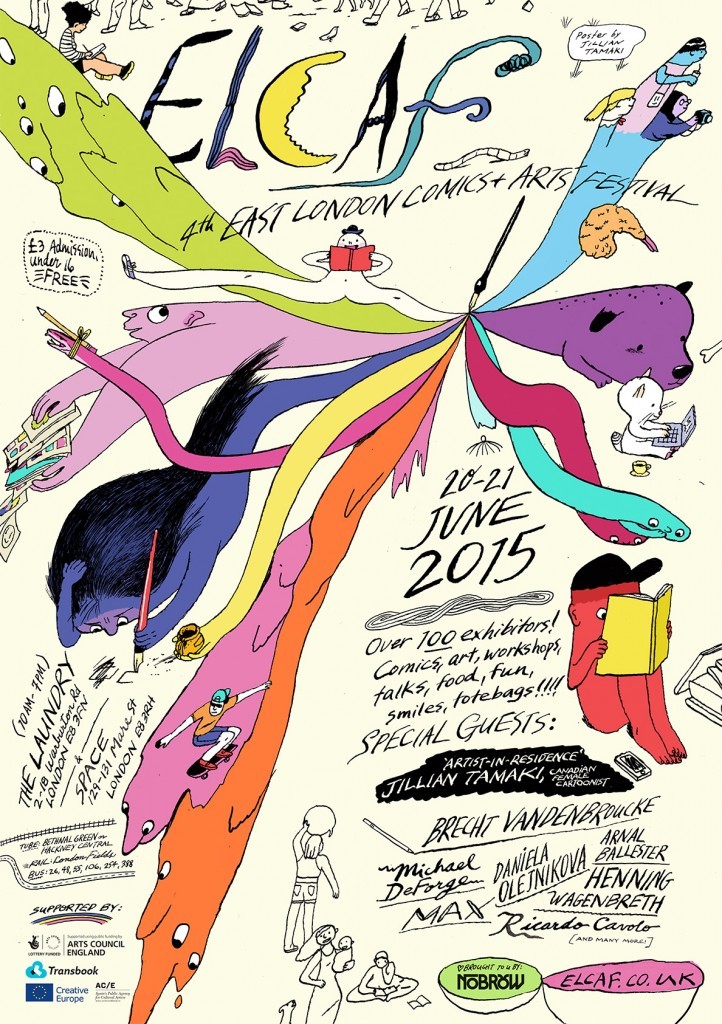 Come riportato da Bleeding Cool, il numero di agosto di Heavy Metal uscirà con due diverse copertine, entrambe a firma Jack Kirby. All'interno troveranno spazio una serie di disegni di Barry Geller e dello stesso Kirby raccolti sotto il titolo di Lord of Light. Si tratta dell'artwork realizzato per l'Operation Argo, con cui la CIA riuscì a liberare gli americani rimasti bloccati nell'ambasciata iraniana durante il golpe del 1979. E sì, è la stessa storia raccontata da Ben Affleck in quella cagata di Argo. Sempre su Bleeding Cool potete trovare un'ampia anteprima delle tavole del Re, che come al solito fanno la loro splendida figura sia in bianco e nero che a colori. Da non perdere.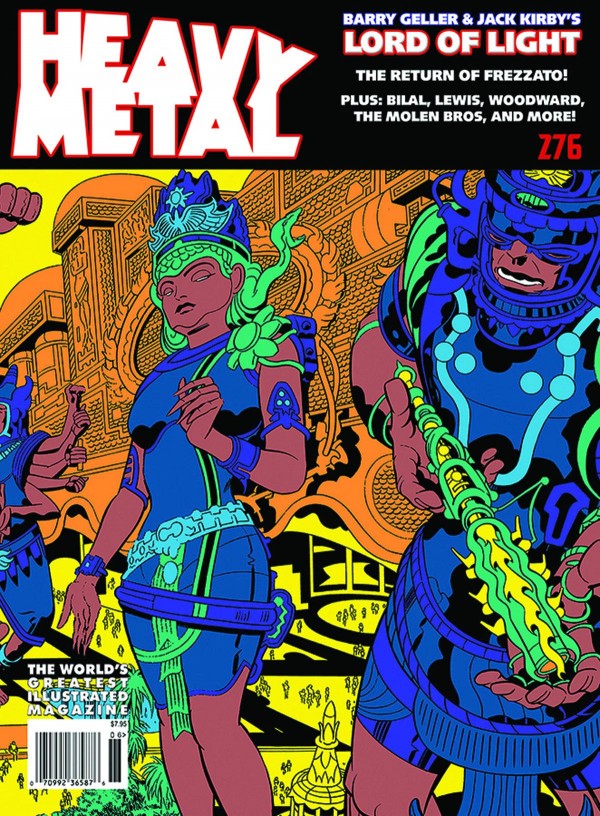 Ancora novità editoriali. In occasione del suo venticinquesimo anniversario, la Drawn & Quarterly ha annunciato alcune uscite dell'anno prossimo, tra le quali spicca Mary Wept Over the Feet of Jesus, un nuovo libro inedito di Chester Brown, che come anticipato da Fumettologica uscirà anche in Italia per Bao Publishing.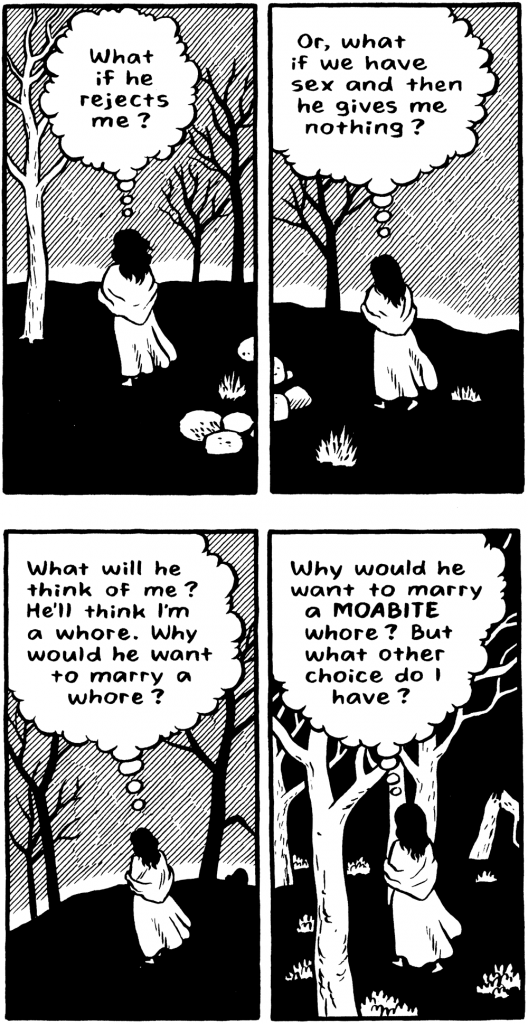 Tra gli altri libri che l'editore canadese farà uscire nel 2016 ci sono anche Fire!! The Zora Neale Hurston Story di Peter Bagge, Art Comic di Matthew Thurber, una raccolta di sei racconti di Nick Drnaso intitolata Beverly, Big Kids di Michael DeForge, Panther di Brecht Evens e Carpet Sweeper Tales di Julie Doucet, in cui l'autrice di Dirty Plotte partirà dalle immagini dei fotoromanzi italiani anni '60 per raccontare storie originali.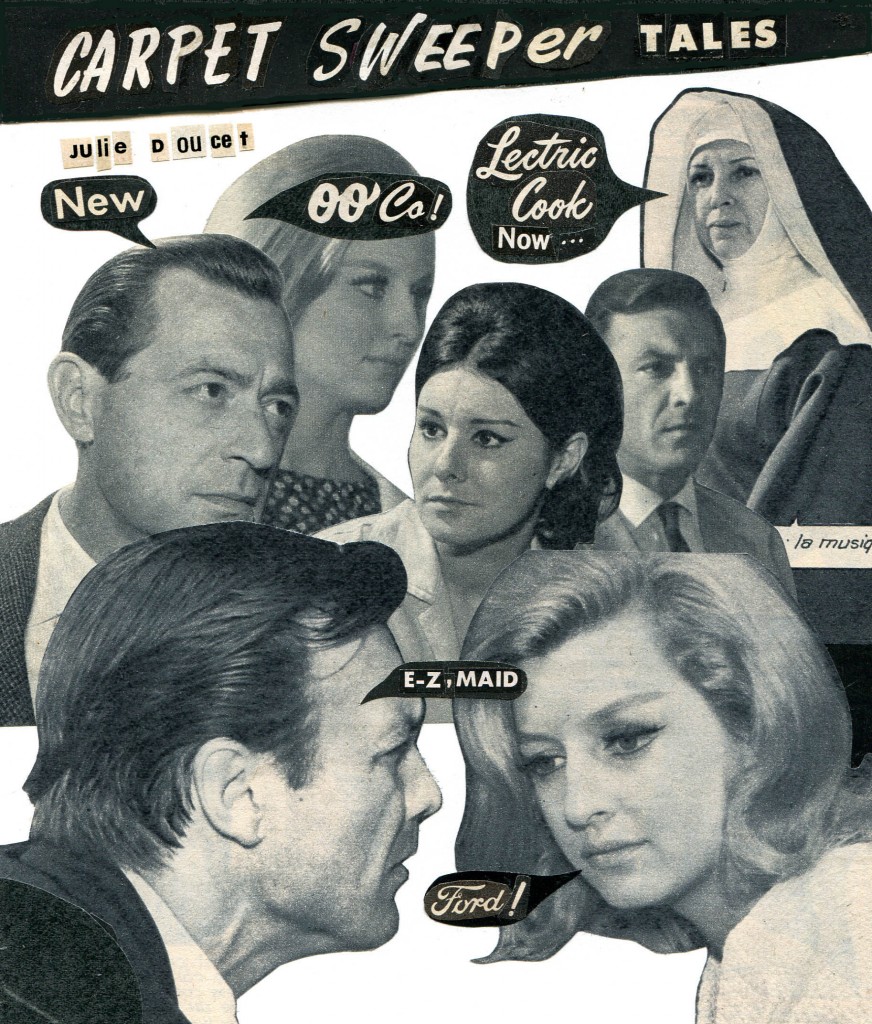 Belle le illustrazioni di Heather Benjamin per questo articolo sulle orge a New York pubblicato su Vice Usa. Della Benjamin avevo già parlato, ma sempre di sfuggita, per l'ottimo lavoro fatto nel confezionamento dell'edizione 2013 dell'antologia Monster. Detto che su Vice aveva già illustrato altri articoli, vi invito a dare un'occhiata alle fanzine, alle stampe, ai poster e ai vestiti che realizza per conto proprio e di cui trovate ottimi esempi sul suo Tumblr.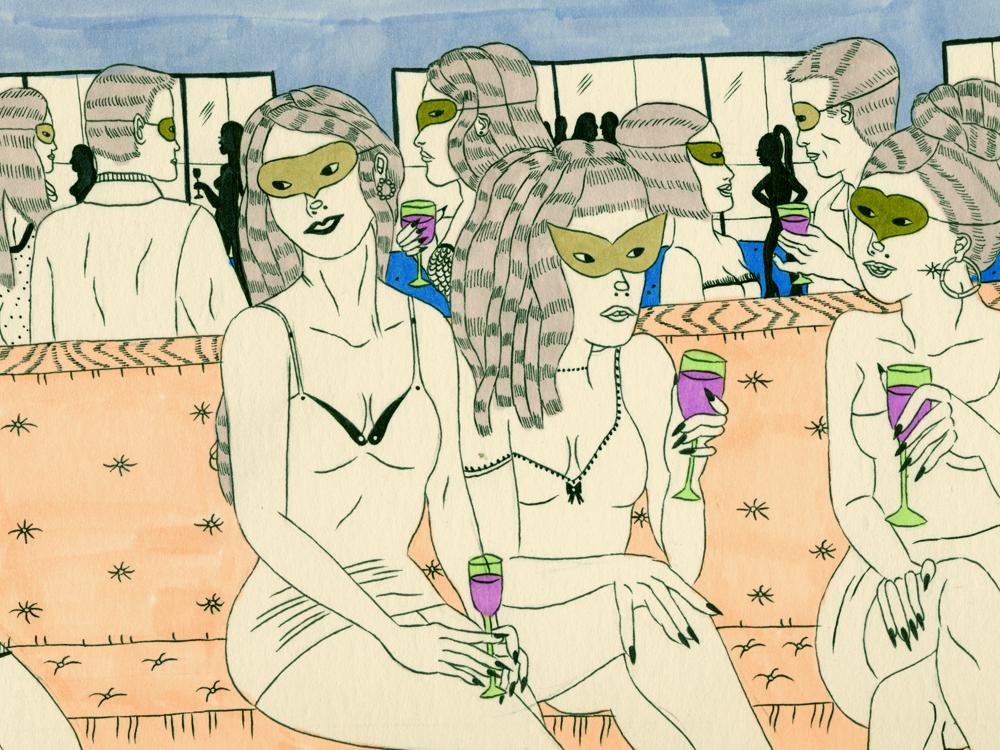 Da Vice passo al sito del New Yorker, dove in tempi di Expo milanese è attualissimo questo nuovo fumetto di Julia Wertz sui resti dell'esposizione universale newyorkese del 1964-1965. Lo consiglio a chi come me è appassionato di luoghi abbandonati, argomento che Julia tratta abitualmente sulle pagine di Adventure Bible School, dove trovate anche parecchie foto dei luoghi utilizzati per disegnare After the New York World's Fair. Se poi volete approfondire i suoi fumetti, vi rimando a juliawertz.com, ricco di estratti dai vari Museum of Mistakes, The Infinite Wait and Other Stories e Drinking at the Movies.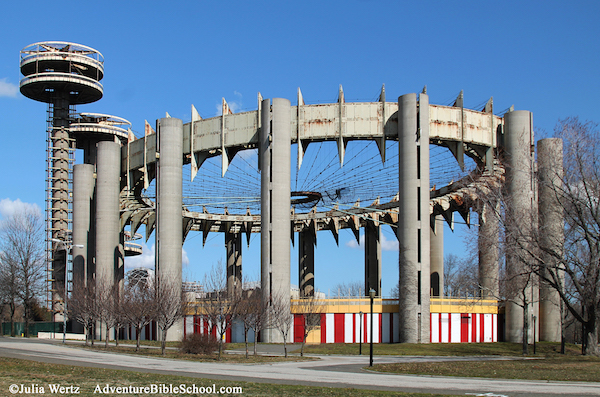 Il Wall Street Journal dedica una puntata della rubrica House Call a Robert Crumb, che racconta le case e i luoghi in cui ha vissuto dall'infanzia a oggi.
Tante le interviste che ho visto in giro negli ultimi tempi e molte di queste devo ancora leggerle anche io: vi segnalo comunque quelle a Anders Nilsen (nella foto qui sotto), Julie Doucet (in spagnolo), Chris Cilla (ancora in spagnolo) e Gabrielle Bell, che in un video di The Paris Review racconta la sua serie Book of…, con cui debuttò alla fine degli anni '90.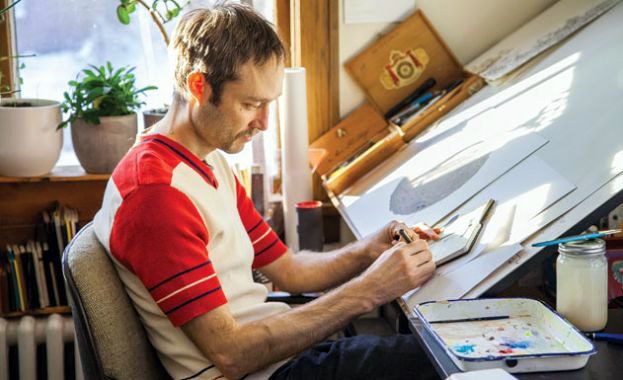 E ancora a proposito di interviste, continua la lunga serie di chiacchierate con Daniel Clowes. L'ultima che mi è capitata sott'occhio è di The Nerdist. Intanto Ken Parille, autore di The Daniel Clowes Reader, racconta la produzione di Clowes del periodo 1988-1998 in un articolo ricco di riflessioni, spunti, aneddoti.
Se a qualcuno fosse sfuggito, Paperina era una femminista. Dal canto suo Rom potrebbe essere il miglior fumetto di fantascienza di tutti i tempi.