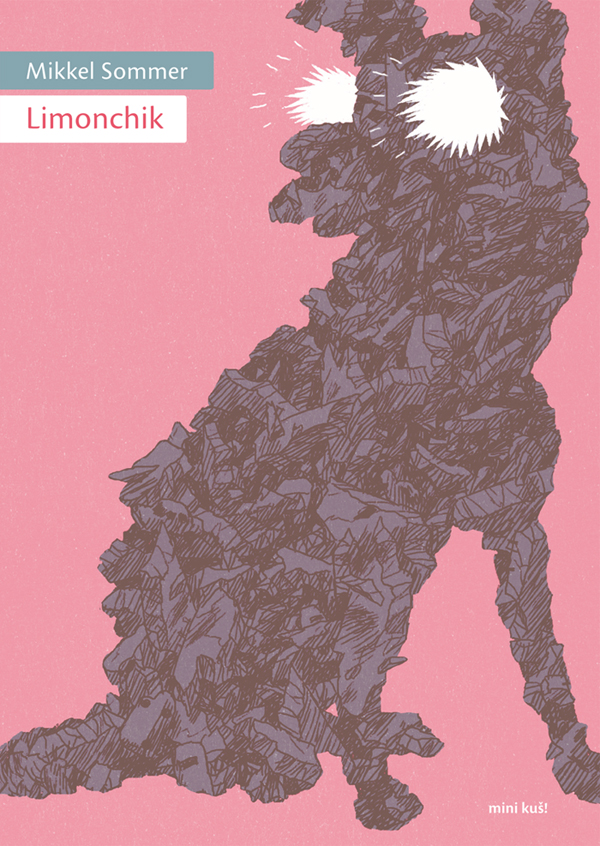 Four mini kuš! are due next 22th August along with the 22th issue of š! anthology, this time dedicated to fashion. Waiting to see how the various cartoonists have exalted, mocked, reinvented the world of fashion, now I'll take a look at the new mini-comics, 28 color pages each, stapled in A6 size and printed on a beautiful thick and opaque paper.
The 33th mini kuš! is by Mikkel Sommer, a Danish artist born in '87 who has already published in France with Casterman and in England for Nobrow. Limonchik is an almost wordless story (only 2 of the 24 pages have a bit of text) about the return to our planet of Laika, the dog "lost in space" (Limonchik was one of the nicknames Soviets gave her). The cover with lightnings bursting out of the eyes of the dog is a prelude to the second part of the mini-comic, full of storms and destructions, in an apocalyptic scenario alternating pages on pink background with others where a deep dark blue prevails, in a juxtaposition of day and night, Earth and space. Mankind is totally absent here, there are only a dog and an asleep and then devastated civilization.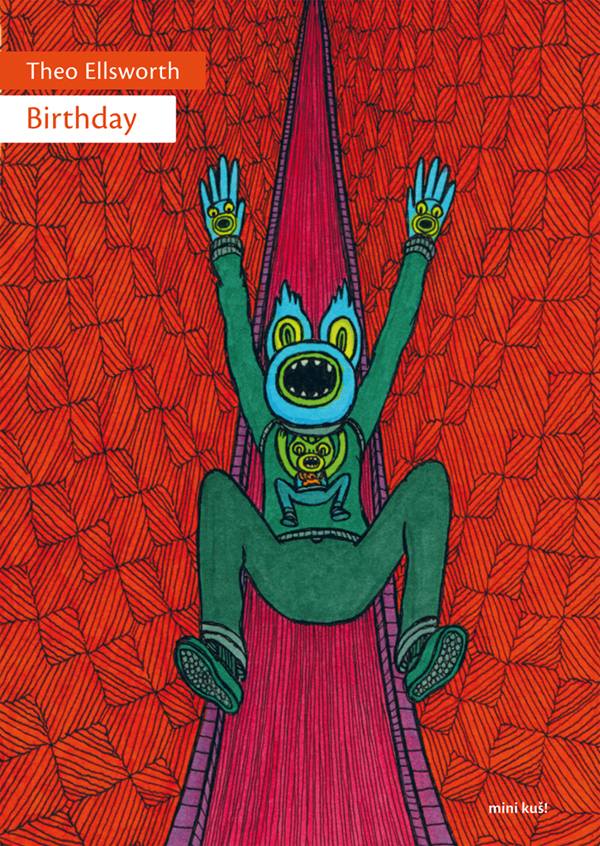 If Sommer's idea is effective but at the same time rather simple, American cartoonist Theo Ellsworth, best know for his series Capacity and for the two books of The Understanding Monster, deals in Birthday with more complex and even psychedelic topics. Probably because when I discovered the world of underground comics his illustrations were almost everywhere, but in these visionary games about rituals of physical and mental rebirth I see always the echo of Italian artist Matteo Guarnaccia, even if I don't know if Ellsworth has ever heard of him. Jim Woodring could be an influence too, however putting comparisons aside this totally silent story is funny, disturbing and at the end liberating.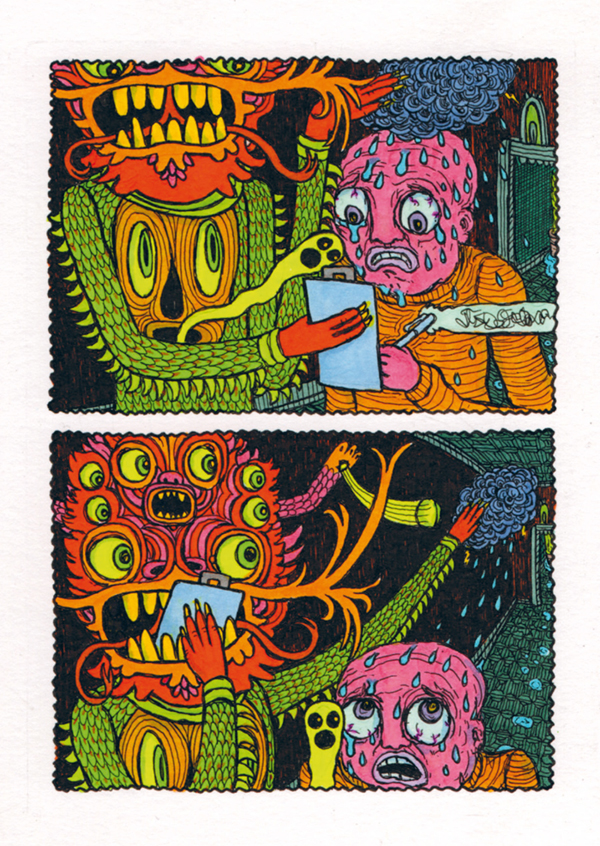 I think it's easy reading Ellsworth's comics admiring his dreamlike and fantastic worlds, but he is also a master in illustrating human faces, as we can see from the desperate expression of the main character in the first page, from his dread when he agrees to subject himself to the initiation ceremony on page 4, from his disbelief when he realizes what is happening in the final sequence.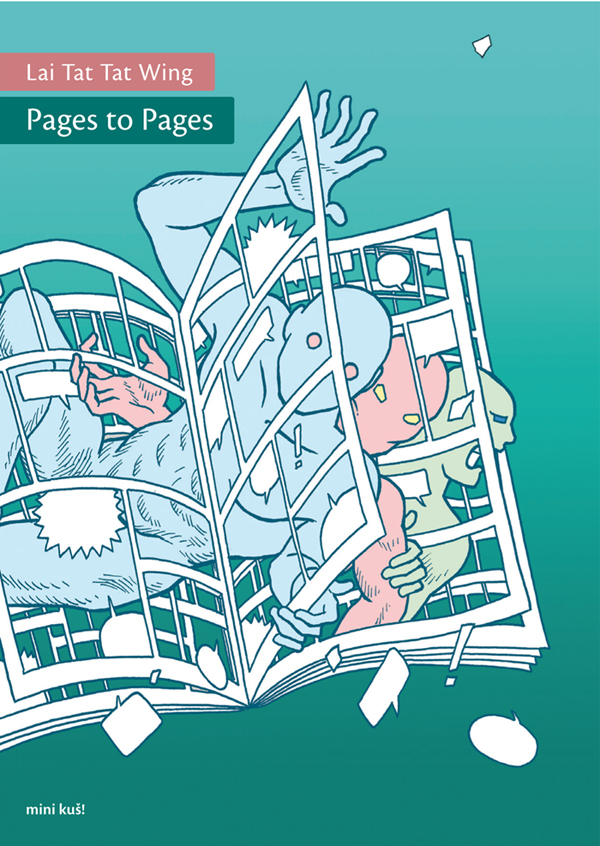 Another wordless mini-comic is Pages to Pages by Hong Kong artist Lai Tat Tat Wing, an habitué in Latvian anthologies who gets now a mini kuš! all for him. Protagonists of this short tale are two faceless men who laugh together, start arguing and then chase each other, in a crescendo of cartoon-like situations filled with surrealist elements. I'll seem a fool but I saw the echo of Grant Morrison's Doom Patrol, for example in the books that open their pages like possessed or in the hands coming from the sky. Even the metanarrative theme can remember Doom Patrol, but here this topic is mixed with that of conflict between traditional books and technology. Both culminate in the whimsical and in some way disturbing final scene, where faceless men use their technological devices all together. The colors are a little bit feeble in this book – I would have preferred brighter tones – but probably it's only a matter of taste.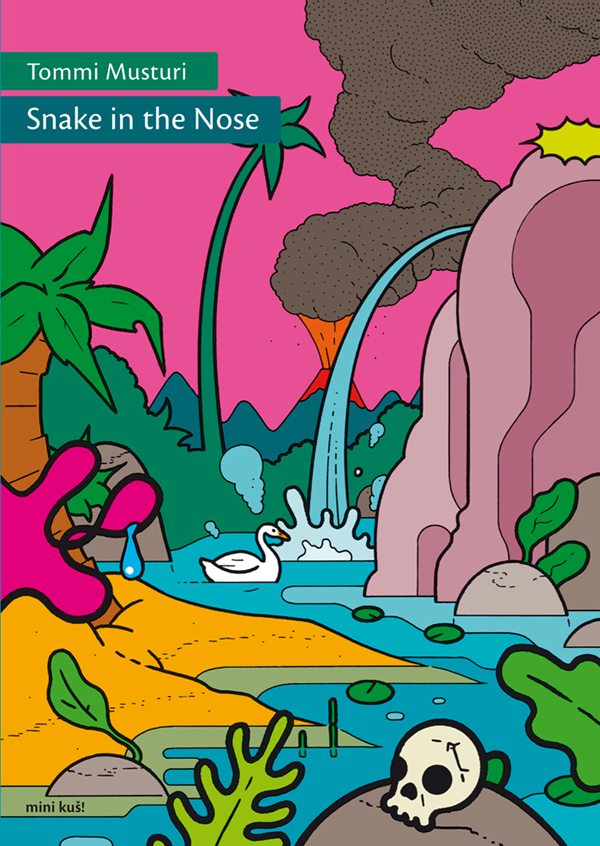 Who certainly didn't skimp on bright colors is the veteran of European underground comics Tommi Musturi, for whom 2015 is a particularly important year, since Fantagraphics will release the collection of his The Book of Hope in November. The mini opens with a blonde lady drinking a cocktail and smoking, until something falls on her head… I won't say what it is, but I assure you this is a scene that represents at full the hatred of the protagonist towards the whole world, worthy of a character of an Ivan Brunetti's comic. But in the end the man isn't so terrible as he seems if he dreams rainbows and unicorns and if we catch him dancing naked on Like a Virgin… Beyond the funny plot, the Finnish cartoonist is at his best in some brilliant pages that combine inventiveness and storytelling: see for example the one in which Musturi describes a series of possible suicides or the whole colorful dream sequence. Along with that of Ellsworth, Snake in the Nose is the most successful mini kuš! of this summer batch.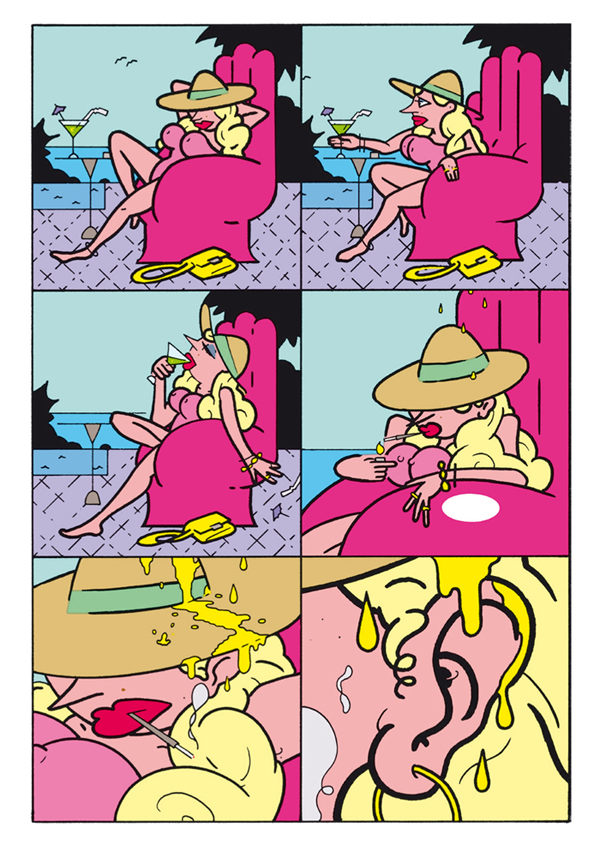 You can pre-order right now these four mini kuš! here at $6 each (worldwide shipping included in price).