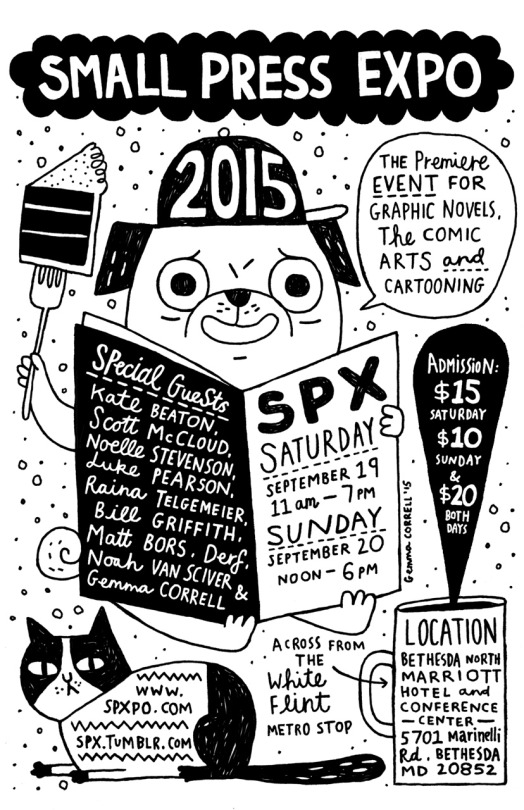 Si è conclusa ieri negli Usa la Small Press Expo, il principale evento dedicato al fumetto indie nord-americano. Dei vincitori degli Ignatz Awards ho già parlato in questo post, qui vi do invece qualche dritta se volete approfondire le novità che hanno debuttato a Bethesda. Una lista più o meno completa la trovate sul sito ufficiale dell'evento, mentre Sequential State dà qualche consiglio sugli acquisti e Panel Patter riepiloga tutti i post sulla SPX pubblicati nelle scorse settimane. Fino a stanotte Comixology offre uno sconto del 50% sulle versioni digitali di alcuni titoli di editori o artisti presenti all'evento (io ne ho approfittato per recuperare qualche titolo della Oily Comics di Chuck Forsman), mentre il cartoonist ed editore americano Box Brown ha reso gratuitamente disponibile su Gumroad il suo albo An Entity Observes All Things, candidato agli Ignatz nella categoria Outstanding Anthology or Collection.
E a proposito di fumetti americani, un estratto da Cretin: Keep on Creep'n Creek, la storia a puntate di Mat Brinkman per l'antologia Under Dark Weird Fantasy Grounds dell'italiana Hollow Press, sarà uno dei piatti forti del nuovo volume di The Best American Comics, in uscita il 6 ottobre e che oltre a Brinkman ospiterà lavori di Gabrielle Bell, Anya Davidson, Ed Piskor, Blaise Larmee, Josh Bayer e tanti altri. Un cast davvero notevole, messo in piedi dall'editor Bill Kartalopoulos e dal guest editor di quest'anno, lo scrittore Jonathan Lethem. A firmare la copertina addirittura Raymond Pettibon. Wow!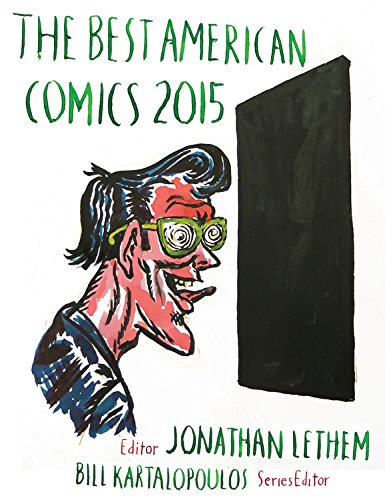 Un paio di crowdfunding in giro per il mondo. Negli Usa la 2d Cloud di Minneapolis ha inaugurato una raccolta fondi su Kickstarter per finanziare le pubblicazioni autunnali, tra cui si segnala una nuova rivista di critica e interviste, Altcomics Magazine. Disponibili anche a un prezzo speciale le ottime uscite primaverili, come 3 Books di Blaise Larmee, Salz & Pfeffer di Émilie Gleason e Qviet di Andy Burkholder. Peccato per le spese di spedizione inevitabilmente salate per noi europei.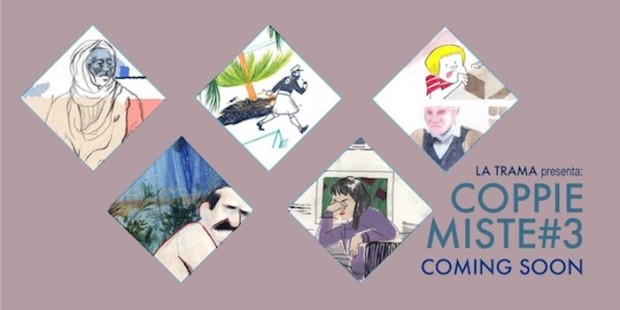 Intanto in Italia La Trama lancia una nuova serie di Coppie miste, incentrata questa volta sulle collaborazioni tra Silvia Rocchi e Anna Deflorian, Alice Milani e Tuono Pettinato, Viola Niccolai e Federico Manzone, Francesca Lanzarini e Matteo Berton, Luca Caimmi e Victor Lejeune. Le prime tavole pubblicate da Fumettologica sembrano decisamente interessanti e in particolare mi incuriosce la singolare coppia Alice Milani-Tuono Pettinato, mentre Rocchi e Deflorian sembrano davvero perfette per lavorare insieme.
Sempre su Fumettologica segnalo l'anteprima di Sunday, nuova antologia di Delebile, questa volta sotto forma di spillato di 36 pagine a colori di grande formato, con tavole sul tema della domenica a opera di Bianca Bagnarelli, Paolo Cattaneo, Max de Radiguès, Aisha Franz, Roman Muradov, Nicolò Pellizzon, Alice Socal, Mickey Zacchilli. Sunday è ordinabile qui a prezzo scontato fino al 25 settembre e sarà in mostra al Treviso Comic Book Festival, evento che come al solito propone mostre e ospiti di livello dall'Italia e dall'estero, con focus sul fumetto olandese rappresentato da Joost Swarte e sull'inglese Nobrow.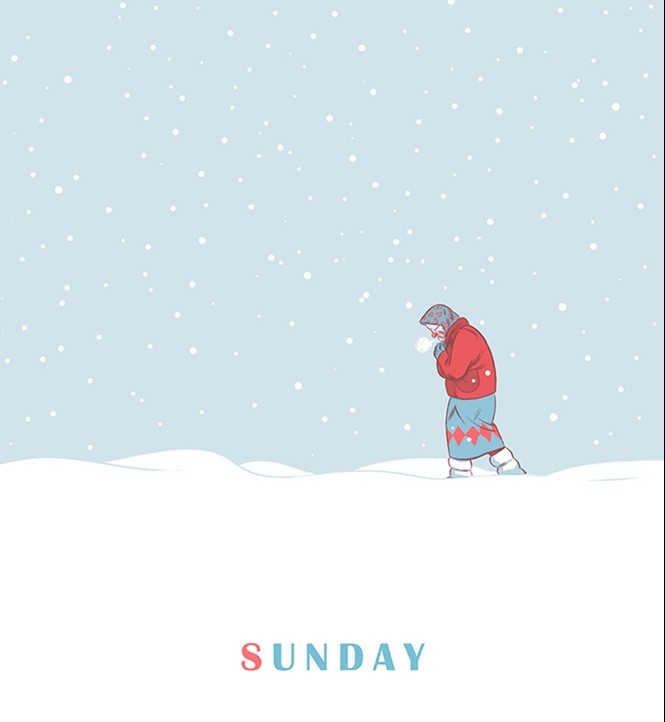 Tra gli ospiti del TCBF c'è anche Paolo Cattaneo, che pubblica in questi giorni per Canicola L'estate scorsa. Sempre il colletivo bolognese fa uscire la prima storia lunga di Vincenzo Filosa, Viaggo a Tokyo. Sono molto curioso di leggerli entrambi.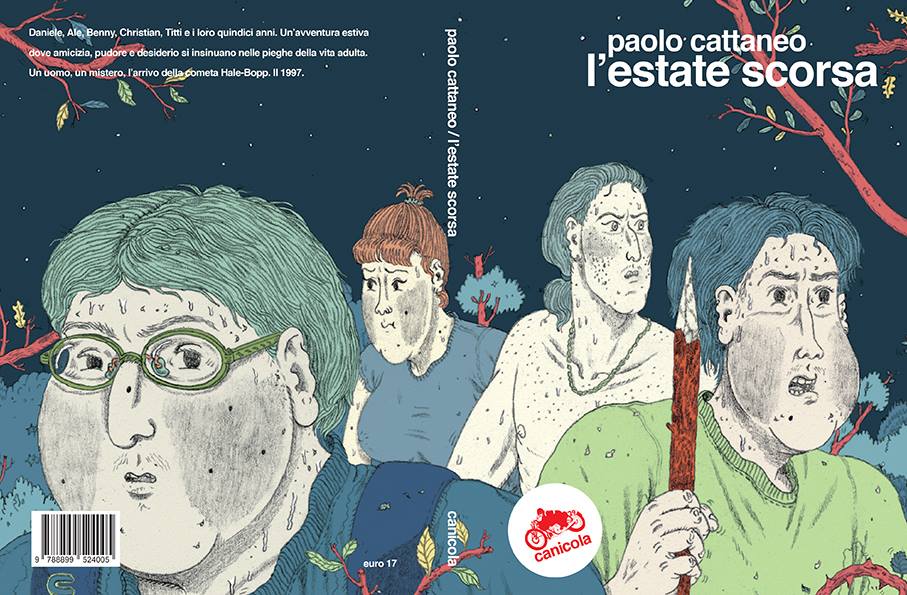 Intanto date un'occhiata a questi due nuovi fumetti dell'argentino Berliac su Vice: Myrra e I Never Was In Mexico.  Ho detto da tempo a Berliac che parlerò di lui più approfonditamente su Just Indie Comics: spero di riuscirci presto, così smetterò di sembrare un fanfarone.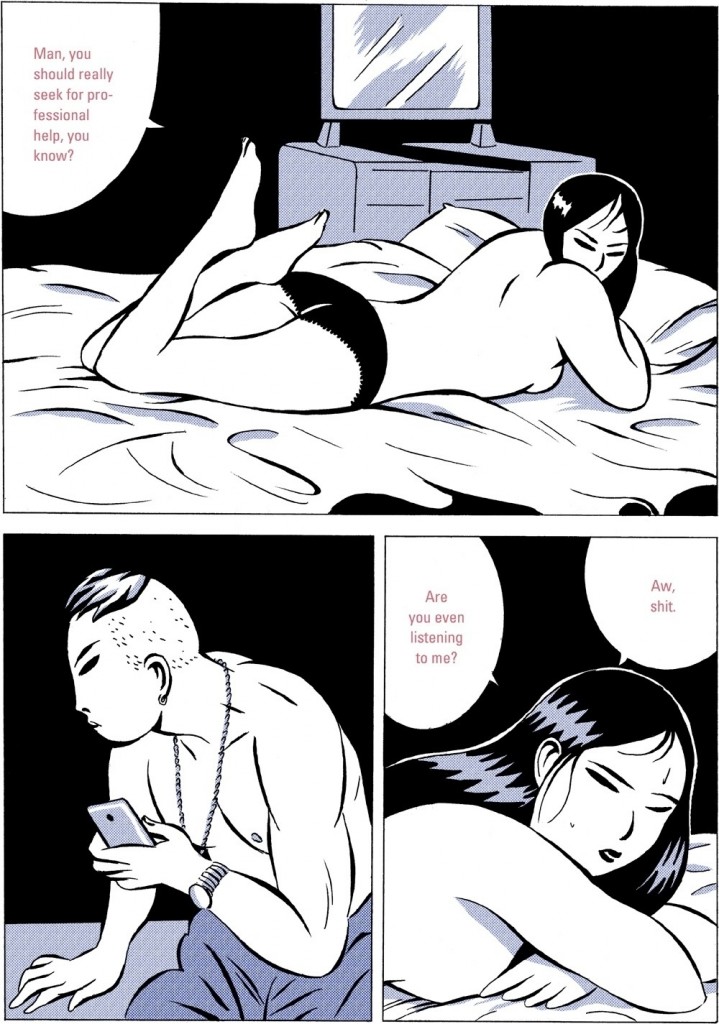 Sul sito di comics journalism Graphic News, Pietro Scarnera disegna XO, An Introduction to Elliott Smith, incentrata sul pezzo Waltz #2. Leggete, guardate e ascoltate, ne vale la pena.
Rob Clough recensisce Truth Is Fragmentary di Gabrielle Bell, J. Caleb Mozzocco parla di Terror Assaulter: O.M.W.O.T. (One Man War On Terror) di Benjamin Marra, Joe McCulloch analizza dettagliatamente il progetto Electricomics che vede tra gli ideatori Alan Moore, Robert Kirby intervista Josh Simmons, Annie Koyama parla dei suoi libri preferiti.
E a proposito di Koyama Press, la primavera canadese sembra decisamente fiorente, con il nuovo libro di Patrick Kyle, una raccolta di zine di Aidan Koch e altre interessanti novità.