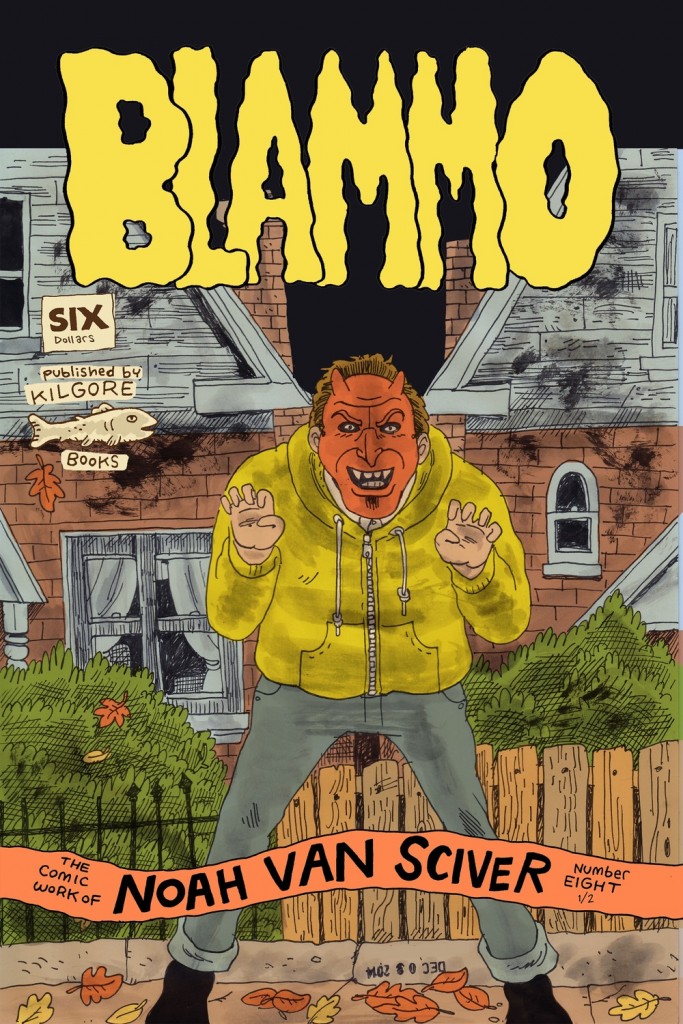 Dimenticate i tipici racconti alla Van Sciver, quelli che vedono protagonisti i suoi loser brutti, sfigati e rovinati dalla vita e che erano la principale attrattiva dei precedenti numeri di Blammo, nonché il cuore dell'antologia Youth Is Wasted (ne ho parlato qui). Come la numerazione lascia intendere, questo ottavo numero e mezzo dell'antologia è un albo atipico, che mette insieme in un bella confezione impreziosita dall'uso del colore una serie di contenuti eterogenei, già pubblicati altrove oppure realizzati per l'occasione.
Il "cuore" di questo albetto, come al solito pubblicato da Kilgore Books, è costituito dai contenuti autobiografici, a partire dai diary comics già visti on line e che, riprendendo la struttura del comic book I Don't Hate Your Guts uscito per 2d Cloud, ne proseguono anche la storia. Se in quell'occasione il sarcasmo spietato e l'ironia affilata di Van Sciver lasciavano spazio al romanticismo, qui assistiamo all'epilogo di quella relazione amorosa, in una serie di pagine dai colori pastello in cui a prevalere è la malinconia. Van Sciver non si mette completamente a nudo, non rivela particolari intimi come farebbero altri autori, ma raccontando piccoli fatti della quotidianità riesce a raggiungere il lettore, a stabilire un'empatia. Disegnati in fretta sul suo sketchbook, questi diari sono per me una delle cose preferite della produzione di Van Sciver e in un'ipotetica classifica dei molteplici "generi" affrontati dall'autore statunitense li metterei al secondo posto, subito dopo le storie dei perdenti di cui dicevo sopra. La tematica della rottura con la sua ex è ripresa in un paio di fumetti che fanno da cornice alle sei pagine di diario, in cui si passa da una malinconia ancora più toccante (in una spendida tavola in cui l'autore ritrova a casa le forcine per capelli della ragazza), alla saggezza dell'amico e collega John Porcellino (nel resoconto di una conversazione telefonica) fino alla disperazione (in una tavola che ritrae l'autore a letto).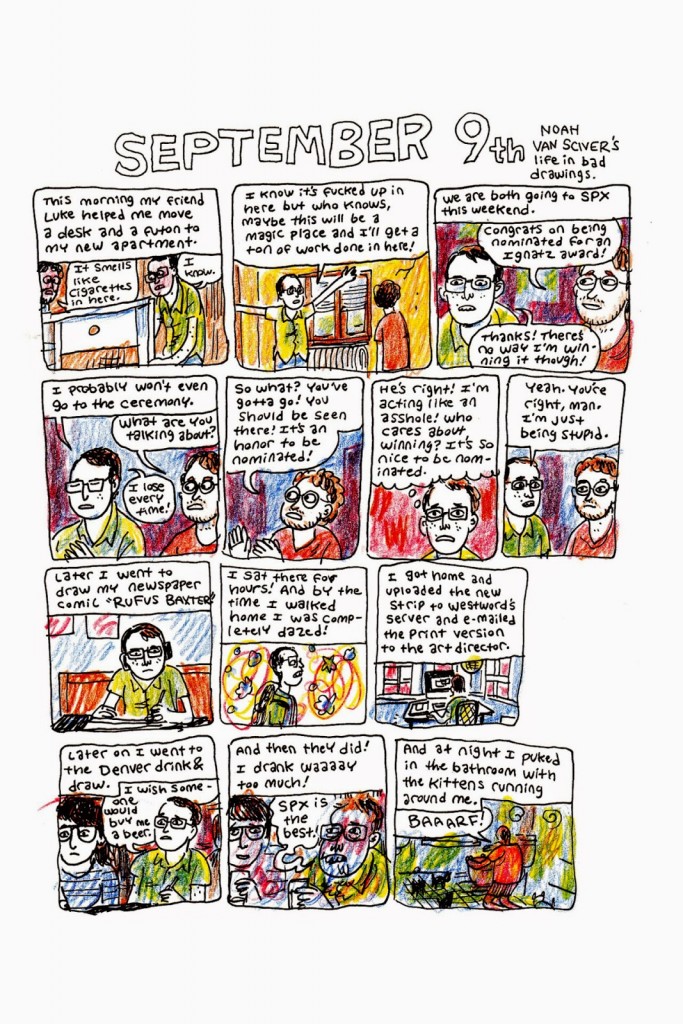 Se tutto questo vi sembra troppo intimista siete fuori strada, perché in questo numero di Blammo c'è molto altro, come un'apparizione speciale di Fante Bukowski (protagonista dell'omonimo libro fatto uscire qualche mese fa da Fantagraphics), un divertente fumetto con protagonista un killer di comunisti – che uccide demoni con la falce e martello stampata sul petto al grido di "better dead than red" – una storia marinara (o presunta tale) piena di mostri, due pagine biografiche (una dedicata addirittura ai Limp Bizkit, chissà perché) e una doppia tavola che ci riporta alle atmosfere del graphic novel The Hypo. Citazione a parte merita la ristampa di alcune strisce uscite per il giornale di Denver Westword, in cui possiamo notare l'abilità di Van Sciver anche come autore di newspaper strip, qui incentrate su temi di volta in volta diversi come la solitudine, i dischi preferiti, la depressione, le sbornie e via dicendo. Tra tutte la mia preferita è quella dedicata all'inverno, con l'inizio cult "I hope this winter is the coldest and darkest on record. I hope the sun goes down at noon and everybody stays indoors and reads". Come non essere d'accordo?
Ah, se qualcuno ancora non lo sapesse Van Sciver sta per debuttare in Italia con il volume Saint Cole, in uscita in questi giorni per Coconino Press.