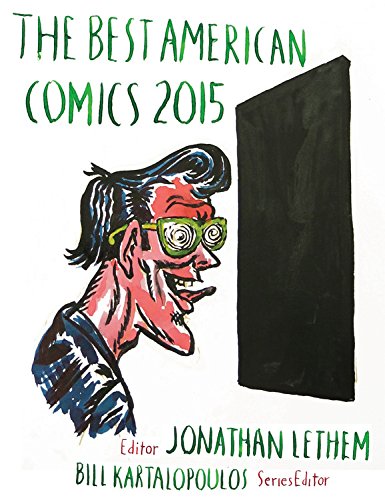 In un mercato ormai dominato dal formato graphic novel, da volumi a fumetti di almeno 200 pagine "altrimenti non te li pubblico", un libro di quasi 400 pagine come l'edizione 2015 di The Best American Comics è al tempo stesso una conferma di come il mercato librario abbia inglobato il mondo del fumetto e un oggetto alieno, capace di portare una ventata di aria fresca. La serie probabilmente la conoscete già, dato che fa parte di una disparata schiera di antologie pubblicata da Houghton Mifflin Harcourt che ha preso il via esattamente cento anni fa con The Best American Short Stories. Il best dedicato al fumetto esiste dal 2006 ed è stato curato nel corso degli anni da Anne Elizabeth Moore, dalla coppia Matt Madden & Jessica Abel e infine da Bill Kartalopoulos, che ne ha preso le redini a partire dall'edizione 2014. Ogni anno l'editor della serie sceglie i migliori fumetti di cartoonist americani pubblicati nel periodo 1 settembre – 31 agosto (in questo caso si tratta del periodo 1 settembre 2013 – 31 agosto 2014) e sottopone una lista degli stessi al guest editor di turno (stavolta lo scrittore Jonathan Lethem), che decide quali pubblicare e quali relegare a una semplice menzione in chiusura nella sezione Notable Comics.
Ma veniamo appunto al volume di quest'anno, che esce martedì 6 ottobre ma che ho già potuto leggere in anteprima. Pur sotto il digeribile formato di corposo hardcover, necessario per renderlo appetibile al mondo delle librerie, The Best American Comics 2015 è in realtà una celebrazione del linguaggio del fumetto nelle sue forme più naturali e spontanee. "I fumetti non combinano solamente il testo e l'immagine – scrive Kartalopoulos nell'introduzione – ma sono il prodotto dell'interazione tra le procedure formali che stanno alla base del testo e dell'immagine: una reazione chimica che attiva e consuma i suoi elementi sostanziali per produrre una terza cosa, del tutto differente. Per questo non è giusto aspettarsi che i fumetti entrino con naturalezza nel mondo dell'editoria letteraria. Spesso i fumetti sono libri, ma lo sono anche Depero Futurista o Une semaine de bonté di Max Ernst. I fumetti sono in grado di mettere insieme la lezione della narrativa e delle arti visive. Come tali, i fumetti devono continuare ad avere la capacità di sembrare alieni e difficili da assimilare all'interno dell'editoria libraria. Questa è un'espressione di ciò che sono. Aspettarsi che i fumetti siano semplicemente dei parenti stretti della narrativa letteraria è soltanto un modo per negarne le vere potenzialità".
Il sommario dell'antologia è una diretta diramazione del concetto espresso qui sopra. Ed è un piacere trovare sotto la dicitura The Best American Comics lavori di cartoonist che vengono dal mondo della micro-editoria o addirittura dell'autoproduzione. C'è così Josh Bayer con un estratto da Theth pubblicato da Retrofit Comics, R. Sikoryak con le copertine seriali di Sadistic Comics edite da Rotland Press, Julia Gfrörer con l'autoprodotto Palm Ash, Andy Burkholder di cui ho già parlato da queste parti a proposito di Qviet (qui con una storia breve tratta dal magazine Believed Behavior), Mat Brinkman con la prima parte di Cretin Keep On Creep'n Creek uscito sull'antologia Under Dark Weird Fantasy Grounds dell'italiana Hollow Press, Alabaster con Mimi and the Wolves (prima autoprodotto e poi ristampato da Hic & Hoc), A. Degen con Crime Chime Noir visto sul primo numero dell'antologia Felony Comics della Negative Pleasure, Kevin Hooyman con estratti dalla serie Conditions on the Ground (recentemente ristampata in volume da Floating World). E la lista degli autori che vengono dal mondo dell'underground non è finita qui, perché potrei citarne molti altri.
Senz'altro la sensibilità di Lethem ha contribuito a selezionare dei fumetti formalmente innovativi, fantasiosi, volutamente irregolari e fuori dagli schemi, non necessariamente e tradizionalmente narrativi. Fumetti che non sono romanzi illustrati ma che guardano più al mondo dell'arte che a quello della letteratura. Non a caso l'autore della copertina è Raymond Pettibon, artista che troviamo anche all'interno del volume e che si inserisce in una preciso modus operandi dell'arte contemporanea, volto a utilizzare il fumetto come linguaggio non da plagiare (come faceva Lichtenstein) ma da inglobare e magari violentare. Kartalopoulos si riferisce alle opere di questa pseudo-corrente nota come paracomics e cita a tale proposito artisti come Sol Lewitt, Ida Applebroog, Jennifer Bartlett, Keith Haring, Duane Michals, Joe Brainard. Io aggiungerei anche il collettivo The Hairy Who, a cui Dan Nadel ha dedicato di recente l'antologia The Collected Hairy Who Publications 1966-1969, di cui spero di riuscire a parlarvi un giorno o l'altro.
Per completezza di informazione bisogna dire che tra i vari Best American Comics ce ne sono alcuni tratti da lavori più noti e convenzionali, spesso sotto forma di estratti. Come per le edizioni passate di questa antologia, non è certo il massimo leggere solamente il capitolo 8 di una voluminosa graphic novel, ma d'altronde non credo ci siano altre soluzioni per includere fumetti "lunghi". E anche nella lista dei Notable Comics ce ne sono parecchi che avrei visto meglio rispetto ad altri qui pubblicati, ma si sa che il gioco del dentro o fuori è valido per ogni "best of" che si rispetti, quindi inutile soffermarsi più di tanto su questo. Oltre agli autori già citati, gli altri sono Roz Chast, Jules Feiffer, Diane Obomsawin, Ben Duncan, Farel Dalrymple, Anders Nilsen, Megan Kelso, Eleanor Davis, Gabrielle Bell, Henriette Valium, Ron Regé Jr., David Sandlin, Rosaire Appel, Ed Piskor, Peter Bagge, Joe Sacco, Jim Woodring, Cole Closser, Jesse Jacobs, Adam Buttrick, Anya Ulinich, Gina Wynbrandt, Esther Pearl Watson, Matthew Thurber, Noel Freibert, Blaise Larmee, Anya Davidson, Erik Nebel. Ah, Lethem dopo essersi già cimentato con la scrittura di un fumetto (con Omega The Unknown per la Marvel), qui si lancia anche nel disegno realizzando le brillanti introduzioni a ogni capitolo del libro. Elemento che aggiunge ulteriore valore a un volume caldamente consigliato, soprattutto se poco conoscete gli autori coinvolti.