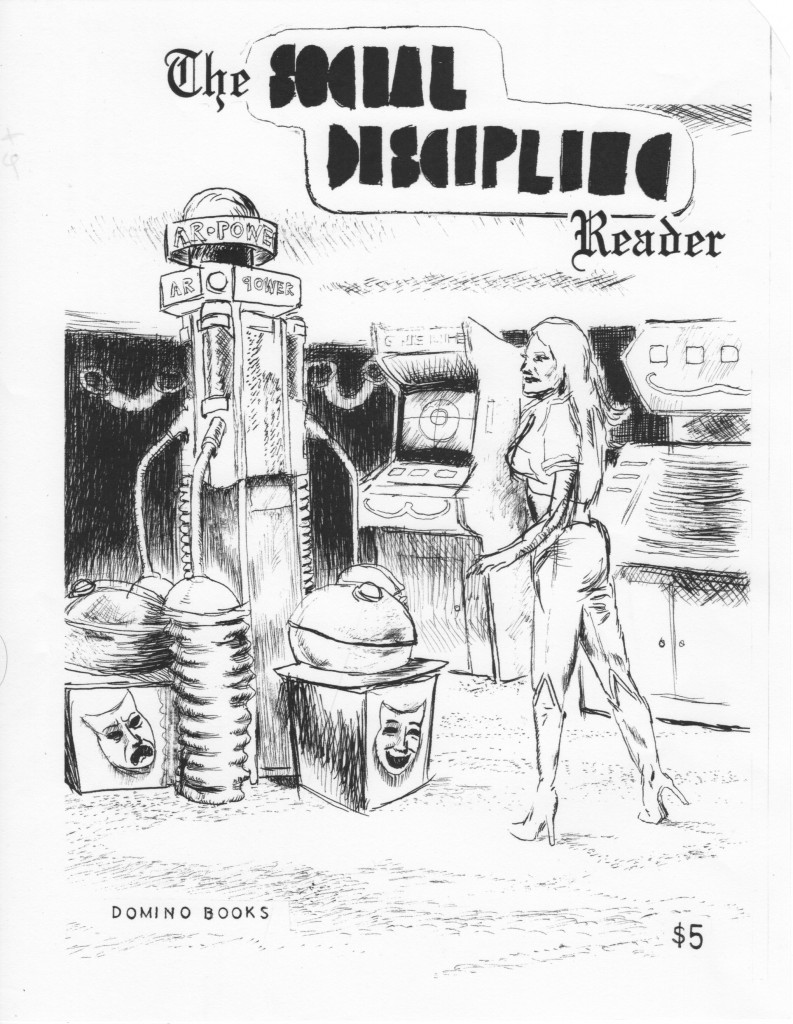 Sempre attenta a proporre un fumetto crudo nel senso vero del termine, fuori dagli schemi della contemporaneità, senza alcuna ambizione commerciale, la Domino Books di Brooklyn è una delle piccole case editrici indipendenti più interessanti del panorama statunitense. Creatura di Austin English, la Domino guarda proprio come il suo patron-cartoonist a un segno grezzo e spontaneo, capace di incidere emozioni e sensazioni sulla pagina rinunciando a ogni tentativo estetizzante e alle carinerie di tanto fumetto odierno. In un mondo in cui ogni stile, anche se diverso da quello dominante, tende a farsi canone fino al punto di sterilizzarsi, gli artisti pubblicati dalla Domino si propongono come esempi di purezza e unicità espressive con pochi eguali. Ne è esempio la produzione di E.A. Bethea, che ho già analizzato tempo fa in questo post.
Non poteva sfuggire alle attenzioni di English l'arte di Ian Sundahl, al confine tra fumetto, poesia e letteratura, pregna di un segno volutamente grezzo, frutto di una ricerca estetica originale. Sundahl sa disegnare e si vede, soprattutto quando sceglie linee libere e intense, ma a volte preferisce affidarsi a forme soltanto abbozzate e imperfette, in armonia con la materia di questi fumetti – storie torbide di outsider, prostitute e balordi ambientate tra bar poco illuminati, strade polverose ai confini della città, sale da gioco. Sundahl è un artista di Portland che finora si è autoprodotto otto numeri della sua zine Social Discipline. English l'ha notato e ha messo insieme questo The Social Discipline Reader, una sorta di "best of" di 40 pagine pubblicato in un'edizione spillata forse sin troppo essenziale ma che è comunque specchio di un approccio diretto e senza fronzoli.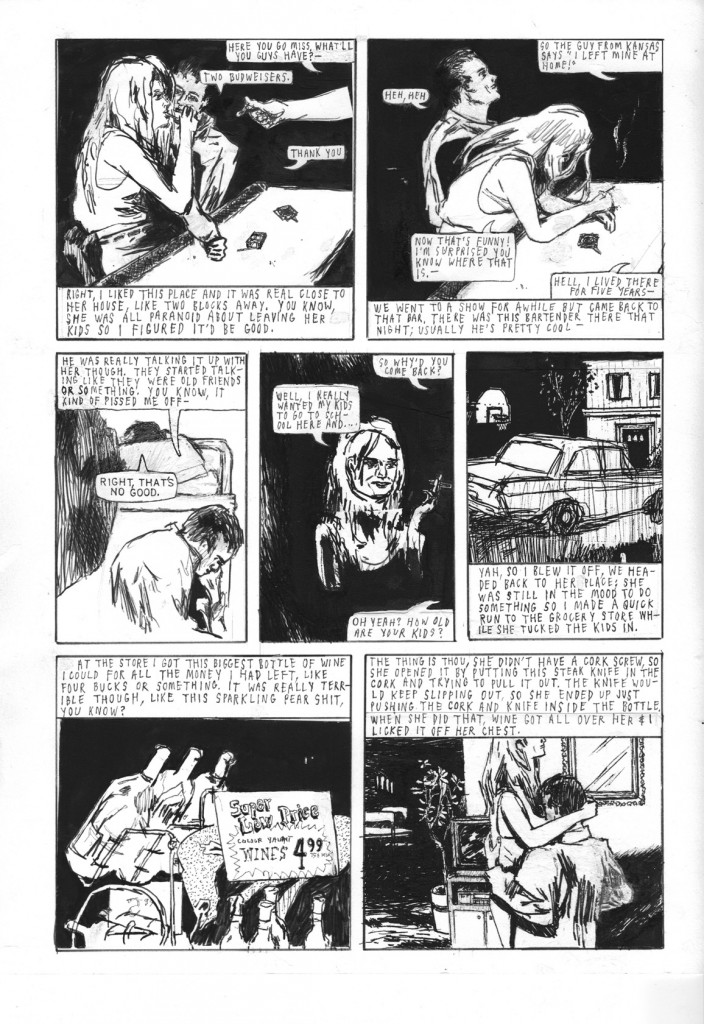 L'albo è uno zibaldone di storie brevi, illustrazioni, saggi disegnati. Si va dall'adattamento in chiave moderna del torbido memoir ottocentesco My Secret Life a Where You Are King – quattro pagine dense e notturne in cui un carcerato racconta una storia di sesso, gelosia e infine violenza – passando per una serie di illustrazioni di persone sedute davanti a slot machine, riproduzioni di foto scattate per strada, due pagine sui tacchi che riprendono il tema della fanzine Heelage curata dallo stesso Sundahl. Il tono è a volte assolutamente prosaico ("Niente è così delizioso quanto l'intimità che si stabilisce tra un uomo e una donna con una scopata" inizia uno dei brani tratti da My Secret Life), altre quasi trascendentale nel raffigurare uomini e donne come giocattoli in mano al fato, che si tratti di personaggi soggiogati dalle forme imponenti delle slot machine del Nevada o di misteriose apparizioni di navi fantasma.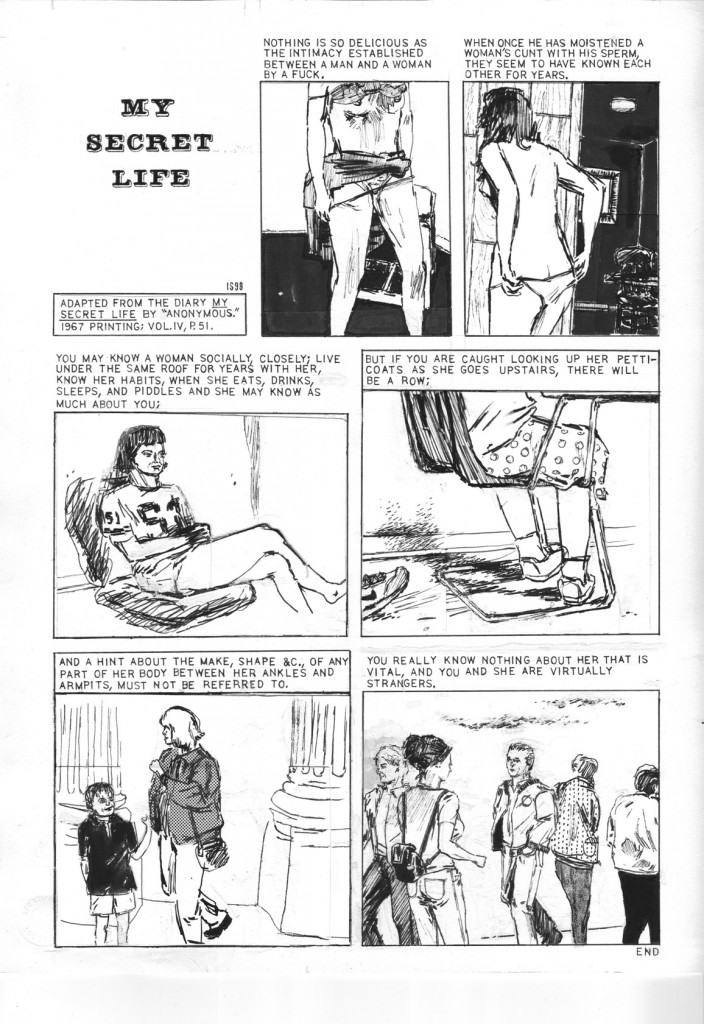 Affascinato dal mondo raccontato da Ian Sundahl, viscerale come solo certa letteratura e poco fumetto sanno essere, ho deciso di inviare una copia di The Social Discipline Reader a tutti gli abbonati del Just Indie Comics Buyers Club. Gli altri possono invece trovarlo nella sezione Domino Books del webshop. Buona lettura.