by Corinne Halbert*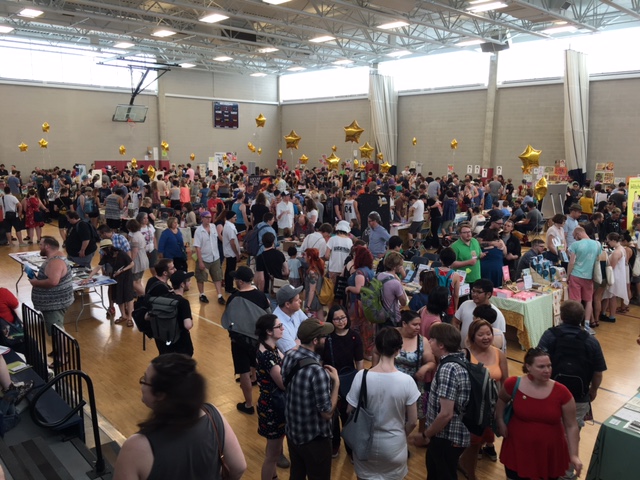 CAKE 2016 was a huge success and a ton of fun, here are some highlights from the 5th installment of the Chicago Alternative Comics Expo.
Chester Brown was signing books and celebrating his newest Graphic Novel Mary Wept Over the Feet of Jesus at the Drawn and Quarterly Table. Leslie Stein and Paco Roca were at the Fantagraphics table. John Pham and Sammy Harkham were slinging the fantastic Kramers Ergot #9 as well as several gorgeous books by Pham. Gabby Schulz was at the Secret Acres table signing his new gut wrenching and exquisitely rendered Graphic Novel Sick. Sacha Mardou and Ted May were at Alternative Press/Revival House Press table. Sadly Trina Robbins had to cancel her appearance due to health issues but Scottish Cartoonist Eddie Campbell, creator of From Hell was able to make a guest appearance and fill in for her panel. Ed Luce of Wuvable Oaf had so many fantastic publications. Krystal DiFronzo created the artwork for CAKE 2016 and had beautiful books available at her table with the amazingly talented Lale Westvind tabling right next to her.
Quimby's, the legendary Chicago bookstore, celebrated their upcoming 25th anniversary with a panel discussion with Liz Mason, Gabby Schulz and Laura Park moderated by Jake Austen. Chris Gooch and Sarah McNeil from Melbourne Australia were the CHIPRC inbound TRANSIT artists in residence. Sparkplug Books celebrated 14 years of excellent publications and Cathy G. Johnson lead a roundtable discussion about journal comics.
There were so many great small publication debuts this year at CAKE. Jon Drawdoer had his comic hello, Anya Davidson with her gorgeous comic Gloom Planet risographed by Perfectly Acceptable Press, Lisa Hanawalt with her book Hot Dog Taste Test, Lane Milburn with Broken Panels #1 , Victus #4 by Tyrell Cannon, Bad Dog!!/Good Kitty! by Mike Freiheit and Isabella Rotman, Coin-Op #6 by Peter and Maira Hoey to name a few.  A more extensive list can be found here. There were even more debuts than the 30 listed as I know there were artists working up till the last minute to finish up their books.
To mention a few Chicago staples Trubble Club was there debuting their amazing Nate Beaty themed comic Tiger Beaty. Prolific illustrator and comics artist JB Roe was representing Chicago but hanging with the incredibly cool Providence publishers Hidden Fortress Press. Dynamite illustrator and comic's creator Johnny Sampson had his killer debut Total Fuck Up. Onsmith and Nudd were stirring up trouble as usual and Laura Park had her gorgeous debut Do Not Disturb My Waking Dream #5.
Spudnik Press was slinging fabulous publications as usual and Tan and Loose Press had some sexy ass prints for sale. Keith Herzik creator of Alamo Igloo had incredible hand-screen printed books and posters available and Eddy Rivera had his sexy anthology zine Puddin #3 on debut.  Scott and Keiler Roberts, Brad Rohloff, Chloe Perkis, Grant Reynolds, Brett Manning, The Ladydrawers, Odin Cabal, Jonathan Bell Wolfe, Cathy Hannah, Gina Wynbrandt, Kevin Budnik, Chris Cilla, Math-you-Land-vote, Jessica Campbell, Danielle Chanette, Josh Cotter, Henry Guerra, Amy Peltz, Tony Breed, Radiator Comics, RJ Casey of Yeti Press, Dave Scheidt, Scott R. Miller, Ian McDuffie, Matt Davis of Perfectly Acceptable Press and Kelsey Choo were all there with beautiful books  to list some more.
I'd like to take a moment to mention some of the current core organizers of CAKE. Jeff Zwirek, Neil Brideau, Max Morris, Ben Bertin and Alli Alleman. Without their tireless efforts and undying commitment to the alternative comics community in Chicago CAKE wouldn't be possible. They are all wonderful, generous and devoted people and their continued support of artists both local and from all around the world should be recognized and celebrated.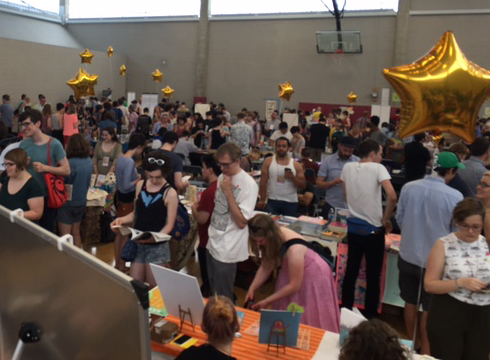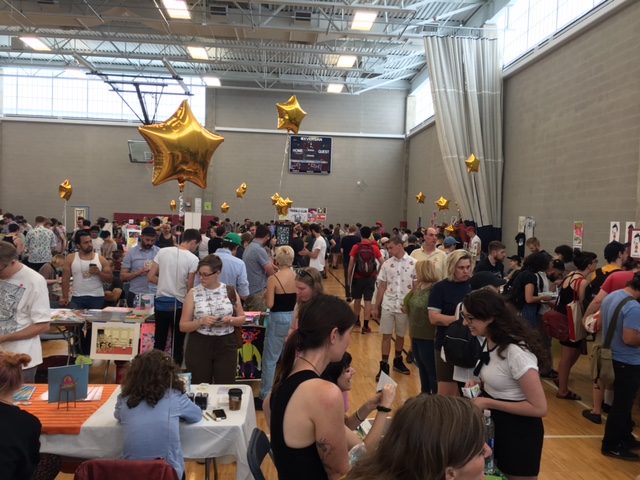 In addition to support the core organizers are the other kick-ass CAKE coordinators Jessica Campbell, Brian Cremins, Mike Freiheit, Amy Peltz, Chris Lopez, Matthew Brady, Isabella Rotman, Henry Guerra, KT Hawbaker-Krohn, Marnie Galloway, Jon Mastantuono. There were too many talented artists to list them all! Thanks to everyone who made it out to CAKE 2016, I hope to see you all in 2017!
*Corinne Halbert is one of CAKE coordinators and exhibited at the show with her mini-comics Honey, Hate Baby and Bad Touch (the latter in collaboration with Scott R. Miller). Below Corinne at her table and her haul at the festival.