Seconda edizione per il Just Indie Comics Buyers Club, l'abbonamento che ho lanciato lo scorso anno per sostenere il negozio on line in cui distribuisco materiale americano difficilmente reperibile in Europa, oltre che vari prodotti italiani ed europei di case editrici e micro-realtà editoriali a me affini. La formula è la stessa del 2016 e quindi più o meno ribadisco quanto scritto circa 365 giorni fa. Chi aderirà entro il prossimo 10 gennaio riceverà uno o due fumetti ogni tre mesi, a seconda della tipologia di abbonamento scelto, e avrà inoltre diritto a uno sconto del 10% su tutto il materiale ordinato dal sito nel corso del 2017 tramite un apposito codice promozionale. La prima spedizione sarà tra gennaio e febbraio, le successive ad aprile, luglio e ottobre. I fumetti saranno per lo più americani, a volte europei, ma sempre e comunque in lingua inglese. Come accennato, esistono due soluzioni per aderire al Just Indie Comics Buyers Club. La prima, quella più economica, viene 40 euro e dà diritto a ricevere un albo a trimestre, spese di spedizione tramite piego di libro ordinario incluse. La seconda, che invece è la versione estesa dell'abbonamento, consentirà di avere in ogni invio due fumetti, per un totale di otto albi annui, e costa 70 euro, con la spedizione sempre inclusa.
Il primo fumetto sarà uguale per tutti gli abbonati. L'anno scorso avevo scelto Frontier #10 di Michael DeForge, mentre quest'anno ho selezionato Blammo #9 di Noah Van Sciver, recente uscita dell'antologia personale dell'autore di Saint Cole e Fante Bukowski, visti in Italia per Coconino. Si tratta di un albo di 48 pagine che ben rappresenta lo spirito del Buyers Club, cioè quello di far leggere fumetti fuori dalle ormai preponderanti dimensioni del graphic novel, curiosi, originali, estemporanei, sperimentali e di difficile reperibilità. Blammo è in particolare un'antologia realizzata da un solo autore, una formula molto usata fino a qualche anno fa ma che ora è sempre meno diffusa. Il nuovo numero è uno dei migliori se non il migliore in assoluto del lotto, con storie autobiografiche, racconti di una tavola, adattamenti di favole e la classica pagina delle lettere. E con due storie più lunghe, White River Junction, Vermont e Little Bomber's Summer Period che sono tra le cose più riuscite della produzione di Van Sciver.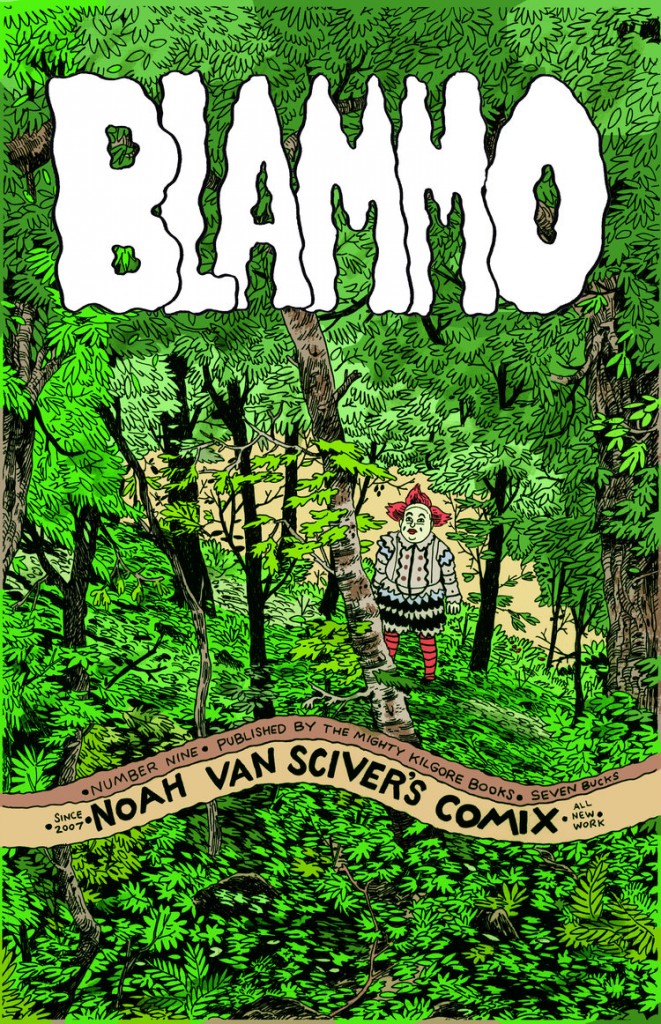 Gli altri invii saranno invece a sorpresa. Potrete trovare degli spillati di piccolo o grande formato, volumi, volumetti, antologie, tabloid e così via, pubblicati da piccole case editrici indipendenti o autoprodotti. Non tutti riceveranno gli stessi albi perché le quantità sono limitate ma se qualche abbonato avrà delle richieste specifiche sono aperto a suggerimenti e idee. Per farvi capire qual è il materiale che vi aspetta, ecco una lista dei fumetti inviati lo scorso anno agli abbonati, con tanto di link quando se ne è parlato su Just Indie Comics o quando sono ancora disponibili nello shop: Frontier #10 di Michael DeForge, The Social Discipline Reader di Ian Sundahl, Rough Age di Max de Radigués, Hellbound Lifestyle di Alabaster Pizzo e Kaeleigh Forsyth, Pope Hats #4 di Ethan Rilly, Immovable Objects di James Hindle, Felony Comics #1, Drawn Onward di Matt Madden, Windowpane #3 di Joe Kessler, Ganges #5 di Kevin Huizenga, Gloom Planet di Anya Davidson, 3 New Stories di Dash Shaw, Blammo #8.5 di Noah Van Sciver, Ritual #2 di Malachi Ward, Lydian di Sam Alden, Fedor di Pat Kelley, Mould Map #5, World in the Forcefield di Alexander Tucker, King Cat #76 di John Porcellino, Pure Shores di Jaakko Pallasvuo, Middle School Missy di Daryl Seitchik, It Never Happened Again di Sam Alden, Space Basket di Jonathan Petersen.
Qui sotto trovate i link per abbonarvi. Ripeto, se vi interessa affrettatevi perché sarà possibile aderire SOLTANTO FINO AL 10/01/2017. L'offerta con queste modalità è valida per i soli residenti in Italia, se invece siete residenti all'estero e siete interessati potete contattarmi a justindiecomics [at] gmail [dot] com e vedrò cosa si può fare.
JUST INDIE COMICS BUYERS CLUB LARGE