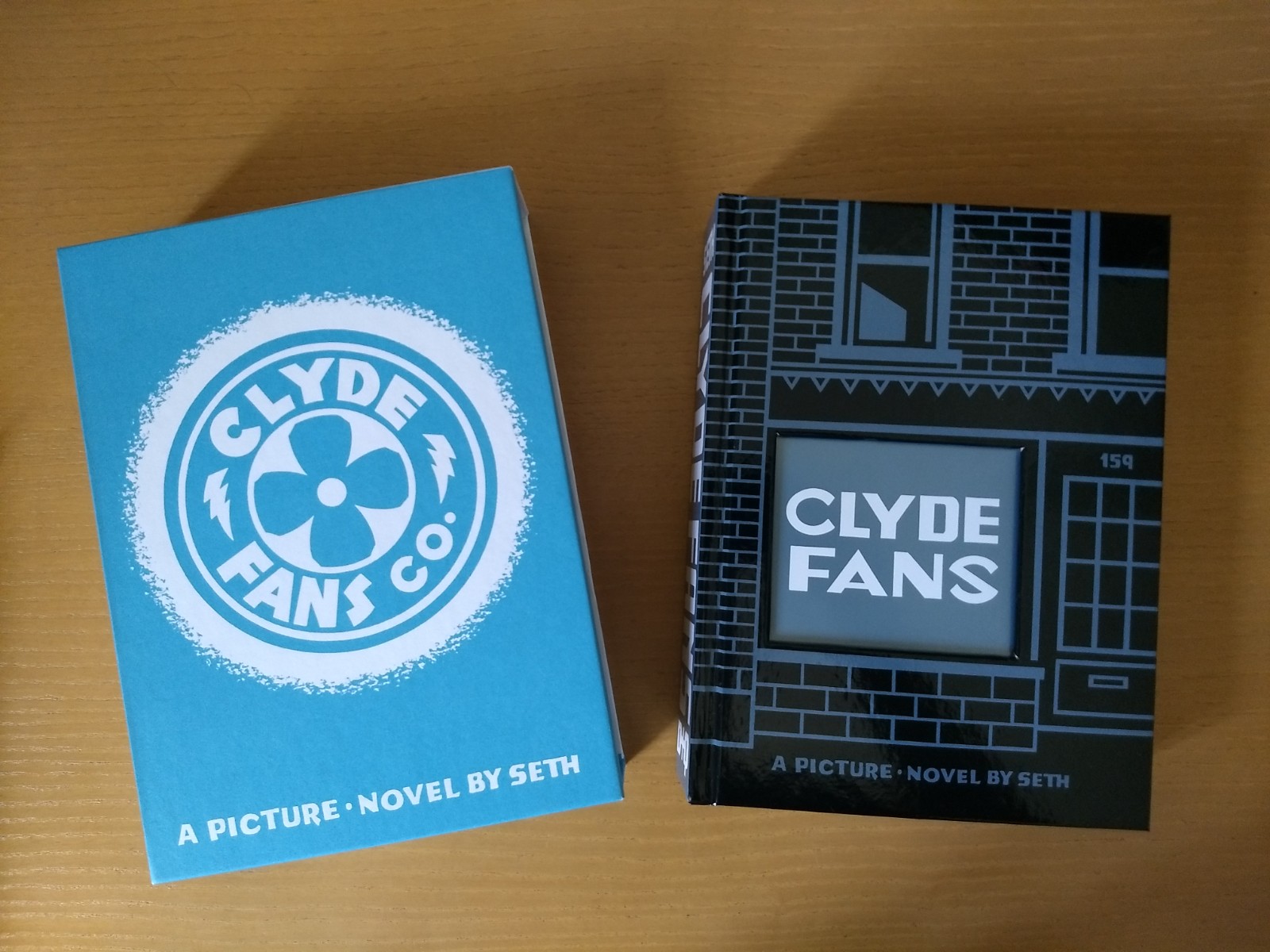 E' arrivato da qualche giorno nelle mie mani il volume di Clyde Fans di Seth, la storia serializzata dall'autore canadese sulla sua serie Palookaville nel corso degli ultimi vent'anni. Era infatti il 1997 quando usciva per Drawn & Quarterly Palookaville #10, con il primo capitolo dei "Ventilatori Clyde". Seth aveva appena finito la sua prima narrazione lunga, It's a Good Life, If You Don't Weaken, già raccolta in volume nel settembre del 1996. E se non sbaglio fu proprio quel volume il mio primo acquisto di un'opera interamente a firma Seth, anche se forse avevo già visto qualcosa di suo in qualche antologia Drawn & Quarterly. La storia mi colpì immediatamente. Al tempo andavano tantissimo i fumetti autobiografici, su cui la stessa casa editrice di Montreal aveva costruito la sua fortuna, ma Seth andava oltre, raccontando una vicenda apparentemente reale ma basata su un pretesto del tutto inventato. Ora non ricordo di preciso quando esattamente acquistai questa prima edizione della "picture novella" di Seth, fatto sta che per un motivo o per l'altro persi i numeri dal 10 al 12 di Palookaville, che contenevano appunto la prima parte di Clyde Fans. Cominciai infatti a collezionare la serie, allora spillata, dal #13, per poi recuperare quei primi tre numeri in una raccolta fatta uscire da Drawn & Quarterly poco dopo. La stessa raccolta fu pubblicizzata in Palookaville #16 come un "giant-sized comic book" in cui "un vecchio parla da solo per 70 pagine. E potrebbe essere noioso proprio come sembra". Ed era proprio così. In quel primo capitolo Abraham Matchcard raccontava la sua storia camminando per casa sua. E il monologo era andato avanti, esattamente uguale, con lo stesso ritmo, per tre comic book. Chi aveva fatto prima qualcosa del genere? Chi era stato così coraggioso da tentare in tutti i modi di annoiare il lettore? Non ho una cultura fumettistica così ampia da affermarlo con sicurezza, ma probabilmente nessuno. Il primo capitolo di Clyde Fans è come il finale dell'Ulisse, Blue di Derek Jarman, The Sraight Story di Lynch o la lunghissima nota a margine di Infinite Jest di David Foster Wallace. Un esperimento formale che sfida il pubblico nel tentativo di catturarlo oppure perdendolo per sempre. Un esperimento che per altro è stato anche adattato sotto forma di monologo teatrale, con protagonista l'attore William Webster, in occasione della presentazione del volume di Clyde Fans lo scorso 8 maggio all'Art Gallery of Ontario di Toronto (qui un breve reportage fotografico).
Non è tutto così Clyde Fans, anzi. Ognuno dei cinque capitoli ha un tema e una forma diversa, creando una macro-struttura più ampia incentrata sulla vita dei due fratelli Matchcard, Abraham e Simon, proprietari di una società di ventilatori. Sulla psiche estremamente complessa di entrambi, le loro dinamiche interpersonali e il rapporto con la madre si dilungano queste 450 pagine che rappresentano uno dei capolavori del fumetto di sempre. Seth approfondisce una serie di temi: la solitudine e l'isolamento innanzitutto, ma anche la depressione, la chiusura in se stessi, la difficoltà nell'affrontare gli aspetti più pratici della vita, il tempo che passa, i cambiamenti tecnologici, il fascino quasi perverso della nostalgia, la suggestione per una dimensione che potremmo definire "mistica" e che esiste (forse) al di là della realtà tangibile. L'autore mette in mostra nei due fratelli Matchcard aspetti della sua personalità e della sua biografia, estremizzandoli e rendendoli di nuovo fiction, come già aveva fatto in It's A Good Life. Non succede niente di così clamoroso e tragico nel senso tradizionale del termine in Clyde Fans eppure alla fine sembra che tanto sia successo, almeno dentro noi lettori. Si tratta di una storia graffante, che smentisce ancora una volta la visione di Seth come un autore nostalgico e leccato mostrando gli aspetti più aspri e visionari della sua arte.
Mi fermo qui, anche perché questa non vuole essere una recensione: Clyde Fans è un'opera così complessa che per renderle un degno servizio bisognerebbe dilungarsi per pagine e pagine. Tuttavia cercherò di approfondirne altri aspetti nei futuri post, avvicinandomi pian piano alla pubblicazione italiana dell'opera, già annunciata da Coconino.