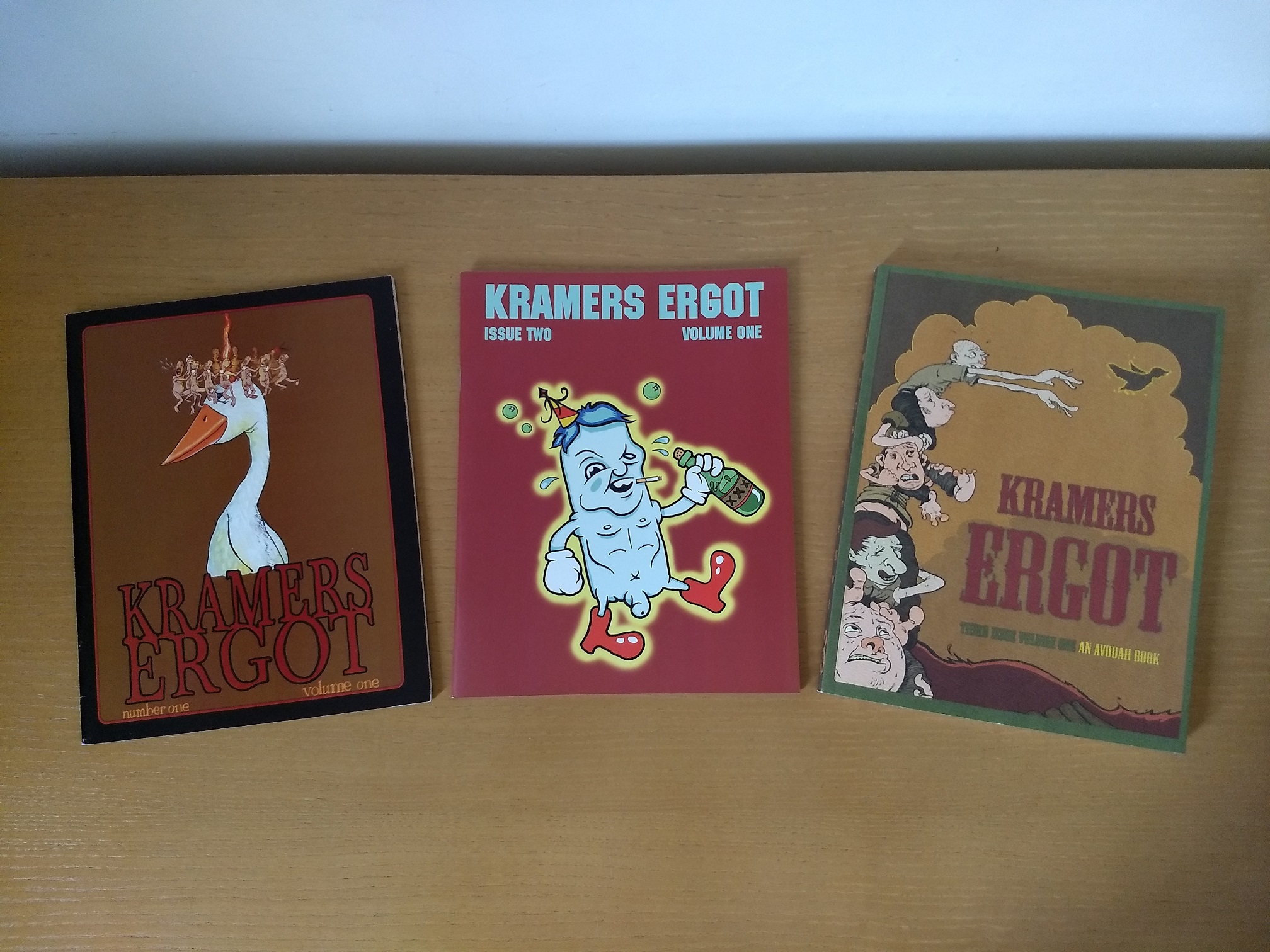 Con questo post iniziamo a dare un'occhiata a qualche fumetto fondamentale del passato, sperando di avere tempo, voglia e forza di portare avanti questa lodevole – me lo dico da solo – iniziativa. Come anticipato qualche tempo fa presentando la nuova "linea editoriale" di Just Indie Comics, non saranno analisi dettagliate, ma solo delle schede che avranno lo scopo di ripescare alcune "pietre miliari" o delle "chicche" uscite ormai da qualche anno. Cominciamo ripercorrendo le varie incarnazioni dell'antologia Kramers Ergot, fondata e curata dal cartoonist Sammy Harkham, e che nel corso degli anni ha cambiato filosofia, formato, editori, facendo la storia del fumetto alternativo americano del terzo millennio.
In realtà i primi numeri di Kramers non sono quelli arrivati fino a noi, dato che questo curioso titolo era già stato utilizzato per una delle fanzine fotocopiate prodotte da Harkham durante gli anni del liceo, alcune in Australia (dove la famiglia dell'autore si era trasferita per un periodo), altre al ritorno a Los Angeles insieme appunto a David Kramer. Oltre che al cognome del socio, che poi condividerà con Harkham anche l'avventura della libreria Family di Los Angeles, il titolo era ispirato alla canzone Ergot dei Big Black, dall'album Songs About Fucking del 1987. Le fanzine contenevano disegni, fumetti di amici, contenuti "rubati" da altre fonti e tante interviste a band e musicisti, tra cui Will Oldham. Il primo Kramers Ergot "ufficiale" risale invece al 2000 ed è ancora autoprodotto da Harkham sotto la sigla Avodah Books. L'albetto – formato 18 x 24 cm, spillato e di sole 48 pagine – ha poco in comune con quanto si vedrà in seguito, soprattutto a partire dal #4. Harkham, classe 1980, è giovanissimo e il suo stile è ancora immaturo, in più i fumettisti coinvolti sono tutti suoi amici o conoscenti: è il caso di David Brooke, compagno di scuola dei tempi dell'Australia, Justin Howe, un amico del fratello, e Luke Quigley, collega al California Institute of the Arts nella classe di animazione sperimentale. Quigley firma anche la cover del secondo numero, che replica del tutto formato e foliazione del precedente.
Diciamolo chiaramente, non succede niente di particolarmente eccitante in questi primi due numeri. Il materiale è ancora acerbo e la selezione inevitabilmente eterogenea e parziale. La curiosità va rivolta dunque soprattutto alle prime prove di un giovane Harkham, molto diverso dal cartoonist definito e consapevole che cominceremo a vedere a partire da Poor Sailor. Si tratta di un autore che non ha ancora assorbito la lezione dei classici come Roy Crane e Frank King, fondamentali per il futuro sviluppo del segno. Qui i riferimenti sembrano essere per lo più il Dave McKean di Cages o l'Al Columbia di The Biologic Show, che vengono alla mente guardando la storia di una pagina A Wound is an Inherently Disruptive Force o anche il primo capitolo di Where The Sun Still Shines, storia in due puntate che occupa ben 43 pagine tra Kramers #1 e #2, rimandando con le sue atmosfere metropolitane tra il noir e il grottesco al Metropol di Ted McKeever, con qualche eco del Mazzucchelli di Rubber Blanket. Lo stile del giovane Harkham è spesso incerto, a volte caotico e ricco di linee, altre più pulito e ordinato, oscillando inoltre tra una ricerca del realismo e i primi tentativi di rappresentazione simbolica della realtà attraverso gli strumenti tipici delle strip a fumetti. In tal senso gli episodi che lasciano presagire i prossimi interessantissimi sviluppi sono Hearing is not Enough (tre pagine da Kramers #1) e il secondo capitolo di Where The Sun Still Shines, che comincia a far vedere un tratto più rotondo e pulito.
Kramers #3 mantiene le stesse dimensioni 18 x 24 dei precedenti ma aumenta la foliazione a 128 pagine introducendo di conseguenza la brossura. Si tratta senza ombra di dubbio del numero più riuscito di questo primo lotto, in cui si vedono i prodromi dell'antologia che sarà. Harkham non pesca più tra conoscenze e amicizie, ma mette in moto la sua proverbiale curiosità per cercare quanto di più interessante si muove nel sottobosco statunitense, coinvolgendo nomi oggi ben conosciuti come Anders Nilsen (con gli assurdi e divertenti dialoghi tra Birds) e Hans Rickheit (quest'ultimo arrivato anche in Italia via Eris con The Squirrel Machine). La nota più importante è però il debutto di autori sperimentali come Ben Jones e Joe Grillo, legati alla scena Fort Thunder/Paper Radio/Paper Rodeo, da cui Harkham attingerà a piene mani per il numero successivo. Oltre a questi appena citati, nel volume troviamo Mark Burrier, Stefen Gruber, Kathleen Lolley, Neil Fitzpatrick, Zack Soto, Sara Varon, Luke Quigley, Mat Tait. Conclude il libro lo stesso editor con le 13 pagine di The Last Laugh, l'ennesima storia dell'amante illuso (e deluso) che è una costante delle sue primissime produzioni, caratterizzata da uno stile finalmente neoclassico, più vicino a quello con cui lo identifichiamo ancora oggi.
E per ora è tutto. A risentirci tra qualche giorno, settimana, mese o chissà con un altro episodio della rubrica Dagli archivi, in cui si parlerà di Kramers Ergot #4.