Come promesso qualche tempo fa, arriva nel webshop di Just Indie Comics Bubbles, fanzine statunitense che dopo aver debuttato all'inizio di quest'anno è già giunta alla terza uscita. Non mi dilungo troppo sul progetto in sé, che ho già illustrato in questo post, ma vi lascio piuttosto al sommario di questi primi tre numeri, in modo da farvi scegliere con la massima trasparenza se comprarli tutti, uno in particolare o addirittura nessuno. Da parte mia confermo soltanto la bontà del progetto e il fatto che oggi è ancora di più un piacere sfogliare e leggere una fanzine vecchio stampo.
Bubbles #1, marzo 2019 (disponibile qui)
Speciale Blast Books con storia della casa editrice, interviste alla fondatrice Linda Lindgren e a Hiroo Yamagata, traduttore dal giapponese all'inglese di Hell Baby di Hideshi Hino.
Intervista a James Hudnall, traduttore dell'edizione Viz di Mai, the Psychic Girl.
Interviste a Jesse Poimboeuf, Steve Sweet e Steve Cunningham, gli autori di Music from Nancy, curioso tentativo di adattare la striscia a fumetti di Ernie Bushmiller in uno spettacolo musicale. Questo numero della fanzine include anche un inserto di 16 pagine che riproduce il libretto della performance del 1979 (che potete vedere anche su You Tube: https://www.youtube.com/watch?v=QkX2-LncA0M).
Ebay Finds, rubrica dedicata alle curiosità trovate su Ebay in qualche modo legate al mondo del fumetto.
Intervista a Shades7000, uno dei membri della comunità You're Welcome Scans, che mette on line la traduzione in inglese di alcuni manga.
Comic You Should Read, con mini-recensioni di fumetti di Lale Westvind, Patrick Kyle, Abraham Diaz e altri.
The Road Home, traduzione di una storia breve della giapponese Tsurita Kuniko, il cui Flight è uscito anche da noi per Coconino.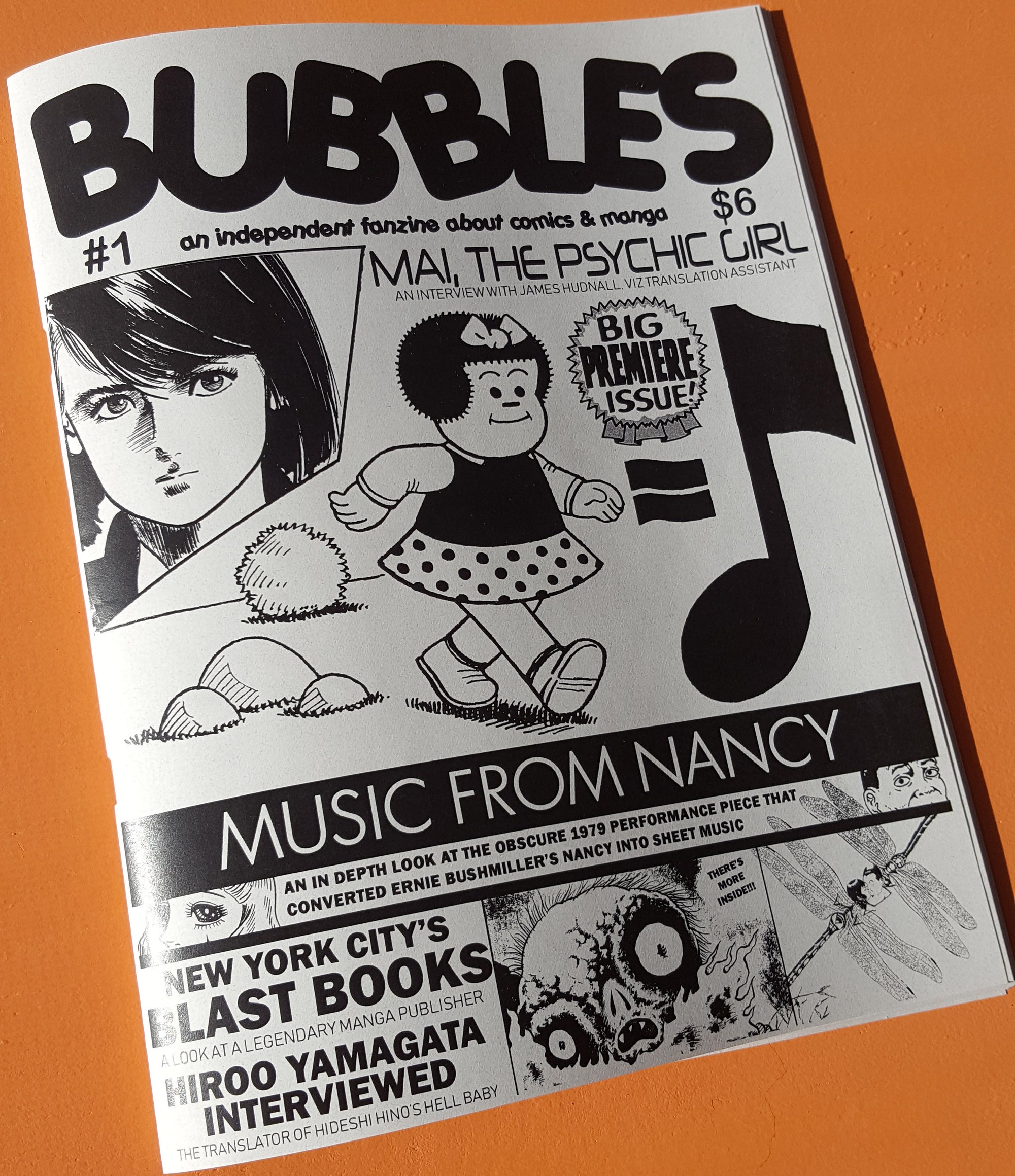 Bubbles #2, maggio 2019 (disponibile qui)
Mail Bin, la pagina delle lettere.
Talking "Kramers Ergot" with Sammy Harkham: l'editor e cartoonist di Los Angeles parla della storia dell'antologia, recentemente arrivata al decimo numero pubblicato da Fantagraphics.
Un fumetto di una pagina a firma Jordan Chu.
Ancora Ebay Finds, con il fermacravatte di Yellow Kid, una spilletta del 1972 della Ec Comics, una risposta a un fan da parte di Steve Ditko ("Dear Jeffrey, no answer for your questions – Steve Ditko") e altro ancora.
Intervista al "comic scholar" Thomas Inge.
Un breve articolo su The Family Circus di Bil Keane.
Intervista a Katharine Gates, fondatrice dell'etichetta Gates of Heck, che ha pubblicato tra le altre cose l'edizione originale di Facetasm, libro di illustrazioni che ha visto collaborare Charles Burns e Gary Panter, e la mega strip collettiva The Narrative Corpse.
Altra pagina di fumetto, questa volta a firma Rellie Brewer.
Un'occhiata a tre diverse edizioni di Delirius di Druillet.
La rubrica Comic You Should Read, con fumetti di Bill Griffith, Tom Scioli, Josh Pettinger e altri.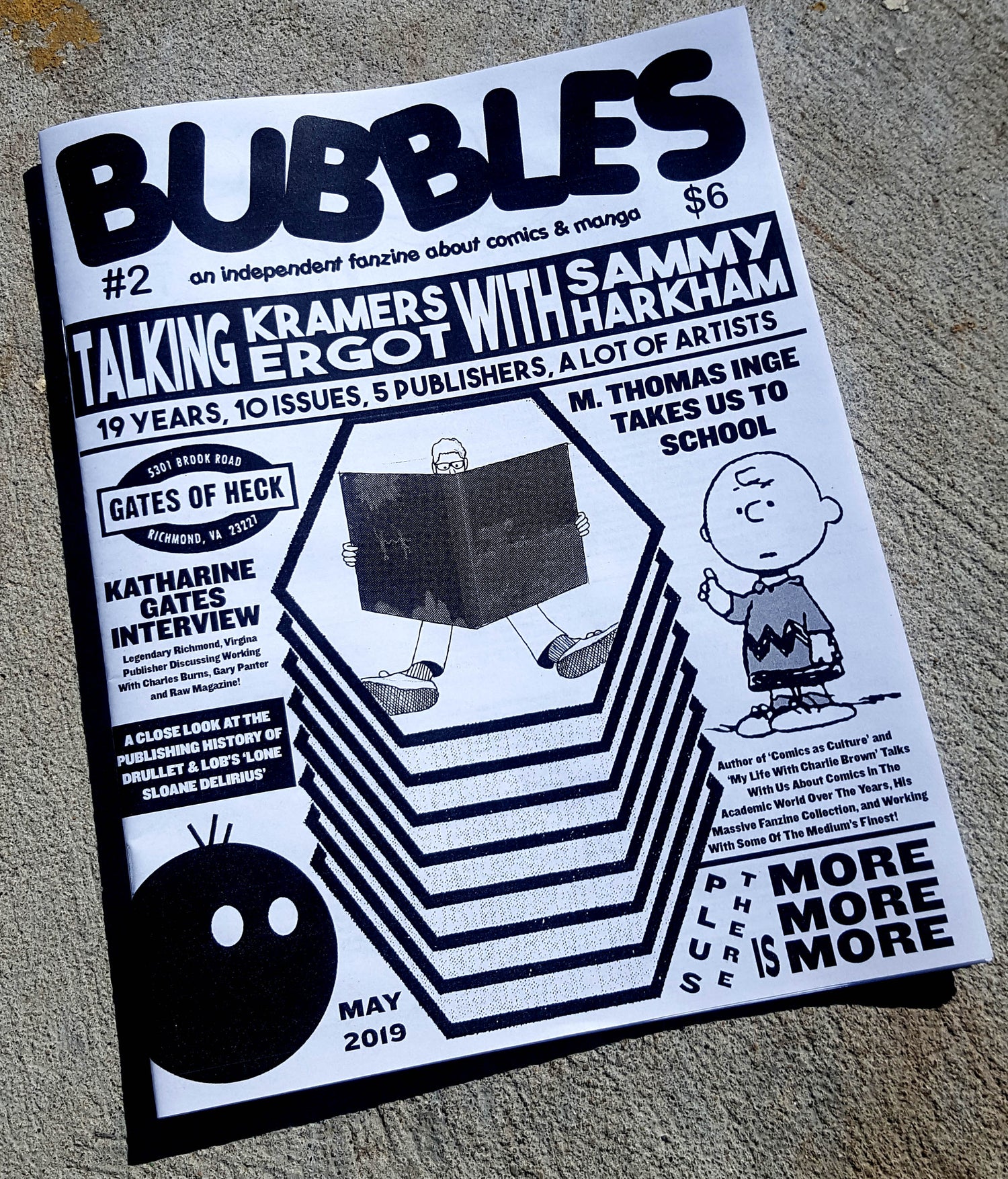 Bubbles #3, luglio 2019 (disponibile qui)
Mail Bin, l'immancabile pagina delle lettere.
Due pagine dedicate a Mike Taylor, con un disegno inedito e un breve testo sull'autore della zine Late Era Clash e del recente In Christ There Is No East or West.
Intervista al critico e traduttore Ryan Holmberg, che ha curato la versione anglofona di tantissimi fumetti giapponesi d'autore (Yuichi Yokoyama, Seiichi Hayashi, Tadao Tsuge ecc.).
Una recensione di Alay-Oop di William Gropper, appena ristampato da New York Review Comics.
Intervista a Bob Lewis, proprietario di Richmond Book Shop, libreria storica della capitale della Virginia.
Un articolo sul webshop giapponese Mandarake.
Intervista a Tetsunori Tawaraya, autore ben conosciuto anche in Italia grazie alle sue pubblicazioni per Hollow Press e prossimo ospite del Treviso Comic Book Festival.
Ebay Finds con altri pazzi manufatti dal mondo delle aste on line, come una tavola da surf con disegno di Rick Griffin.
Intervista a Brian Blomerth, che ha di recente pubblicato Bicycle Day per Anthology, coloratissimo adattamento a fumetti del famoso "primo trip" di Albert Hofmann.
Who Cares About the Comics?, un saggio di Thomas Inge sull'unicità del medium fumetto.
Due pagine di mini-recensioni con titoli come The Book of Weirdo, Clyde Fans di Seth, Alienation di Inés Estrada, Cannonball di Kelsey Wroten e molti altri.
Un nuovo mini-fumetto di una pagina, questa volta a firma Archie Fitzgerald.