Mentre su queste pagine abbiamo dato un'occhiata ai primi numeri di Kramers Ergot (come potete leggere nella rubrica Dagli archivi), negli USA è uscito il decimo volume dell'antologia curata da Sammy Harkham, come il precedente edito da Fantagraphics. Il #9, debutto per l'editore di Seattle, non mi aveva convinto più di tanto, dato che sembrava una compilation di fumetti come tante altre, poco focalizzata, confusionaria nel suo essere voluminosa (296 pagine). Per carità, di cose belle dentro ce n'erano, ma questo #10 è di tutt'altra categoria, anzi, dal punto di vista della resa d'insieme è uno dei Kramers più riusciti in assoluto.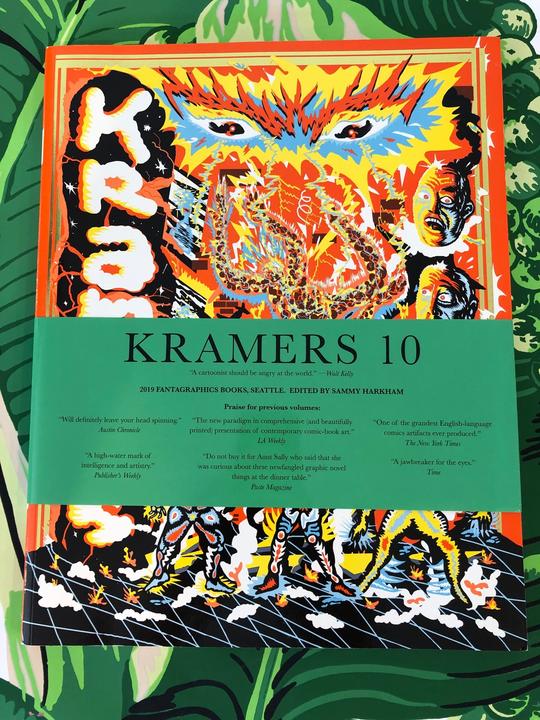 La prima novità arriva già dal formato, un brossurato di grande dimensioni (36 x 28 cm) ma di foliazione relativamente ridotta (168 pagine). Ne viene fuori un volume agile, che ricorda Raw prima serie, dando agli artisti un ampio spazio di manovra – sfruttato sin dalla pirotecnica copertina di Lale Westvind – ma senza sacrificare la leggibilità. Altra cosa da dire è che stavolta Harkham ha scelto solo e soltanto fumetti, mettendo da parte sketchbook e illustrazioni, probabilmente con lo scopo di focalizzarsi su temi ben precisi. I contributi si muovono infatti su due binari. Il primo è prettamente sociopolitico e riflette il clima che si respira o almeno si respirava negli Stati Uniti quando i fumetti sono stati concepiti. Parliamo soprattutto del 2017 e dell'inizio del 2018, tra l'insediamento della presidenza Trump e l'emergere del movimento Me Too. Immagino che Harkham abbia chiesto ai suoi collaboratori fumetti capaci di riflettere lo spirito dei tempi raccontando di autoritarismo, di ricchezza, dello strapotere delle corporation, di molestie sessuali. Tutto ciò è confermano sia dalla seconda di copertina – una pagina di Noah Van Sciver ambientata durante l'11 settembre 2001 – che dai recuperi d'epoca, in primis due pagine di Robert Crumb in cui tre tonti trogloditi cercano di disegnare senza successo una svastica su un muro. E poi c'è l'imperdibile Trots and Bonnie di Shary Flenniken, una striscia pubblicata negli anni '70 su National Lampoon che tra una gag e l'altra parla di sessualità e abusi. Una pagina di Gasoline Alley di Frank King è stata invece scelta con tutta probabilità per l'apparizione finale dei poliziotti, che si palesano anche nei lavori di Dash Shaw, Johnny Ryan, Connor Willumsen (fantasticamente disegnato) e altri ancora. Le corporation sono al centro dei contributi di John Pham (occhio al suo J&K di imminente pubblicazione per Fantagraphics), Will Sweeney, Aisha Franz (non al meglio, c'è da dire) e soprattutto Marc Bell, otto splendide pagine come sempre jacovittiane con protagonista il suo personaggio Slogan Schnauzer, affetto da una sorta di Tourette che lo porta a ripetere senza sosta annunci pubblicitari. Anna Haifisch adatta invece un racconto di Mervyn Peake che impone una lettura metaforica, mettendo a segno una prova grafica sopra i suoi standard, anche se personalmente continuo ad avere grosse difficoltà con la sua palette cromatica.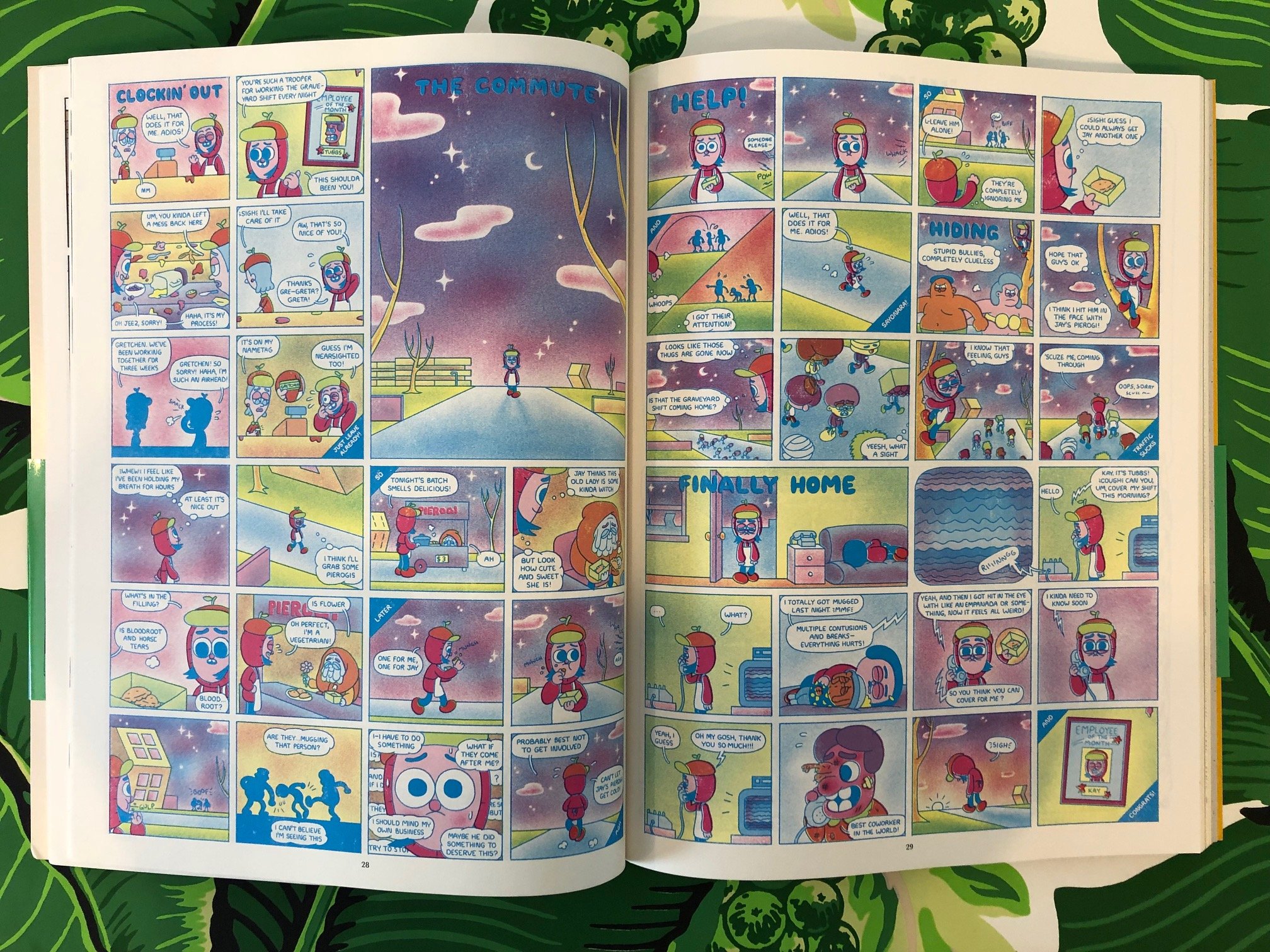 Il secondo tema è in sostanza un omaggio al medium stesso, in quello che a detta di Harkham potrebbe essere l'ultimo numero di Kramers Ergot. Si inseriscono in questo filone sia i già citati recuperi d'epoca che una serie di storielle o strisce di una/due pagine, messe lì a intervallare i contributi prettamente narrativi e dunque a ricordarci cosa era – e cosa può essere ancora oggi – il fumetto. Ecco dunque le gag di Ducky Coco di Anouk Ricard, Rick Altergott con il cult Doofus, Archer Prewitt con Sof' Boy, una pagina di Simon Hanselmann, nomi ormai celebri come David Collier, Ivan Brunetti e via dicendo. Ma il contributo più significativo in questo senso lo mette a segno Kim Deitch, raccontando la genesi di una collaborazione a quattro mani con Spain per l'East Village Other (ristampata all'interno della storia stessa). Aprono e chiudono il cerchio l'introduzione di Jamie Hernandez, che dettaglia in un denso scritto la nascita di una passione, e l'epigrafe yiddish del sommario, "For a little love, you pay a lifetime". E, manco a dirlo, la passione e l'amore sono tutte per il fumetto.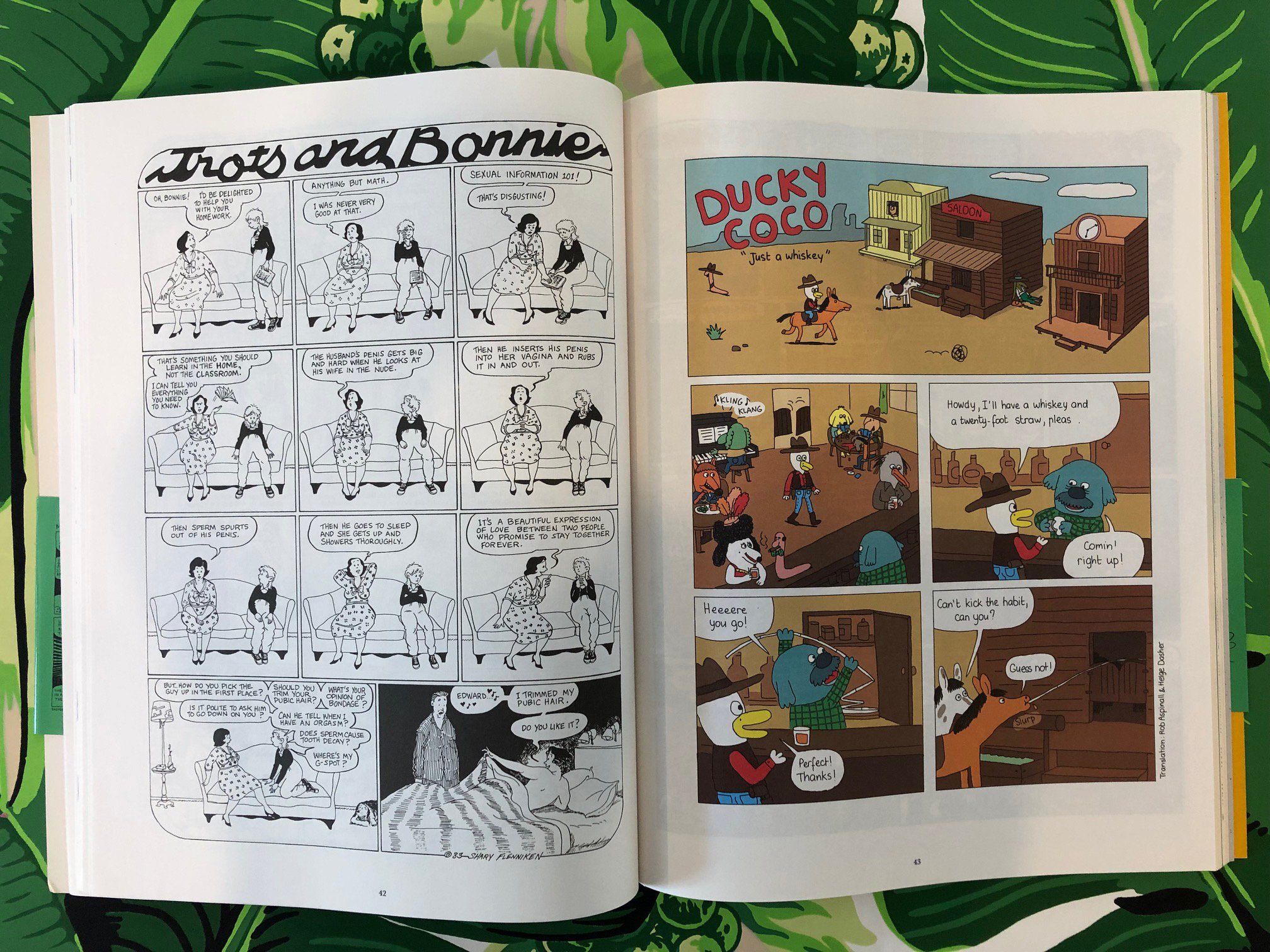 In tutto ciò non ho ancora citato le tre autentiche gemme dell'antologia, ossia il maestoso contributo dello stesso Harkham, che come in Kramers #4 si riserva il maggior numero di pagine raccontando l'industria cinematografica con uno spin-off del suo Blood of the Virgin, la solita ipercinetica e scatenata Lale Westvind con la golden age aggiornata ai nostri tempi di Sarka, e infine Liquid On Neutral di C.F., forse la storia più scollegata da tutti i discorsi fatti sinora ma impressionante a livello grafico. Se qualche caduta di tensione c'è ed è normale in un'antologia del genere, si può comunque dire che Kramers #10 è uno dei migliori della serie e quindi assolutamente da non perdere.