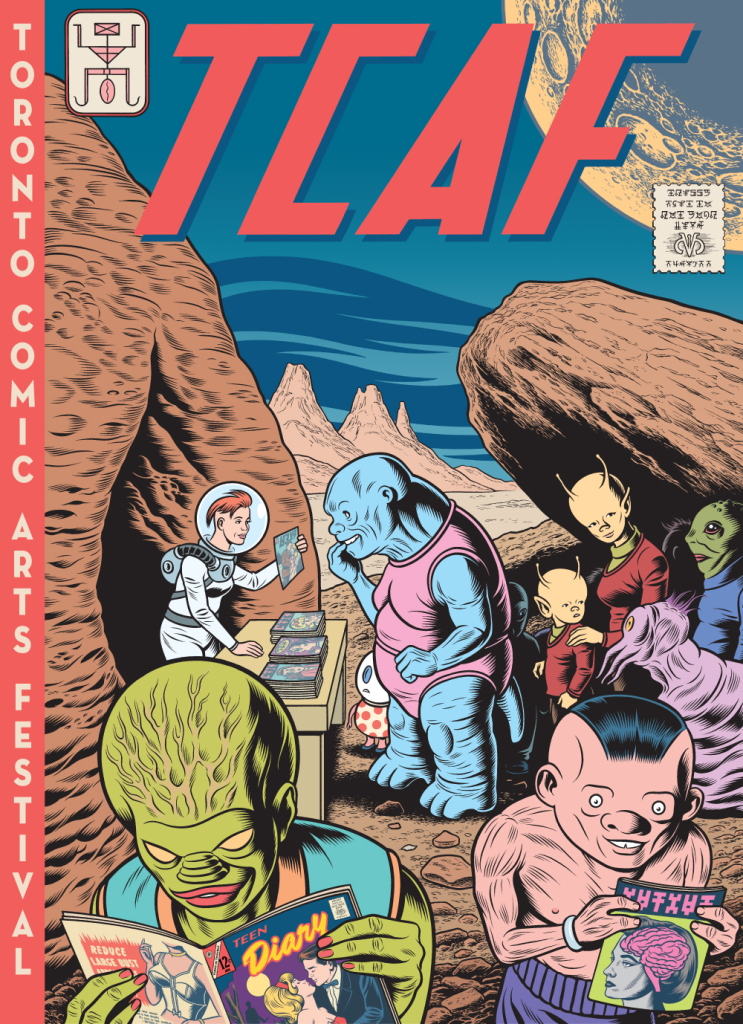 Inauguro con questo post un appuntamento dedicato alle segnalazioni dei contenuti più interessanti trovati in giro sul web. Iniziamo ancora una volta da Charles Burns, protagonista assoluto di questa prima serie di articoli. L'immagine che vedete in alto è il manifesto realizzato per la nuova edizione del Toronto Comic Arts Festival, in programma il 9 e 10 maggio, in cui Burns ci fa scoprire che anche gli alieni leggono i romance comics…
Sempre a proposito del cartoonist statunitense, vi segnalo l'articolo Charles Burns: Show, don't tell dello scrittore Francesco Pacifico, pubblicato sul nuovo magazine on line Prismo.
Passando ad altro, proprio oggi Fumettologica ha pubblicato Fare editoria alternativa di fumetto, oggi: il caso Hollow Press, un'esaustiva intervista di Matteo Stefanelli al mio amico Michele Nitri, in cui si parla di Under Dark Weird Fantasy Grounds, Mat Brinkman, l'underground e… Paolo Bacilieri.
A proposito di festival, il 18 e 19 aprile a Portland nell'Oregon c'è stato il Linework. Gli organizzatori hanno pubblicato sul sito della manifestazione una lunga serie di brevi ma spesso interessanti interviste, tra cui vi segnalo quelle a John Pham, Malachi Ward e Marnie Galloway. Per un mini reportage e qualche foto date un'occhiata invece a quanto raccontato da Tyler Chin-Tanner su Broken Frontier.
Sempre al Linework Fantagraphics ha presentato in anteprima la raccolta extra-lusso dei primi 18 numeri dell'Eightball di Daniel Clowes, ospite del festival. Sul Flickr della casa editrice potete dare un'occhiata più dettagliata a questo prezioso cofanetto. Per due recenti interviste a Clowes vi rimando invece ai siti di The Stranger e The New Yorker.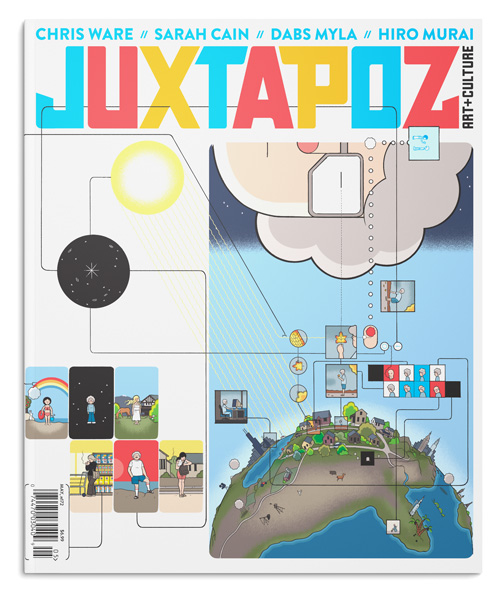 Il nuovo numero della rivista americana Juxtapoz sfoggia una copertina di Chris Ware, di cui si parla nella rubrica Beyond the Cover, con tanto di intervista all'autore di Jimmy Corrigan.
Intanto sono state annunciate le nomination agli Eisner Awards 2015, che non brillano certo per originalità.
Per concludere un paio di contenuti critici di qualità, entrambi a firma Rob Clough, rispettivamente su Ur di Eric Haven e Saint Cole di Noah Van Sciver.