Riprendo dopo una lunga sosta la solita rubrica di notizie, segnalazioni e link vari. Non so in realtà quando e quanto riuscirò a fare post di questo genere nel corso del 2016, che mi vedrà impegnato su progetti vecchi e soprattutto nuovi. E dato che avrò poco tempo a disposizione, preferirò magari dedicarlo a recensioni, articoli di approfondimento e interviste piuttosto che alle news.
Come molti siti, anche io ho pubblicato alla fine di quest'anno una serie di "Best of" del 2015, che ho diviso tra i migliori fumetti pubblicati in Italia, i migliori comic-book/serie regolari/antologie usciti all'estero e i migliori volumi stranieri. Sì, so benissimo che soprattutto le liste straniere sono del tutto americanocentriche, ma come ho già spiegato Just Indie Comics si occupa per lo più di fumetti americani, anche perché altrimenti si chiamerebbe Seulement Comics Indépendants o qualcosa del genere. Se volete comunque dare un'occhiata a una lista più ampia e strutturata della mia, vi consiglio quella di Paul Gravett, che divide con estrema precisione i diversi fumetti usciti quest'anno nelle categorie British Graphic Novels, American Graphic Novels, International Graphic Novels, Foreign Language Graphic Novels translated into English, Manga, Reprints and Re-Editions, Books About Comics. Spero anche io, un giorno o l'altro, di avere il tempo nonché la forza di leggere tutto quello che riesce a leggere Paul Gravett. Ah, tra i migliori fumetti internazionali c'è anche il nostro Vincenzo Filosa con Viaggio a Tokyo pubblicato da Canicola.
Degno di nota anche questo articolo di Paul Tumey per The Comics Journal, che propone un viaggio nei fumetti usciti quest'anno denso di riflessioni e capace di offrire parecchi spunti per scoprire qualche fumetto diverso. Da leggere anche la lista di Nick Gazin per Vice, che mette al primo posto The Hairy Who, il volume di Dan Nadel sull'omonimo collettivo chicagoano di cui spero di dirvi in maniera più approfondita un giorno o l'altro. Articolato in ben quattro parti il Best Of di Sequential State, con tanti fumetti a me ben familiari. Da non perdere anche le sempre interessanti segnalazioni del critico/fumettista Rob Kirby, che in questa immagine fotografa alcune delle sue scelte.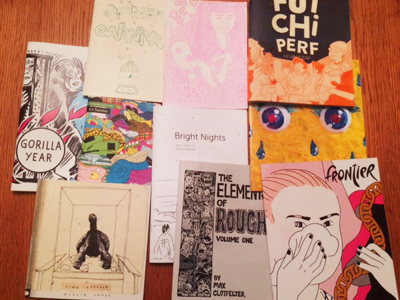 Più mainstream ma comunque interessanti le liste di Mental Floss, AV Club ed Entropy, mentre se volete avere un'idea di cosa si vende in una delle librerie più fiche degli Stati Uniti, la Atomic Books di Baltimora, vi rimando al blog del negozio, consigliandovi soprattutto l'elenco dei 30 mini-comics più venduti. Il sito Columbus Alive seleziona invece 12 graphic novel realizzate da donne usciti più o meno nell'ultimo anno.
Torniamo nel nostro caro Vecchio Continente con i suggerimenti del cartoonist britannico Simon Moreton, tra cui c'è anche Garrettsville di Jenn Lisa, pubblicato in realtà nel 2014 come parte del terzo numero dell'antologia Dog City (ne avevo parlato qui). E sempre nel Regno Unito il sito del Forbidden Planet International mette insieme una serie di Best Of di critici e "addetti ai lavori", anche qui con diversi spunti interessanti. Concludo facendo un salto in Spagna, dove Le Miau Noir ci conferma che in quanto a edizioni di materiale d'oltreoceano lì si sta molto meglio che da noi, come testimonia questo bel volume antologico dei fumetti di Julie Doucet edito dalla sempre eccellente Fulgencio Pimentel.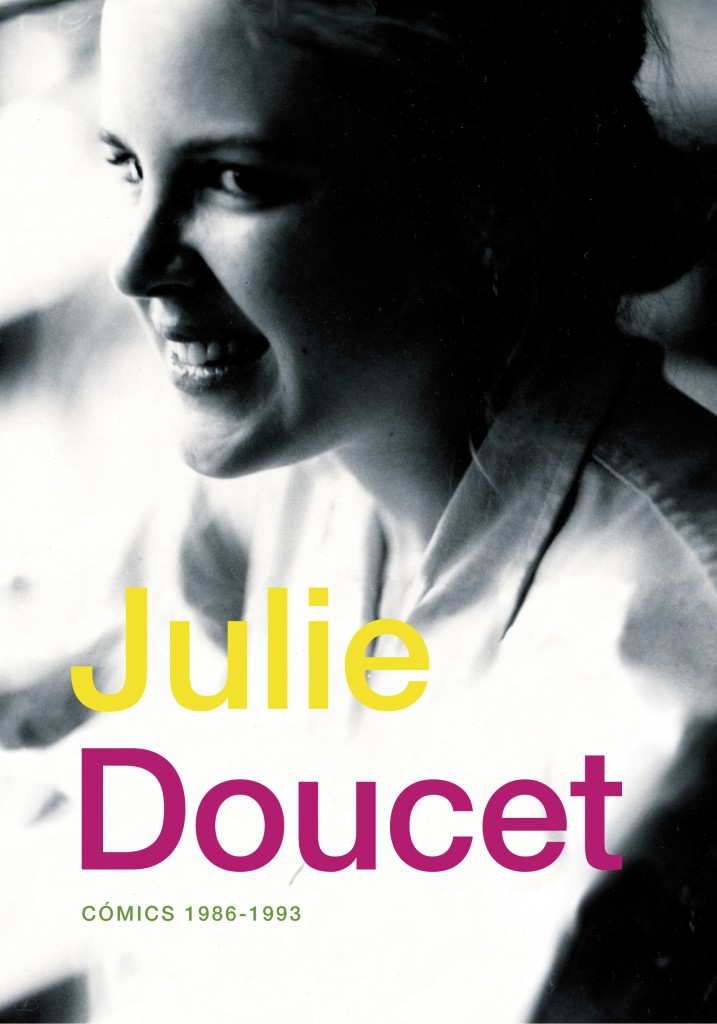 Basta liste e passiamo ad altro. Il cartoonist John Porcellino ha lanciato una campagna su Patreon per raccogliere fondi a sostegno della sua attività di cartoonist, distributore e anche editore. Infatti oltre a due numeri del suo ormai storico King-Cat Comics, Porcellino ha intenzione di pubblicare nei prossimi mesi una collezione di Strange Growths di Jenny Zervakis. Se potete dategli una mano, vi assicuro che ne varrà la pena.
Reso noto il programma del Fumetto Festival di Lucerna, che celebra i suoi 25 anni in primavera, precisamente dal 16 al 24 aprile. L'ospite principale sarà Joe Sacco, mentre tra le varie mostre spiccano quelle di Lorenzo Mattotti, Joost Swarte, Tom Gauld, Caroline Sury, Frémok. I dettagli per ora sono solo in tedesco, come d'altronde la presentazione delle varie mostre, mentre dell'evento legato a Sacco si parla anche in inglese.
Il nuovo numero di Art in America è dedicato in parte ai fumetti, con un saggio di Alexi Worth su Jack Kirby, un articolo di Ryan Holmberg sulle icone pop art nel fumetto giapponese e un approfondimento sulla rivista Dune di Seattle. Chissà se riuscirò a leggerlo in un modo o in un altro.
Un po' di interviste varie: Seth, Richard Sala, Matthew Thurber. Novità editoriali: l'editore belga Bries fa uscire una raccolta del meglio del collettivo Tieten Met Haar, intitolata Flatlands (foto in basso). Mostre: la Drawn and Quarterly arriva con una collettiva alle Galerie Martel di Parigi. E anche per questa volta è tutto.