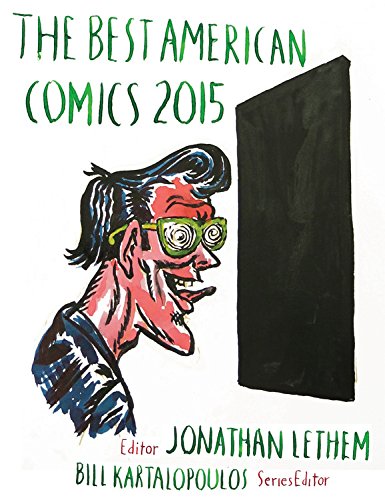 In a market where the graphic novel format prevails, where comics have to be at least 200 pages long because "otherwise I can't publish it", a book of nearly 400 pages as the 2015 edition of The Best American Comics is both a confirmation of how the book market has incorporated the comics world and an alien object bringing a breath of fresh air. The series is part of a diverse array of anthologies published by Houghton Mifflin Harcourt which was launched exactly one hundred years ago with The Best American Short Stories. The book about comics debuted in 2006 and has been edited over the years by Anne Elizabeth Moore, Jessica Abel & Matt Madden and now by Bill Kartalopoulos, who took the reins from 2014 edition. The series editor chooses the best comics of American cartoonists released from September 1 to August 31 of the previous year (September 1, 2013 – August 31, 2014 for this edition), and submits a list of them to the guest editor (this year the novelist Jonathan Lethem), who decides what to publish and what to mention in the Notable Comics section.
While under the easy-to-digest format of a voluminous hardcover, good to make it attractive for the bookshop market, The Best American Comics 2015 is actually a celebration of the comics language in its most natural and spontaneous forms. "Comics don't merely combine text and image – Kartalopoulos states in the foreword – they are, at least, the very distinct product of the interaction between the formal procedures that underlie text and image: a chemical reaction that activates and consumes its constituent elements to produce a third and different thing. So it's really not right to expect comics to enter too seamlessly into the world of literary book publishing. Comics often are books, but so are Depero Futurista and Max Ernst's Une semaine de bonté. Comics are positioned to bring together the lessons of both the narrative and the visual arts. As such, comics should continue to have the capacity to appear alien and difficult to assimilate within literary publishing. It is an expression of what they are. To expect comics to function merely as colorful, illustrated cousins of conventional narrative fiction is a profound and wasteful act of self-denial".
The summary of the anthology is a direct offshoot of this concept. And it's a pleasure to find under the heading The Best American Comics works coming from the world of micro or self-publishing. So there is Josh Bayer with an excerpt from Retrofit Comics' Theth, R. Sikoryak with his hilarious covers from Sadistic Comics published by Rotland Press, Julia Gfrörer with the self-published Palm Ash, Andy Burkholder with a short story taken from the magazine Believed Behavior, Mat Brinkman with the first part of Cretin Keep On Creep'n Creek from the Italian anthology Under Dark Weird Fantasy Grounds released by Hollow Press, Alabaster with a few pages from Mimi and the Wolves (first self-published and then reprinted by Hic & Hoc), A. Degen with the short story Crime Chime Noir saw in the first issue of Negative Pleasure's anthology Felony Comics, Kevin Hooyman with his zines Conditions on the Ground recently collected in a book out from Floating World. And this list could go on and on.
Lethem's sensitivity definitely helped to select innovative, imaginative, deliberately irregular comics. Comics that aren't illustrated novels and sometimes aren't even narrative, looking more to art than to literature. And it isn't a coincidence that Raymond Pettibon is the author of the cover art and one of the contributors, since he expresses a particular modus operandi of contemporary art, which doesn't intend to plagiarize the comics language (as Lichtenstein did) but to incorporate and sometimes to rape it. Kartalopoulos refers to the works of this pseudo-trend as paracomics and mentions artists such as Sol Lewitt, Ida Applebroog, Jennifer Bartlett, Keith Haring, Duane Michals, Joe Brainard. I would add the Hairy Who collective, to which Dan Nadel has recently dedicated the anthology The Collected Hairy Who Publications 1966-1969, about which I hope to write something someday.
The anthology includes also some popular and more conventional works, often presented in the form of excerpts. And as with the previous editions of The Best American Comics, it isn't so great to read only the eight chapter of a graphic novel, but actually I don't think there are other solutions to include long-form comics.
In addition to the artists already mentioned, the others are Roz Chast, Jules Feiffer, Diane Obomsawin, Ben Duncan, Farel Dalrymple, Anders Nilsen, Megan Kelso, Eleanor Davis, Gabrielle Bell, Henriette Valium, Ron Regé Jr., David Sandlin, Rosaire Appel, Ed Piskor, Peter Bagge, Joe Sacco, Jim Woodring, Cole Closser, Jesse Jacobs, Adam Buttrick, Anya Ulinich, Gina Wynbrandt, Esther Pearl Watson, Matthew Thurber, Noel Freibert, Blaise Larmee, Anya Davidson, Erik Nebel. And after having already experimented writing a comic (Omega The Unknown for Marvel Comics), Lethem is also drawing this time, creating the brilliant illustrated forewords to each chapter. And this adds further value to a highly recommended book.