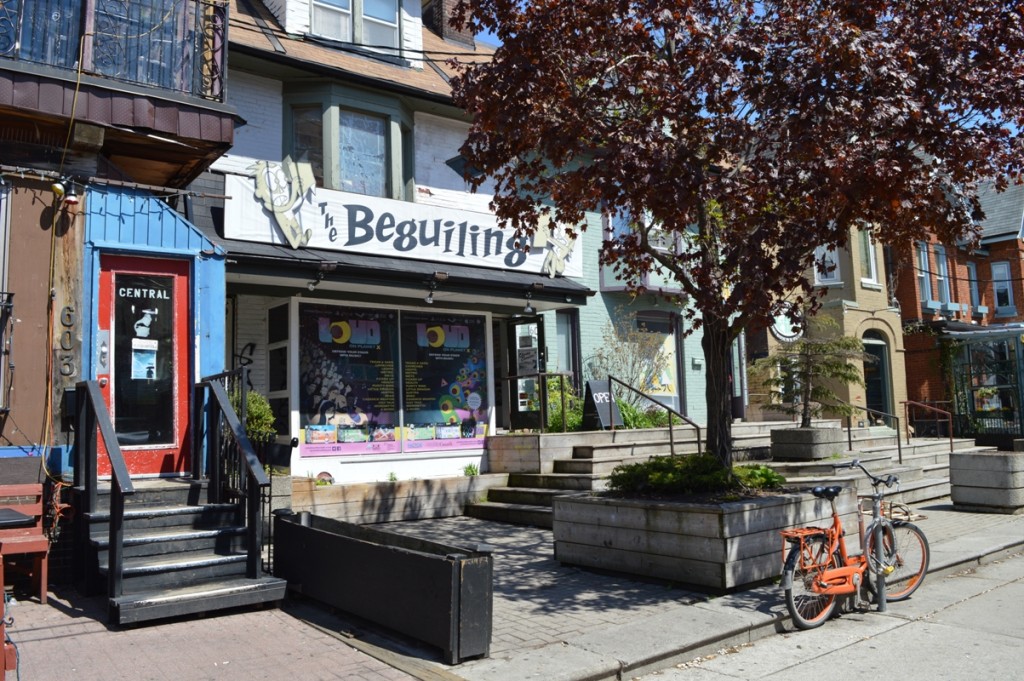 Avete presente il faro di Hicksville, dove è custodita una collezione di fumetti così imponente da comprendere opere mai pubblicate di autori come Jack Kirby, Harvey Kurtzman e Wally Wood? Beh, The Beguiling è il posto più simile a quell'immensa biblioteca che mi sia capitato di vedere finora. Non che io vi abbia trovato, come succedeva al protagonista della storia di Dylan Horrocks, un fumetto di Federico García Lorca e Pablo Picasso, però di materiale oscuro e di difficile reperibilità il negozio di Toronto è pieno. L'ho visitato ormai qualche mese fa in occasione del Toronto Comic Arts Festival, un evento che il proprietario Peter Birkemoe, insieme al manager di The Beguiling Christopher Butcher, ha contribuito a organizzare sin dalla fondazione nel 2003. E ho avuto l'occasione di passarci diverse ore, anzi, la prima volta quasi l'intero orario di apertura tante erano le cose da cercare, guardare, sfogliare.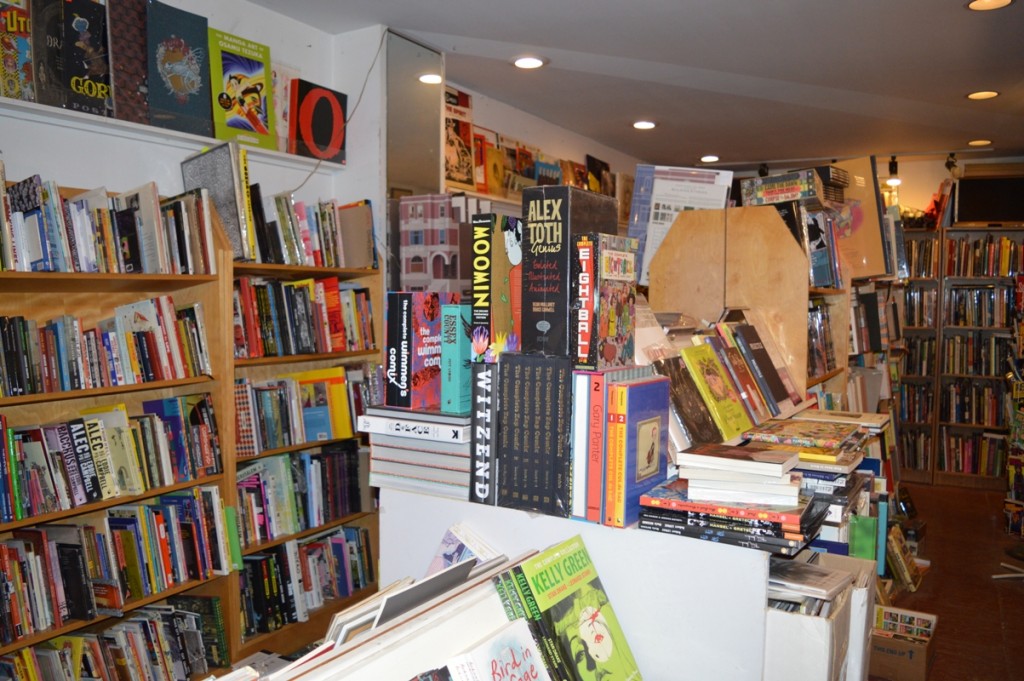 Ma andiamo con ordine. L'interno è sviluppato su due piani. Nel primo ci sono in evidenza tutte le novità nell'ambito del fumetto indie, alternativo e d'autore: appoggiati sui banconi centrali si trovano dunque le ultime uscite di case editrici come Fantagraphics, Drawn & Quarterly, Koyama Press, Conundrum Press, Retrofit Comics, Alternative Comics, Space Face Books, Landfill Editons, Breakdown Press e via dicendo.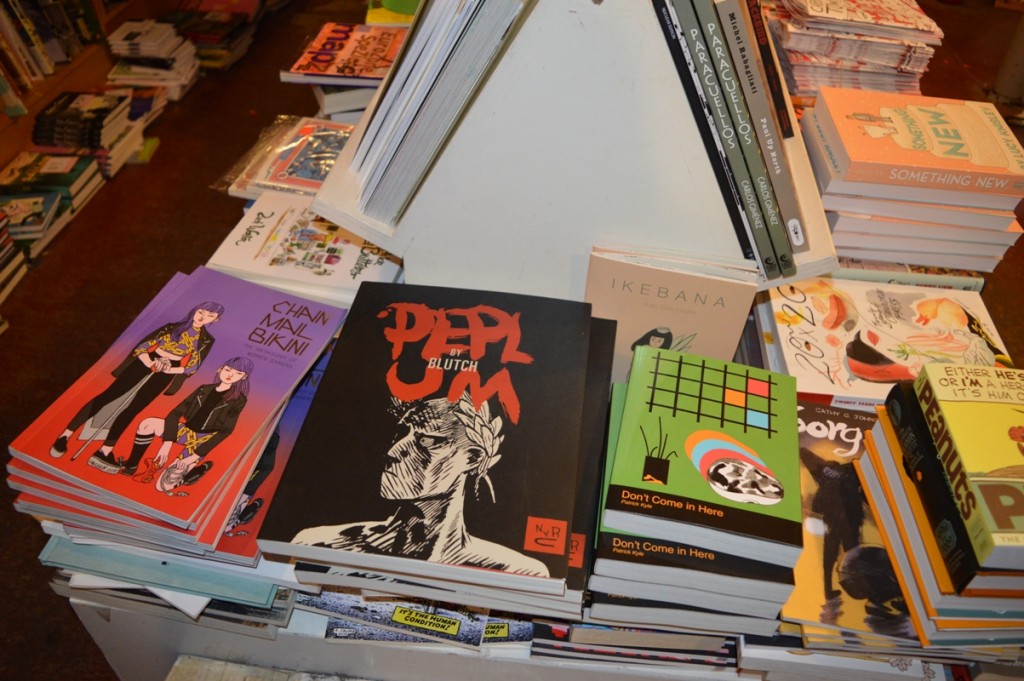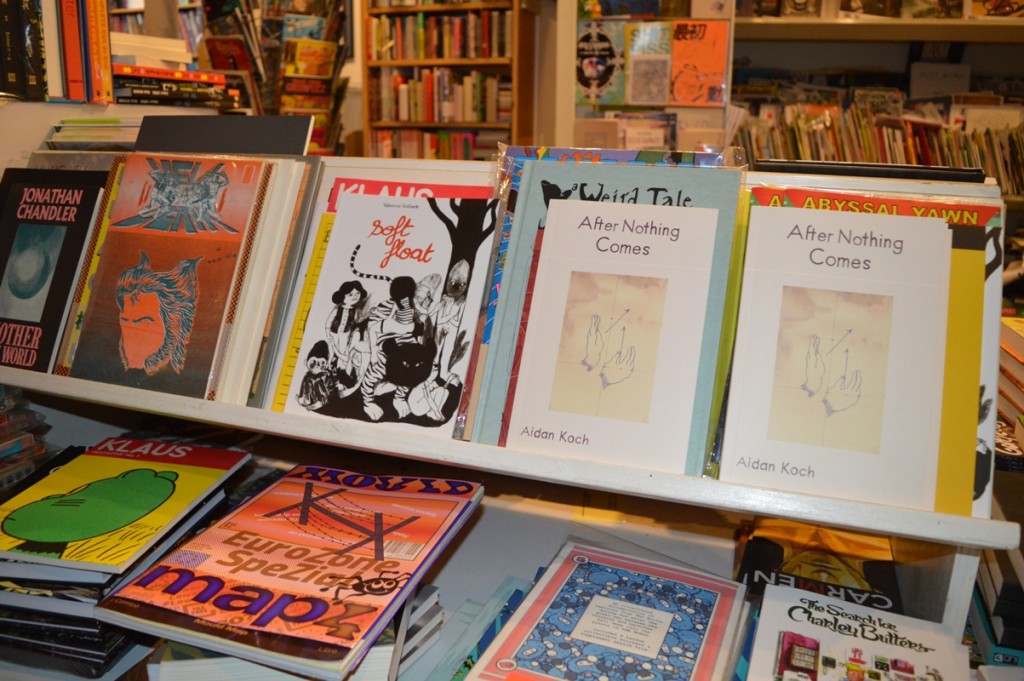 Su una lunga serie di librerie sono invece appoggiati i libri e gli albi del catalogo, divisi in ordine alfabetico per autore: è questa la parte più interessante, con tante rarità che fanno parte da tempo della collezione del negozio o che vengono acquisite da appassionati e collezionisti privati. Eccovi un po' di foto, con qualche scaffale e alcuni pezzi pregiati, scelti un po' per passione personale, in parte su consiglio di Birkemoe e anche un po' a caso.
Oltre a questi titoli potrei citarne a memoria tanti altri, come diversi numeri di Raw, qualche Gary Panter d'annata, Multiforce di Mat Brinkman, varie pubblicazioni dell'era d'oro dell'underground, vecchie raccolte di newspaper strip e via dicendo. Una serie di espositori sono invece dedicati a mini-comics, comic book e riviste, con una selezione che ben rappresenta la "scena" del momento. E non tutto riesce a trovare spazio in negozio. Quando infatti mi è capitato sott'occhio un numero di Internet Comics di Maré Odomo pubblicato qualche anno fa dalla Sacred Prism, mi è venuto in mente che tra quegli albetti mi mancava l'ultima uscita, cioè Kickfoot, uno spillato di 16 pagine del collettivo norvegese Dongery uscito nel 2014. Quando ne ho chiesto notizie a Geneve, una delle ragazze che lavorano a The Beguiling, è andata in magazzino e nel giro di due-tre minuti è tornata con l'albo in mano….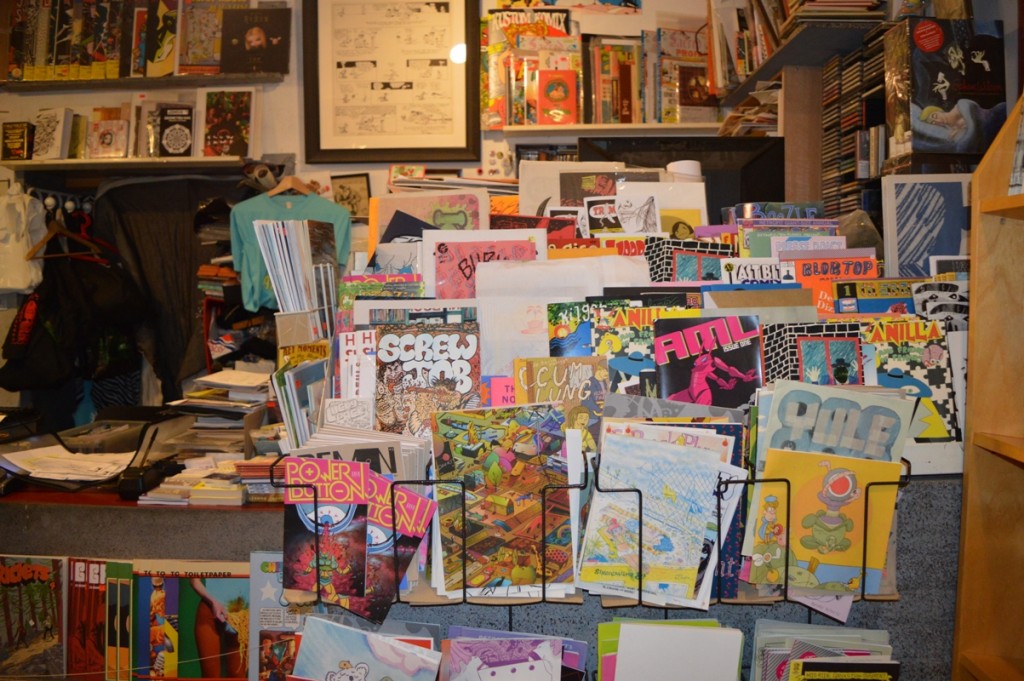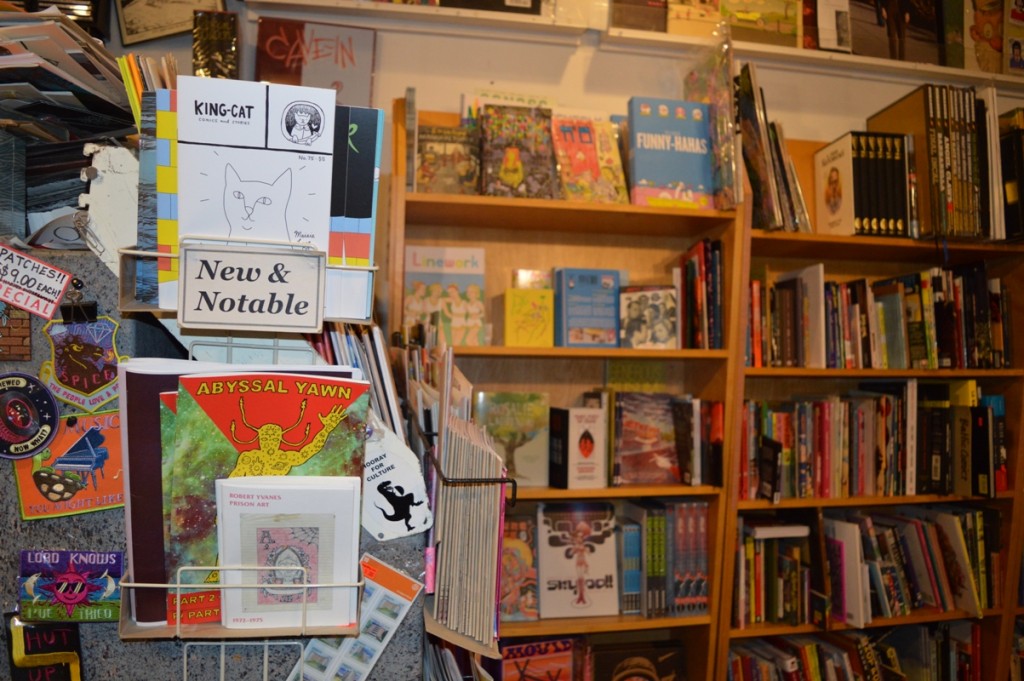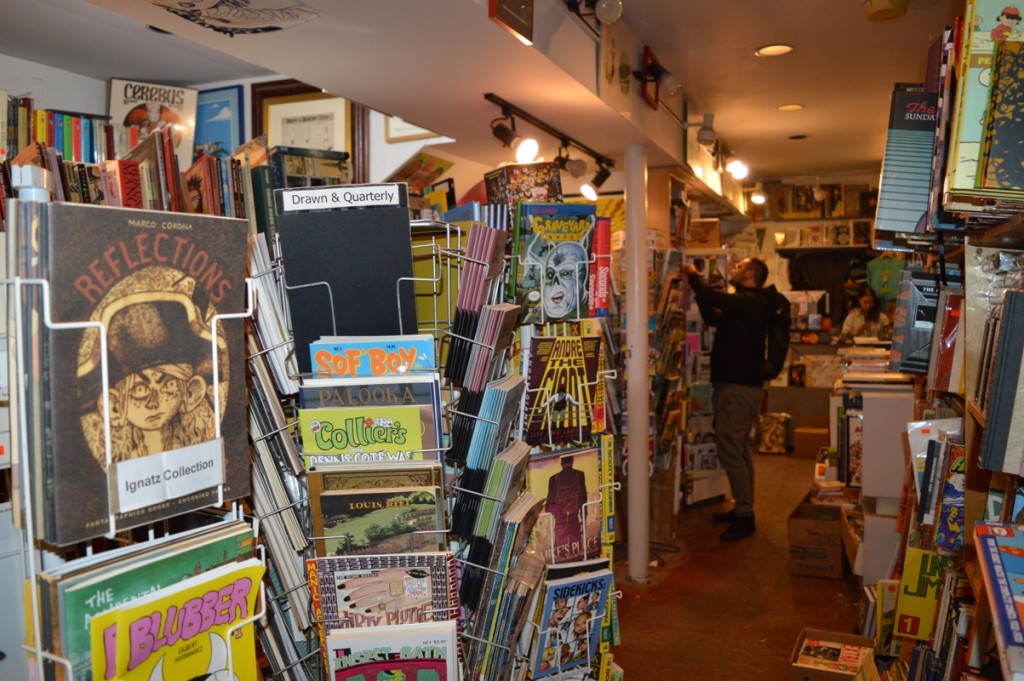 Inoltre è doveroso citare la sezione dei libri di illustrazione, quella delle antologie e la ricca selezione di titoli francofoni e giapponesi, con diverse rarità in lingua e di importazione.
Se il piano terra è una vera manna per gli appassionati di fumetto d'autore e underground, il piano superiore è invece riservato al mainstream e assomiglia di più al tradizionale negozio di fumetti americano. Vi trovano spazio i supereroi Marvel e Dc, con tanti titoli d'annata per collezionisti, e le produzioni di case editrici come Image, Dark Horse, Avatar e via dicendo. Anche qui, tuttavia, la selezione è molto accurata e dà particolare attenzione al panorama indie. Inoltre ci sono delle sezioni suddivise per autori, segno che anche qui ci si rivolge a un'audience matura e consapevole.
The Beguiling è anche ben noto per l'attività di vendita di tavole originali, che viene svolta soprattutto on line in uno store dedicato dove è possibile trovare lavori di cartoonist come Sammy Harkham, Kevin Huizenga, Seth, Michel Rabagliati, Shintaro Kago, Brandon Graham, Farel Dalrymple, Jason Lutes, Jeff Lemire, Paul Pope, Eddie Campbell e tanti altri. Sulle pareti del locale si possono ammirare alcuni pezzi della collezione privata: eccovi dunque la prima tavola di Cerebus #23 dell'aprile 1978, che non poteva certo mancare visto il titolo dell'episodio, e una pagina di Joe Matt che vede l'autore, noto collezionista di fumetti d'epoca, dirigersi verso il negozio per vendere delle raccolte di Carl Barks.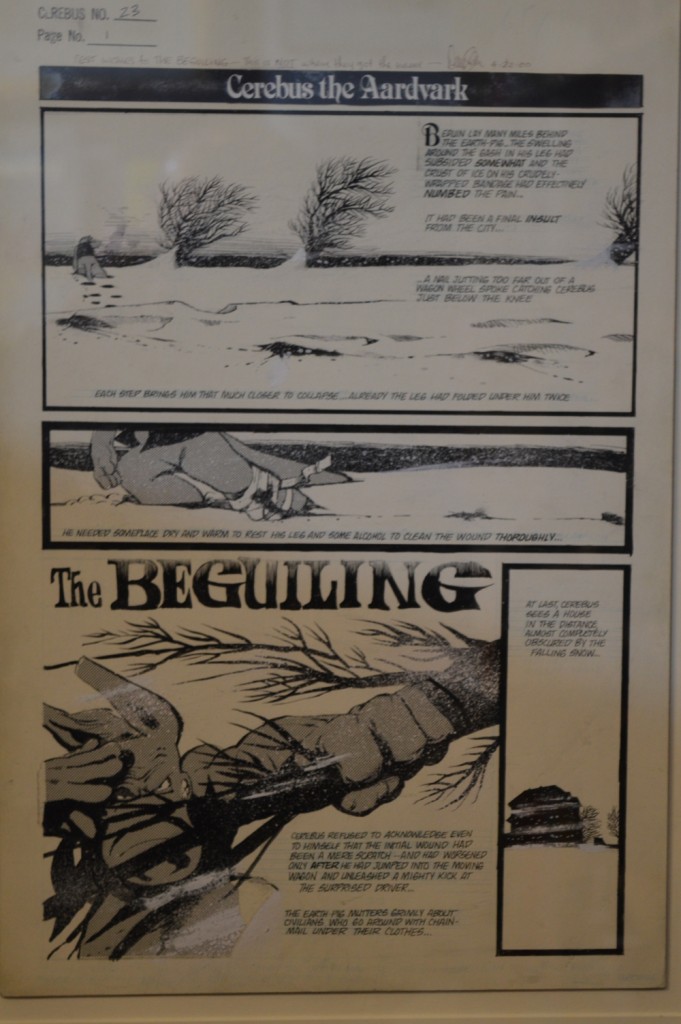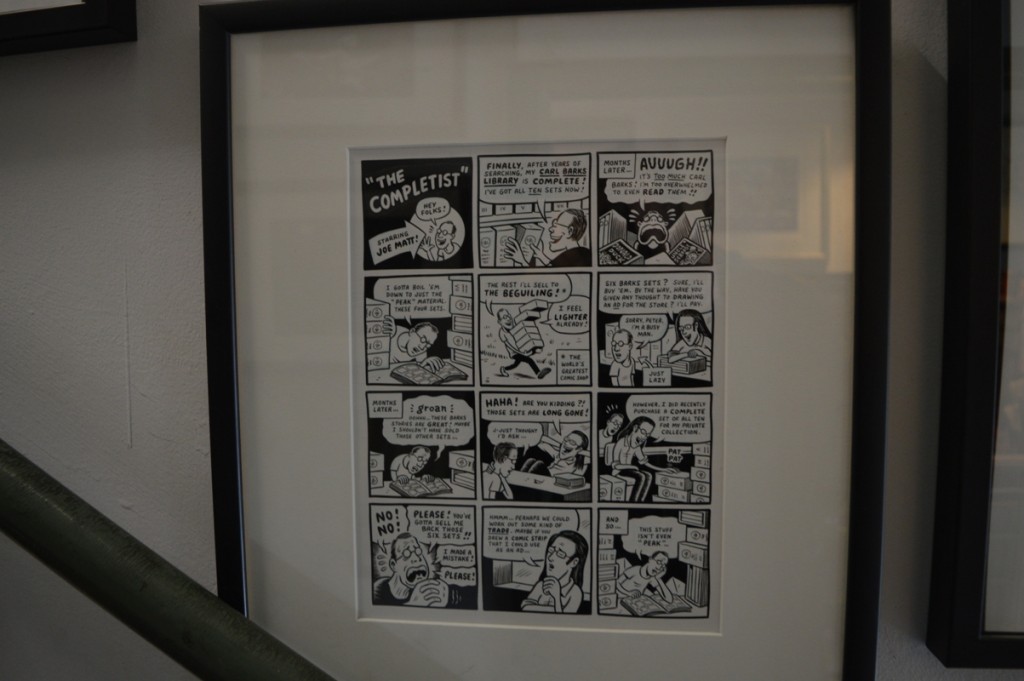 E a proposito di Joe Matt, c'è un'altra tavola da Peepshow #3 che raffigura prima lo stesso autore e i suoi due colleghi Seth e Chester Brown fuori dal negozio e poi Matt all'interno che dialoga con uno dei primi proprietari, Steve Solomos. The Beguiling è stato infatti fondato nel 1987, mentre Birkemoe è subentrato nel 1998.
Nel corso della mia visita, Birkemoe mi ha raccontato di essere in cerca di locali nuovi e più spaziosi, necessari per esporre un catalogo che in buona parte è relegato in magazzino. Se andate a Toronto, dunque, non mancate una visita a The Beguiling perché potrebbe essere una delle ultime occasioni per esplorare la storica sede al 601 di Markham Street.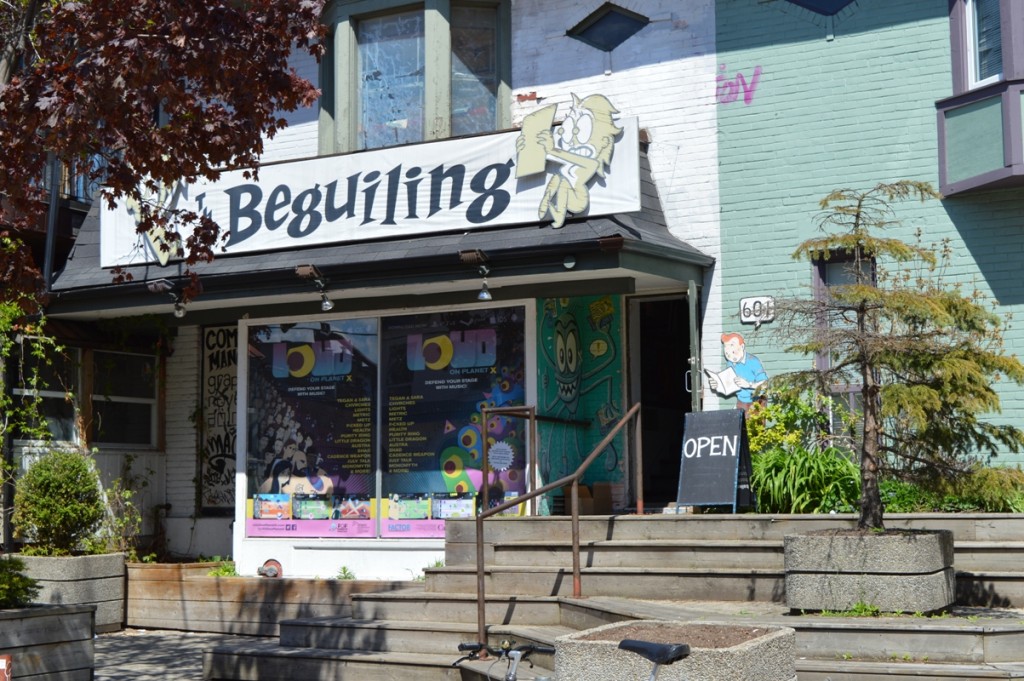 Concludo confermando ciò che scriveva qualche anno fa Jeet Heer su Comics Comics: se non è il miglior negozio di fumetti del mondo, The Beguiling è il miglior negozio di fumetti che io abbia mai visitato. E per questo meritava senz'altro la mia umile attenzione.