Saltata la recensione del volume dello scorso anno, torno a occuparmi su queste pagine di The Best American Comics, la serie edita da Houghton Mifflin Harcourt di cui ho già parlato in questo post a proposito dell'edizione 2015. Se non sapete di cosa si tratta, vi rimando appunto all'articolo di due anni fa per una spiegazione dettagliata del progetto. Qui mi limito a dirvi brevemente che la collana è sempre coordinata da Bill Kartalopoulos, che l'editor di quest'anno è Ben Katchor e che questo sostanzioso hardcover di quasi 400 pagine riunisce, secondo la visione dei curatori, i migliori fumetti di cartoonist americani che hanno visto la luce – in forme e modi differenti – tra il primo settembre 2015 e il 31 agosto 2016. Sì, perché non si tratta solo di fumetti cartacei, dato che The Best American Comics guarda anche al mondo del web e, soprattutto, a quello dell'arte, sviluppando ancor più che in passato – a quanto sembra per precisa volontà di Katchor – quel filone dei paracomics di cui fanno parte opere con la sembianza di fumetti ma destinate ad altro tipo di fruizione. Se aggiungiamo che i lavori selezionati snobbano in toto le major dell'editoria (non c'è nemmeno una pagina di un prodotto Marvel, Dc, Image ecc.) e sono spesso tratti da riviste, mini di difficile reperibilità o fanzine autoprodotte, viene fuori che il volume non è solo l'occasione per fare i conti con lo stato del fumetto americano oggi, ma anche un modo per conoscere nuovo materiale per chi quel tipo di fumetto lì lo segue abitualmente. Ed è apprezzabile che un prodotto del genere arrivi in pompa magna sugli scaffali delle librerie generaliste, portando agli occhi del grande pubblico contenuti particolari, sperimentali, bizzarri che diventano nella loro alterità un inno alla libertà di espressione e di pensiero, come ricordano l'introduzione di Kartalopoulos e l'amaramente post-orwelliana copertina di Matthew Thurber.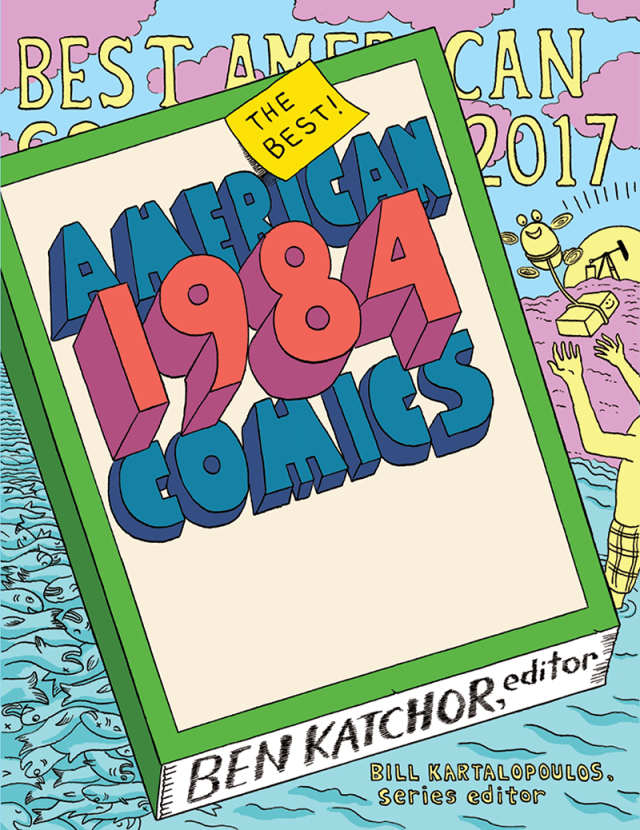 Tra i nomi di questo The Best American Comics 2017 ci sono mostri sacri del fumetto americano (Gary Panter, Kim Deitch, Joe Sacco, Bill Griffith), autori più giovani dei precedenti ma ormai ben noti al grande pubblico (Ed Piskor, Michael DeForge, Gabrielle Bell, Patrick Kyle, Matthew Thurber), fumettisti di nicchia ma con una storia editoriale già alle spalle (Sam Alden, Conor Stechschulte, Josh Bayer), cartoonist che vengono dal mondo dell'autoproduzione (Mike Taylor, Lale Westvind, John Hankiewicz), nuove promesse (Sienna Cittadino, Sami Alwani, Laura Pallmall), artisti che hanno esposto in gallerie o spazi culturali (Gerone Spruill, Oscar Azmitia, William Tyler). Difficili citarli tutti, perché i nomi coinvolti sono veramente tanti, così mi limito a fare una veloce rassegna dei miei lavori preferiti tra quelli pubblicati.
Gary Panter, The Future of Art 25 Years Hence – Un fumetto di Gary Panter che sarà sfuggito ai più, otto pagine a colori tratte dal #181 dell'antologia frieze. Una riflessione sull'arte, il reale, il virtuale, l'analogico, il digitale e molto altro ancora, resa sotto forma di dialogo tra tre personaggi "storti".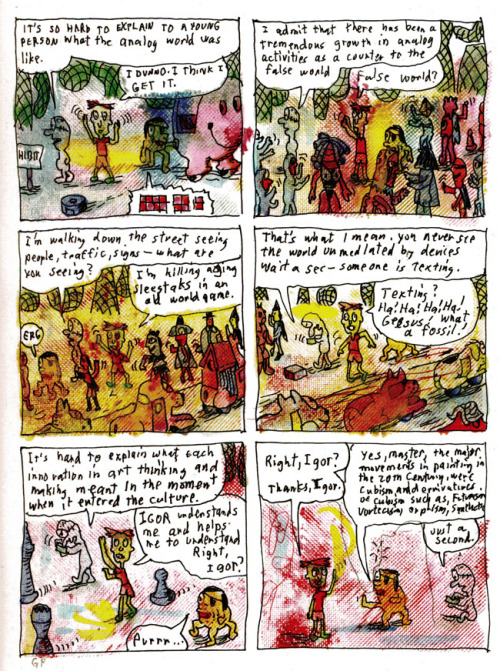 Deb Sokolow, Willem de Kooning. – Ispirata da una serie di aneddoti su De Kooning, quest'opera pubblicata dall'artista chicagoana in un'edizione limitata di sole tre copie unisce didascalie e diagrammi dando vita a un interessante esempio di fumetto astratto.
Lale Westvind, The Kanibul Ball – Pur non rappresentando la migliore uscita della serie, Kramers Ergot #9 conteneva materiale di ottima fattura ed è qui presente con ben tre estratti. Tra questi è doveroso segnalare The Kanibul Ball, un rituale rappresentato da Lale Westvind con colori caldi e sequenze psichedeliche.
Oscar Azmitia, Good Haven High – Azmitia ha la sindrome di Asperger, è cresciuto in un contesto fortemente religioso e realizza questi gustosi quadri naif con episodi tratti dalla vita scolastica.
Mike Taylor, Ranchero – Da anni autore della fanzine Late Era Clash, Mike Taylor disegna con le sue linee generose ed elaborate le vicissitudini di due ragazze adolescenti in una piccola cittadina della Florida, tra magliette dei Metallica, centri commerciali, le attenzioni dei ragazzi più grandi e quelle – non richieste – dei genitori.
Matthew Thurber, Kill Thurber – Altra storia dall'ultimo Kramers Ergot. Thurber divide la pagina alternando due diversi piani temporali ma solo alla fine si capisce ciò che sta succedendo… Geniale, prende spunto dall'omonimia tra l'autore di 1-800-MICE e James Grover Thurber.
Sam Alden, Test of Loyalty – Da prolificissimo autore di fumetti on line e cartacei, Alden ha negli ultimi anni centellinato le sue produzioni a causa dell'esperienza ad Adventure Time. Vista sul sito Hazlitt ma con le matite – stavolta colorate – sempre al loro posto, Test of Loyalty è una storia futuristica ma non troppo su un'operatrice cinematografica rimasta senza permesso di soggiorno.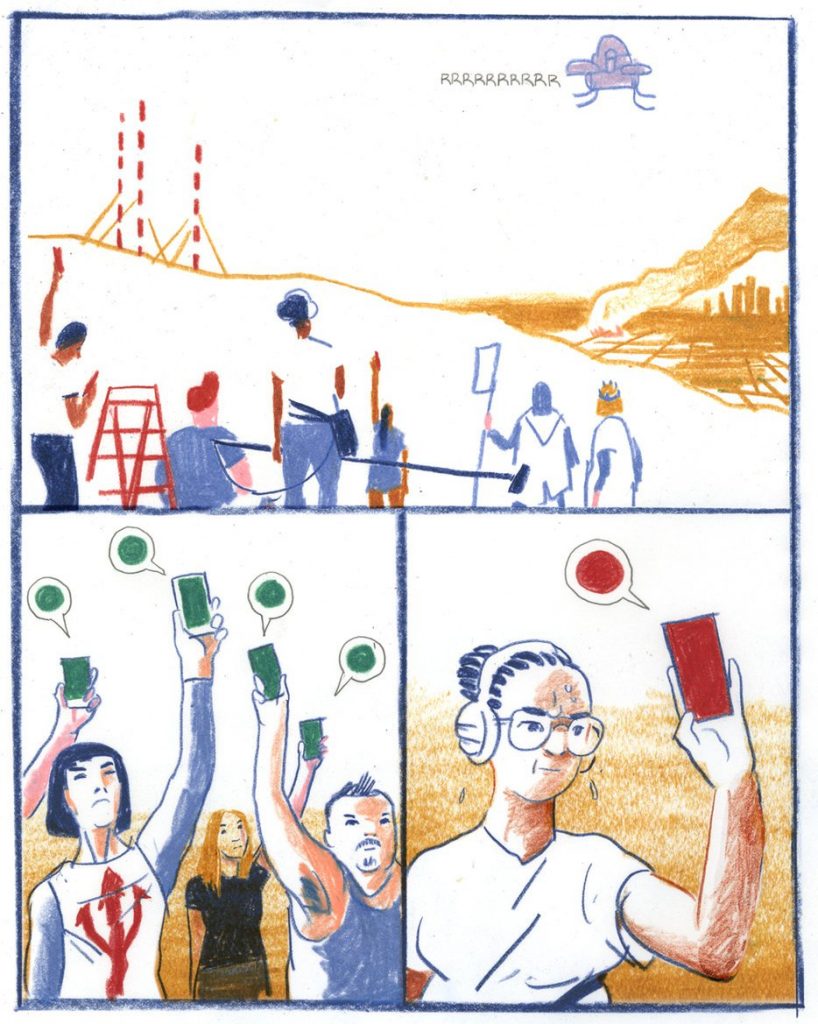 Conor Stechschulte, Generous Bosom #2 (Excerpt) – In ogni volume di The Best American Comics è immancabile qualche estratto da opere lunghe, soluzione che poco lascia al lettore ma che è a conti fatti inevitabile. Questo brano di Stechschulte, un flashback tratto dal secondo (e al momento ancora ultimo) numero della sua serie Breakdown Press, fa il suo effetto anche fuori dal contesto originale.
Sami Alwani, The Dead Father – Tredici pagine in cui uno stile da illustrazione per bambini diventa inquietante fino a sintonizzarsi con un testo denso, complesso e sfaccettato, capace di raccontare un rapporto padre-figlio e una vita intera. Un "grande romanzo americano" da leggere e rileggere.
Laura Pallmall, Picaresque – Realizzato per la Comics Workbook Composition Competition 2015, Picaresque mette in scena le squallide vicissitudini di un balordo qualsiasi in un sobborgo come tanti altri. La rigida griglia di nove vignette per pagina non riesce a contenere né la grezza spontaneità delle matite né il male di vivere dei personaggi.