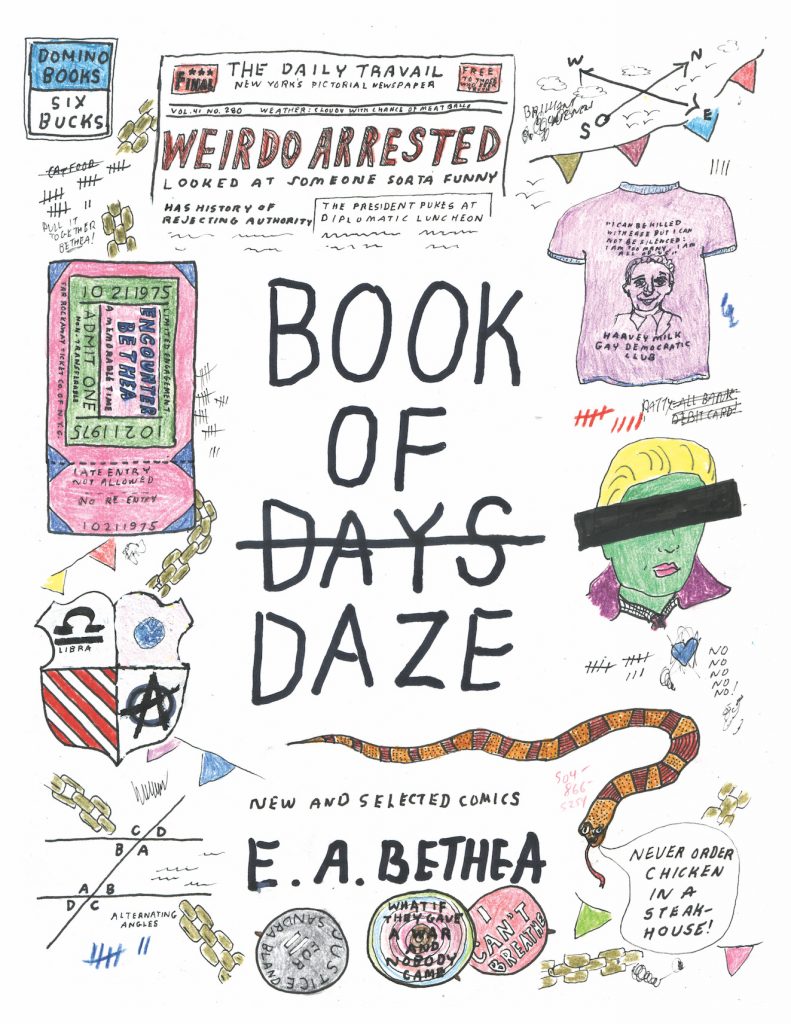 Seconda spedizione dell'anno per il Just Indie Comics Buyers Club, l'abbonamento che dà modo di ricevere con cadenza trimestrale fumetti per lo più americani ma a volte anche europei di difficile reperibilità in Italia. Dopo il primo numero dell'antologia Now della Fantagraphics, inviato a gennaio, ad aprile toccherà a Book of Daze di E.A. Bethea, antologia monografica pubblicata alla fine dello scorso anno dalla Domino Books di Brooklyn. I più affezionati lettori di Just Indie Comics dovrebbero già conoscere il lavoro della Bethea, a cui ho dedicato ai tempi del blog, e precisamente nel luglio 2014, un articolo nella gloriosa (ben due puntate) rubrica Comics People. Allora si dava conto soprattutto del materiale apparso nella corposa raccolta Bethea's Illustrated uscita nel 2009 per la Sad Kimono Books e nel primo numero della rivista a fumetti formato tabloid Tusen Hjärtan Stark, targata ancora Domino. Da allora la Bethea ha contribuito al secondo numero di Tusen e a svariate antologie, non solo a fumetti. Mancava però da tanto una pubblicazione interamente a suo nome e adesso è finalmente arrivata grazie alla volontà di Austin English, mente e braccio dietro Domino ed estimatore del lavoro dell'artista di Brooklyn (ma originaria di New Orleans).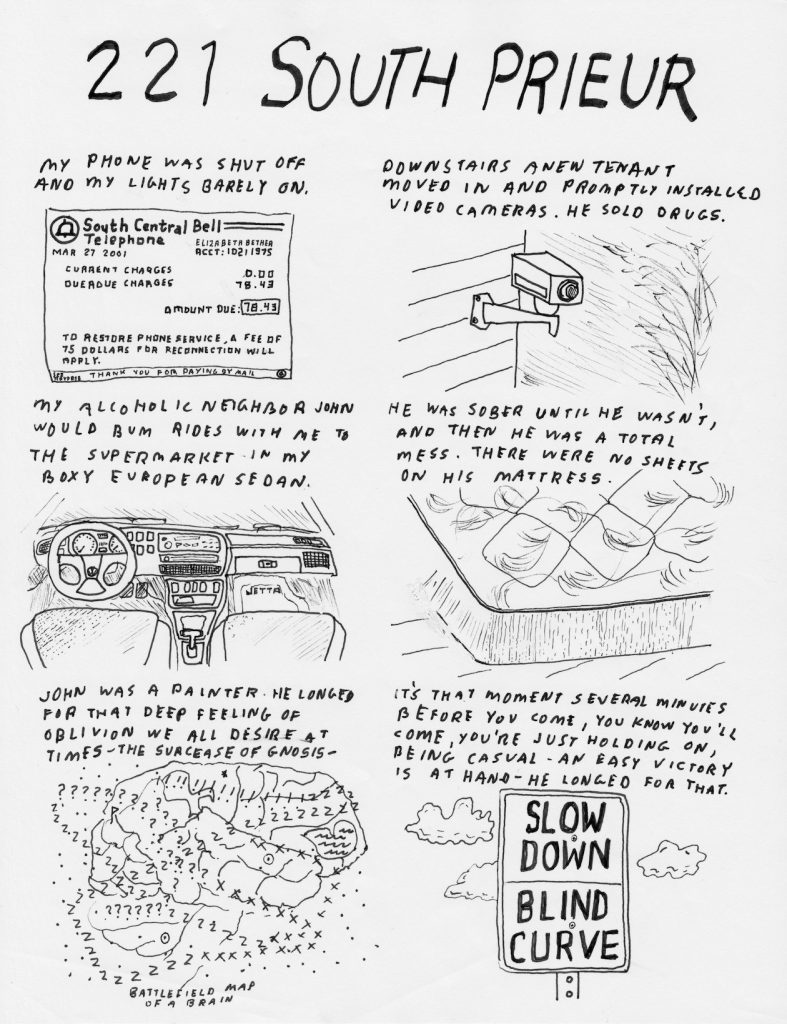 Non credo ci siano tanti altri casi come questo in cui possiamo definire "unica" l'opera di una fumettista. Anzi, in questo caso non è nemmeno giusto definire E.A. Bethea semplice "fumettista", dato che la sua scrittura al tempo stesso secca e musicale è più vicina alla letteratura e alla poesia, mentre la sua linea affilata e via via sempre meno grezza guarda al cinema e alla fotografia, con continui close-up su piccoli pezzi di mondo apparentemente insignificanti ma riempiti di volta in volta di malinconia, rabbia, meraviglia, ironia. Eppure testo e immagine dialogano, si arricchiscono l'un l'altro come accade proprio nei migliori fumetti.
In Book of Daze, che oltre a nuove opere per lo più datate 2017 raccoglie qualche pagina già vista in precedenza, non troverete storie nel senso più classico del termine, ma riflessioni, ricordi, biografie, polaroid, descrizioni, poesia beat, riferimenti letterari e cinematografici, il tutto fuso con pari dignità e spesso anche nella stessa pagina in uno stile e un registro unico, quello di E.A. Bethea. Un registro che sembra provenire dal passato, come una cartolina da un'altra America fatta di strade polverose, bar malandati, vecchie sale cinematografiche, libri tascabili, pacchetti di sigarette accartocciati e poca pochissima tecnologia. Non si tratta di materiale semplicissimo da proporre né da affrontare, non ha l'appeal scintillante di tanto fumetto a cui siamo abituati oggi, ma vi assicuro che sa affascinare. Buona lettura.