Debutterà con il #33 dell'antologia lettone š! la quarta edizione del Just Indie Comics Buyers Club, l'abbonamento annuale che permette di ricevere i fumetti del negozio on line di Just Indie Comics. La formula è la stessa degli altri anni ma per chi non la conosce ribadisco quanto già scritto in passato. Chi aderirà entro il prossimo 10 gennaio riceverà uno o due fumetti ogni tre mesi, a seconda della tipologia di abbonamento scelto, e avrà inoltre diritto a uno sconto del 10% su tutto il materiale acquistato dal sito e ai festival nel corso del 2019. La prima spedizione sarà a gennaio, le successive ad aprile, luglio e ottobre. I fumetti saranno per lo più americani, a volte europei, ma sempre e comunque in lingua inglese.
Come avrete capito, esistono due soluzioni per aderire al Just Indie Comics Buyers Club. La prima, quella più economica, costa 45 euro e dà diritto a ricevere un albo a trimestre, spese di spedizione tramite piego di libro ordinario incluse. La seconda, che invece è la versione estesa dell'abbonamento, consentirà di avere in ogni invio due fumetti, per un totale di otto albi annui, e costa 75 euro, con la spedizione sempre inclusa. Se invece della spedizione ordinaria preferite quella tracciata tramite raccomandata, basta segnalarlo al momento del checkout dell'ordine, anche se chiaramente ci sarà un surplus da pagare. Come noterete, c'è un aumento di 5 euro rispetto agli scorsi anni, dovuto ai costi sostenuti per ordinare il materiale spesso da oltreoceano e anche all'esigenza di avere fumetti sempre più belli, rari, corposi e di conseguenza costosi.
Come lo scorso anno, i fumetti della formula Small saranno uguali per tutti e verranno annunciati e presentati sul sito. I sottoscrittori Large avranno lo stesso fumetto degli Small più un altro che potrà variare da abbonato ad abbonato. Potrete trovare degli spillati di piccolo o grande formato, volumi, volumetti, graphic novel, antologie, tabloid e così via, autoprodotti o pubblicati da case editrici indipendenti come Breakdown Press, Retrofit Comics, Revival House Press, Domino Books, O Panda Gordo, Kilgore Books ecc.
Il primo albo che verrà spedito a tutti gli abbonati sarà appunto š! #33, l'antologia lettone formato A6 che i più fedeli lettori e acquirenti di Just Indie Comics già conoscono. Dietro una bella copertina della bravissima Tara Booth e il titolo d'occasione, Misery, si nascondono 164 pagine con contributi di un cast di autori internazionali noti e meno noti, come la stessa Booth, il nostro Andrea De Franco con Alice Fiorelli, Cole Johnson, Tor Brandt, Yan Cong e tanti altri. Il tutto è come ogni uscita un saggio sulle mille possibilità della storia breve a fumetti, una modalità espressiva che spesso qui su Just indie Comics ci piace anche più dei graphic novel e delle saghe interminabili.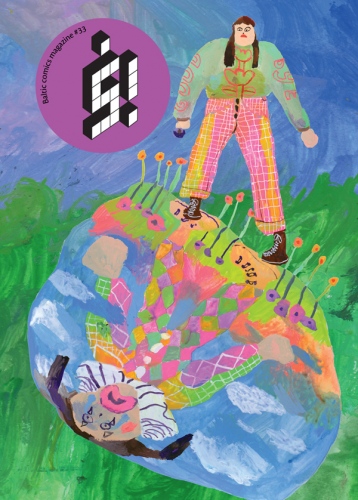 Per farvi capire qual è il materiale che vi aspetta se entrerete nel club, ecco il dettaglio dei fumetti inviati nel 2018: Now #1 della Fantagraphics, Book of Daze di E.A. Bethea, Roopert di August Lipp, Cobra II di Teddy Goldenberg, Blammo #9 di Noah Van Sciver, Twilight of the Bat di Josh Simmons e Patrick Keck, š! #26 dADa, Mary di Lale Westvind, Sporgo #1 di Laura Pallmall, Tintering di Conor Stechschulte, Of Course di Cole Johnson, Steam Clean di Laura Kenins, Our Mother di Luke Howard, š! #30 Brooklyn, It's You Beautiful and Sad di Fifi Martinez, After School Special di Dave Kiersh, Blue Onion di Chris Cilla, No Mouth's The Hum di Gore Krout, Lovers in the Garden di Anya Davidson, š! #31 Visitors, Escape to the Unfinished di Dash Shaw, Dark Tomato di Sakura Maku, Now #2, September 12th di Robert Sergel.
Ultima cosa, quest'anno il Just Indie Comics Buyers Club contribuisce alle attività dell'Associazione Culturale Empty Fridge, fondata da me e Serena Dovì. Abbonandovi sosterrete le nostre iniziative, che per il 2019 prevedono pubblicazioni, mostre, presentazioni e speriamo tanto altro.
Qui sotto trovate i link per abbonarvi. Ripeto, se vi interessa affrettatevi perché sarà possibile aderire SOLTANTO FINO AL 10/01/2019. L'offerta con queste modalità è valida per i soli residenti in Italia, se invece siete residenti all'estero e siete interessati potete contattarci a justindiecomics [at] gmail [dot] com e vedremo cosa si può fare.
JUST INDIE COMICS BUYERS CLUB LARGE