Nonostante la sceneggiatura di Sylvester Stallone in persona, la regia "visionaria" di George Pan Cosmatos, la colonna sonora tipicamente eighties e una sfavillante Brigitte Nielsen, il film Cobra non ebbe mai un seguito. Ma, come i più informati di voi già sapranno, ci ha pensato l'artista israeliano Teddy Goldenberg a raccontarci un'altra avventura – questa volta a fumetti – del tenente Marion Cobretti (che rima, eh?). La prima parte di Cobra II uscì verso la fine del 2018 e fu il quarto fumetto di quell'edizione del Just Indie Comics Buyers Club. Adesso, dopo poco più di un anno, Goldenberg pubblica un nuovo albo di 48 pagine, capitolo conclusivo della storia.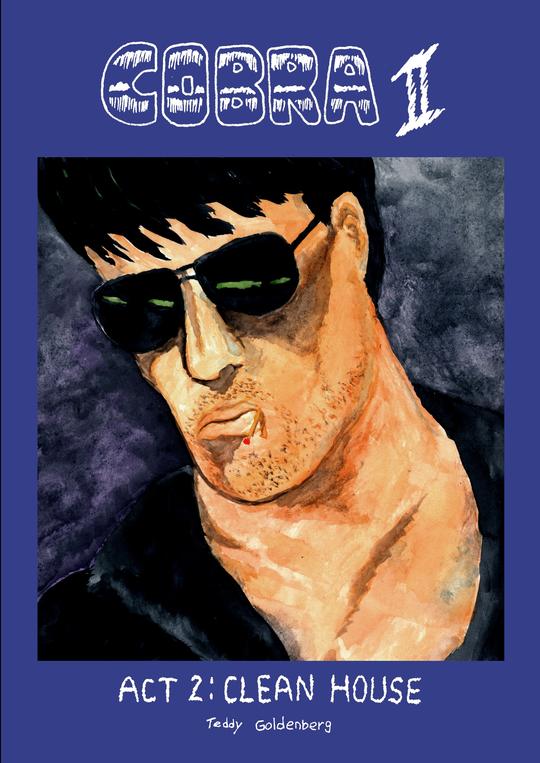 Alla fine del primo atto avevamo lasciato Cobretti alle prese con un nuovo maniaco assassino, forse dotato di artigli e capace persino di decapitare le sue vittime. Gli indizi lo avevano portato a cercare il "mostro" nel Virtual Maze, un luogo misterioso in cui si svolge l'inizio di questo secondo atto. Per chi non ha letto quel primo capitolo, vi assicuro che le atmosfere sono esattamente quelle del film: siamo ancora in una Los Angeles devastata dalla criminalità, la polizia brancola nel buio, Cobra spara le sue frasi sintetiche e reazionarie con estrema facilità e sullo sfondo si sentono le note di sax e tastiera. E chissà che magari in questo secondo atto vedremo il nostro eroe mangiare una mela o magari accompagnarsi con la bionda Ingrid Knudsen…
Volete avere la soddisfazione di dire agli amici che avete ordinato Cobra II 2? O addirittura volete ordinare 2 Cobra II 2 uno per voi e uno per vostro zio? Bene, avete tempo fino a lunedì 3 febbraio. Dato che si tratta di un secondo capitolo e che venderlo da solo risulterebbe decisamente complicato, ho deciso infatti di mettere on line l'albo soltanto in pre-order. Per chi non si fosse ancora procurato il primo capitolo della storia, è disponibile anche un pack, sempre e soltanto in pre-order fino al 3 febbraio, contenente entrambi i volumetti. Seguono i link e un po' di immagini. This is where the graphic novels stop… and Just Indie Comics starts!
COBRA II ACT 2 BY TEDDY GOLDENBERG PRE-ORDER
COBRA II PACK BY TEDDY GOLDENBERG PRE-ORDER