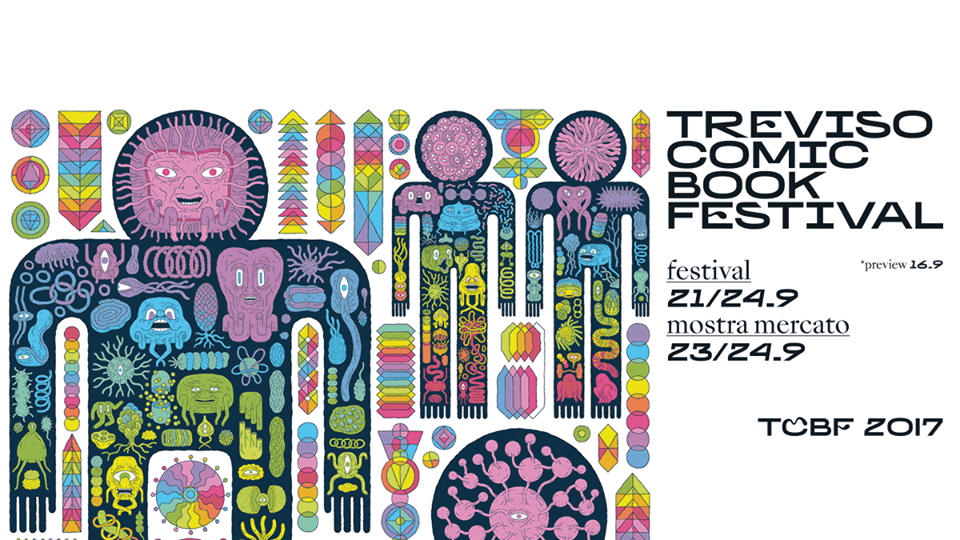 L'ampia selezione di fumetti internazionali di Just Indie Comics arriva anche quest'anno al Treviso Comic Book Festival, una delle rassegne dedicate al fumetto più interessanti d'Italia e che per il 2017 ha allestito un programma ambizioso ricco di ospiti internazionali, a partire da Jesse Jacobs, protagonista della mostra Cosmogonia e autore della locandina. In occasione della mostra mercato del 23 e 24 settembre troverete al tavolo di Just Indie Comics non solo il materiale già disponibile nel webshop ma anche, in esclusiva per il TCBF e in anteprima italiana, tutte le nuove uscite dell'inglese Breakdown Press, che in concomitanza con il Safari Festival di Londra dello scorso agosto ha pubblicato una lista di fumetti impressionante per quantità e qualità.
Le novità più corpose sono senz'altro Good News Bible di Shaky Kane, volume extra-size che raccoglie tutti i lavori dell'artista britannico per la rivista Deadline, e Showtime, nuovo graphic novel di Antoine Cossé, di cui saranno disponibili anche la raccolta Palace 0 e la ristampa della storia breve Nwai.
Altra importante novità è il lancio di una nuova rivista di fantascienza, Berserker, che debutta con un primo numero che propone un approccio tutt'altro che classico al genere con articoli, interviste, illustrazioni e ovviamente fumetti a firma Anya Davidson, Lando, Lane Milburn, Benjamin Marra, Jon Chandler. Da segnalare tra le altre cose un'intervista di Sammy Harkham all'artista Robert Beatty e un bell'approfondimento di Jamie Sutcliffe sulla space-opera Galactic Nightmare di Alan Jefferson.
Conditioner è invece una raccolta di tre storie di Liam Cobb, che con Breakdown aveva già pubblicato The Fever Closing. Lo stile di Cobb è nel solco di una tendenza contemporanea che al rigore della composizione, quasi architettonico, unisce suggestioni irrazionali.
Altro titolo è il quarto numero di Windowpane di Joe Kessler, ideale seguito del precedente di cui non riprende però esplicitamente personaggi e trama – sempre astratti nei fumetti del britannico – per richiamarne invece scelte stilistiche e tematiche.
E anche il Klaus di Richard Short, visto in Italia su Linus, prosegue la sua marcia con un terzo numero pieno di strisce e di guest star come il nostro Fabio Tonetto, Lando, Anna Haifisch e altri.
Oltre ai titoli di Breakdown troverete al tavolo di Just Indie Comics altre esclusive per il TCBF, come i numeri dal 3 al 6 del Crickets di Sammy Harkham con l'inizio e lo sviluppo della storyline Blood of the Virgin, una selezione di numeri arretrati del King-Cat di John Porcellino e altro ancora.
E non mancheranno ovviamente i fumetti già disponibili sul sito, dalle ultime uscite Retrofit Comics (Iceland di Yuichi Yokoyama, How To Be Alive di Tara Booth, Steam Clean di Laura Ķeniņš, Combed Clap of Thunder di Zach Hazard Vaupen) all'ultima autoproduzione di Conor Stechschulte Tintering, dal volume The Complete Strange Growths 1991-1997 di Jenny Zervakis (ne ho parlato in questo post) ai comic-book di Noah Van Sciver Blammo #9 e My Hot Date.
Chiudo la lista segnalandovi infine i fumetti di Diego Lazzarin e Alessandro Galatola, i due autori protagonisti delle mostre del Just Indie Comics Fest lo scorso giugno. Di Diego Lazzarin ci sarà Aminoacid Boy and the Chaos Order, di Galatola l'albo Dio di me stesso coprodotto da Just Indie Comics e CO-CO.
Se siete a Treviso venite almeno a dire CIAO, e nel frattempo date un'occhiata al pirotecnico programma di mostre, incontri e eventi sul sito ufficiale del festival.