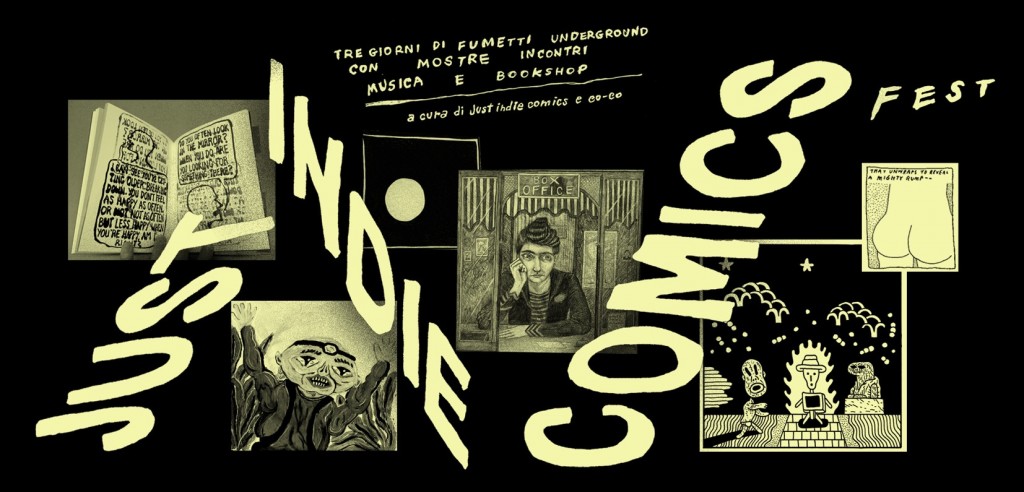 Debutta a Roma il festival di Just Indie Comics, un evento nato dalla collaborazione con lo studio di progettazione grafica CO-CO, che sarà anche il luogo dove si svolgerà l'evento, in via Ruggero d'Altavilla 10 al Pigneto. Dal 2 al 4 giugno si susseguiranno in maniera moderatamente vorticosa una serie di appuntamenti dedicati al fumetto underground e non solo, con presentazioni, chiacchierate, bookshop, DJ set, musica dal vivo e soprattutto con le mostre di Diego Lazzarin e Alessandro Galatola, che saranno i due ospiti d'onore.
L'idea non nasce tanto da me quanto da Serena Schinaia e Donato Loforese, ossia le due menti dietro CO-CO, che mi hanno proposto di mettere in piedi un festival di fumetto nel loro studio romano, dove in passato hanno già ospitato mostre legate al mondo dell'arte. E' questa la prima volta che CO-CO dedica i suoi spazi a un evento così articolato e di ampio respiro. A dire il vero inizialmente il festival doveva essere di più modesta portata ma con il passare delle settimane la cosa ci ha preso la mano e alle prime idee se ne sono aggiunte altre, portandoci a stilare un programma che speriamo possa accontentare se non tutti almeno i migliori gusti.
La scelta di incentrare le mostre su Diego Lazzarin e Alessandro Galatola è venuta da sé per la forte volontà di far vedere qualcosa di nuovo, dando spazio a due voci che si discostano con decisione da ciò che propone l'estetica prevalente dei fumetti indipendenti e autoprodotti in Italia. Di Lazzarin sarà possibile ammirare gli originali tratti dal volume Aminoacid Boy and the Chaos Order, che ho distribuito con ottimi risultati nel webshop, e delle stampe che anticipano il prossimo lavoro Protector of the Kennel. Stesso approccio per la mostra di Galatola, con alcune stampe a colori e soprattutto con le tavole di Dio di me stesso, un albo di 32 pagine contenente tre storie brevi e pubblicato proprio in occasione del festival da CO-CO e Just Indie Comics. Potete leggere il fumetto che dà il titolo all'albo qui.
L'inaugurazione delle mostre è fissata per venerdì 2 giugno, mentre i due autori incontreranno il pubblico sabato alle 19. Prima di questa chiacchierata ci sarà la presentazione di un libro, di un autore e di un editore che rappresentano al meglio di cosa si parla quando si parla di Just Indie Comics. Spazio dunque a un dialogo tra il sottoscritto e Alessio Trabacchini a proposito di Puke Force di Brian Chippendale (da me inserito tra i migliori fumetti del 2016 e ultima fatica di un artista che ha segnato la storia del fumetto underground statunitense da Fort Thunder in poi), dei fumetti di Conor Stechschulte (cartoonist di cui si è parlato più e più volte su questo sito e autore di The Amateurs, Generous Bosom, Christmas in Prison) e della Domino Books di Austin English (casa editrice che ha applicato la filosofia dell'art brut al fumetto, come testimonia tra gli altri The Social Discipline Reader di Ian Sundahl). I fumetti appena citati saranno disponibili per l'acquisto nel bookshop.
E gli appuntamenti non sono finiti qui. Domenica 4 giugno saranno presentate due novità editoriali: Atlante illustrato delle nuove costellazioni a cura di Studio Pilar, con la partecipazione degli illustratori del collettivo romano, e Souvenir, nuovo albo autoprodotto di Serena Schinaia, di cui ho parlato più volte pubblicando anche un paio delle sue storie brevi. Nel corso dei tre giorni ci saranno inoltre il DJ set di MICA e MICS, il live set di uBiK, il bookshop con tanti fumetti del negozio on line di Just Indie Comics, le stampe in tiratura limitata di Lazzarin e Galatola e i poster di Flag Press.
Di seguito il programma completo, in costante aggiornamento sull'evento Facebook Just Indie Comics Fest. E per chiarezza ribadisco che il festival si terrà da venerdì 2 a domenica 4 giugno presso CO-CO, in via Ruggero d'Altavilla 10 a Roma, dal pomeriggio fino a tarda sera o forse tarda notte, dipende da come ci gira. Se potete venite a trovarci perché sembra proprio una bella manifestazione.
Venerdì 2 giugno 
• ore 18.30 apertura bookshop e inaugurazione mostre di Diego Lazzarin e Alessandro Galatola con aperitivo e DJ set di musica sbagliata di MICA e MICS
Sabato 3 giugno

• ore 16 apertura mostre e bookshop
• ore 17.30 Just Indie Comics presenta:
– Puke Force di Brian Chippendale
– i fumetti di Conor Stechschulte
– Domino Books
con la partecipazione di Alessio Trabacchini
• ore 19 incontro con Diego Lazzarin e Alessandro Galatola
Presentazione dell'albo Dio di me stesso di Alessandro Galatola edito da CO-CO e Just Indie Comics
a seguire: live set di uBiK
Domenica 4 giugno
• ore 16 apertura mostre e bookshop
• ore 19 presentazione dell'Atlante illustrato delle nuove Costellazioni a cura di Studio Pilar e di Souvenir di Serena Schinaia